The Competitor Tracker for Amazon app makes simple work of following your competitors' listings. With an incredibly easy setup and convenient reporting, this app is perfect if you're an Amazon seller who needs to:
Track organic and sponsored ratings of competitor listings
Monitor changes in competitors' products to tailor your own listings better
Get a straightforward report on the information you need to optimize your products on Amazon
The app works by generating a unique report for each of the item listings you ask the app to track. This report is sent directly to your email, and it automatically updates weekly to reflect changes that have occurred to competitor listings.
The email report shows changes to the following:
Buy box owner
BSR
Title
Bullet point features
Price
Sales
Number of sellers offering the product
Changes in organic and sponsored rankings
Ratings
Product variations
Images and product descriptions
New and lost SERP features
Data from LQC (if set up)/Quality Score
How the Competitor Tracker for Amazon App Can Help You
This app is ideal for busy Amazon sellers who don't have time to track down crucial data about competitors' listings.
Competitor Tracker is especially helpful for:
Monitoring and adjusting prices to be more competitive
Identifying keywords your competitors are ranking for that you might not be using
Keeping an eye on rating trends for your competitors' listings
Seeing if the market is oversaturated for the product you are selling
Getting a sense of how to better serve your customers through more precise listings with a good market value
With this app, you can:
Increase product visibility
Improve conversions
Target your ideal customer at a granular level
Identify high-impact keywords that are driving traffic to competitive products
Outperform your competitors
Accessing Competitor Tracker for Amazon
The Competitor Tracker can be purchased through the App Center for $19.99 per month. There is a free 7-day trial for new users.
Limits
Users can monitor up to 20 ASINs at a time.
How To Use the Competitor Tracker for Amazon
Step One: Track Your First Competitor Listing
Once you have opened the app, you will be prompted to add either the competitor listing's ASIN or URL into the search bar.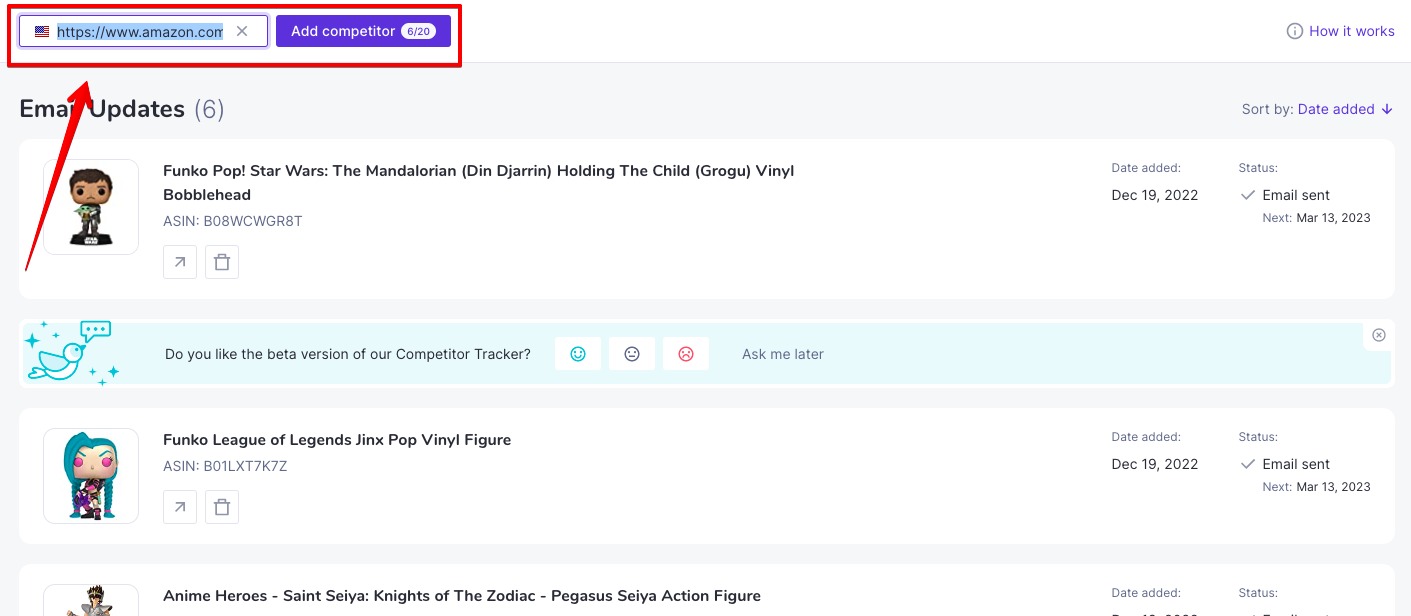 Once you have that entered, click "Add competitor." This button also tells you how many remaining listing queries you have. The limit is 20 listings at any given time.
Step Two: Get the Emailed Report
The app can take up to one hour to generate results for your first report in the form of an email. Subsequent reports will generate on Mondays. Once Competitor Tracker has gathered the necessary information, you will receive your first email report to the email address you designated when you created your account.



Meanwhile, clicking the "What information is in the update" button will open a miniature Help center where you can check out what data is collected and how the app works in general.
Just in case, you can close the "Your report is on the way" block at any moment. The same information is always available at any time by clicking the "How it works" button in the top-right corner of the home page.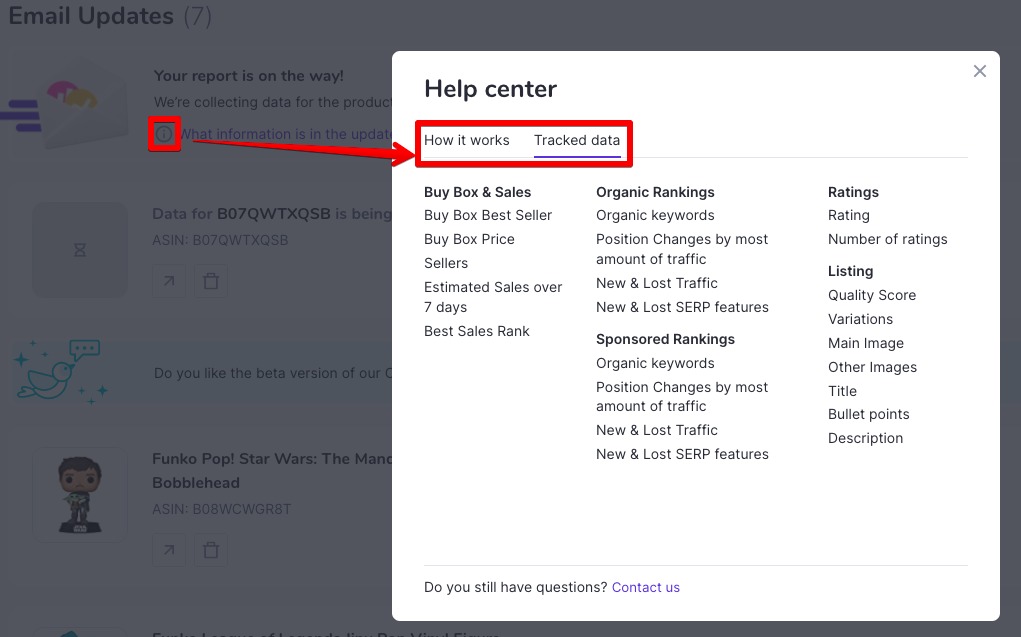 The listing boxes also contain lines with additional information for each of the added listings: the date added, the status of the email with your report, and the date of the next report.





The first email you receive will have metrics that show no difference from the previous week's report—this is normal for the first report.
Subsequent reports may contain boxes in the listing section with text explaining that "No changes (occurred) over the last week" if the listing has remained stable—no image updates, title updates, bullet point changes, or updates to descriptions.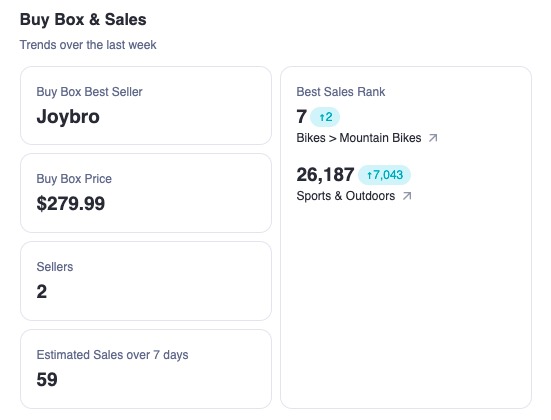 In the screenshot above, you can see that the Buy Box Price section has remained unchanged from the previous week's report.
Step Three: Use Competitor Analysis To Optimize Listings
Once you receive your emailed report, there are a number of data points to review.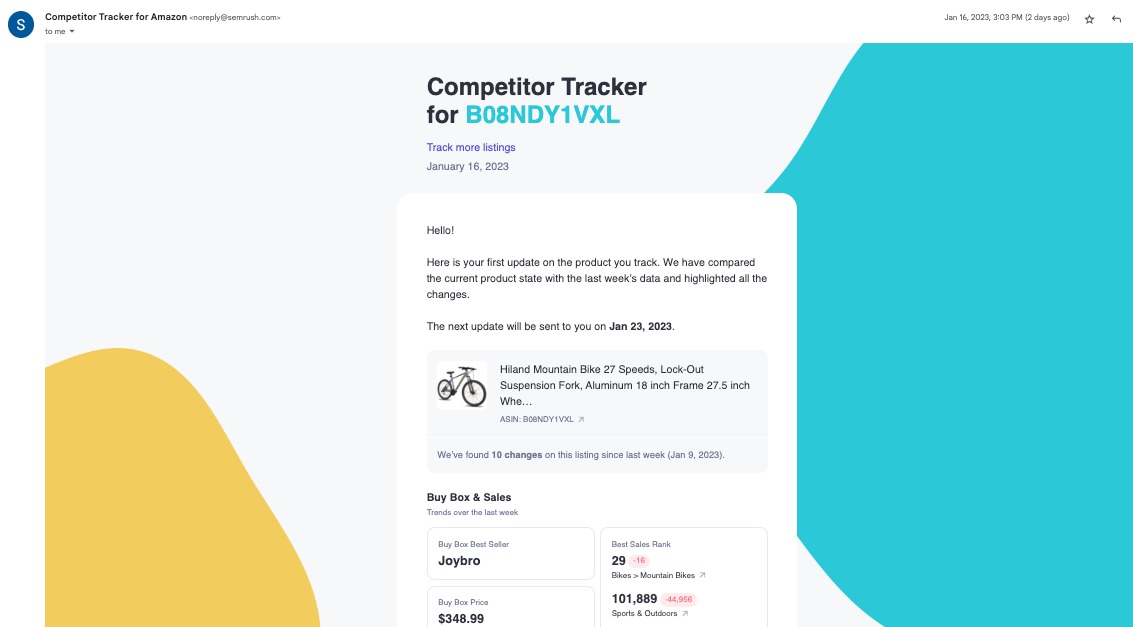 Step Four: Buy Box and Sales Data
The first section of data deals with changes in buy box, product price, sales, number of sellers selling the same product on Amazon, best sales rank, and sales ranking in each category the product belongs to.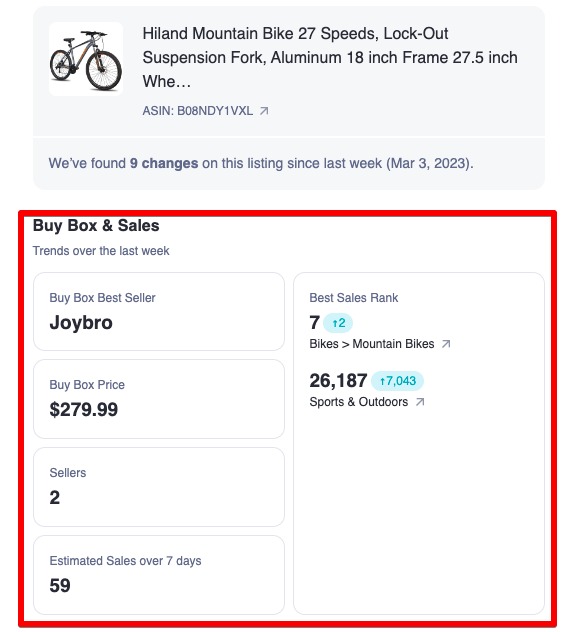 You can use any changes noted in this section of the report to help you monitor and change your product price point as needed.
Quick Tip: changes to listing elements may be noted in a small red or teal bubble. Red denotes a negative change or downward trend, and teal denotes a positive change or upward trend.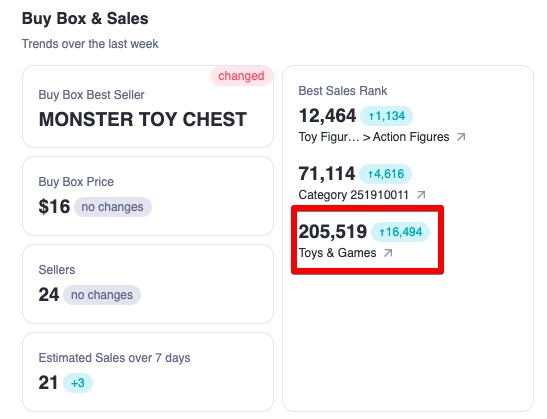 Step Five: Organic Rankings
The next set of data in the report deals with the listing's organic keyword rankings within. Here, you'll see trends in keywords the product is ranking for, organically, over the last 7 days on Amazon, and the average position in search results by each keyword over the last 7 days in comparison to the previous week.
This section of the report also has two clickable links, "More keywords in Search Insights" and "More keyword ideas in Keyword Wizard." These are two additional Amazon-focused ecommerce apps available through the App Center:
Search Insights for Amazon allows you to do comprehensive competitor research by analyzing up to three products at once using the product ASIN or URL
Keyword Wizard for Amazon helps you source unique and highly valuable keywords to boost your product visibility within Amazon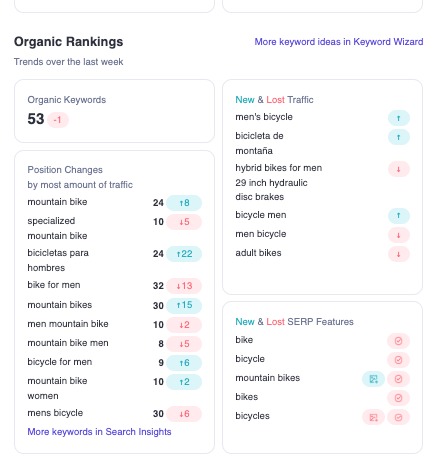 In the left-hand column you see the total number of keywords that the item is ranking for over the last 7 days, and trends in position changes by most amount of traffic. In the top, right-hand column you will see which competitor keywords have gained or lost traffic in comparison to the previous week.
The bottom, right-hand column of this section shows you new and lost organic SERP features for specific keywords.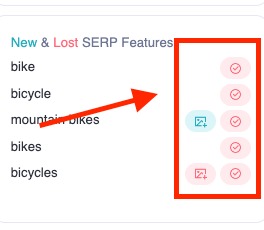 Organic SERP Feature Icon Key
Below is a list of all the possible organic SERP feature icons that may appear in your report and what they mean. Hovering over icons in the email report will also provide a quick definition (you may have to keep your mouse over the icon for a few moments for it to appear).
Amazon's Choice

"Amazon's Choice" carousel highlights three to four products with competitive prices, high ratings, low return rates, and high purchase rates. The feature aims to narrow shoppers' choices and help them determine what to purchase.
Top Rated

As the name suggests, the "Top rated" SERP feature showcases a carousel of products that have been rated highly among Amazon customers.
Top Rated From Our Brands

"Top rated from our brands" is a way Amazon gives its products a visibility advantage in search results. Amazon owns over 400 private-label and exclusive brands.
Editorial Recommendations
Amazon's "Editorial Recommendations" offers shoppers a product review to read, and then the platform will choose the best matching option for them. The widget includes a snippet of a review about the featured products and a carousel of products.
The product-related articles are written by third-party content creators enrolled in an affiliate program.
Other
The "Other" carousel feature can have various names, including "Top rated Amazon products," "Parent Pick," "Sold by certified minority-owned businesses," "Select products from Amazon Home," "Climate Pledge Friendly," "Recommended by Amazon," "Today's deals," etc.
Step Six: Sponsored Rankings
The Sponsored Rankings portion of the report deals with trends emerging from paid keyword advertising.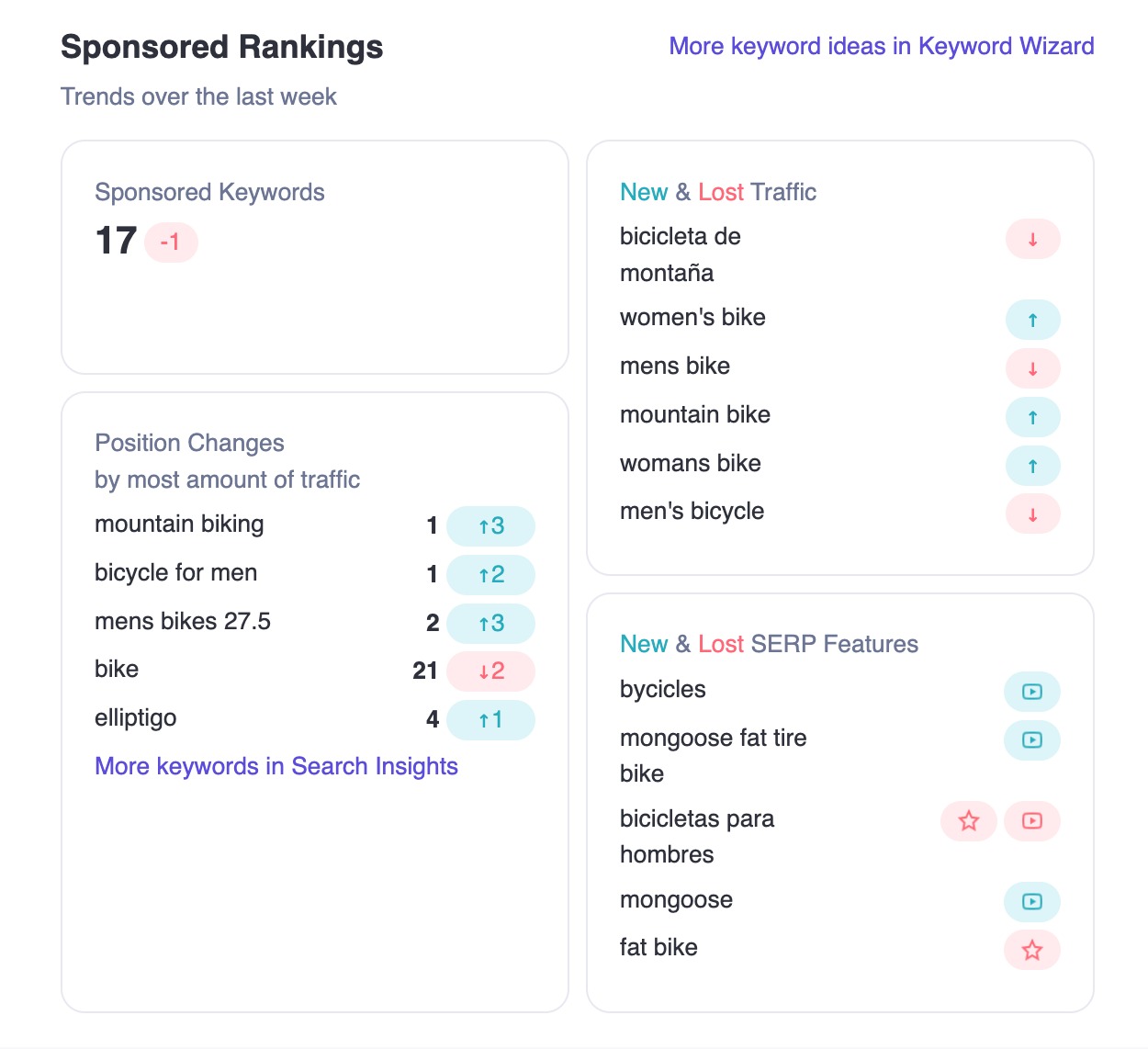 Just as with the organic section of this report, you will see on the left-hand column the number of PPC keywords the listing has lost or gained over the course of the week, and the position changes by most amount of traffic.
On the right, you can evaluate new and lost traffic by sponsored keywords, and new and lost SERP features.
This section will help you optimize your own PPC campaigns and marketing budget based on how your competitors' sponsored campaigns are performing for the same products.
Sponsored SERP Feature Icon Key
Just as with the Organic SERP features, the report also has a number of icons related to gained and lost SERP features. Below, you will find a definition of each icon.
Highly Rated
"Highly rated" is a type of ad set that promotes highly rated Sponsored Products. Although it's not clear at this time whether this placement is free or paid, it is marked with a "Sponsored" label by Amazon, and sellers can't choose to be presented there. Amazon selects a group of similar products rated highly by customers.
Brands

"Brands" are cost-per-click (CPC) ads that feature your brand logo, a custom headline, and multiple products. They typically feature two to three of a brand's products.
These ads appear in relevant shopping results and help drive the discovery of your brand among customers shopping for products like yours.
Video

"Video" is one of the formats of Sponsored Brands—that is, keyword-targeted, cost-per-click advertising. Your videos should be between 15 and 30 seconds and catch a viewer's eye from the first second.
Customers Frequently Viewed

This one is pretty straightforward. Amazon will feature a cache of product listings that have been highly viewed by customers.
Step Seven: Ratings and Listing Information
Last but not least are the Ratings and Listing sections of the report. The Ratings section will show you how customers are liking the product your competitors are selling.
You will also get a glimpse at the number of ratings customers are submitting for these competitor listings.
If your competitors' products are rated poorly, this might present an opportunity for you to optimize your own product descriptions to better align with what customers are looking for.
In the Listing section, the first two metrics that appear are the listing's quality score and the number of product variations the listing has.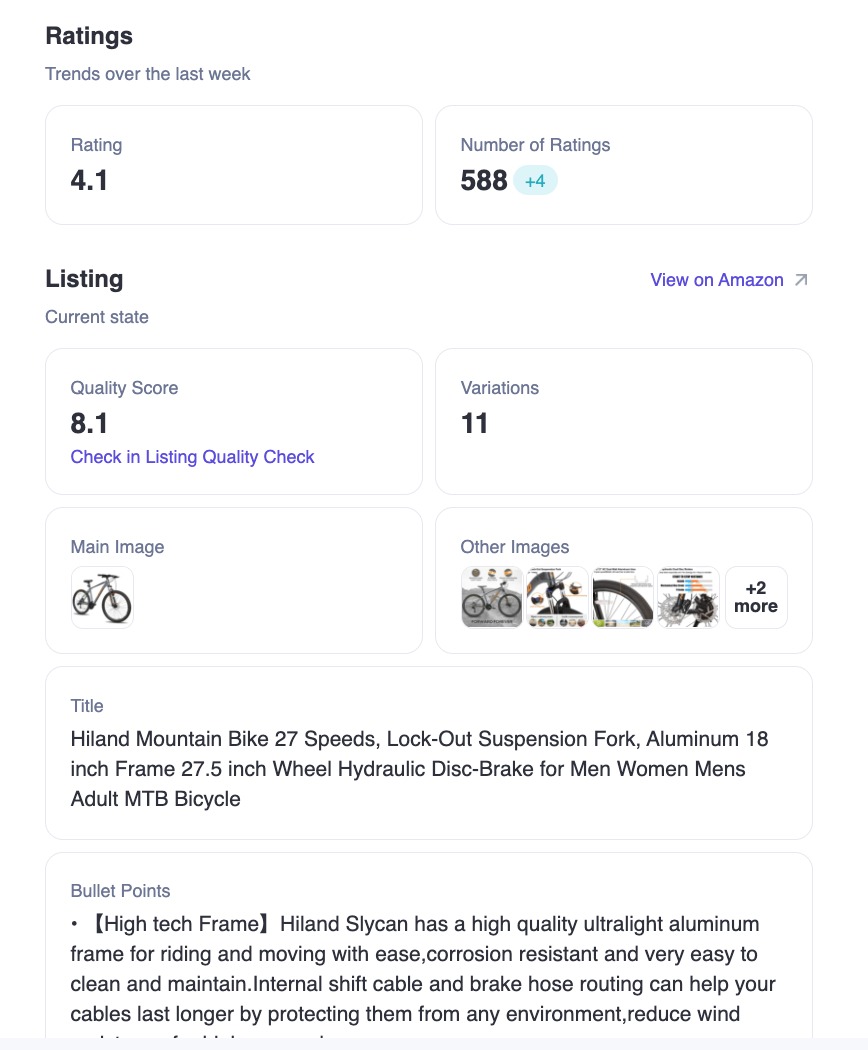 You can also either look at the actual product by clicking "View on Amazon" or get an overview of the listing's quality score by clicking "Check in Listing Quality Check."
Listing Quality Check is another ecommerce app available in the App Center. With this app, you will see the listing's score and be able to assess what errors are preventing the listing from performing better on Amazon.

If you are wondering whether your product images are of the right quality and quantity, the report also shows you exactly what pictures and illustrations your competitors use to describe their products.
You can utilize what you learn in this section to improve the user experience and optimize your images with new or better angles, create better picture descriptions, or add or reduce the number of images you put on your listing.

Titles are an essential part of Amazon listings—not just for keyword and visibility purposes but also for user experience.
The report will pull in competitor titles directly from Amazon. When comparing your listing's title to your competitors, are they on par? Could your description be more informative or eye-catching?
Feature bullets are also important, especially if your product has a lot of parts or components. Maybe a competitor has very helpful, easy-to-read product feature bullets. This information can be used to shape your own listing's bullet points.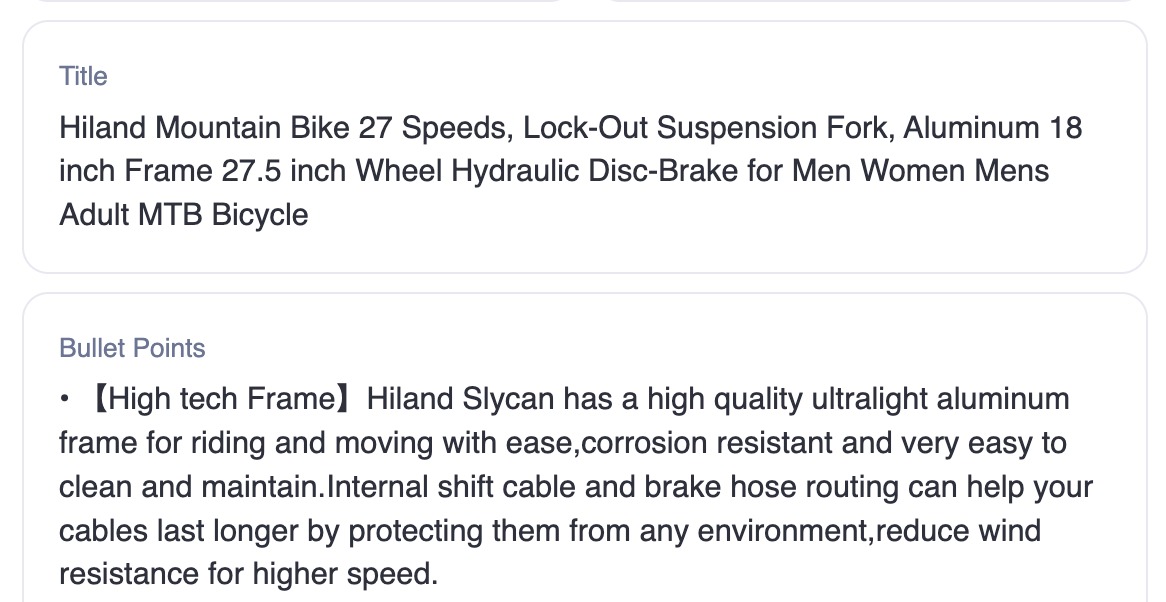 Finally, you'll get the full product description listed on Amazon. Again, this information can help you shape your listing based on competitors' actions.
Maybe there is a feature your competition neglected to highlight that you could highlight in your listing, or maybe their description of the product is less engaging, and you know that you're more capable of grabbing the reader's attention.
Step Eight: Manage Your Tracked Listings
The app allows you to track up to 20 listings simultaneously. If you want to add new listings but are at capacity, you can simply delete listings you no longer want to track from the app homepage.

The app also allows you to sort by date added or product name to find what you are looking for easily.
If you're wondering when your next email update will arrive, the app gives you that information in the listing box, too.

Frequently Asked Questions
Currently, our app is available only for the U.S. Amazon Marketplace.
If you have any questions about the Competitor Tracker for Amazon app, please email us directly at ecommerce-apps@semrush.com.