Audience Intelligence provides key data insights into various social consumer segments, allowing you to engage with your social audiences in a more meaningful way. It is suitable for marketers and consumer research teams who want to develop an innovative and audience-centric approach to their social media marketing.
You can find it in the Semrush App Center.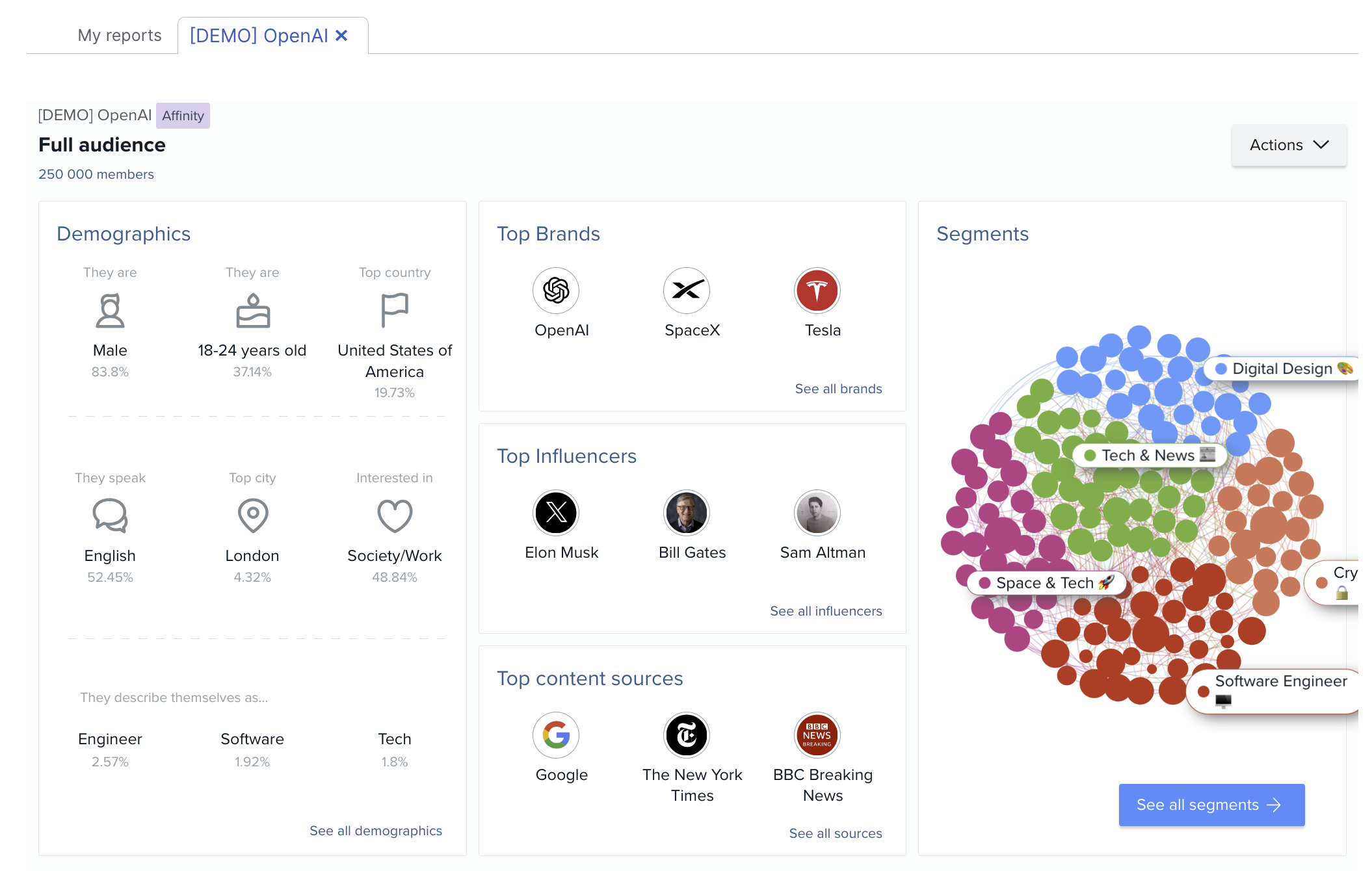 How Can Audience Intelligence Help Me?
Audience Intelligence allows you to understand who your audience is and gain actionable, in-depth insights into their online behavior, helping you build a more effective social strategy. You can even discover new growth segments within your audience that you may not have been previously aware of, enabling you to personalize your messaging and improve engagement.
Audience Intelligence also lets you:
Identify the most relevant media channels, platforms, and outlets to reach your audience at scale
Understand your audience's personality types and mindsets to better align your messaging
Discover relevant influencers and media partners to enhance your brand's reach
Analyze your competitors to identify untapped audiences
See how your audience engages with your competitors
Pricing
Users with a paid Semrush Subscription can view five different demo reports.
A paid subscription to the Audience Intelligence app is available from the App Center for $150 per month. It allows you to generate one report per month. On the 1st of each month, you can create a new report or refresh the existing one.
Additional reporting can also be purchased within the app:
1 extra report for $150 per month (i.e. $300 per month for 2 reports)
3 extra reports for $375 per month (i.e. $525 per month for 4 reports)
5 extra reports for $500 per month (i.e. $650 per month for 6 reports)
More information about Semrush pricing can be found here.
What's Included in Audience Intelligence?
Your Audience Intelligence subscription entitles you to one report per month (although it's possible to purchase more). To create a report, you will need to provide a Twitter handle for the audience you want to research.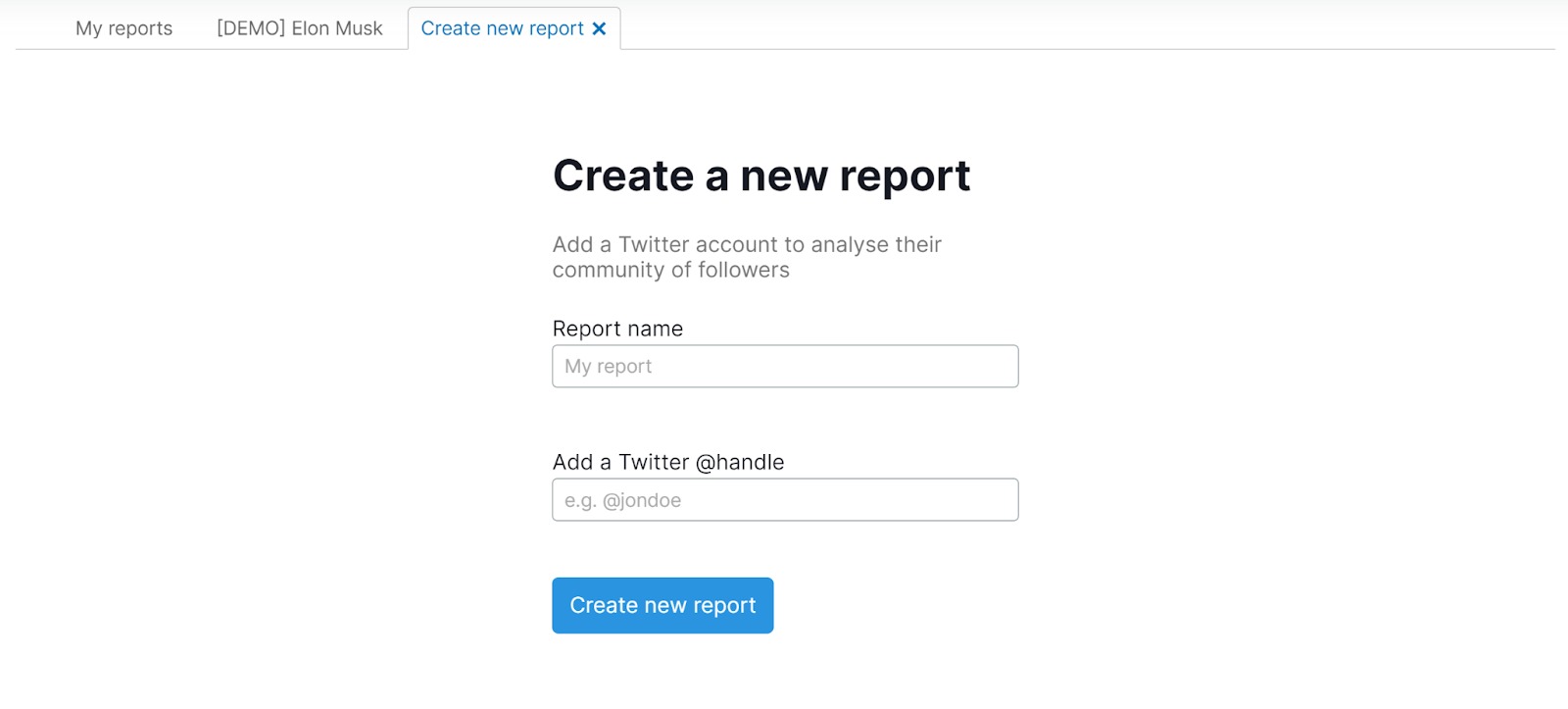 Each report consists of two primary sections: Audience Breakdown and Segments.
Audience Breakdown
The Audience Breakdown dashboard contains nine sections of in-depth data on your audience.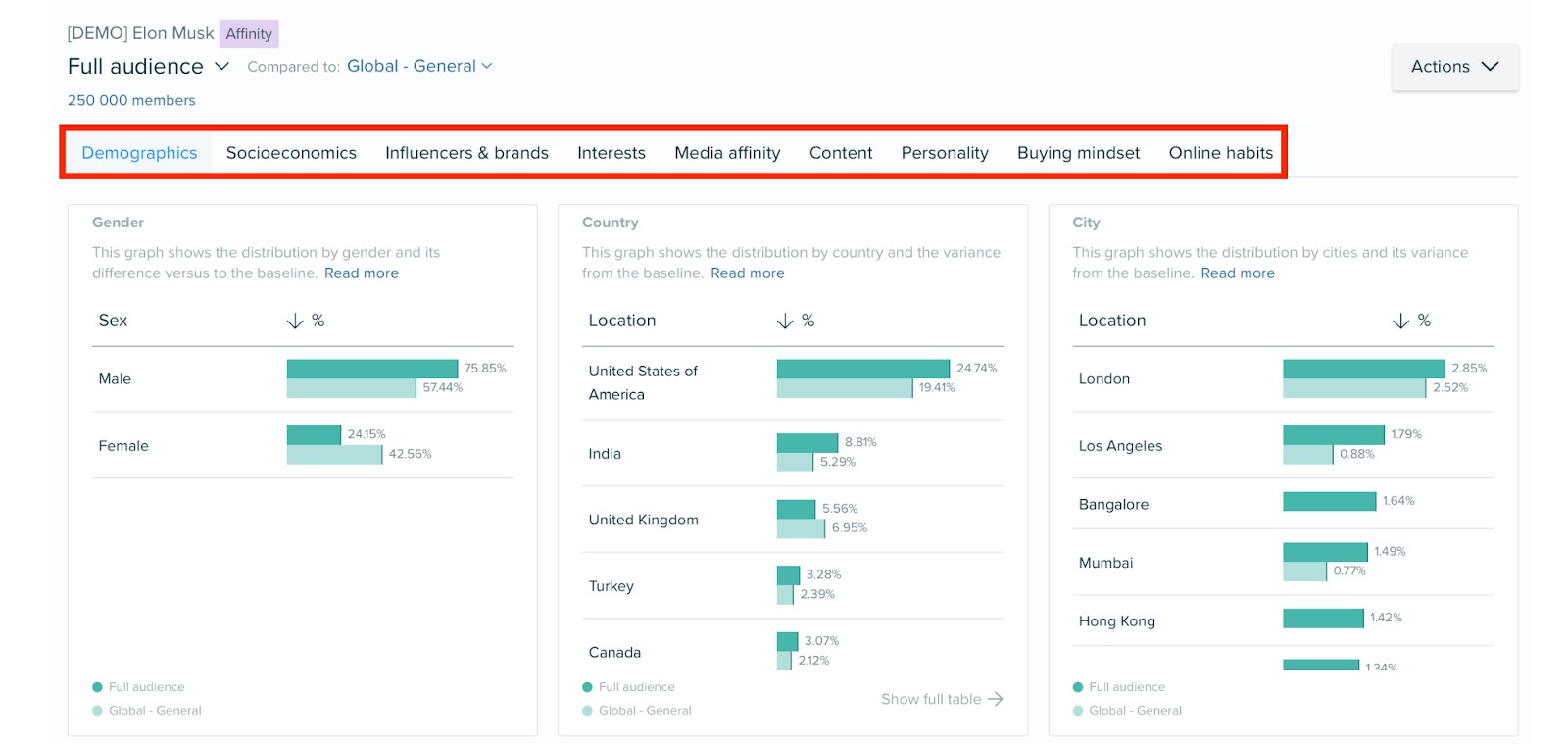 You can view data for your total audience (a sample size of up to 250,000 members) or split it down by consumer segment (which we will cover later).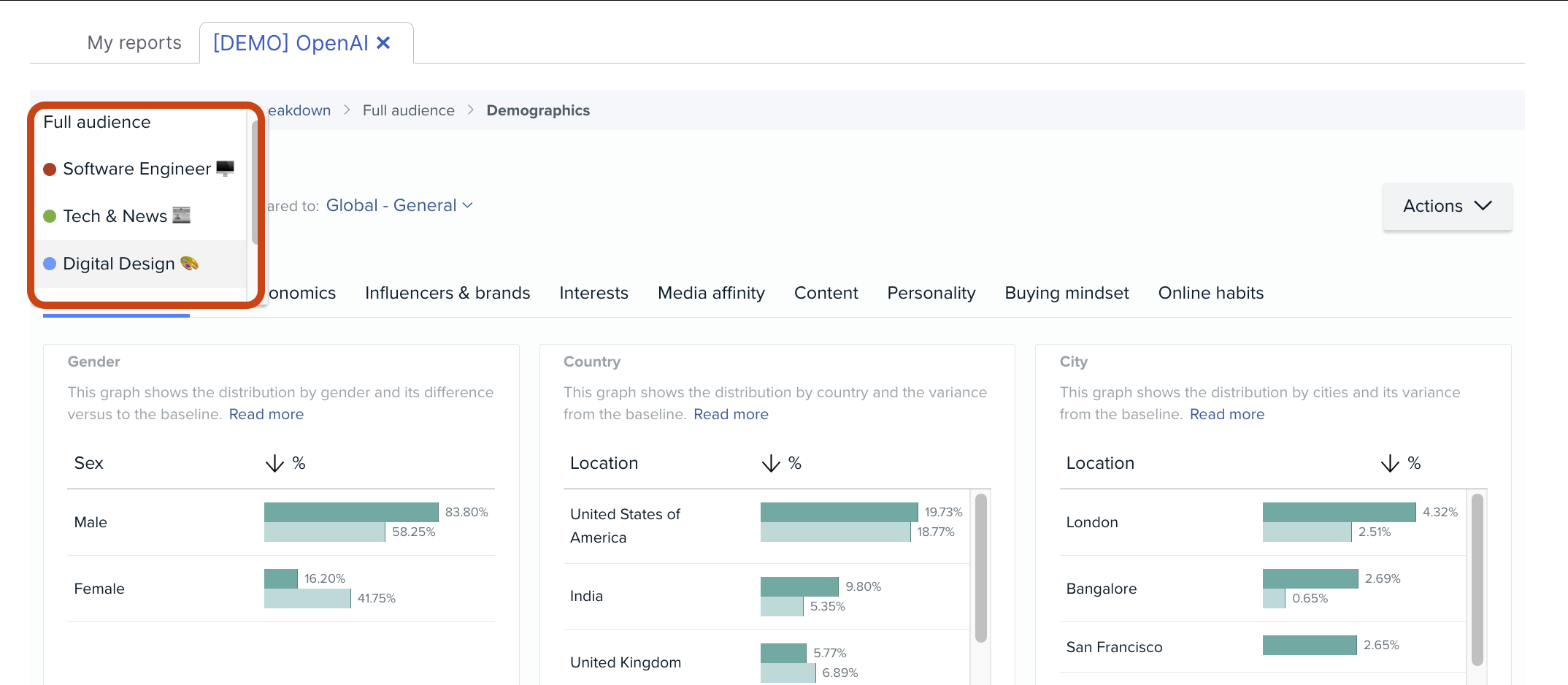 Note that for each data point, the app also provides a baseline for comparison. You can compare against the national or global average, or against the most prominent segments of your audience (as well as by gender). This can help you identify any trends that are unique to your audience (or audience segment).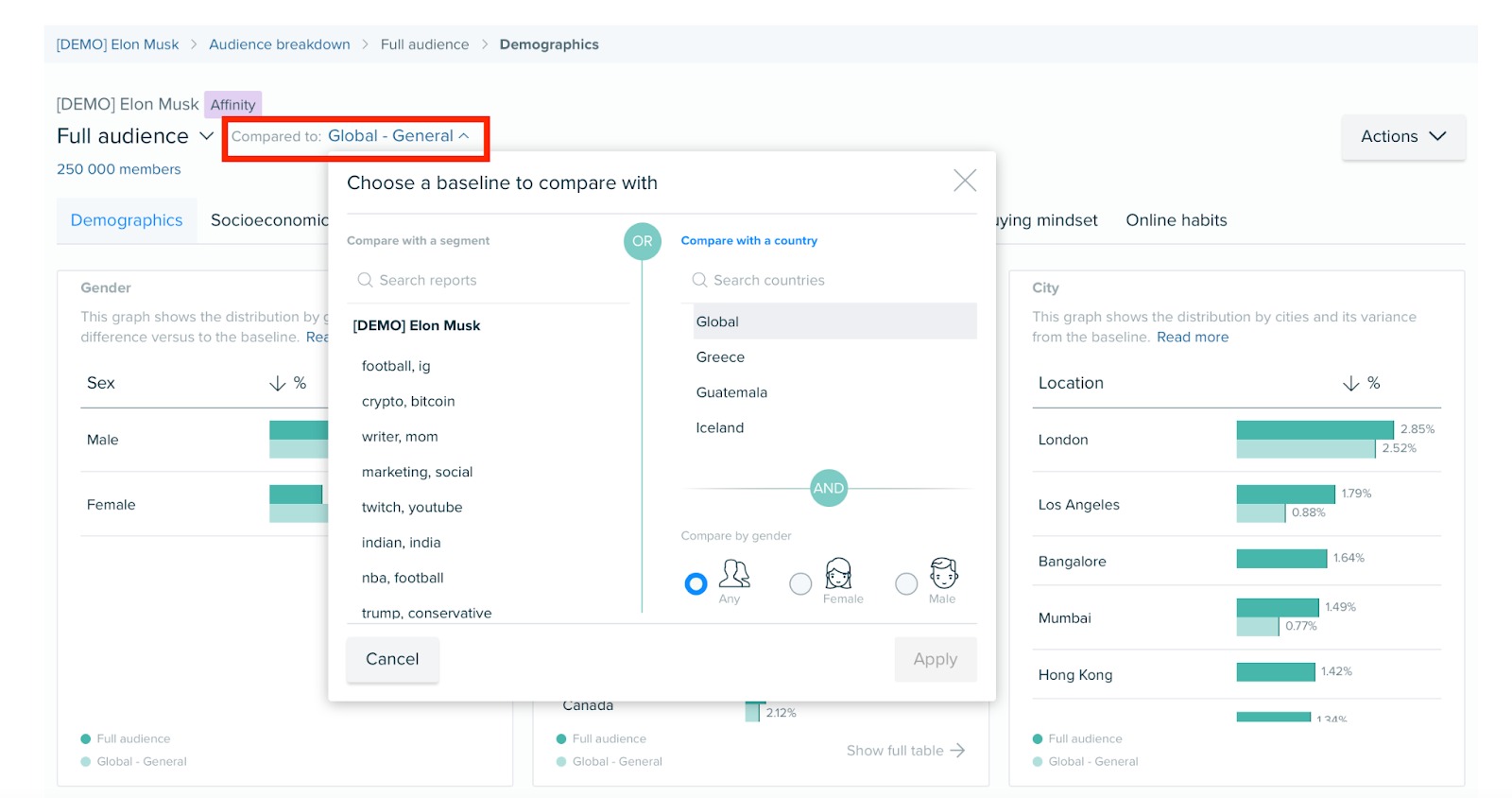 The dashboard provides the following nine reports:
Demographics
This report provides a closer look at the key demographic features of your audience. Specifically, it analyzes:
Gender
Country and city
Language
Age range
Name
Biography (represented as the most common words used by your audience to describe themselves)
Socioeconomics
This report provides a socioeconomic breakdown of your audience. It analyzes:
Education level
Job type (by industry)
Relationship status
Family status
Household income (U.S. only)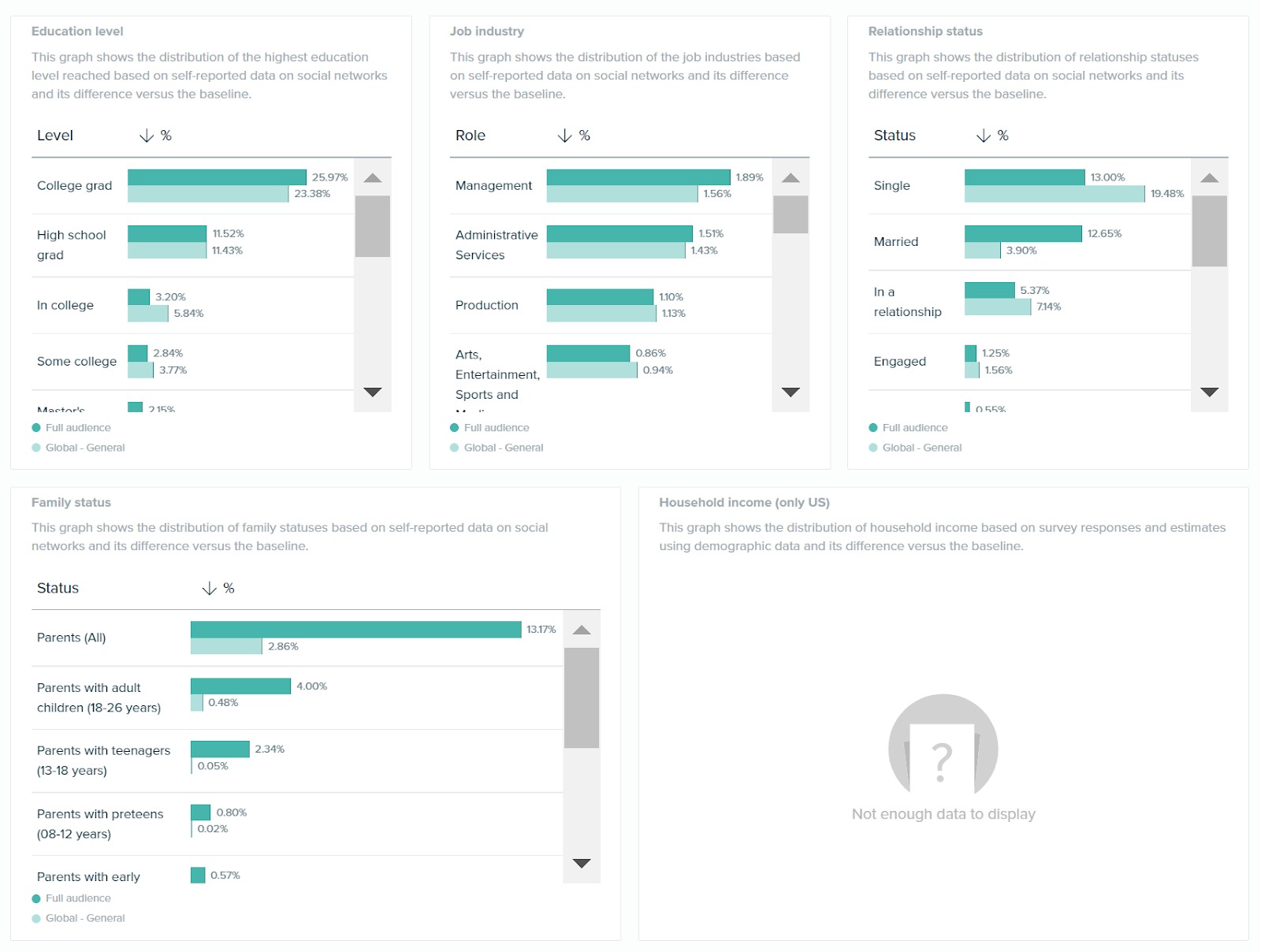 Influencers and Brands
This report provides an extensive list of up to 20,000 influencers and brands that your audience follows. You can order this list based on:
Affinity: The percentage of your audience that follows a specific brand or influencer.
Uniqueness: A quantitative figure that identifies how relevant a brand or person is to your audience compared to the baseline. For example, Tom Brady will have a higher uniqueness score for an audience of NFL fans than the general sports baseline. This allows you to identify more relevant influencers for your audience.
Reach: An estimation of the brand or influencer's number of social media followers.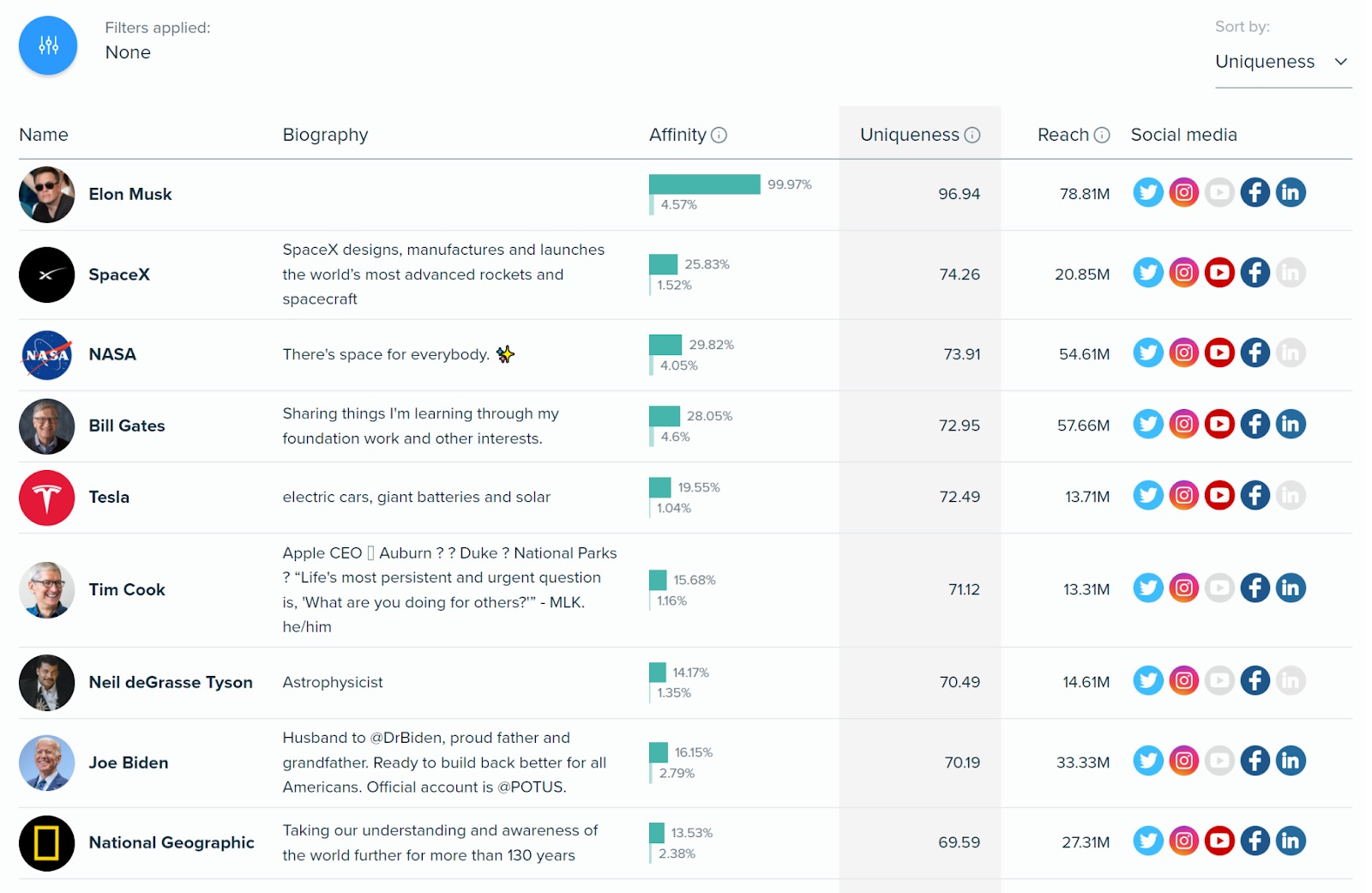 Interests
This report details the primary interests of your audience, which can then be broken down further for more detailed insights. For example, if sports are a primary interest of your audience, you can see a full breakdown of exactly which sports they are interested in.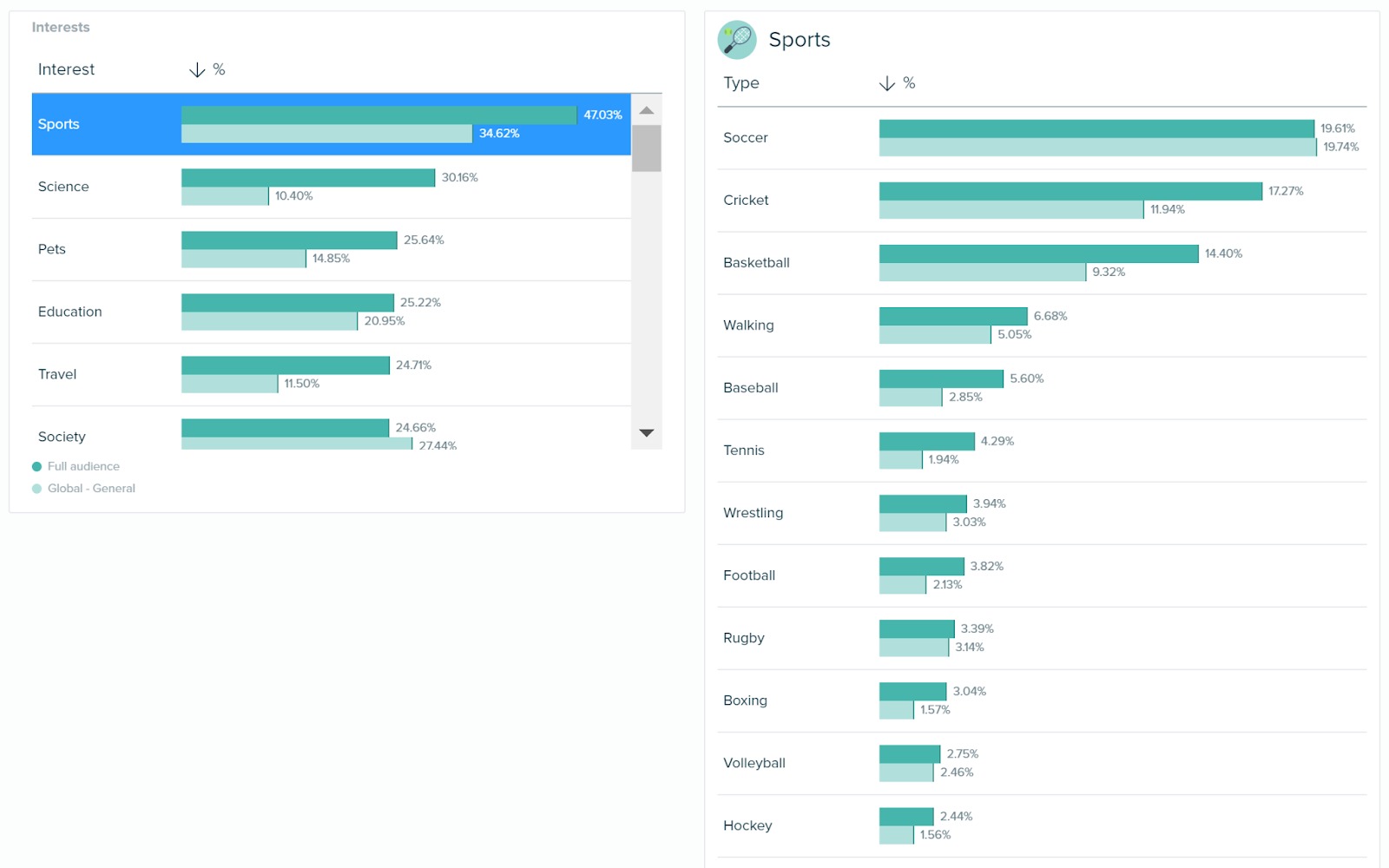 Media Affinity
This report visualizes the online and offline media that your audience is most interested in (as well as events and places that they visit). Specifically, you can analyze their preferences across:
Television
Radio
Newspapers
Magazines
Events
Places
Blogs, websites, and other digital content
Online entertainment (such as YouTube, Twitch, etc.)
Apps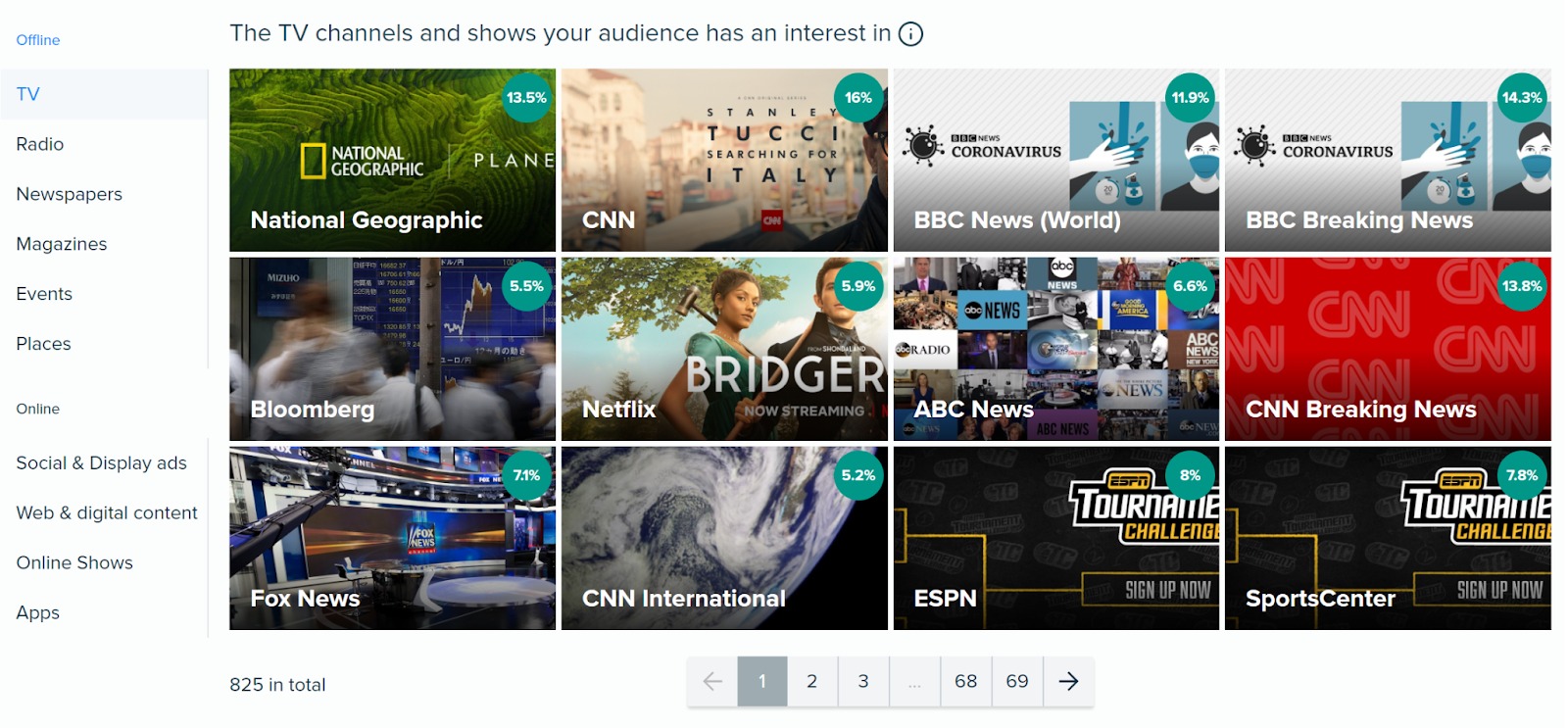 Content
This report breaks down the online content your audience has engaged with during the previous month.
Specifically, it focuses on three types of content:
Liked content. Content that has been "liked" by your audience. When an audience member likes a piece of content, the positive nature of the interaction suggests that there is an affinity to that content.
Shared content. Content that has been shared with the poster's online community. The app analyzes the authors of original content within your selected audience segment and identifies their most popular posts.
Influential content. Content that your audience is seeing on their own feed, as it is published by the accounts that they have an affinity with. It reveals what influencers are talking about and engaging with, and gives an idea of the content that they themselves are consuming and will be sharing amongst their followers.
Each of these tabs focuses on the following metrics, sorted by the number of times they appear in the analyzed content:
Domains
Hashtags
Mentioned users
Links
Keywords
Posts
Media formats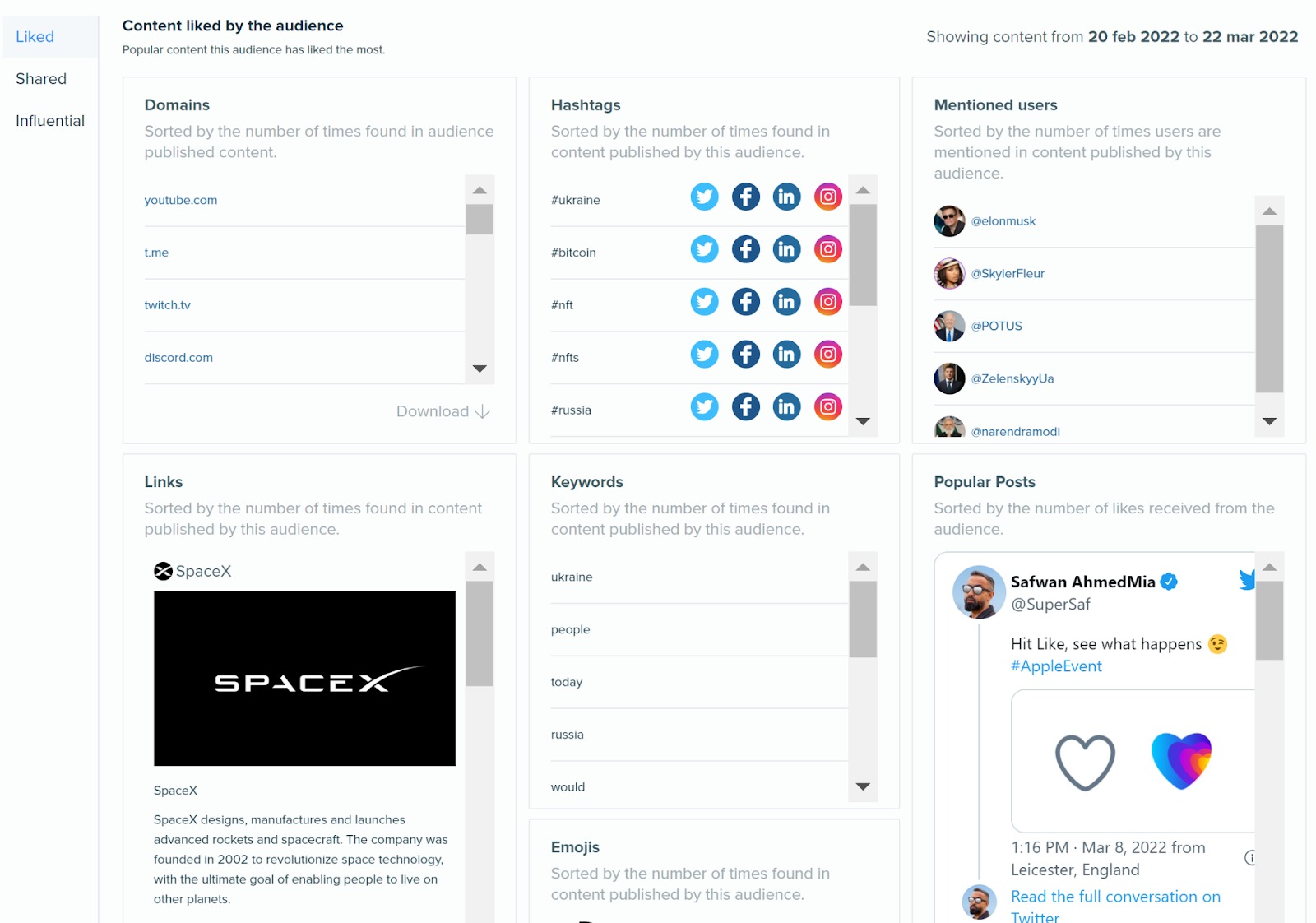 Personality
This report uses IBM Watson integration to analyze the personality characteristics of your audience, with a focus on the Big 5 Ocean personality types. You can review personality dimensions and needs and values, as well as receive effective messaging advice tailored toward your audience's personality scores.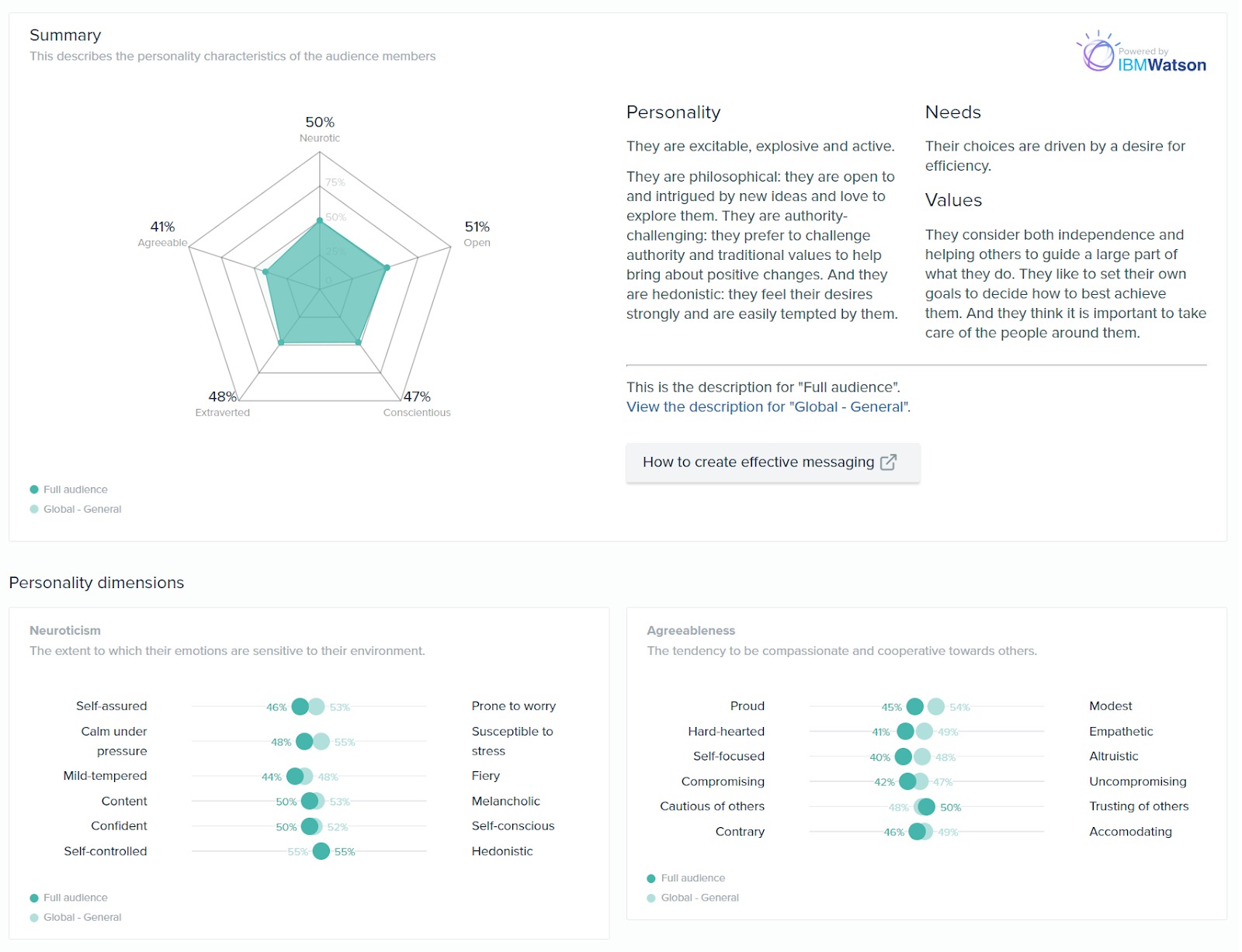 Buying Mindset
This report shows you the most influential purchase factors for your audience and offers a range of insights into their consumer behavior.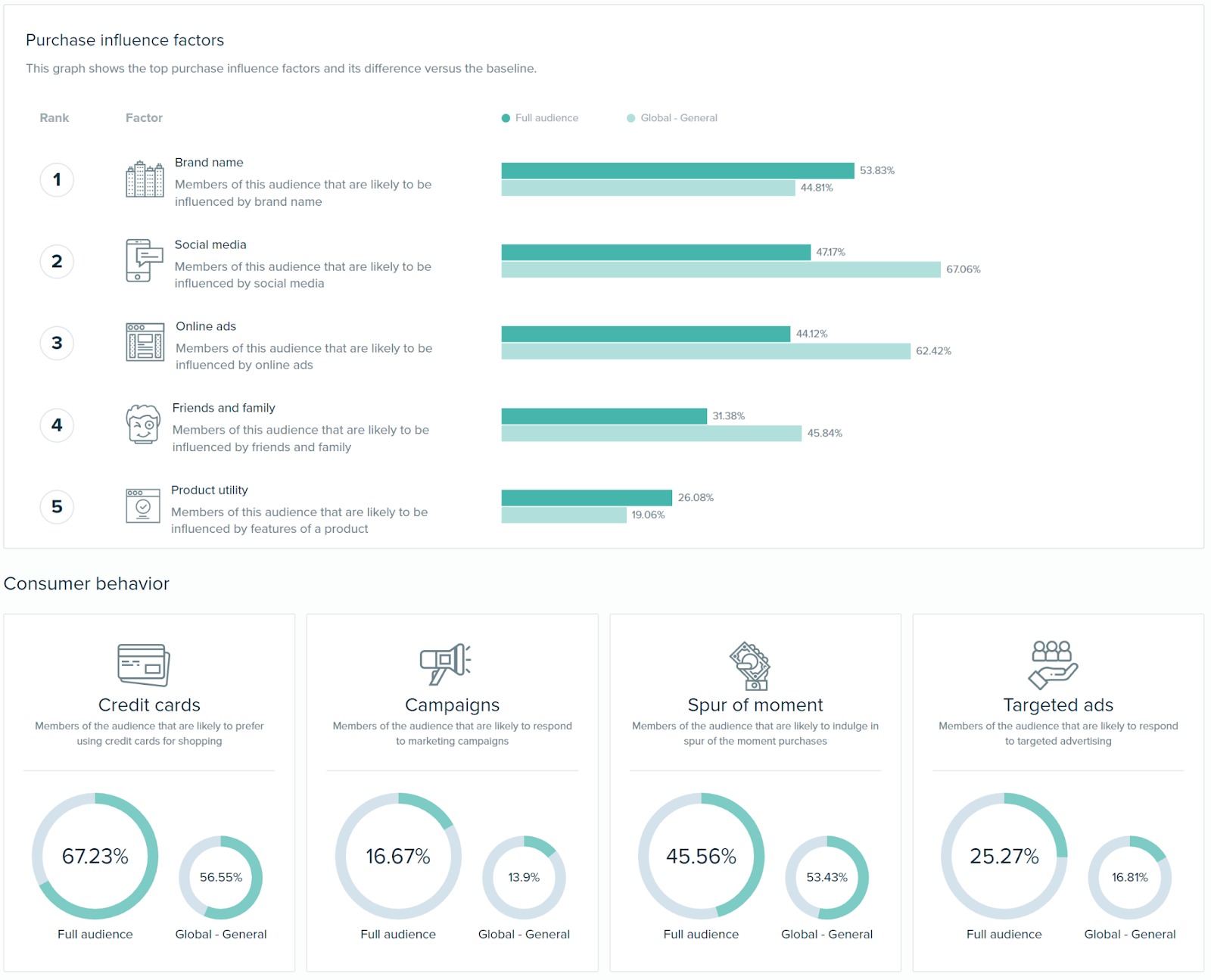 Online Habits
This report details the online habits of your audience, including:
Which device they use
Their most active time periods
Their content publishing and engagement trends
How likely they are to use each social network
Segments
The Segments report separates and visualizes the most prominent communities within your wider audience, helping you finetune your targeting for these key groups.
Affinity segmentation clusters your audience into segments based on commonalities of affinity and interests they have expressed.
When segmenting by affinity, Audience will look into all the accounts that the members of your defined audience are following. Your audience members will be clustered into segments who follow similar sets of accounts, and therefore have similar interests
Segment names are generated with the help of AI based on how members within the segment describe themselves and taking into account unique bio-keywords to distinguish each segment from the rest of the audience.
AI-generated segment names consist of 2-3 words and emojis, and are always in English: i.e., Pop Music Lover 💜 or Soccer and WWE Fan ⚽🤼‍♂️.
The main Segments distribution page highlights the segments that are part of the full audience, with a summary to the right showing you the full audience data.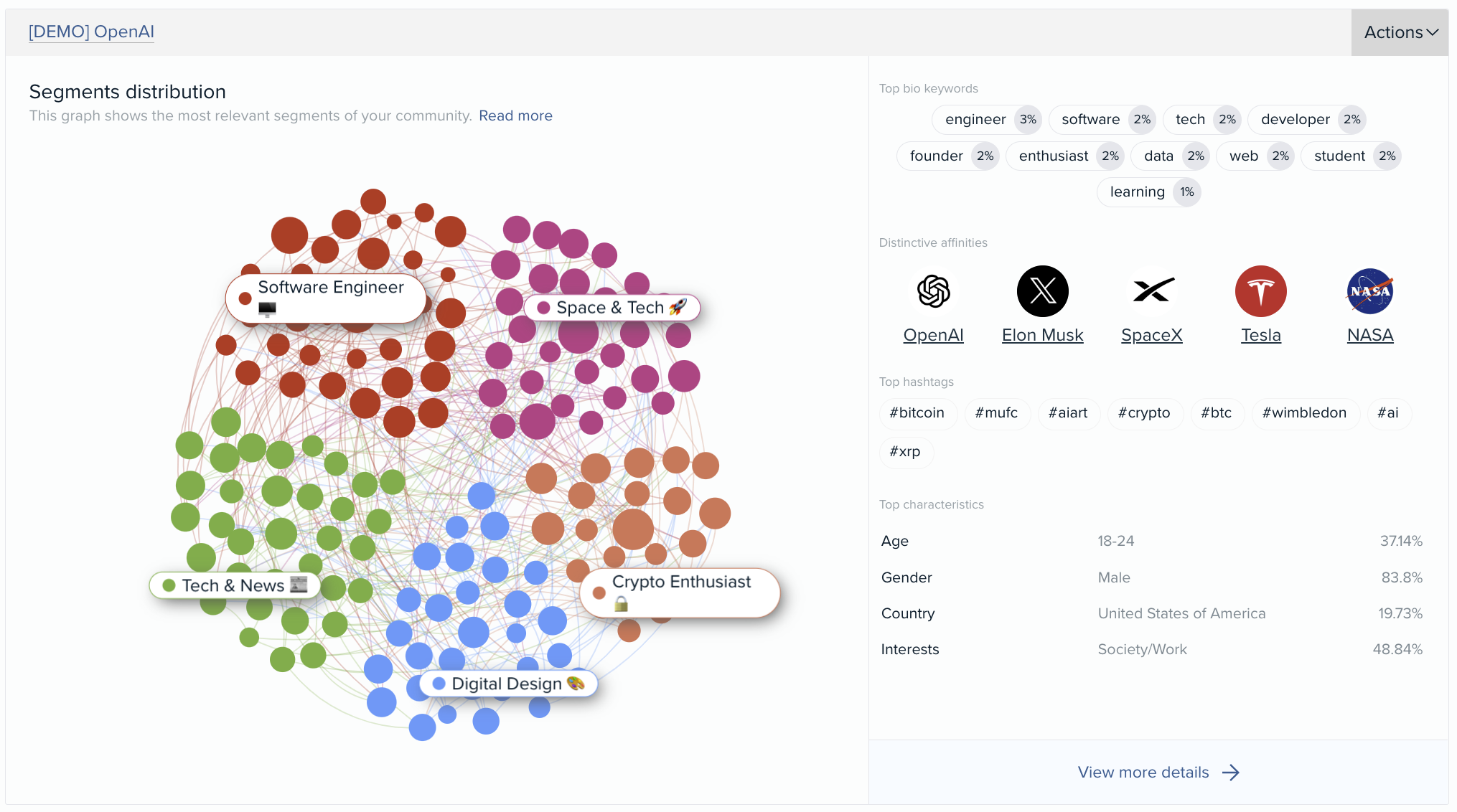 As you scroll down, the segment cards show the names, color identifiers, and summaries of each segment. You can gain a closer understanding of the makeup of these segments and compare them against each other (or against your wider audience).
For instance, you can get a quick summary of:
How these segments define themselves (unique bio keywords)
Their top sources of influence
Their most used hashtags
Their overall demographic tendencies
You can then click on "View more details" to navigate through this data in more detail.
Data and Limits
Audience Intelligence compliantly gathers data from a variety of social networks and public censuses, then enriches that data through its own algorithms and third-party sources.
A standard subscription allows you to create one report each month (unless you purchase additional reports).
Video Walkthroughs