The Brand Monitoring App is designed to track mentions of your brand and competitors with custom alerts that make sure you see only what's relevant. You will be notified by email every time a new mention appears (including those with a negative sentiment) or unusual spikes in mentions occur.
Brand Monitoring allows you to set up detailed queries to track brands (yours, the competition, or others), people, keywords, authors, or backlinks. The app will also find mentions for your query from news sites and many more, which you can filter in multiple ways to see relevant results without all the extra noise.
The Brand Monitoring app can also be used to find relevant articles and authors for SEO and PR outreach by searching for keywords that you're interested in.
How Can Brand Monitoring Help Me?
The Brand Monitoring app allows you to:
Track all your brand mentions across the web
View useful information about brand sentiment, domain authority, estimated reach, and whether there is a backlink to your website in the brand mention
Estimate the value of your media coverage
Check trends, analyze metrics in time and compare results between different queries using share of voice
And much more
Pricing
A subscription to the Brand Monitoring app is available for $49 per month. Additionally, more queries and higher mention limits can be purchased from the My Apps page.
+ 3 queries and 20,000 mentions monthly, +$40 per month
+ 9 queries and 90,000 mentions monthly, +$100 per month
More information about Semrush pricing can be found here.
Monitoring Mentions
Build a search query in the Brand Monitoring app to automate the process of collecting coverage of your brand or product from online media. Click the New query button to start.
New Search Query
The process of creating a new search query begins with choosing the kind of information you'd like Brand Monitoring to monitor. You can select one of the following:
Brand: monitor a brand, see how popular it is, and view the sentiment of the articles when the brand is mentioned
Competitor: track competitors and have the ability to compare the results on share of voice
Keywords: track keywords/phrases of your choice
Person: monitor people from top management, experts, new hires
Author: track article authors if they prepared new content
Backlinks: track how many articles with the provided URL were found in the article; use it to get an idea for how and what is the impact on SEO
And then fill in the text field with your keywords, names, or link, depending on your choice.



You can also have a look at a sample of coverage found at the bottom of the page.
If you need some more advanced keyword configuration, use the settings described below to increase the search accuracy.
Keyword Options
You can check two additional options that will help you get more relevant results:

Exact match: check this option to make the search work in the exact mode. When checked, it will look for articles with the exact combination of keywords you provide. Uncheck this option to allow searches with the right-hand side wildcard.
Case sensitive: check this option to make your search match keywords only when the letter case is exactly what you provide. Uncheck to make the search case insensitive.
Additional Required and Excluded Keywords
Click the + Add more keywords button to insert two types of keywords that will help you get even more relevant results:
Results MUST ALSO contain ALL of these keywords: fill in any keywords that must also be present in the article. Type a keyword or phrase and press Enter to add it as a requirement.
Results MUST NOT contain ALL/ANY of these keywords: this works in the opposite direction of the field described above. Use this section to specify keywords or phrases that you don't want to have in mentions with your required keywords. Type a keyword or phrase and press Enter to add it.
Email Notifications
Set up email notifications for digests and alerts to receive information on coverage found by Brand Monitoring. The emails for digests are triggered as soon as you add your email address, and alerts are triggered when there are new mentions found under your search query and its conditions are met.
Digests
With each new search query you create, you'll receive daily, weekly, and monthly digests featuring top mentions and statistics, such as total number of mentions, those with backlinks, and the number of mentions with positive or negative sentiment.
Alerts
For alerts, you only need to select its type and add a recipient of the email to enable the alert. The available types are:
New mention alert: get a notification each time a new mention is found
Negative sentiment alert: get a notification each time a new mention with negative sentiment is found. This alert has the sentiment-based filter added by default.
Unusual spike alert: get a notification whenever there's a spike in the number of coverage, significantly higher than the average.
Backlink Tracking
Fill in the Track backlinks field for Brand Monitoring to look for it in the coverage (applies to queries configured for Brand, Competitor, Keywords, Person, and Author). This can be a URL to your landing page, newsroom, or website that is included in an article. If you add it, it will allow you to use the backlinks filter when browsing coverage. You can find mentions with or without the URL if the keyword conditions are met.
Filtering
Apart from keywords, you can use the following filters to refine your search:
Countries: filter based on the outlet's headquarters location
Languages: filter based on the article's language
Look for mentions:

title: select to look for keywords present in the title of the article only
text: select to look for keywords present in the body of the article only
all: default option—search the entire article, both title and body

Site types: choose between news, blogs, or discussion groups
Saving Your Search
When you've finished setting keywords and/or filters, you can go ahead and save your search by clicking Create query. Brand Monitoring will gather all of the mentions it can find on the internet. The monitoring is constantly on and as soon as any mention matching the conditions is found, you'll find it in the dashboard. What's more, the moment you save your search, we'll also look for articles published in the past. We'll look for mentions from 30 days before the query was created and onward.
Trial accounts will include results from the 30 days before the query was created (with a limit of up to 120 mentions) and all new mentions.
Browsing Mentions
As soon as you save your query, Brand Monitoring will look for all articles matching the conditions of your query. After a short while, you should get some results and you can browse and filter them.
Mention Details
Each mention will have plenty of useful information and properties:
Author and outlet
Estimated reach
Domain authority
Sentiment
Filtering Results
You can also filter the search results even further with the filter mentions feature. It will let you filter by date range, keyword type, and other filters listed below.

Filtering Mentions by Keyword Type
This filter will let you find mentions that include your keyword used in a specific context. You can use the following keyword types to make the search most accurate:
Person
Organization
Product
Location
Any (default setting)—system will search for all the mentions that contain your keyword or phrase
For example, using the Apple keyword may give you mentions about Apple products and Apple as an organization. Choose the right type to get the mentions you really need.
Keyword types work with selected languages only. These include English, French, Spanish, Russian, German, Polish, Chinese, Japanese, Dutch, Norwegian, Danish, and Swedish.
For all other languages, the keyword type will always be set to any.
Favorites
Each mention may be marked as a favorite for future reference. If you have any articles marked, you can use the filter Favorite to find those that have or haven't been marked as favorites.
Blocking Domains
It may happen that there are certain domains that publish articles related to your search keywords, but you're not interested in coverage originating from these. There's a way to block them permanently and not see any mentions from them in your mentioned browser and statistics. You can access and manage all blocked domains under the Blocked domains tab.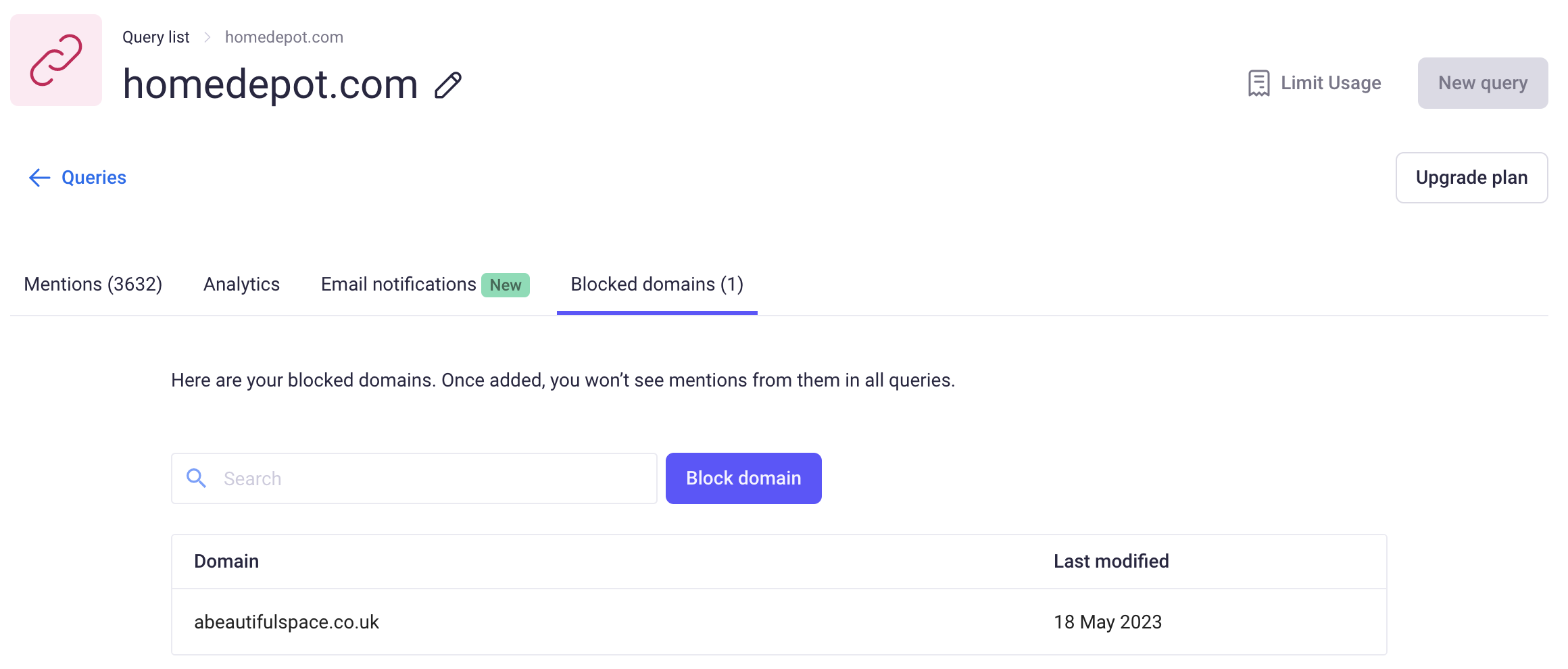 Analytics
Go to the Analytics tab to see charts presenting various metrics related to your search query. You will see statistics including:
Total number of mentions
Mentions with backlinks
Estimated reach
Traffic
Breakdown of sentiment
Share of voice
Domain categories
Top mentions sorted by estimated reach, domain reach, domain rank, domain authority score
You can narrow down the data on the charts by using several filters:
Date range
Keyword types (explained earlier)
Filters based on mention details (explained earlier)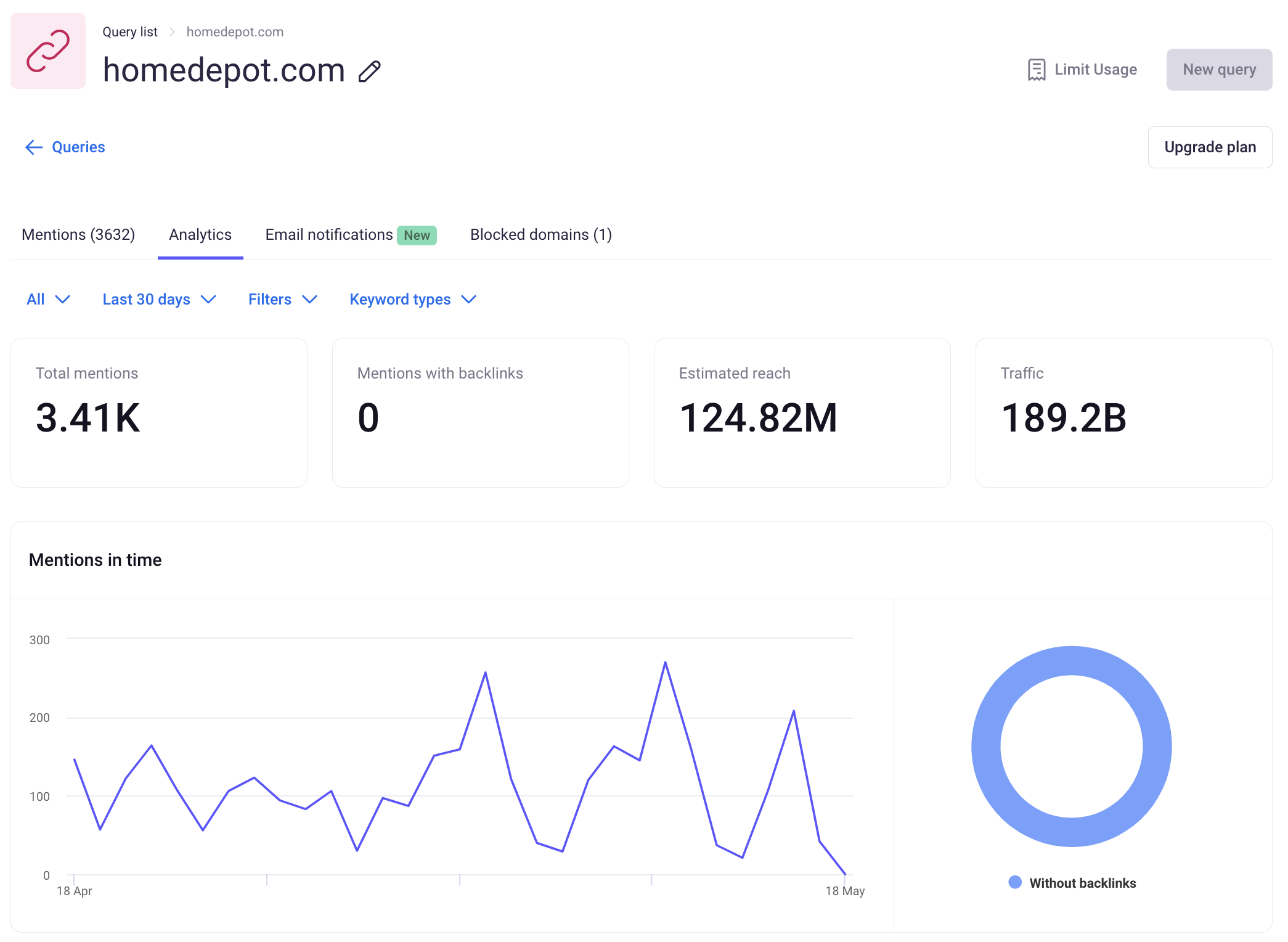 Managing Email Notifications
You can manage your notifications in the Email notifications tab, where you'll find all of the alerts and digests set up for your query. You can also add new ones and delete or disable the ones you don't need. In order to receive email notifications, your email will need to be verified first. Without the verification, the notifications won't go out; this will be signaled by the exclamation mark icon. In order to send the same kind of alert or digest to different recipients, simply add a new one.
Data and Limits
With a paid subscription, you can create up to three queries with no keyword limits. However, the number of mentions you can gather is limited to 10,000 mentions monthly. If the limit is reached, you can wait until the new monthly period starts or buy more mentions on the My Apps page. In both cases, the process of searching for new mentions starts automatically. The new mentions are gathered every 20 minutes. Brand Monitoring finds historical mentions from the 30 days before the query was created.
If you have some queries left, but the mention limit is reached for the billing period, it won't be possible to create a new query.
If you have any other questions about Brand Monitoring or about the App Center in general, please email us at app-center@semrush.com.
Frequently Asked Questions