Semrush Persona is a free tool that helps you create buyer personas using highly customizable templates. This tool is completely free, with no limits on the amount of personas you are able to create.
What are Buyer Personas?
Buyer personas are representations of your current or target customers. Because they help teams develop a more concrete understanding of those customers, they can be used to refine marketing, communication, and even product development strategies.
Buyer persona research involves gathering real-life data about your existing and/or potential customers and users. There are various methods of collecting information for your persona, including quantitative (e.g., surveys) and qualitative (e.g., interviews) research. It's important to combine those tactics since your goal is to find the most accurate and actionable information about your audiences.
Why Do You Need Buyer Persona Templates?
Once you've collected all relevant information, it's important to categorize it and make your findings as easy to understand and utilize as possible. This is where buyer persona templates come in. They will help you quickly turn your insights and data into visually digestible profiles that can be shared and used across the entire organization.
Buyer Persona Tool Features
Semrush's Persona tool helps you assemble custom buyer and user personas quickly and easily.
The Persona tool is free and unlimited, and offers users:
Pre-designed templates to guide you through the persona creation process (you can also create your own templates from scratch)
Full customization allowing you to add new sections and bespoke fields
The ability to edit, share, and save each persona
Helpful tips and recommendations on sourcing data for your personas and putting it into practice
How to Use the Semrush Persona Tool
The Semrush Persona tool is designed to be as intuitive as possible. Once you've completed your research process, it guides you through the process of transforming that information into your persona, step-by-step.
Click the "Create Your Free Buyer Personas" button on the main page to get started.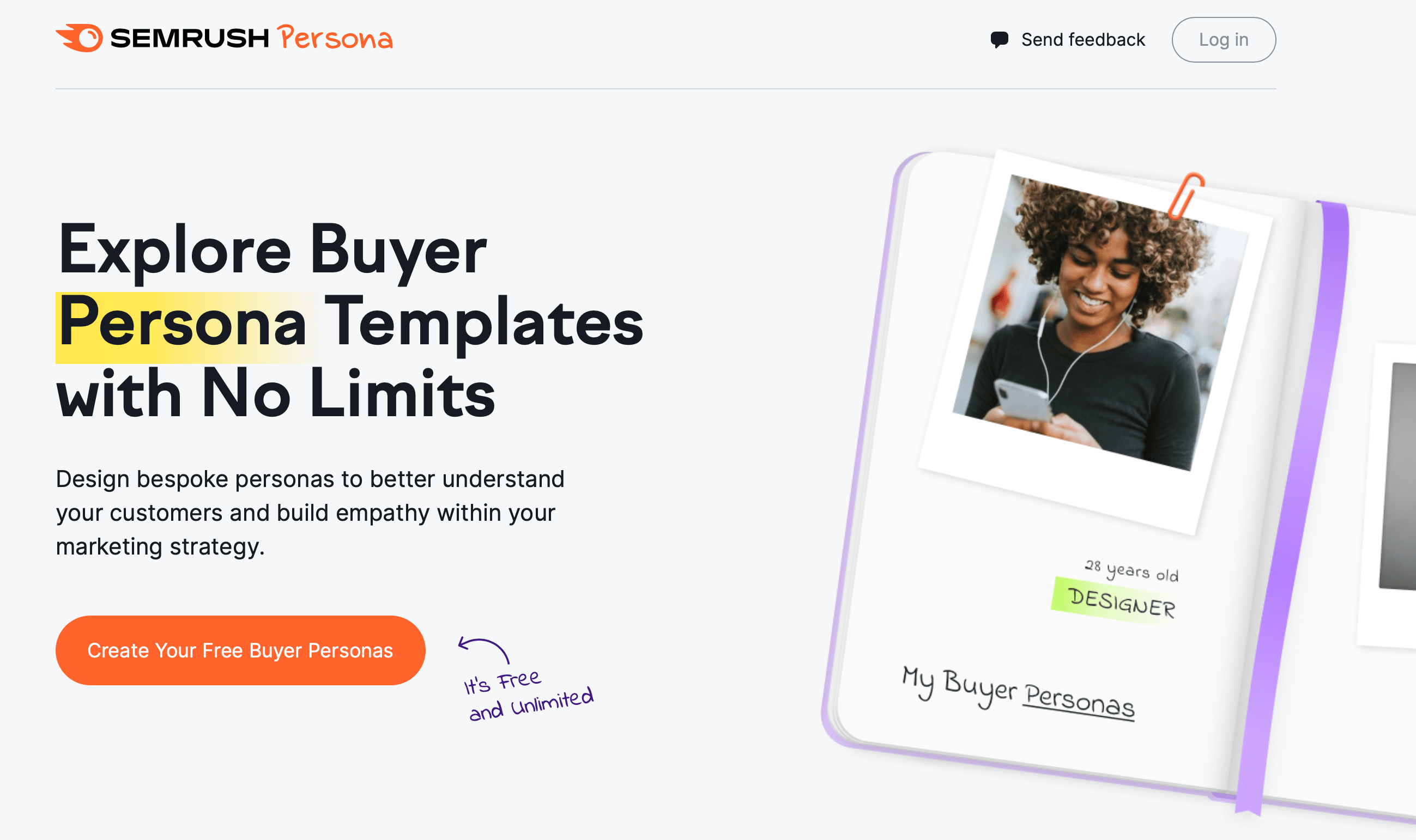 If you've done this before, your other personas will appear on the right.
Simply click on the representative photo to view and edit that persona.
Choose a profile picture for your persona.
Assigning a picture to your persona - even giving it a name - can help bring your buyer persona to life and even encourage your team to start thinking of them as a real person.
To give your persona a face and a name, simply click on a photo you like, or, to refresh your options, click "More Photos".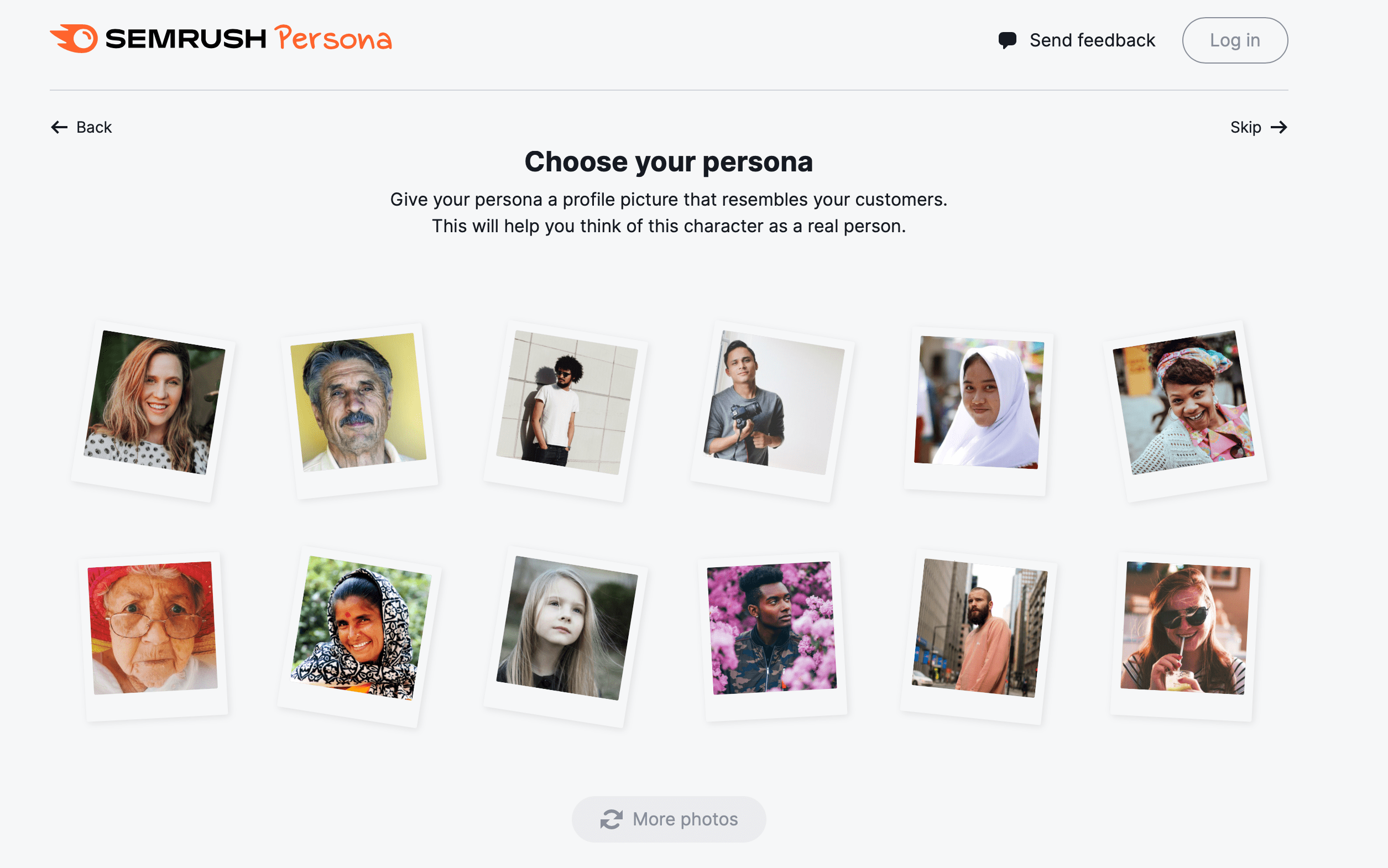 Choose a template.
You can choose one of three fully-customizable persona templates (explained in more detail below.)
Your options are:
Default Template
B2B Template
User Persona Template
Build your persona.
Each template is made up of nine or more sections, each containing different information.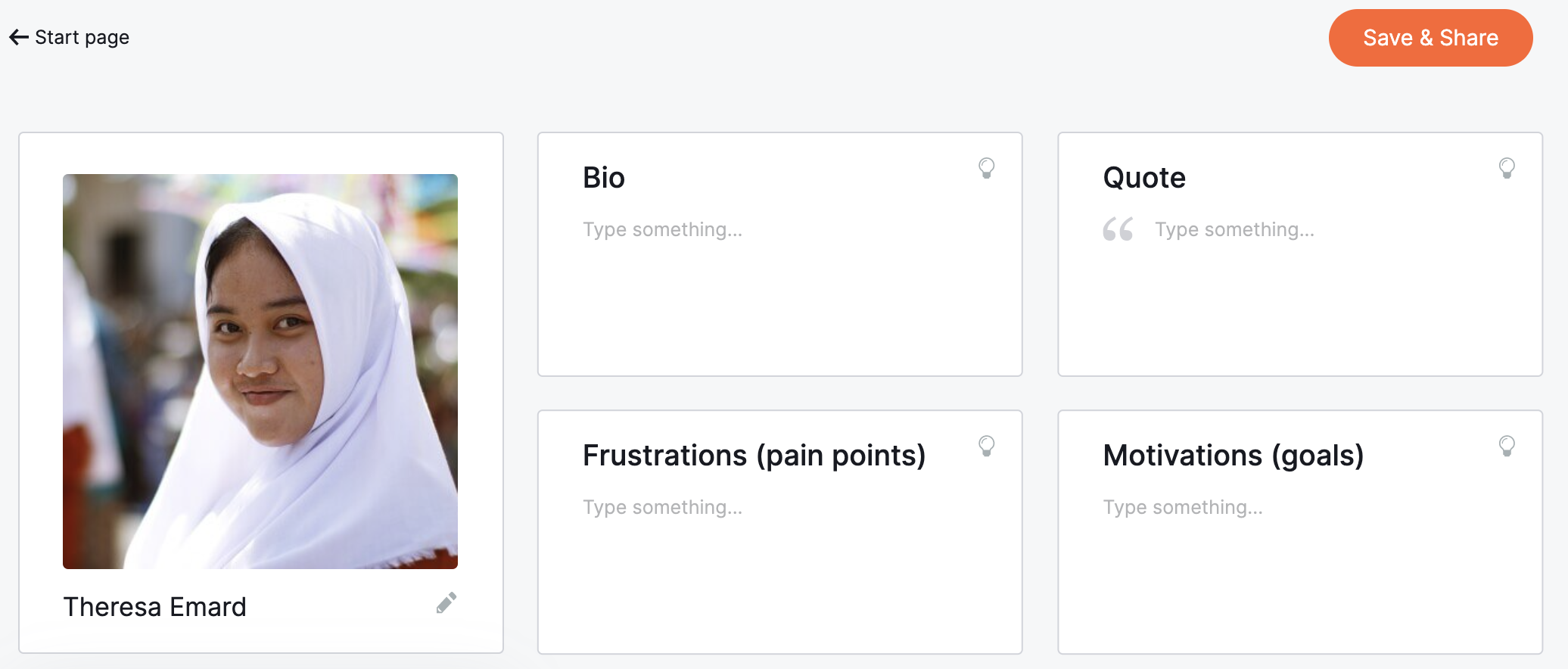 Each section is fully customizable. If you want to change your persona's name, click on the pencil icon beside it to generate a new one. For all other sections, simply click on the element you want to update to begin editing.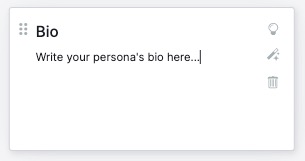 You can customize each section in the following ways:
Changing the section title (click on it and start typing)
Changing the background color (click the magic wand icon)
Rich text field allows basic text formatting and lists creation
Adding a new field within a section when applicable (click "Add field" at the bottom of the tile)
Moving the section (click and drag using the six dots to the left of the title)
Deleting the section (click the trash can icon)
Resize the section (click and drag the tile sides)
Once you're ready, click on a section to begin filling it out. If you're not sure where to start, click the lightbulb icon in the top right corner of the section. A window will appear, telling you more about what to include, where to find the information you need, and how to put it into action.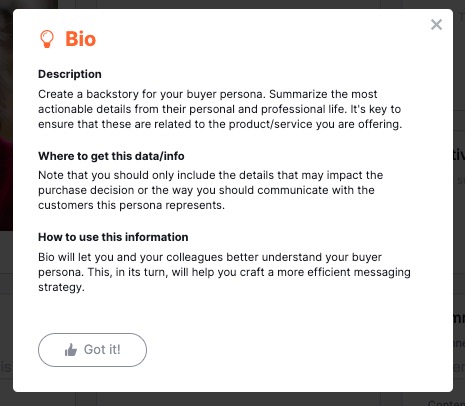 If you need to add more sections, click "Add new section" at the bottom of the page, and a menu will appear. This menu will contain every available section, and a brief overview of what it contains and how to use it. And if none of them work for you, you can also add a blank tile (with options like rich text, slider, multi-field and more) to create your own custom section.

To add a new section, choose the one you want to add and click "Add tile."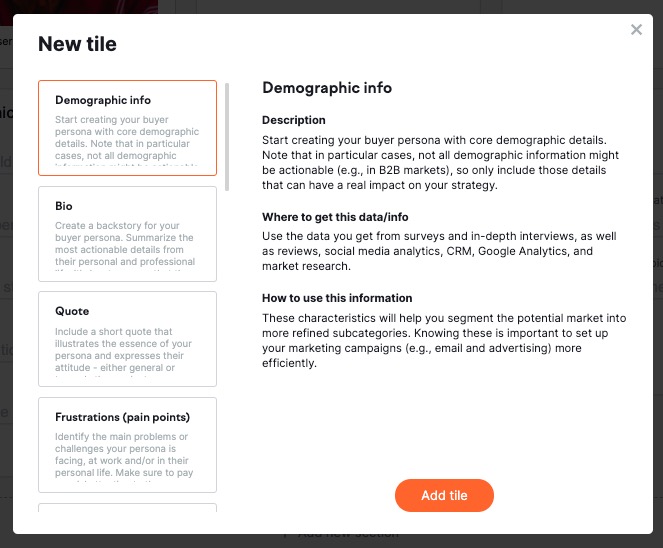 Once you're finished, the buttons at the top of the page allow you to:
Save your persona (it'll save automatically if you are logged in)
Share your persona with the rest of your team
Make a copy of your persona
Delete your persona
Before You Start: Researching Your Persona
Your buyer persona should reflect your current or target customers, or a specific segment of those customers that you want to target. As such, before you start creating your persona, it's important to conduct research, to ensure it's as accurate as possible
Not sure where to start? Review your selected template. This can tell you what kind of information you're going to need.
Here are some helpful tools that can support your buyer persona research process: :
Customer research (e.g. surveys, interviews, and focus groups)
Customer feedback
Feedback and knowledge from customer-facing teams
Market research
Marketing automation tools
Social media analytics
Google analytics
Semrush tools like Market Explorer and Traffic Analytics
Using the Market Explorer tool, you can take a deep dive into your target audience, learning who they are and what they gravitate towards.
For example, the Overview report can tell you the top keywords they're using to find content in your industry, and which competitors are getting the most traffic from those keywords. Using the Market Demographics report, you can learn about your audience's age and sex distribution, top social media platforms, and their interests.
Then, the Traffic Analytics tool can tell you about how they actually find and access your site, other websites that are popular with your audience, which pages on your site resonate the most with them, and more.
Once you've compiled all your information, the next step is to fill out your selected buyer persona template.
Buyer Persona Templates
The Persona tool offers three thematic persona templates to guide you through the process of assembling your persona. Each one is fully customizable, meaning users can personalize them by modifying, adding, or removing sections as needed.
Persona Templates Section Guide
Below are all possible sections that could be included on your Buyer Persona template.