AI Narratives for GA4 is an app that uses data from Google Analytics (GA) to generate actionable data narratives. It provides reports, insights, and alerts in plain English to help marketers understand key metrics, anomalies, and outliers regarding their website's performance.

AI Narratives for GA4 can be found in the Semrush App Center.
How Can AI Narratives for GA4 Help Me?
By using the AI Narratives for GA4 app, you can:
Detect issues and have a bird's-eye view of your web traffic in an easy-to-understand format
Make data-driven decisions by collecting and analyzing marketing data on a single platform
Translate raw data into actionable insights to identify issues and opportunities for growth
Be proactive about unexpected traffic spikes and fluctuations that could impact your business
Pricing
You can try AI Narratives for GA4 free for 7 days, and then add the app to your Semrush subscription for $39.99/month. Each additional data source is $20/month.
AI Narratives for GA4 Main Features
With the AI Narratives for GA4 app, users can benefit from these core features:
Automated insights: Help scale your business and access multiple accounts in a single dashboard
Natural language narratives: Make informed decisions about your website's performance with plain English narratives that do not require extensive technical knowledge of data analysis
Anomaly detection: Receive alerts when website traffic deviates from normal behavior to mitigate erroneous data and correct technical errors
Scheduled automated reports: Time-saving automated reports allow marketers to delegate more time and resources to higher-level strategy
How To Start?
Click on the "Go to app" button to connect your Google Analytics 4 (GA4) sources by logging into the designated email address associated with your account. Select the website property you would like to track.

Next, select your objectives. You can select any or all of them. They are:
Conversions: Completed activities that are important to the success of your business
Website performance: Page views, website traffic, engagement rate, session duration, and other important metrics
Active users: Changes in the number of active users on your website
User behavior: Understand how users interact on your website
Geography: See where your visitors come from (city, country, etc)



You can also select additional settings in the objectives screen. This allows you to mute specific metrics if you do not wish to receive information about them.


Allow email notifications, and click the Next step button:

After a few moments, the app will collect the GA data from your source and begin creating narratives on the main screen for your analysis.
Select your reporting settings next. This feature allows you to control how often you receive an automated report delivered to your email inbox. You can choose daily, weekly, or monthly reporting frequencies.

What's Included in AI Narratives for GA4?
The AI Narratives for GA4 app pulls data every six hours. The dashboard is a two-column interface with a menu on the left side, and the right side populates with your narratives. (Note that if there is very low activity on your website, there may be insufficient data to create a narrative.)

In the menu on the top left, you will see:
Overview
An overview of all your narratives is displayed as a feed.

The feed contains historical content (the time period prior to connection), weekly reports, monthly reports, and narratives.

The feed is updated every six hours with fresh narratives, alerts, and reports.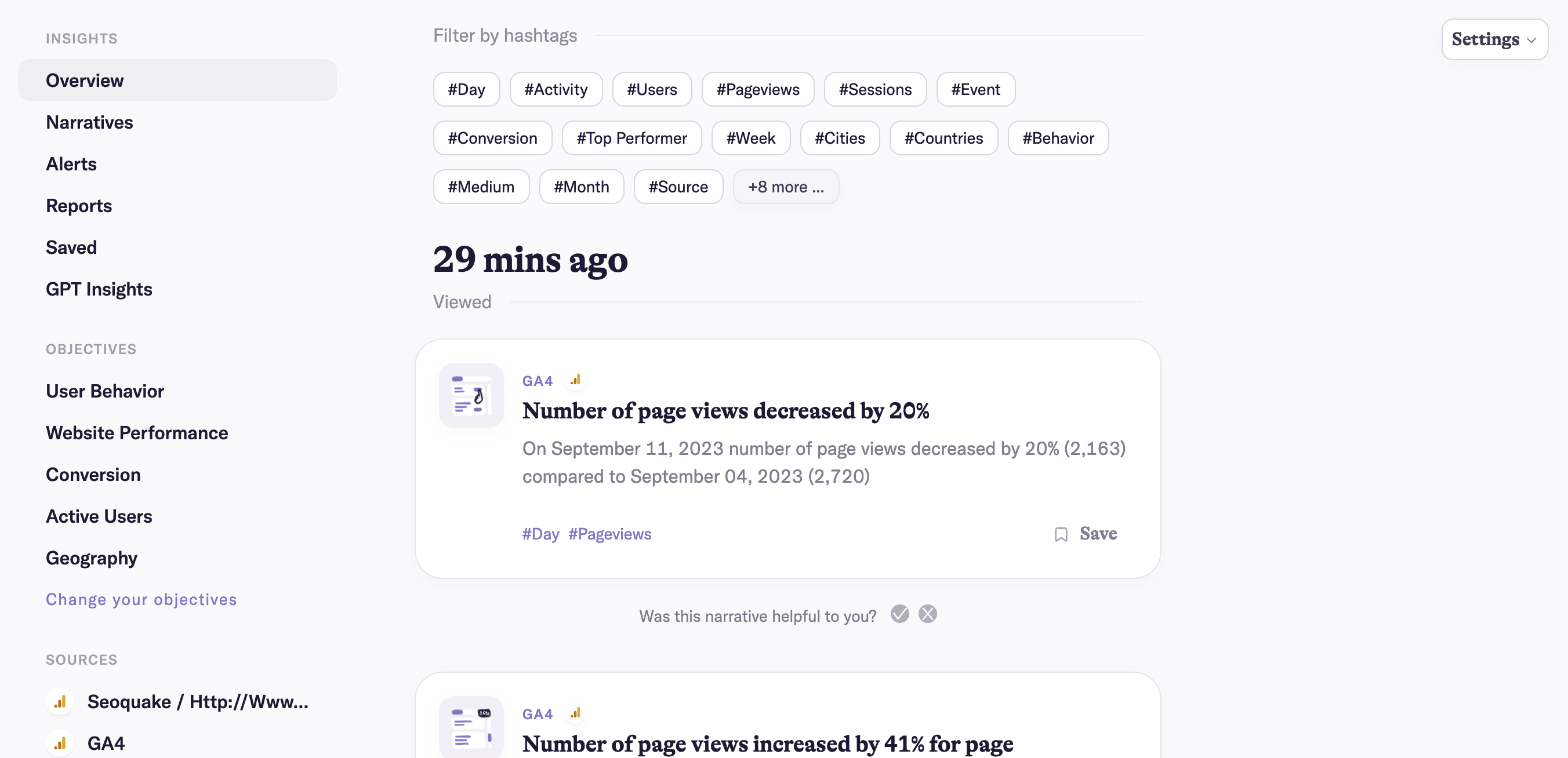 A user will receive fresh narratives, alerts, and reports every six hours if synced data is enough for this.
Narratives
A narrative is a single data insight that consists of a natural language-generated text and a visualization. In this way, you can analyze the performance of your website in an easily digestible, straightforward way.

There are several ways to filter specific metrics. To filter types (narratives, alerts, or reports), use the upper left menu to click on the items.

To filter by keywords, click on the #hashtags cloud in the header or in the narratives preview.

To filter by objectives, navigate to the Objectives menu or icon on the left side of narratives and click on the menu items.

To filter by source, use the Sources menu and click on the menu items.

This will populate the feed with your selected filter(s).




If you wish to receive more narratives of a specific type in your feed, select the Like button on the narrative you wish to track. On the other hand, click the Dislike button to indicate which narrative types you wish to hide.
Alerts
You'll receive alerts of any spikes or fluctuations in your web traffic that are detected as a result of a technical issue or anomaly. This can include urgent data insights based on unusual changes in primary metrics.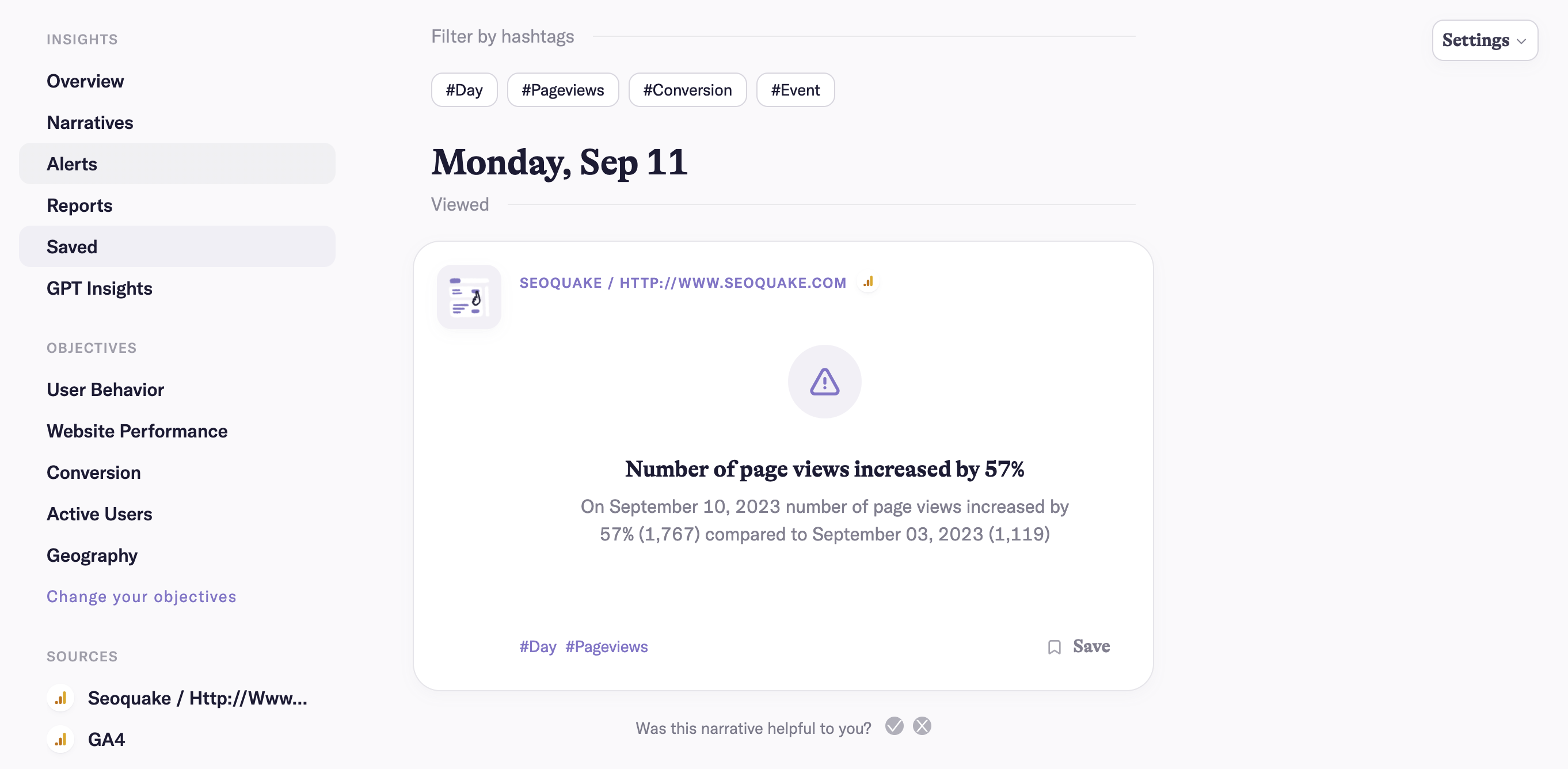 Reports
Reports compare your website's performance against the past reporting period selected.

Weekly reports will generate on Mondays and monthly reports on the first day of the month. You can also customize your reports by changing primary metrics in additional settings.

Reports show changes in your selected primary metrics, namely:
Users
Engagement rate
Page views
Sessions
New users
Average session duration
Conversions
Revenue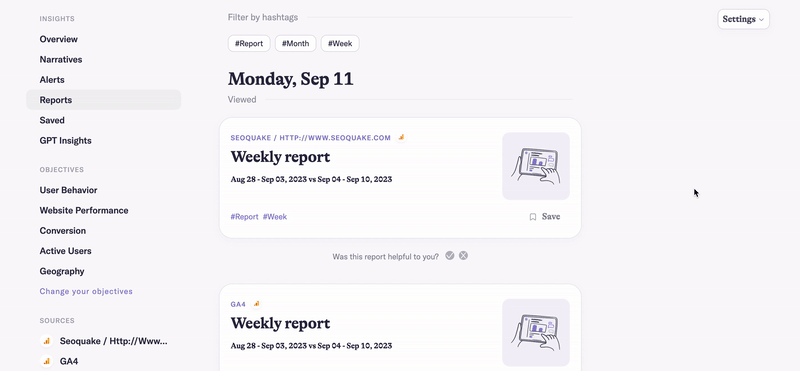 Saved
These are the selected narratives you have saved for further analysis and reference.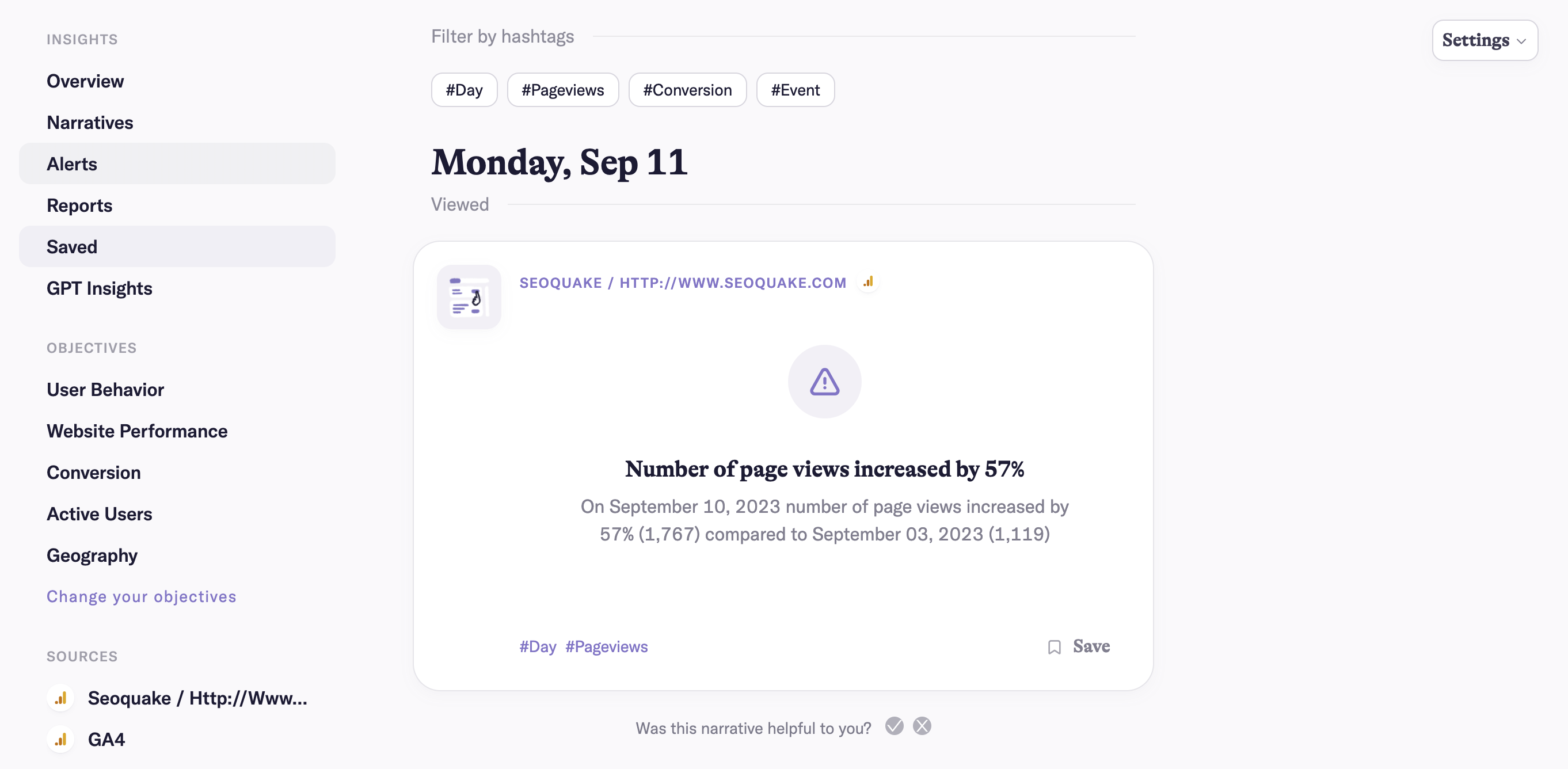 GPT Insights
The app provides weekly AI-generated reports for each connected source about changes to the metrics and ideas for improvement powered by Chat GPT.
Notifications
To set up email notifications, select Notifications in the Settings drop-down at the upper-right corner of the interface: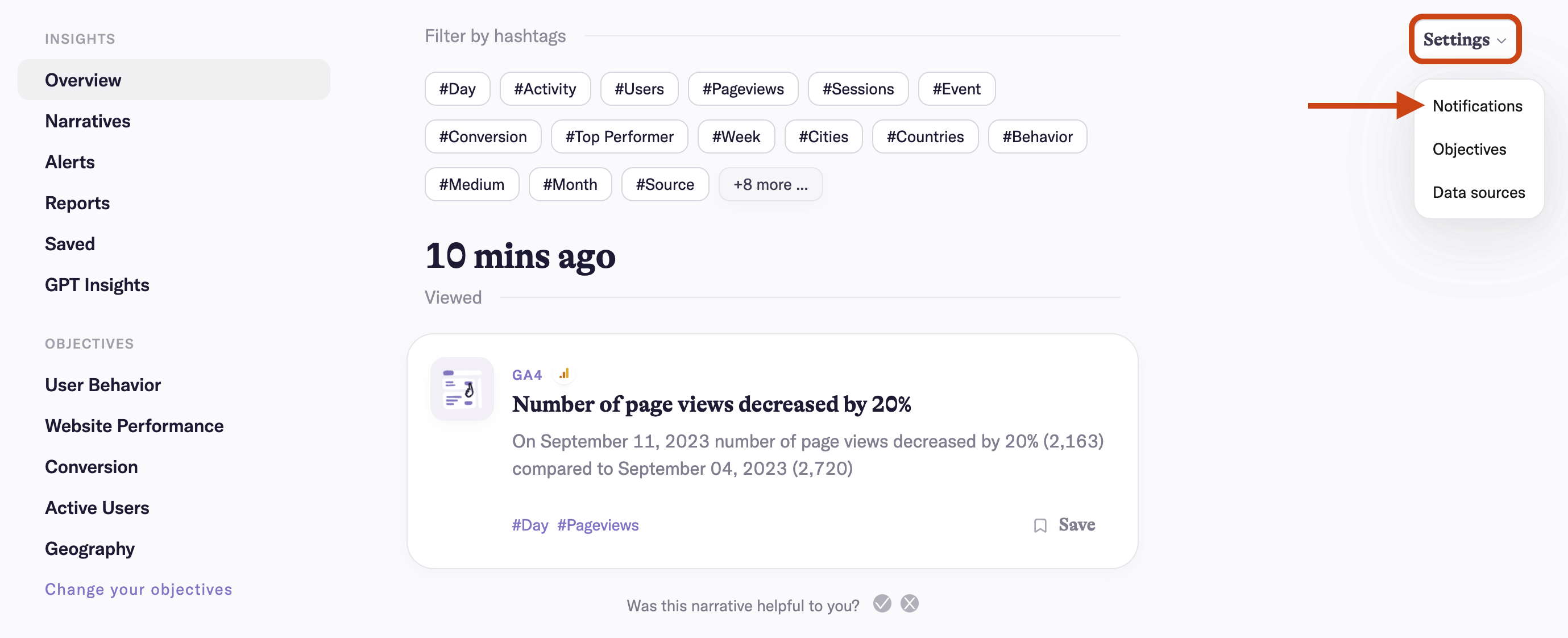 On the Notifications page, you'll be able to choose:
What do you want to be notified about
Frequency of new reports
Frequency of new narratives
Frequency of new alerts
Enabling GPT Weekly Insights
If you have issues with setting up or receiving notifications, please check that you allowed email notifications. This can be done by clicking on the cog icon in the right corner of the header:

Data and Permissions
AI Narratives for GA4 supports Google Analytics 4 accounts.

To generate narratives, AI Narratives for GA4 is verified by Google and requests only the necessary permissions. It does this by downloading the data from your GA account and does not require full access to your personal Google account.

You must provide the Read & Analyze permission tier to connect a GA data source to AI Narratives for GA4.

User data can be refreshed until 24-48 hours after generation. If you see the badge "The data is not final," it indicates that data may be changed in 24-48 hours.

The badge "The data was refreshed" indicates that your data was changed after the sync.

If you do not receive a narrative after six hours following sync, it may be due to a connection error. Go to Settings > Data Sources > Select the source > Data sync, and check the status of the last synchronization.

Lastly, if there is very little activity on your website or app, it may not have enough data to generate a narrative.

If you have questions about the App Center or the AI Narratives for GA4 app, please contact us at app-center@semrush.com.