Semrush's backlinks tools offer guidance for each step of the link building and auditing processes. In this workflow, you will learn how to identify any potentially toxic backlinks and how to find new quality link building prospects.
Let's start by reviewing your backlink profile.
Backlink Audit - audit your backlink profile
Backlink Audit provides a workflow to audit your links, analyze factors associated with any suspicious links, send emails to website owners, and create a disavow file to send to Google in serious cases.
Set up Backlink Audit
To start, you'll need to create a Backlink Audit campaign. Either set up a campaign for an existing project or create a new one if you don't have a project yet:

Configuring your Backlink Audit Tool can be completed in four easy steps.
On the first step, you'll need to choose the scope of your audit: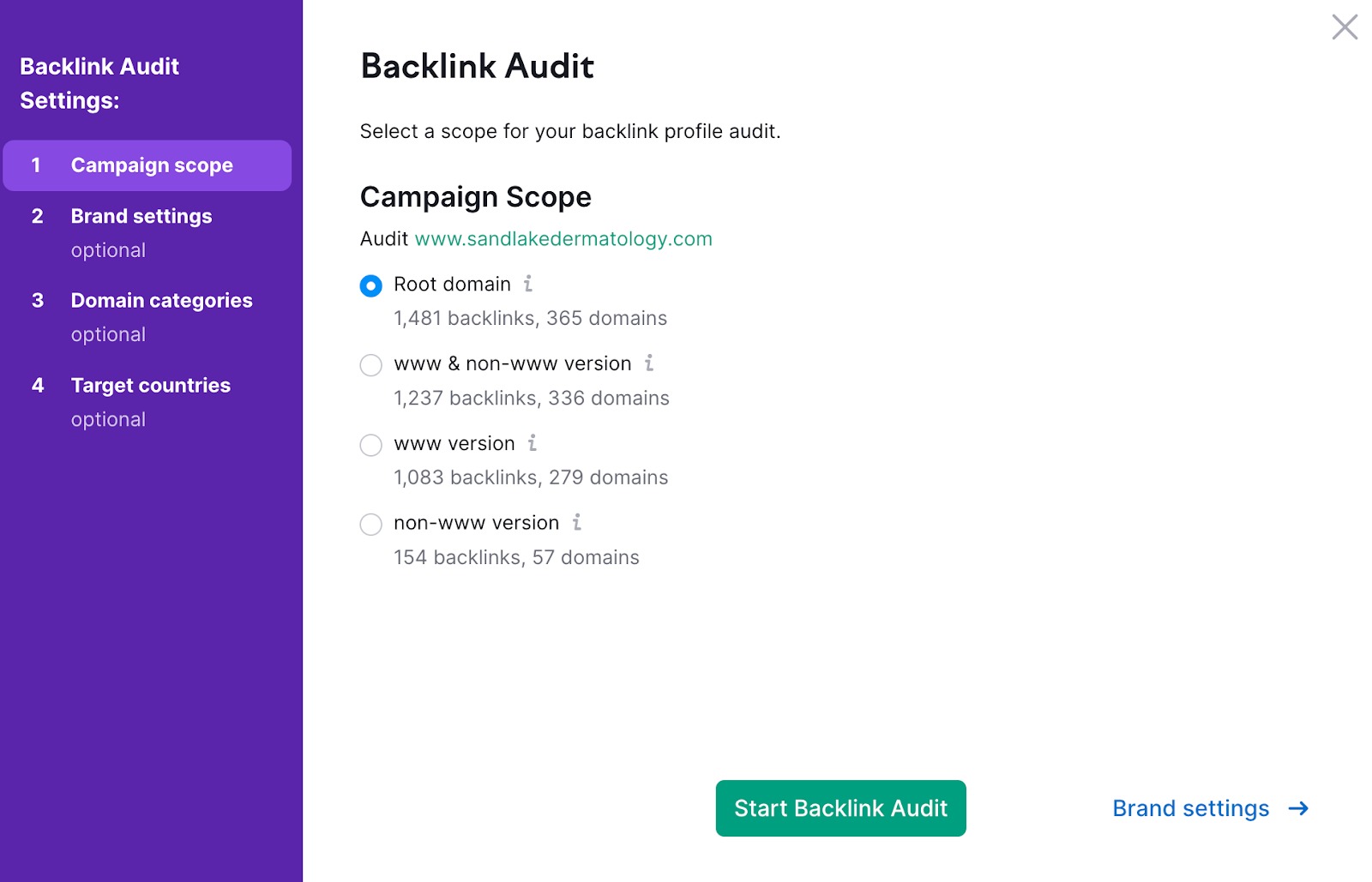 We recommend choosing the root domain option, as this is the broadest one and allows you to analyze a wider scope of backlinks for your domain. On the contrary, if you choose to track just a "www" version, you will be limited to backlinks specific to that subdomain.
The other 3 steps are optional:
Brand name - add a brand name that you use in your business, marketing, and advertising to identify your product, service, or concept. If you translate your brand name into other languages, you should add them here too.
Domain Categories - select themes associated with your domain. This data simplifies the process of identifying risky backlinks and allows us to provide more accurate results.
Target Countries - select countries associated with your target audience. This data will help us understand if backlinks are coming from countries that are not relevant to your website.
Review your links
After your configuration is complete,and the auditing process is finished, go to the Audit tab to start reviewing your links: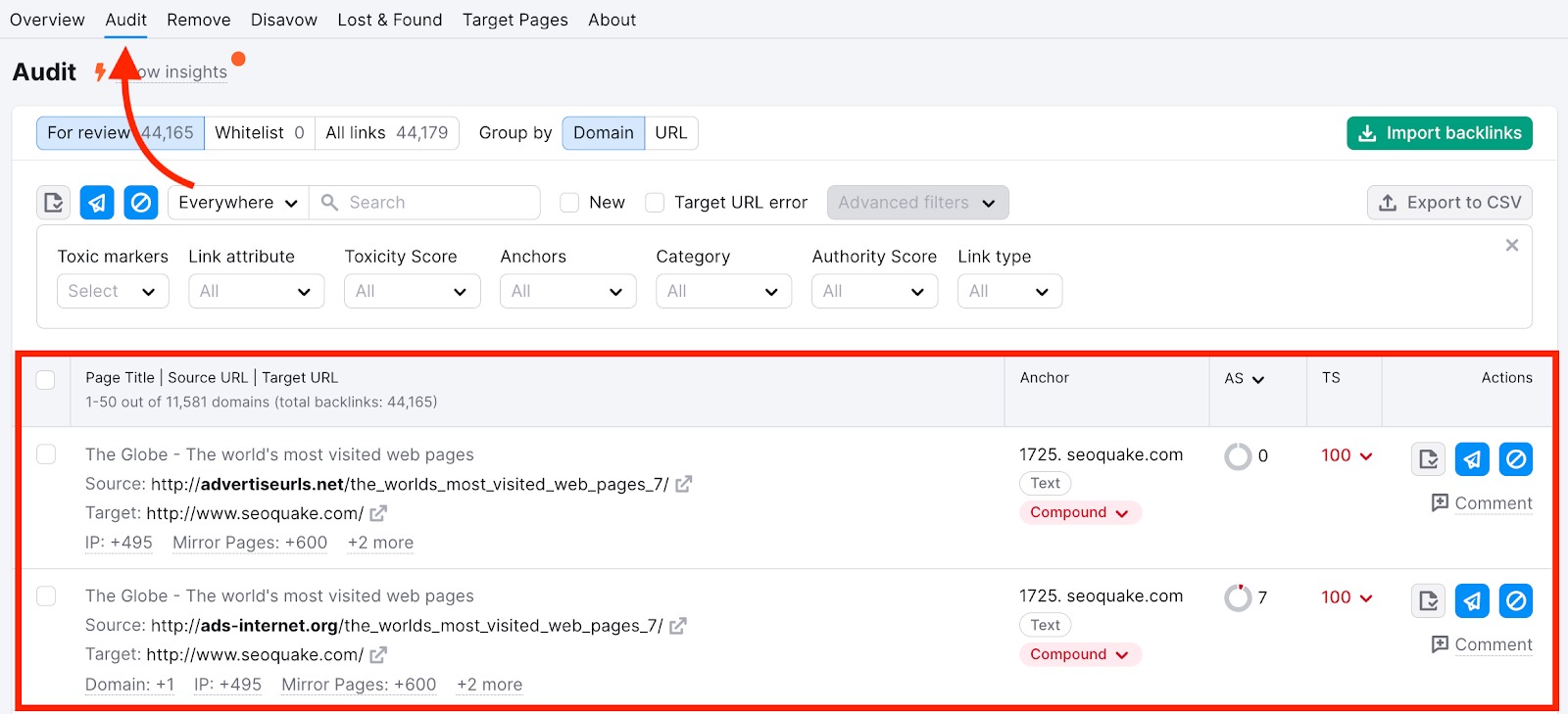 In the beginning, you will have all of your links in the For Review group. This group can be considered your working folder - the links that you are currently auditing. Here in the table, you'll see Source and Target URLs, Anchor, Authority Score, Toxicity Score, and Actions column.
All the links are sorted by the Toxicity Score. This metric measures the risk of a particular backlink using a 100-point scale from 0 (not suspicious) to 100 (very suspicious). It is based on a compound formula, which considers toxic markers discovered for each backlink. You can check the toxic markers for each link: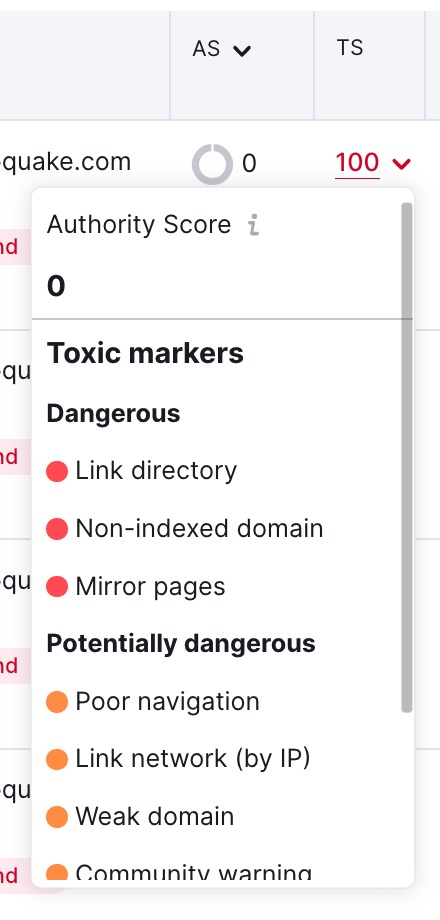 We advise connecting Google Search Console and Google Analytics to your campaign. GSC connection will sync your domain's real-time backlinks with Semrush's analysis of your backlinks. GA connection gives you information about the traffic coming from your backlinks and can cause some of your toxic scores to lower so that you can avoid deciding to remove valuable backlinks that are driving actual traffic to your domain.
After you've reviewed a link, in the Actions column, you can choose an action for the next step of your audit:
Whitelist a link if you find it valuable.
Move it to the Remove list.
Move it to the Disavow list.
In the top left side of the page, you will find the Profile Insights feature. It provides actionable tips and insights about a domain's backlink profile. You can find it on every page within the Backlink Audit tool.
Click on the Show Insights link to see actionable tips and insights. Each flagged issue includes a brief explanation of what that issue is and its relevance to you, followed by a Review button. Clicking on the Review button will take you directly to a report, chart, or feature within the Backlink Audit tool, where you can see the issue for yourself and research it.
Reach out to remove unwanted backlinks
After your investigation, you may have determined that a certain link or set of links was the reason your site received a manual action. You could reach out to the site owner and ask them for a link removal—especially before using the disavow tool.
The Remove list in the Backlink Audit Tool allows you to build an outreach list of links that you want to manually reach out to and ask to remove or set a nofollow attribute.

This process only works if you have an email address to reach the domain that is linking to you. To add your email, use Add button:

Create a Disavow list
Sometimes a site owner won't take down a link you know is affecting your SEO badly. In a serious case like this, you might want to use the Disavow function. Disavowing links asks Google not to consider these links when ranking your domain (though no promises).
In order to disavow your unwanted backlinks, you will need to upload a properly formatted .txt file to the Google Disavow Tool. The Disavow report in the Backlink Audit tool helps you prepare a file with all backlinks that you want Google to disregard.
Once you have completed your Disavow list, you will see a green button in the top right that says "Export to TXT." When you click on the export button, Semrush will convert your Disavow list into a properly formatted .txt file. Then, you'll need to go to the Google Disavow Tool to upload the file. Like Google says, disavow links with caution.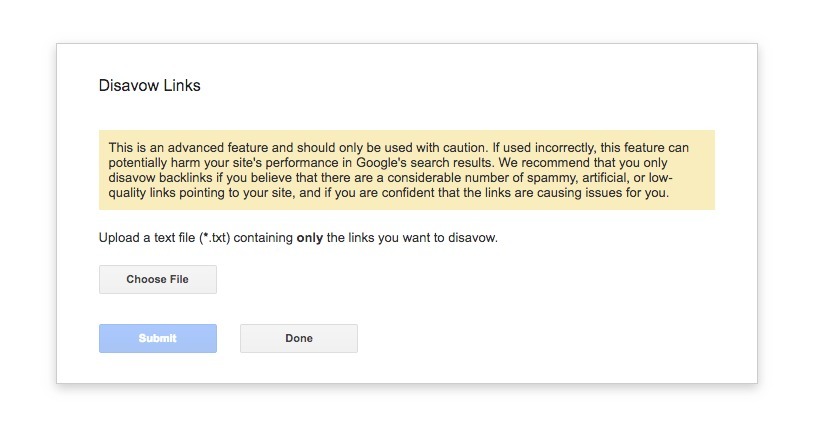 Note, Backlink Audit can't check by itself whether you've uploaded the file to Google Disavow Tool or not. To confirm that you have disavowed the links, click Done in the message bar right at the top of the report. These links will get a status of Disavowed, and the Toxic Score for the project will be recalculated.

Learn more in the Backlink Audit manual.
Next, let's find new quality backlink prospects for your domain.
Link Building - find new prospects
Link Building Tool collects a list of link building opportunities for your domain and provides you with a management interface to run an outreach campaign to acquire backlinks.
Set up Link Building tool
Go to the Link Building Tool, start a new project or create a new campaign for an existing Project.
The configuration process consists of two steps:
1. Select your database and enter up to ten keywords that you wish to earn a higher ranking for:
2. Add up to ten competitors whose backlink profiles you consider worthy of replicating.
When done, press the "Start Link Building" button.
Reviewing link building prospects
After your campaign is set up, start reviewing your prospects in the Prospects tab.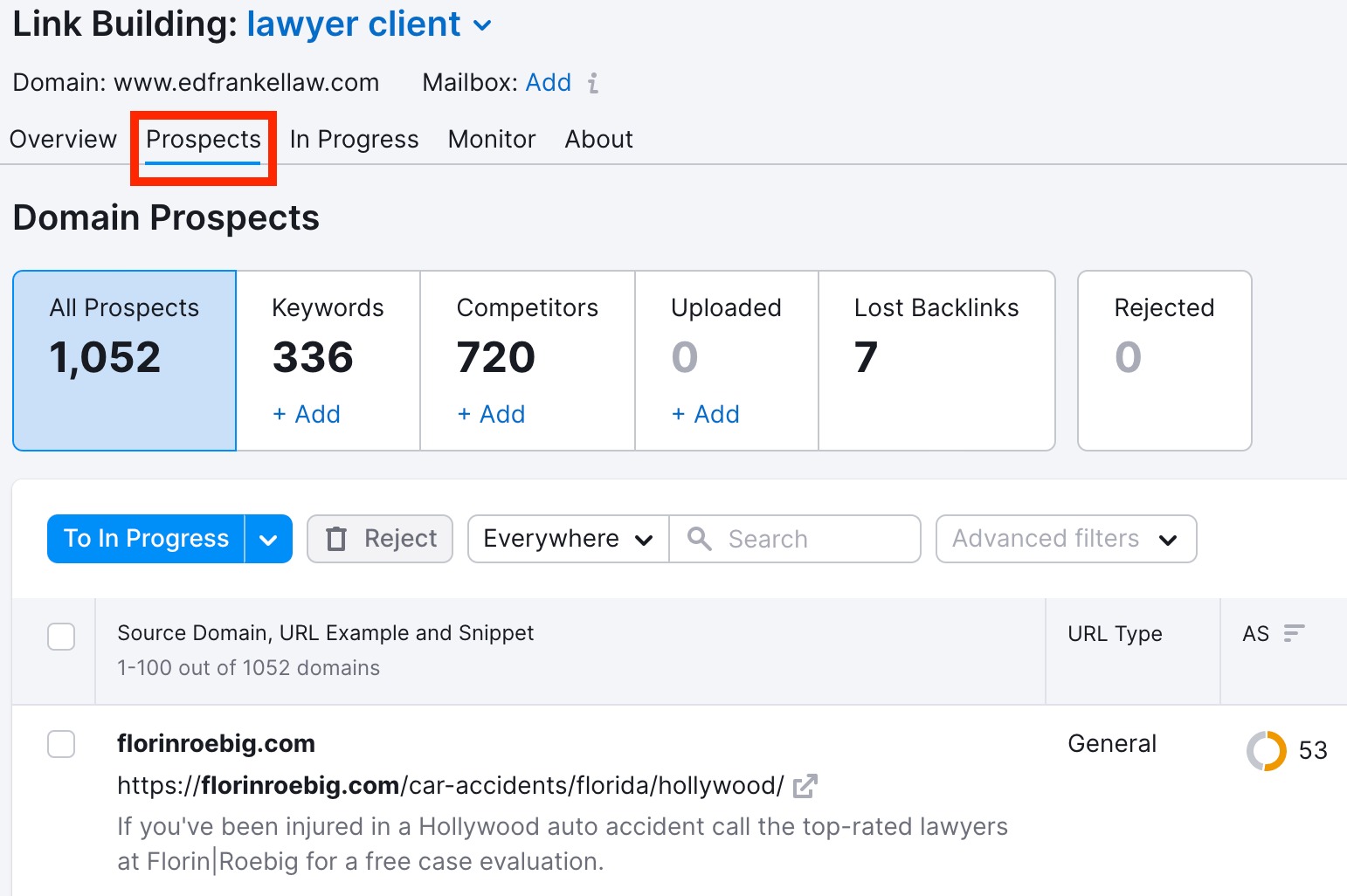 In the Prospects report, the Link Building Tool will break down all of the gathered opportunities by their respective sources.
All Prospects - all the domains that are listed as prospects in your campaign.
Keywords - domains that we found ranking in organic search for the keywords you entered during the set up process.
Competitors - domains that send backlinks to the competitors that you during the set up process.
Uploaded manually - domains that you uploaded to your campaign manually.
Lost backlinks - domains that used to link to your site, but now the links are lost (data sourced from Backlink Audit tool)
Review the prospects and pick the ones that are relevant to your website and move them to the In Progress tab using the "To in progress" button opposite the prospect's link.
To help you choose, there are Authority Score and Rating metrics. Expanding the Rating shows the quality of this backlink, as well as the relevance and domain health.
Connect your email account and send your pitch
In Progress tab lets you reach out to the selected prospects and monitor the status of each of your would-be backlinks.
Please note that to reach out to a prospect, you need to add a mailbox using the "Add" button at the top of the page.
The email addresses of your prospects are added by Semrush automatically. In case the email address field is empty, try these steps or this method to find an email address before moving on to the next prospect.
In the Monitor tab, you can follow the progress of your link building efforts over time. All your prospective backlinks are marked as Active, Lost, Broken, Undefined, or Rejected after you add the domains you want to monitor to this tab of the tool.
Learn more about the Link Building tool.
After you get rid of toxic links and acquire new quality backlinks with our tools, how can you check that your strategy works?
Backlink Analytics - compare your website against competitors.
The best way to quickly review your website performance in terms of backlinks is to benchmark it against competitors. With our Backlink Analytics tool, you can deep dive into a backlink profile of any domain and make a side-by-side comparison between up to five websites.
Just put a domain into the search bar to start analyzing its backlink profile. On the Overview tab, you will get a complete overview of the backlink profile for the analyzed domain. At the top of the Overview report, you'll see fields to enter additional domains for comparison: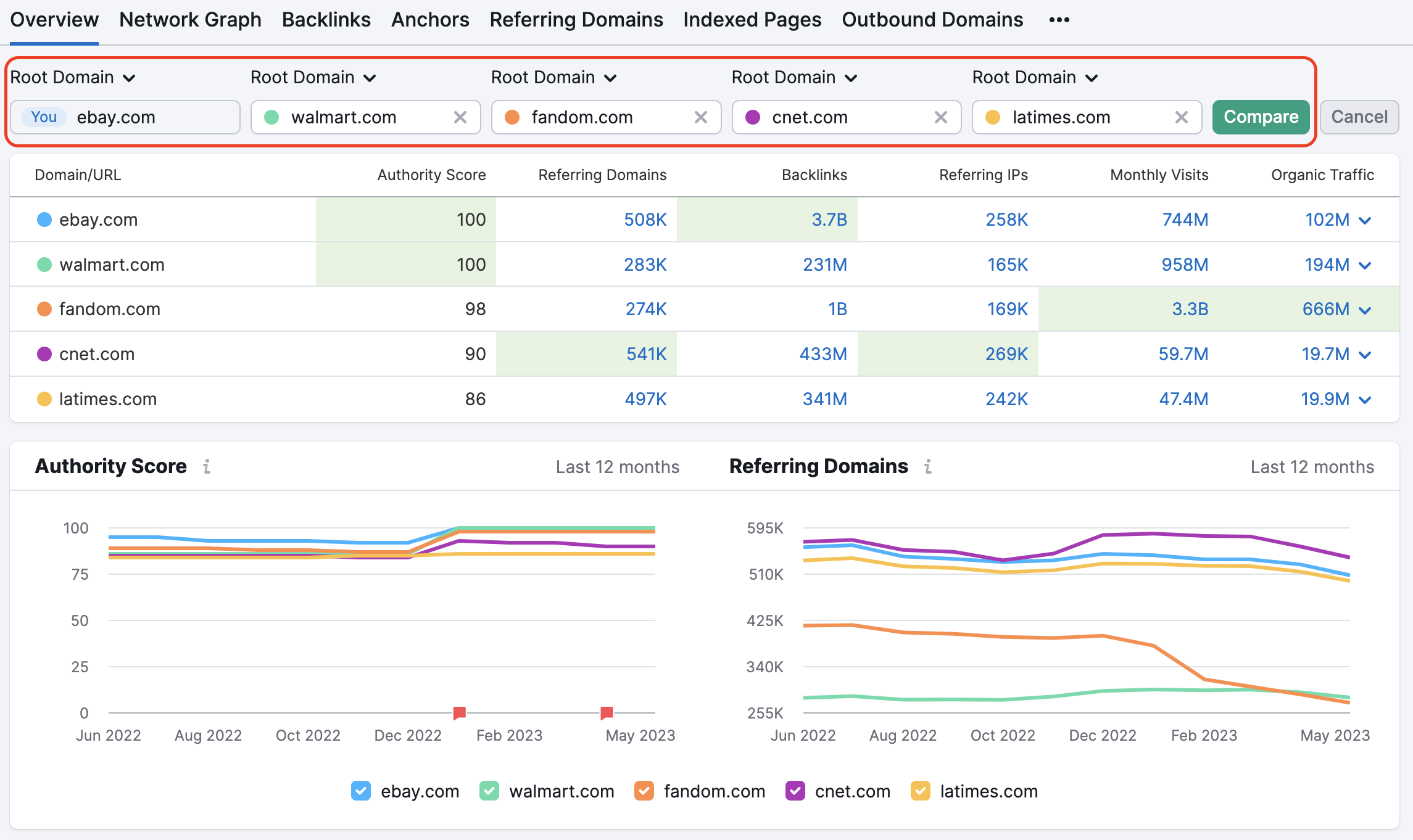 Tip. Go to the Competitors tab of the Backlink Analytics report to find more competitors. If you need to compare metrics for more than five websites at a time, our Bulk Analysis tool allows comparing up to 200 domains (subdomains/subfolders/URLs) at once. And if you need to compare backlink profiles and find backlink gaps, use our Backlink Gap tool.
The metrics on the Overview tab provide insights into your competitors' link building strategy. Pay attention to:
Authority Score - our proprietary metric used to measure the overall quality of a website (or URL) and its influence on SEO.
The number of Backlinks/Referring domains - shows the size of a backlink profile.
Referring Domains by Authority Score - shows the quality of a backlink profile.
Monthly visits - shows the estimation of monthly visits worldwide.
Organic Traffic - shows the estimation of organic traffic the website receives monthly.
These metrics and widgets should give you an idea of how successful your strategy is and how your website stands out from the competition.
Learn more in the Backlink Analytics manual.
Apart from this, you can use Backlink Analytics to conduct thorough research into your or one of your competitor's Backlink profiles. For more tips and best practices, check out our Blog: 9 Ways to Make the Best of SEO Link Building with Semrush, How to Do the Skyscraper Technique (to Get High-Quality Links).