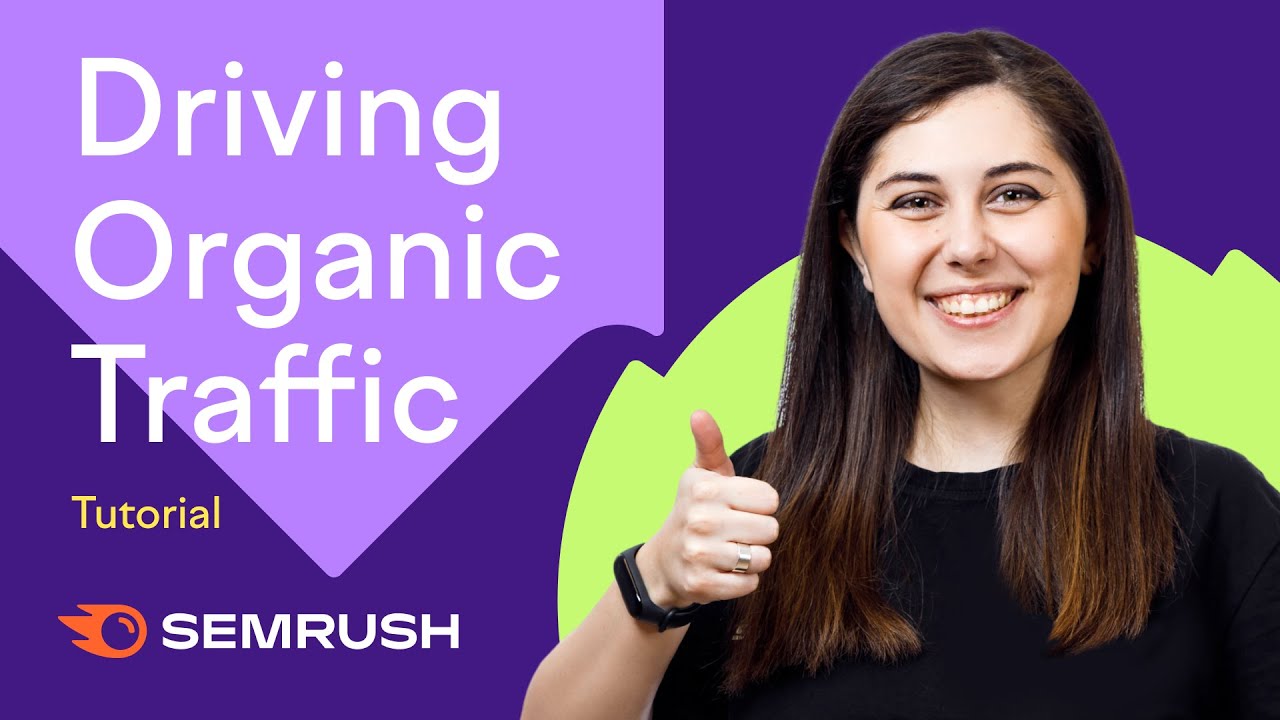 Keyword research is a fundamental part of any digital marketing strategy. Thorough keyword research helps you build effective strategies for improving your content to rank higher for a wider variety of terms, ultimately driving more relevant organic traffic to your site. Semrush offers you several ways to gather the best keywords.
In this workflow, we will show you how to conduct basic keyword research so you can optimize your site for the words and phrases that will bring traffic to your website.
To make finding the best keywords for your brand even easier, we ran a study in March 2022 that showed Semrush's search volume was the most accurate among top-known industry competitors.
1. Identify your strongest competitors in search
If you already know the main competitors in your niche, you can compare their keyword profiles and get ideas for new keywords to rank for in organic search. We advise picking a competitor domain with better Organic Traffic, Authority Score, and a higher number of keywords so you'd have more data to work with.
The best way to quickly compare metrics is to use the Compare domains report in Domain Overview. This report can give us a helicopter view of our position among other competitors' domains.

In our example, let's take nytimes.com - it has more organic traffic, more keywords, and the authority score is better.
Tip. If you are unsure who your competitors are, check out the Organic Research competitors tab.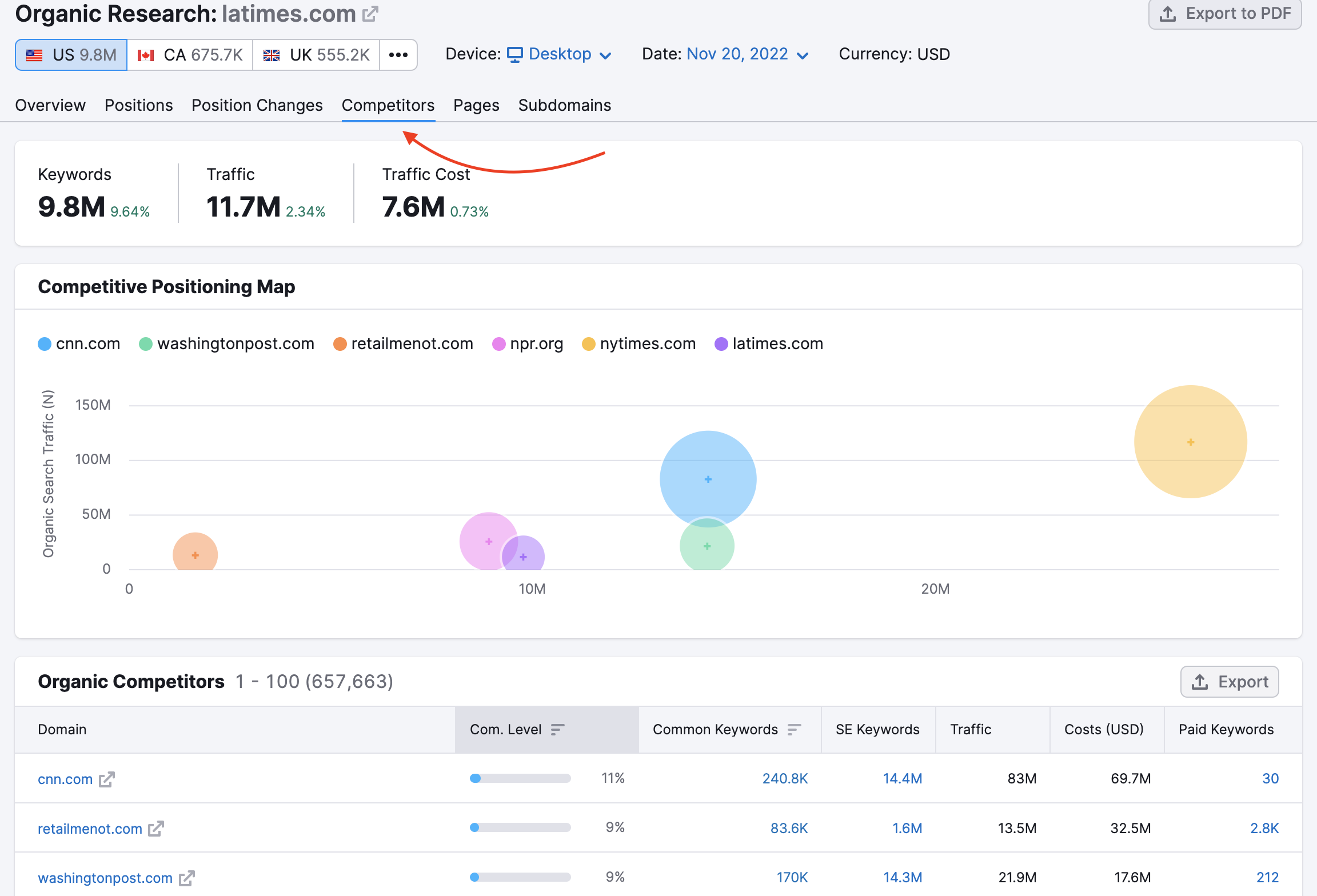 2. Analyze your competitor's keyword profile
Once you identified your main competitor, go to the Organic Research Positions report to look for keywords you want to compete for in organic search.
You can sort the list of keywords by volume (to see the high-volume keywords first) and use filters to remove all branded keywords and keywords that are too difficult to compete with (based on our KD metric).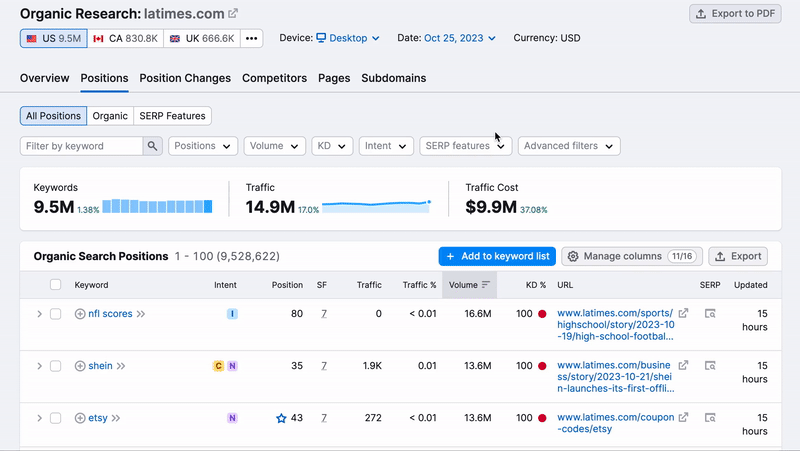 Check out the Organic Research manual for more information about the Positions report.
Additionally, you can go to the Keyword Gap tool. With this tool, you can compare your keyword profile with your competitor's keyword profile and see different positions for shared keywords. Use Weak intersection to find keywords where you have a ranking, but it is lower than your competitor's or Untapped for keywords where you don't have a ranking.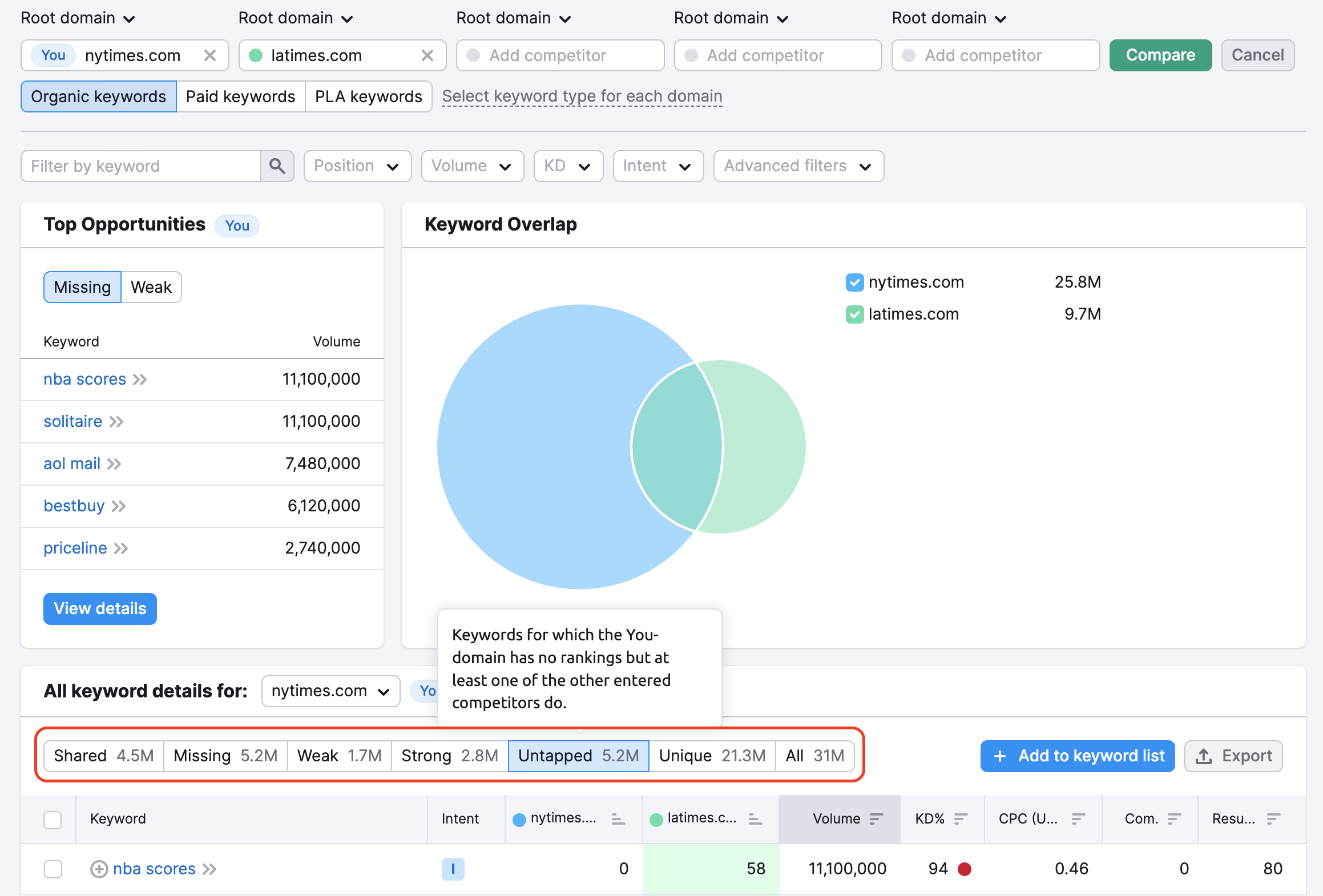 Learn more about the Keyword Gap functionality in this manual.
We advise focusing on 5-10 keywords at first. It is challenging to optimize your website well for thousands of keywords at a time.
Add the keywords you will work on to the Keyword Manager list. You can do this both in Organic Research and Keyword Gap tool with the "Add to keyword list" button.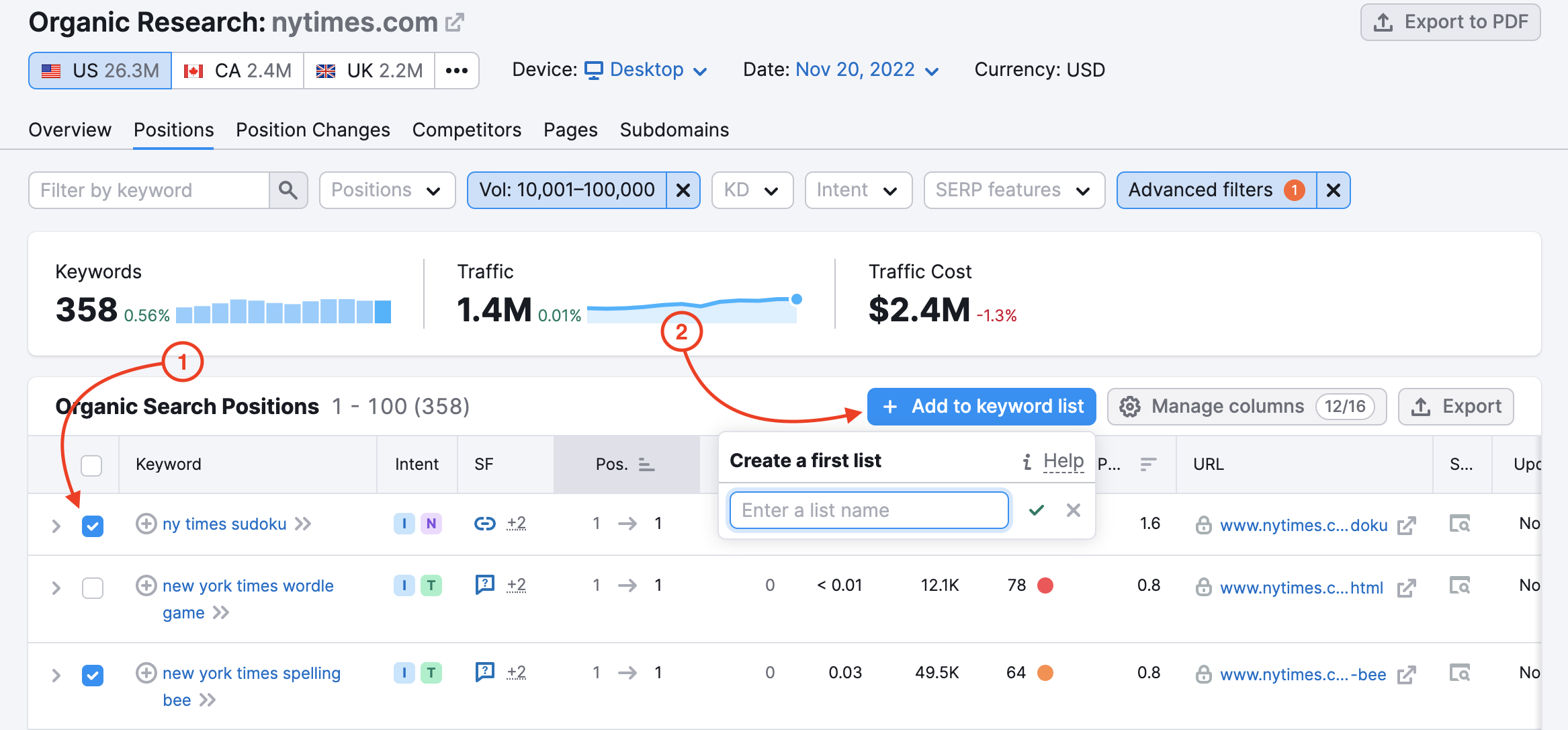 3. Analyze your own keyword profile
Another great place to find keyword optimization ideas is your keyword profile.
Put your website into Organic Research and use the Positions filter to see the keywords for which your domain ranks on the second page (from 11 to 20 position). The second page is the most interesting, as there are keywords for which your domain is ranking quite well already, and getting to the top 10 with those keywords can be a quick win.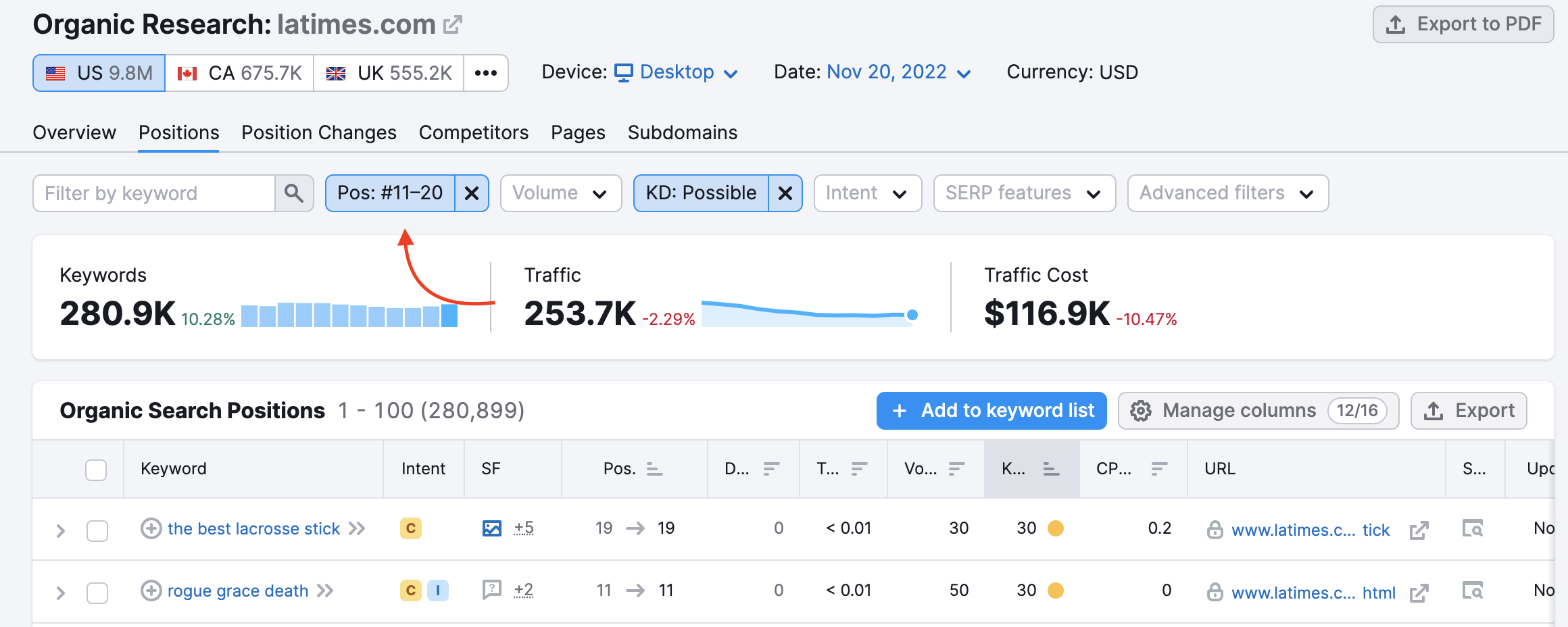 Sort and filter the list, and choose another 5-10 keywords to send to the Keyword Manager. This can be the second group of keywords that you will optimize your pages for.
We recommend you analyze the keywords your website used to rank for but doesn't anymore or keywords where your positions recently dropped.
To find those keywords, go to the Position Changes tab of Organic Research. Filter the list to view only declined and lost keywords. Sort the table to see the keywords that used to bring the most traffic to your pages. Choose 5-10 keywords here and send them to Keyword Manager.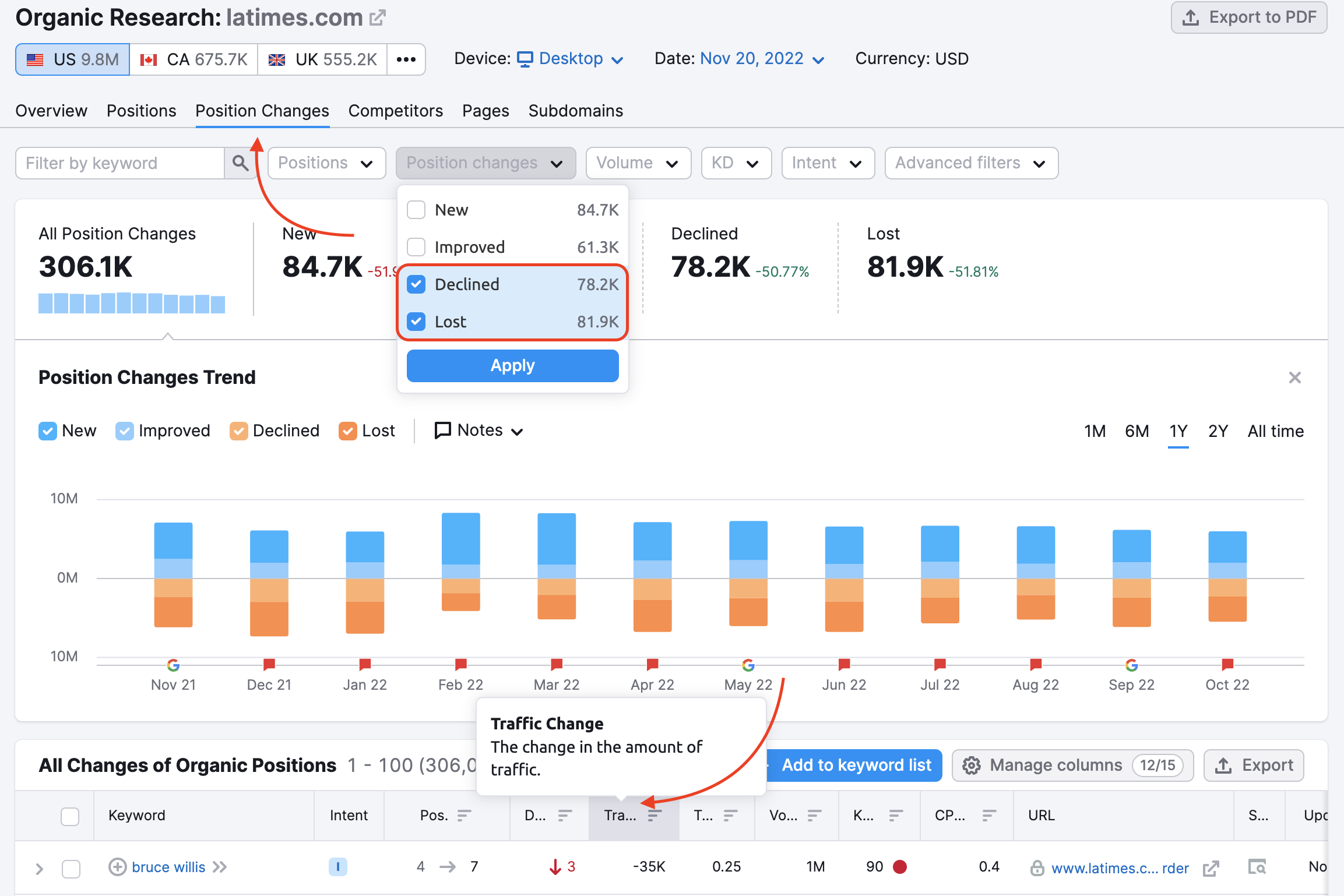 4. Pair keywords with relevant pages of your website
Now you have three groups of keywords that you can work with in your Keyword Manager list.
In Keyword Manager, you can go through your list of keywords, update the metrics, and add tags (for example, competitor keywords, top 20, lost/declined) so you know what type of work and optimization you need for each group.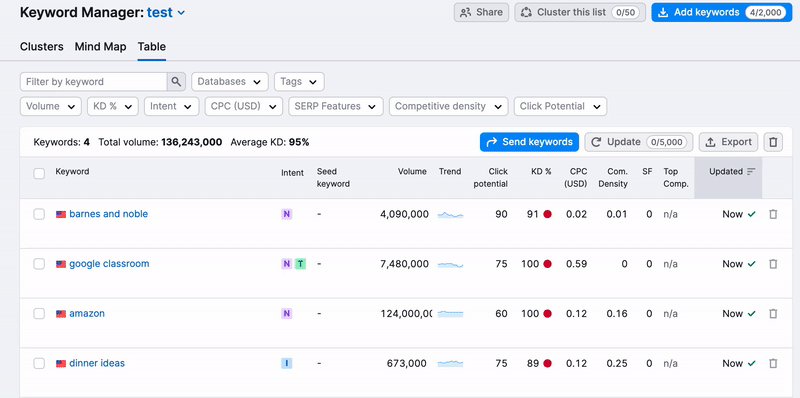 Check out the Keyword Manager manual.
Once you are happy with your list, it's time to add those keywords to your Position Tracking campaign.
Position Tracking allows you to monitor your rank on SERPs for your target keywords. The tool will show which pages already rank for the keywords from your list.

The Pages report in Position Tracking gives you the complete list of URLs on the tracked domain that rank for at least one keyword in your campaign.
By opening the "Keywords Count" dropdown, you can identify the keywords that correlate with each landing page.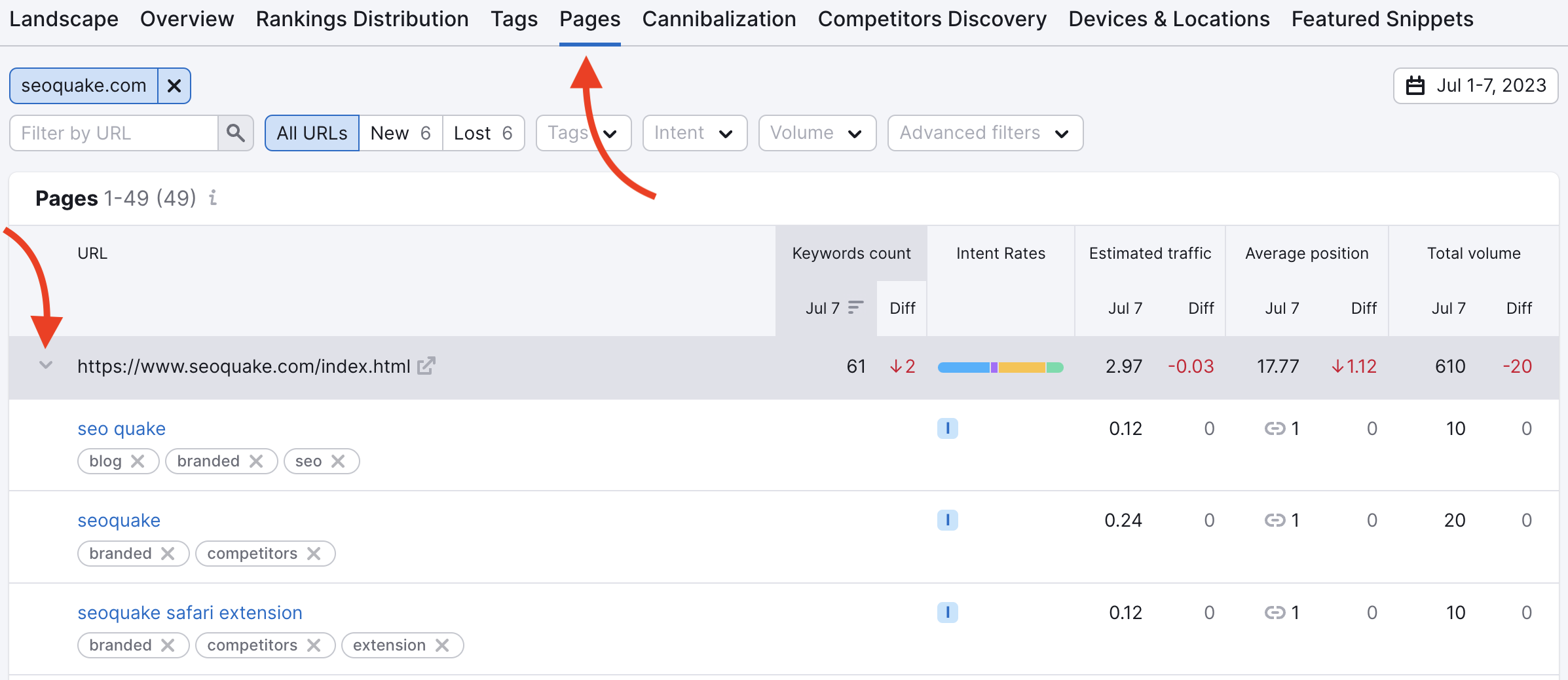 Use the ascending/descending sorting in the Pages table to identify your weakest pages that need improvement. Sort out the list to pick the pages with the lowest Estimated traffic and Average position. Prioritize the pages with a high Total volume but a low Average position.
The filters above the table allow you to narrow down the list to group the pages by tags, search intent, volume, keyword, and CPC. The New tab shows your pages that started ranking for the keywords in your campaign. The Lost tab makes monitoring the pages that drop out of Google's 100 easy.
For the next step, you must have pairs of keywords and pages. You can export the pairs in the Pages report as a .csv file and then upload them to On Page SEO Checker in the next step.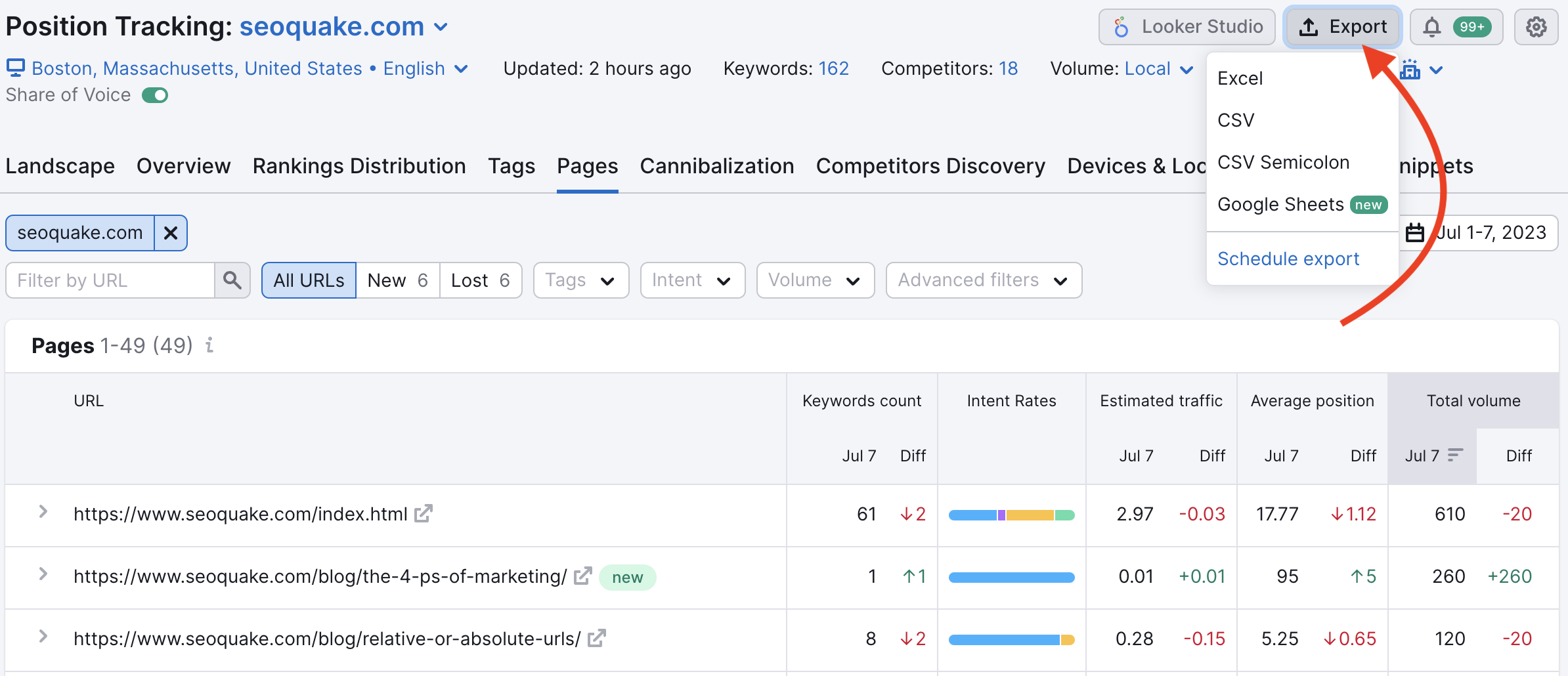 If a keyword doesn't have a corresponding ranking page in Position tracking, decide which page on your website could be a relevant match for the term or create new content to target those keywords you are not ranking for.
Refer to this manual to learn more about the Position Tracking setup and reports.
5. Review optimization ideas
Now that you have pairs of pages and keywords, what can you do to optimize those pages and increase your traffic?
Add your list of keywords and URLs to On Page SEO Checker to get a complete and structured list of things you could do to improve the ranks of your website's pages.
Use the File tab to upload the .csv list you prepared in the previous step. To learn more about selecting keywords and pages in On Page SEO Checker, refer to this Configuration manual.



On Page SEO Checker recommendations are based on domains already ranking in the top 10 for keywords in your campaign.
Click the Ideas buttons under the Optimization Ideas tab to review all optimization suggestions. You'll get different ideas based on content, SERP features, backlinks, etc.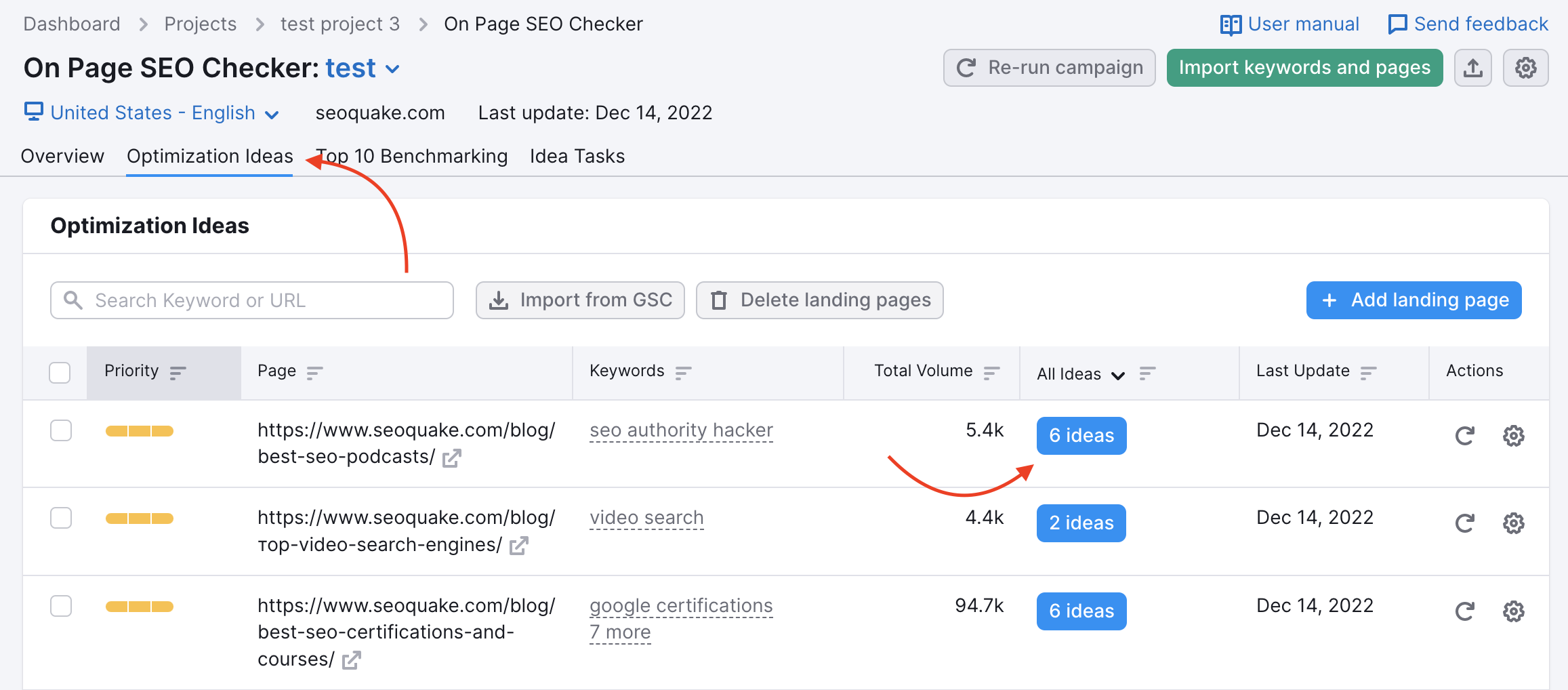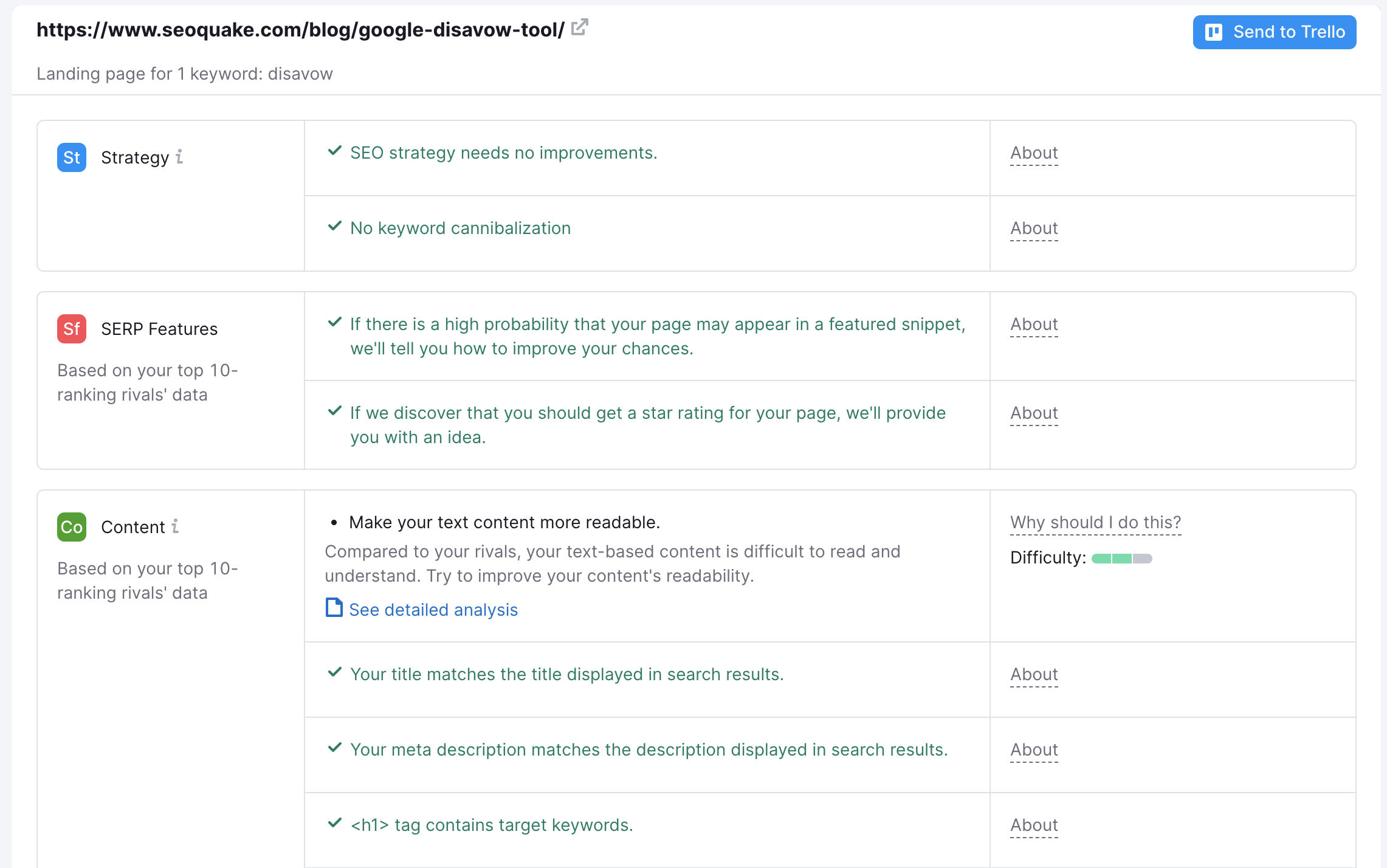 Repeat this analysis with each pair of keywords and pages, focusing on your top 10-20 highest priority keywords you've picked earlier.
Check out the On Page SEO Checker manual.
6. Track your changes
As you conduct your campaign, you can use Position Tracking to see how your efforts translate into ranking changes. You can mark any enhancements you implement as part of your SEO strategy by adding notes to your tracking campaign. Create a note each time you have modified, optimized, or implemented something new on your page.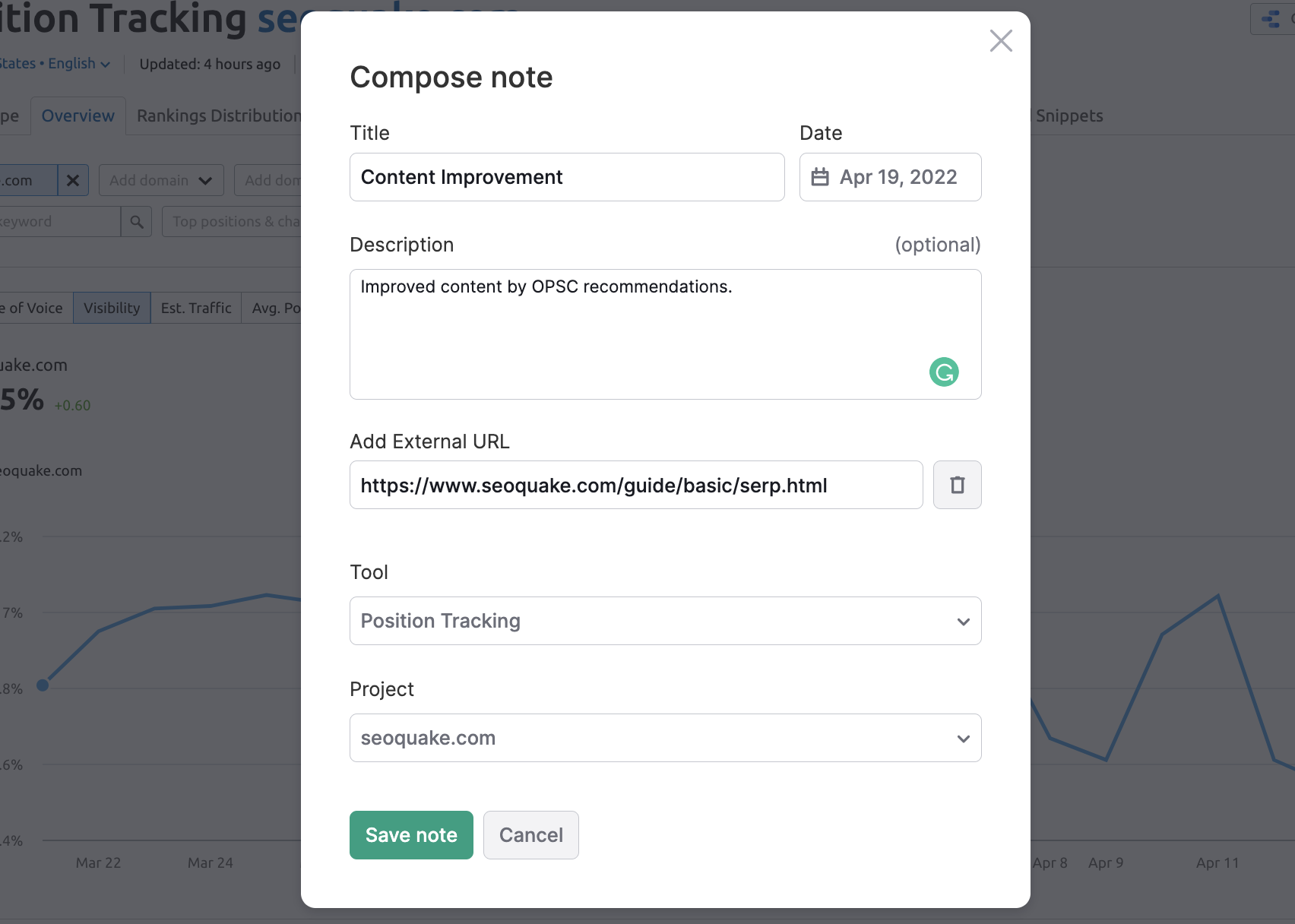 Take time choosing keywords, optimizing your pages, monitoring changes, and creating your success story!
In this workflow, we have seen just a tiny part of the keyword research and optimization functionality available in Semrush. Explore our other workflows to find everything you need in your digital marketing work.