Rank tracking is a process of monitoring keywords positions that a website ranks for in search engine results pages.
In order to assess your current situation, compare it to your competitors and track the progress of your work, you need to monitor the rankings of your website. And our Position tracking is the best tool for this purpose.
In this workflow, you'll learn how to correctly set up your tracking campaign, as well as what features you should check out first.
How to set up a Position tracking campaign
Let's begin with configuration and explore how to set up your campaign in line with your goals.
If you haven't set up any project in Semrush yet, you will see the following screen when clicking on Position Tracking. To start, enter a domain which rankings you would like to monitor and click on Set up. The next step is to configure your tracking campaign.

In case you've already created a project on the platform, navigate to the Position tracking tool to Set up a campaign under an existing project or create a new project with the New Position tracking button:

Position Tracking configuration consists of 2 steps:
Campaign Settings
Keywords
On the first step, you get to set your campaign scope, device, and location:
Scope: By default, scope is set to the whole domain (Root domain), but if you want to narrow down your focus, you can choose between a root domain, subdomain, URL, or subfolder.
Device: Search results are different across desktop, mobile phones, and tablets. You need to select one device based on your goals.
Location: Choose the location. You can set up a campaign to track results specific to a country, state/region, city, or even zip code. After you pick a location, you may get an option to choose the language and decide if you want Position Tracking to display the local or national volume of your keywords.
Additionally, on this step, you can enter your Business name (4) to track local pack results for your website. This feature will help you check if your business appears in Google local pack for the keywords you add to the tracking campaign.
And on the second step of the configuration, you need to add keywords to the campaign.
The options are:
to add keywords manually,
from an existing Position Tracking campaign
from Semrush reports,
from Google Analytics,
from a .txt, .xls or .csv file.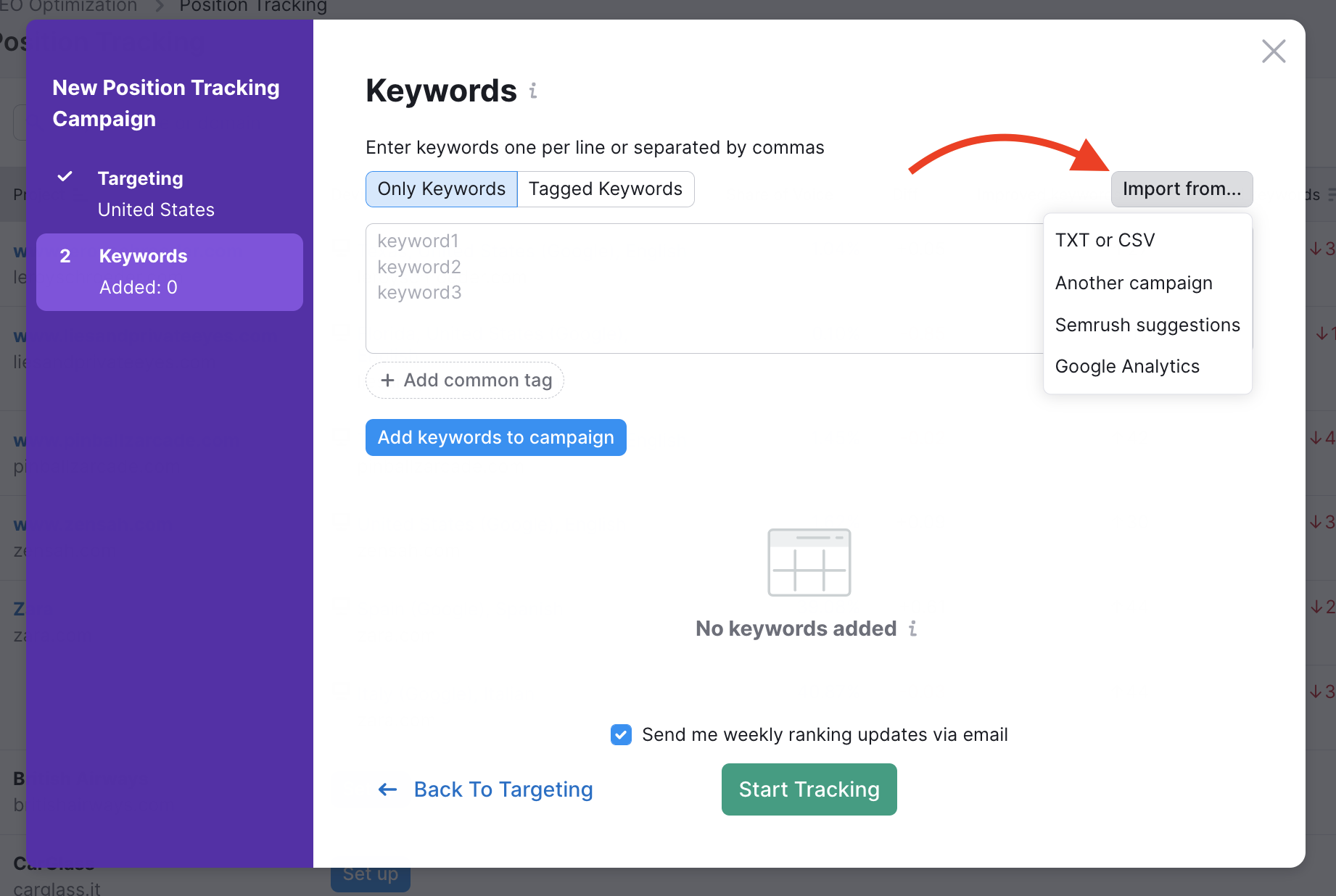 If you don't know what keywords to track - no worries, check out our Keyword research guide.
Once you've added your keywords to track, click on the green button Start Tracking. The tool will need some time to gather data for your campaign.
Learn more about the configuration process in the dedicated manual.
Grouping keywords
During or after the setup process, we recommend grouping your keywords by different topics. Assigning tags will allow you to sort your keywords at any time when looking at your reports.
You can add tags from the initial setup window (separated by commas, as seen below) or at any point in the settings or directly from the Position tracking report. Multiple tags can be added to a single keyword.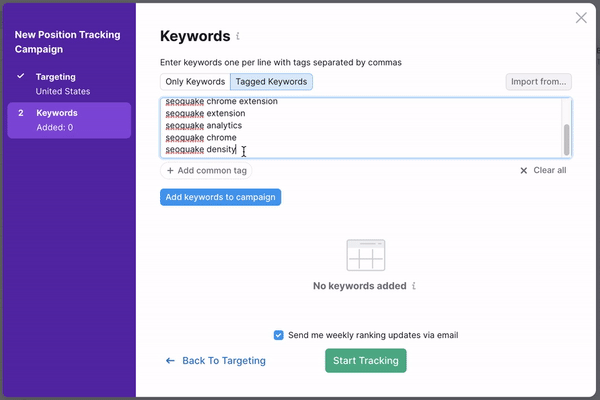 After the setup, you can add tags from the Overview tab. Your keywords will be listed in a table and next to each keyword there is a label to assign tags.
Check out the Overview manual to learn more about tagging keywords in Position Tracking.
Adding competitors
Once you set up the tool and sorted your keywords, add competitors to your campaign to monitor positions side by side.
You can attach up to 20 competitors to a single Position Tracking campaign. These can be root domains, subdomains, subfolders, and individual URLs. And, in case you need to compare how different subfolders of your website are performing compared to each other, you can even add your website here.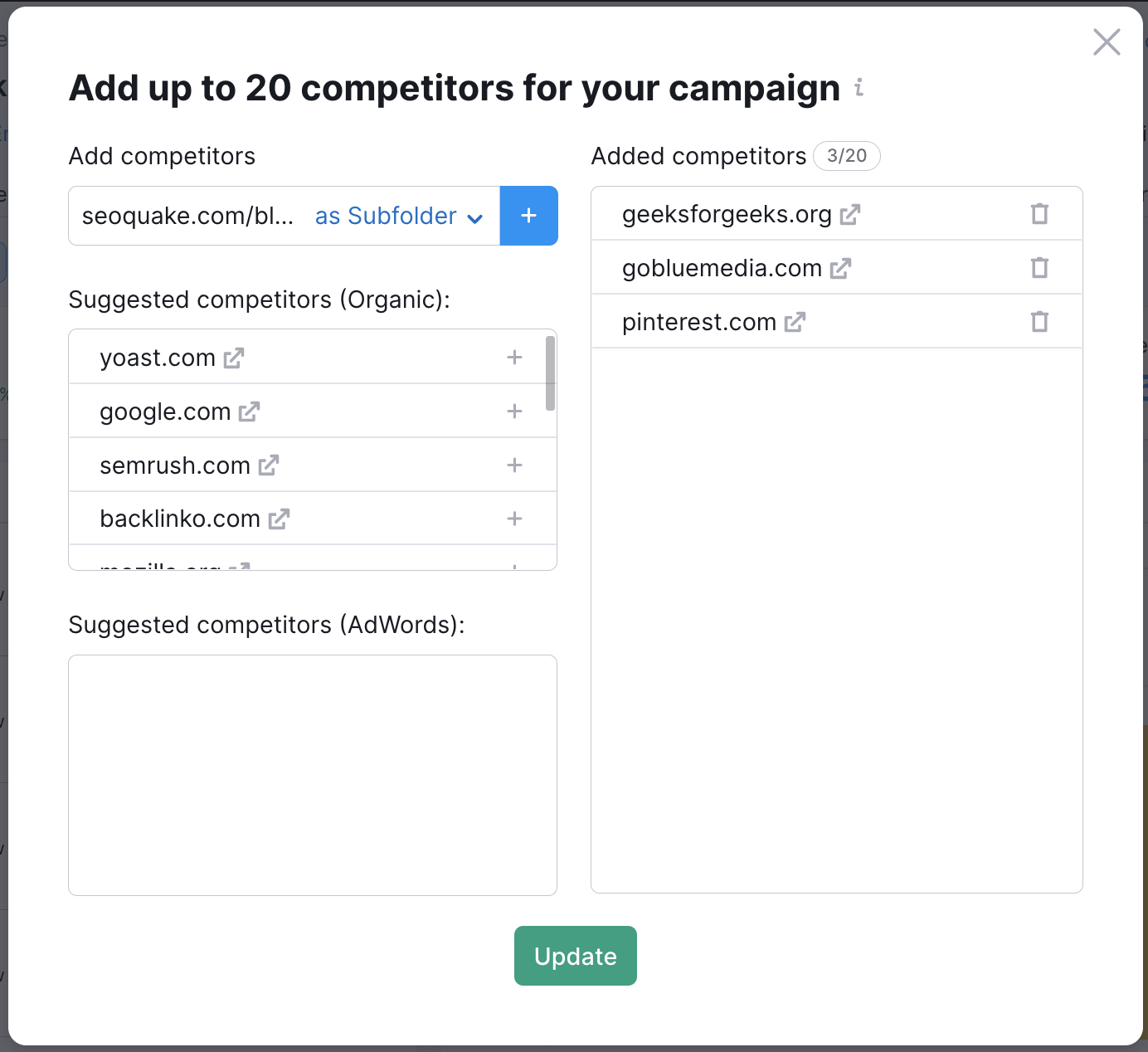 Tip. Check out the Position Tracking Competitors Discovery report to find which websites compete with you for the keywords in your campaign.
Position tracking main reports and metrics
Once you start the tool, it will begin gathering data every day on your and your competitors' rankings. Take a look around:
One of the main metrics in Position tracking is Visibility. Visibility is based on click-through rate (CTR) that shows a website's progress in Google's top 100 for keywords in your campaign. This metric will help to monitor the progress of your work.
The other metrics that you can use to monitor your results are Estimated traffic and Average Position.
Estimated Traffic is calculated to show the estimated number of people that will visit the domain. The number is based on current positions and can change on a daily basis.
Average Position is the average of all your rankings for the keywords in your campaign.
You can use filters on all reports to change the date range, add competitors for comparison, or focus on specific keywords:
Use OR/AND functions to combine multiple filter conditions at once. This is especially useful when you have multiple tags on your keywords. For example, you can filter your results to include only keywords that include tag1 or tag2 or keywords that include both tag1 and tag2 and exclude tag3.
Tip: You can easily capture progress for a specific group of keywords if you filter your results by a tag and then create a report with the "PDF" button located in the top right corner of your tracking campaign.
To keep track of how your improvements affect visibility and other metrics, add notes each time you optimized or implemented something new on your website.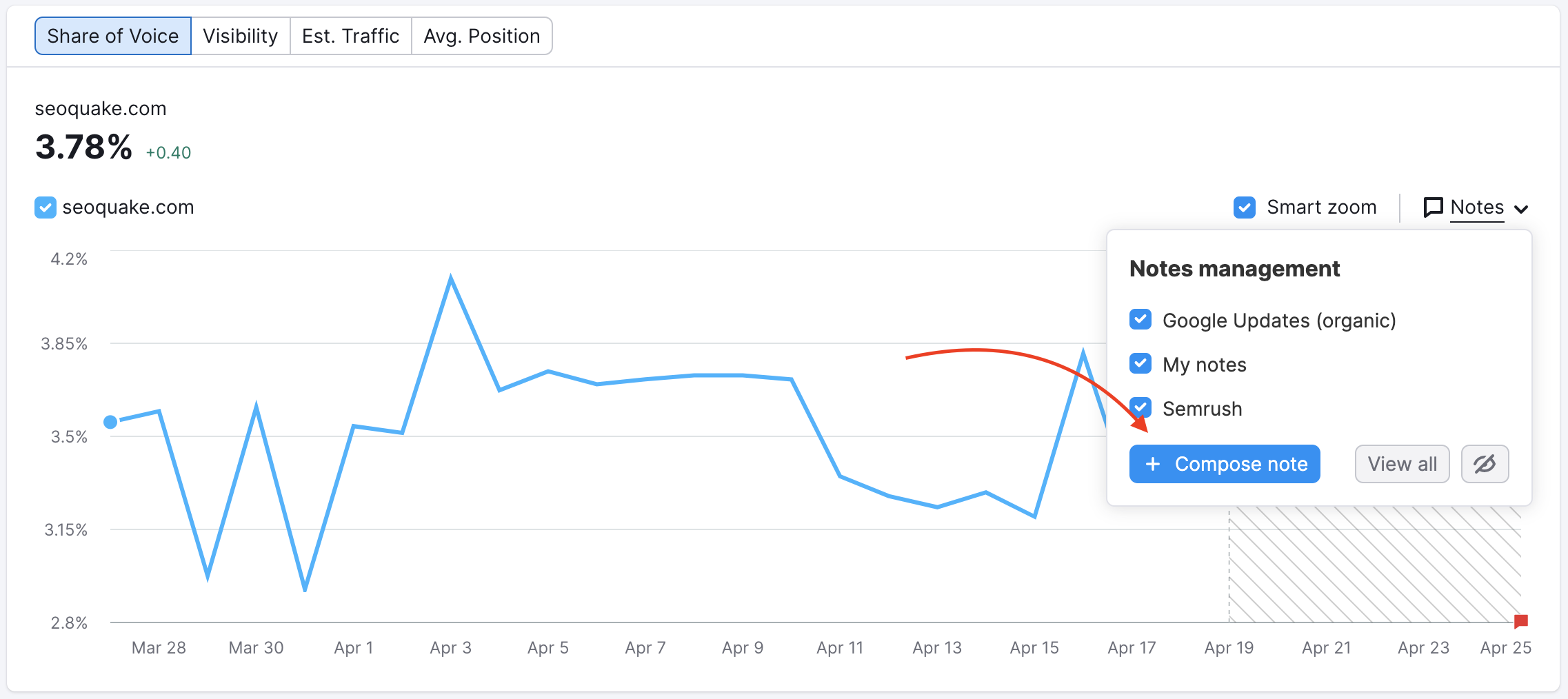 Sensor - Activate volatility tracking
Now you have successfully set up a tracking campaign, and you've already started to monitor results.
To help you better understand what is happening with your positions, activate your Personal Score in our Sensor tool.
The Semrush Sensor tracks the volatility of Google's SERPs based on daily changes in rankings to monitor any signs that could indicate an update to Google's algorithm. This is where you can see the overall volatility for different categories of keywords in various locations and set up a Personal Score for your Position tracking campaigns. Personal Score will show you the volatility calculated for the keywords and countries you picked for a Position Tracking project.
To activate this, you need to navigate to the Personal score tab. Once you're in the Personal Score tab, find your Projects on the left-hand side and select "Set Up" for your intended project. It will take a few moments, but your Personal Scores will then be ready to review in this tab.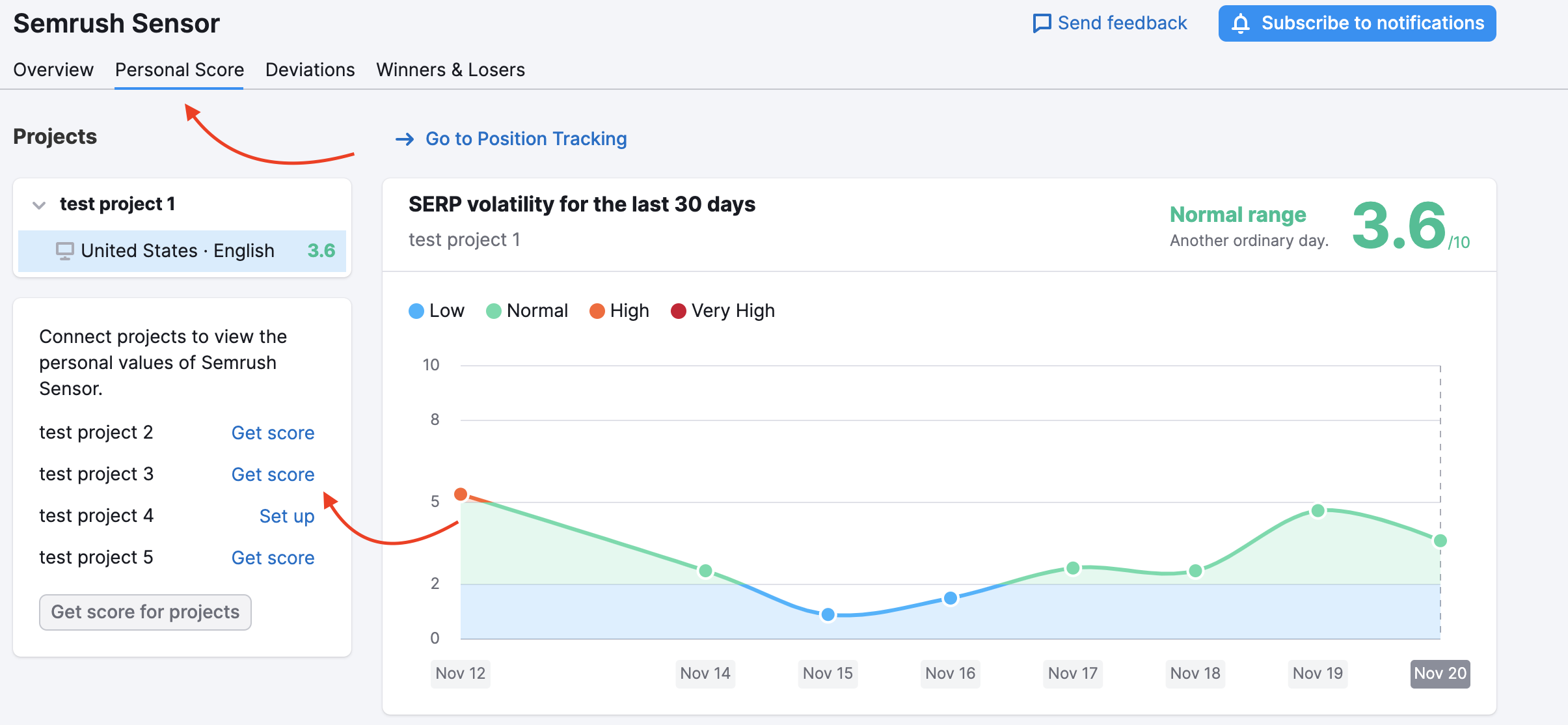 Position Tracking is universally loved by our users because it provides daily updates and allows monitoring results for specific geolocations and types of devices. With this tool, you can stay on top of your rankings and keep track of the progress of your work.
And Position tracking has even more to offer! Below, you can get acquainted with a few advanced Position Tracking features available on Guru and Business subscriptions.
Advanced features of Position tracking
Multitargeting
Multitargeting in Semrush Position Tracking campaign allows users to track a website's search visibility across multiple devices (desktop, phone, and tablet) and locations (down to the city level) inside one project. This feature is only available to Guru or Business level subscriptions.

Share of Voice
Share of voice estimates the fraction of a target audience's attention your brand takes up. It takes into account the total combined volume of all of your keywords and tells you the ratio of traffic that each site gets. This feature is available to Business level subscriptions.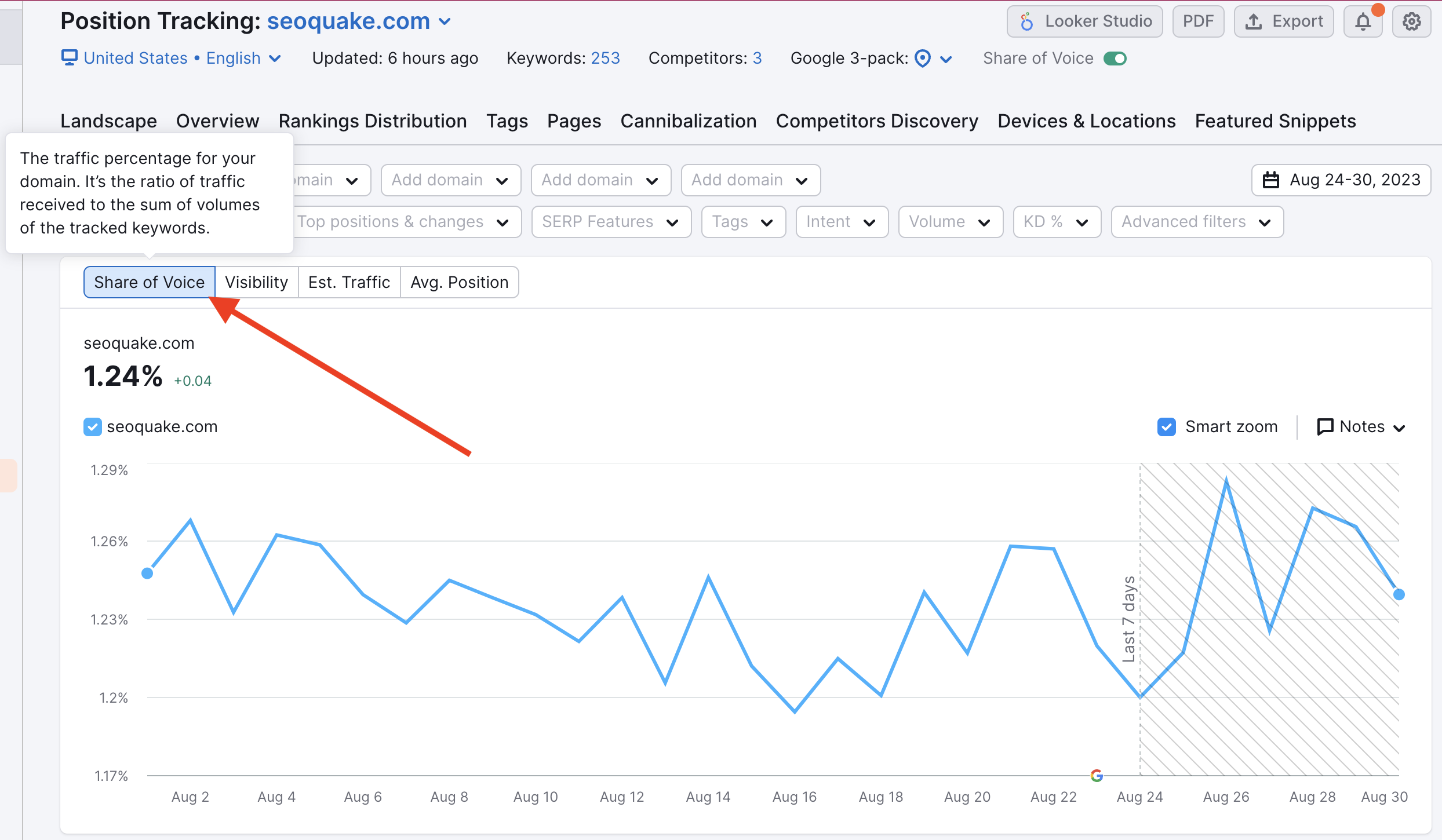 Cannibalization report
Keyword cannibalization is when a website has multiple pages targeting the same topic or keyword, and, as a result, the two pages compete against each other for search engine rankings, and both lose positions. It is important to spot these occurrences and quickly fix them to improve the site's visibility.
Using the Cannibalization Report in Position Tracking, you can analyze your Cannibalization Health and research the cannibalizing pages. This feature is available to Guru or Business level subscriptions.
Tags report
Position tracking Tags report - here, you can track each tag group's growth metrics (share of voice, visibility %, estimated traffic, average position) and a breakdown of each tag's performance.

Learn more about Position tracking in the Position Tracking manual.