"Transactional" refers to keywords that indicate a searcher's intent to buy something or take action on a website soon.
Semrush keyword tools group keywords into four categories of intent (commercial, navigational, informational, transactional), and transactional are the ones with the most likely chance of leading to conversions. This is because the search includes a word that adds a specific urgency or desire to buy or take action on a site.
Compared to searching an informational keyword like "shoes," someone searching "where can I buy cheap nikes online" is more likely to make a purchase on the site they go to shortly after searching. Someone searching "shoes" might just be looking for a stock image, looking up the history of shoes, or anything about the topic of shoes in general.
It's easy to identify a transactional intent if the search includes words like "buy" "buy online" "where can I buy," "subscribe," etc. But, that's not always the case. To help, we identified the search intent for each keyword in our databases so you can quickly discover a user's intent automatically.
1. Identify your competitors in search
First, you should need a couple of competing websites that are getting search traffic from searches related to your niche products or services. Once you have a list of domains you can compare their keyword profiles to uncover all of the search terms that lead people to their websites.
Use the Organic Research Competitors report and enter your domain and receive a list of your top competitors. If your domain is new and doesn't have a lot of keyword positions yet, you can query a domain that you know is in your niche and analyze the sites that Semrush calls their competitors. Save this list for the next step.
2. Look at all of the combined keywords among your top competitors
Now, take this list of competitors and enter them into the fields on the Keyword Gap tool. Set the keyword type to Organic keywords and then hit the green "Compare" to generate a table that has every keyword that your competitors have organic rankings on search results for.
If you operate in a popular market with a lot of demand, you will likely see a huge amount of keywords in this file. That's okay because the final step is going to be filtering this list down to only find the keywords you're interested in - the ones with transactional intent.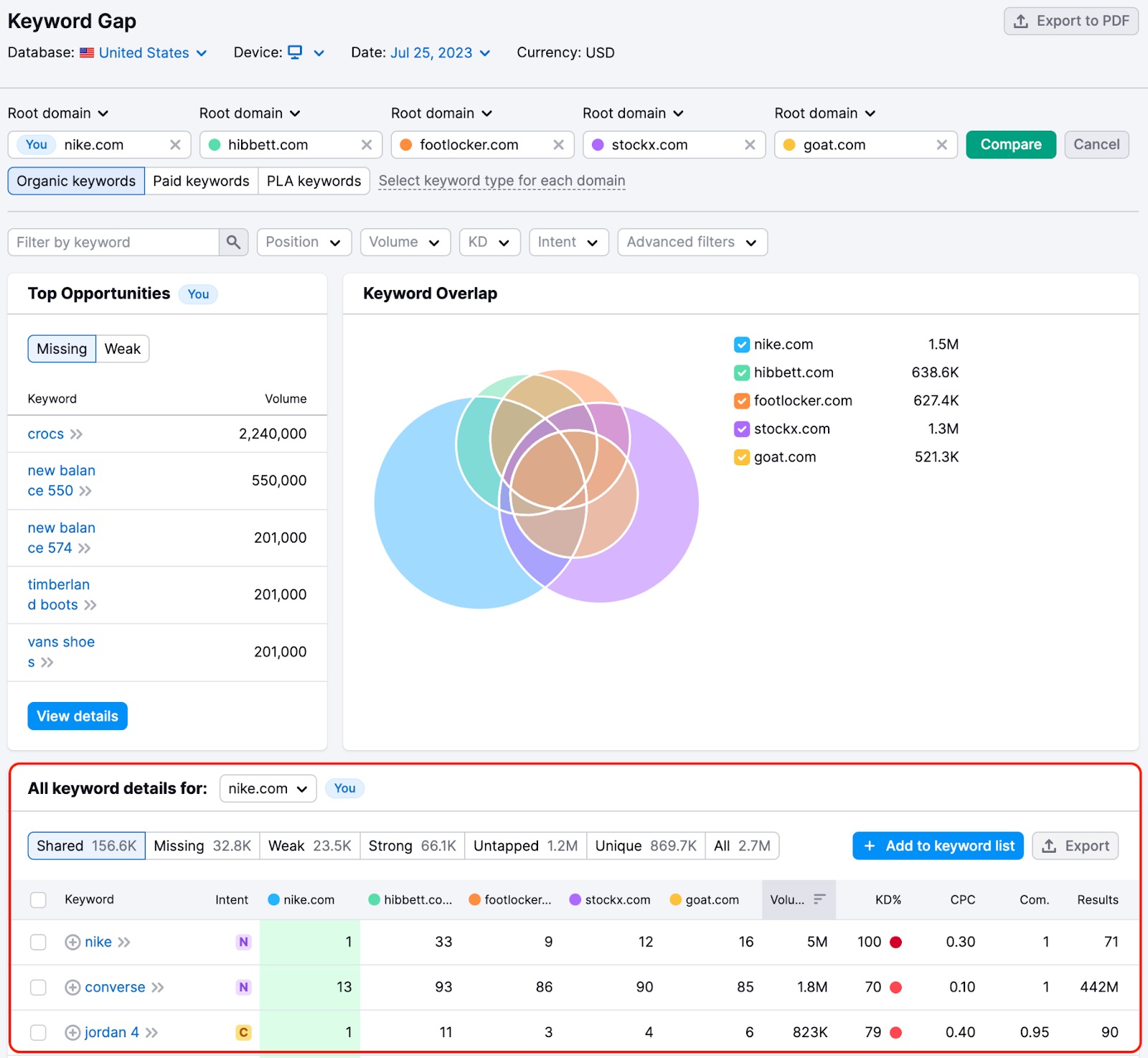 3. Filter for transactional intent
Intent analysis can be an important but time-consuming process. Previously, you would have to apply text filters (to include "buy" or "for sale") and modifiers to find transactional keywords.
With the Intent filter, you can have those keywords just in two clicks and even find a few hidden gems for your campaign.
If you're planning an advertising campaign, you should use filters to find affordable CPC keywords and keywords with a lower Com (competitive density of advertisers).
If you're planning an SEO (organic search) campaign, you should use filters to find transactional keywords with low KD (organic keyword difficulty).
Then, export each list of keywords to a spreadsheet to save your research. Combine your exports to have one master list of transactional terms in your niche.
3. Find retail keywords in Ecommerce Keyword Analytics
Using the Ecommerce Keyword Analytics App, you can run a deep analysis of a single retail keyword across multiple domains and get suggestions for keywords similar to the one you're analyzing. Retail Keywords are words and phrases searched across online retailers when looking to buy a specific product (which can also be called "transactional").

Firstly, use the Country switcher to pick a specific country, or you can select the All regions option. Please note that the list of online stores in the report will depend on the country you choose. The tool will save this selection, and will automatically set up the desired region at your next login, and begin to type in your keywords, you will be able to see tips appearing under the search bar: actual keywords with a quick metrics overview on each.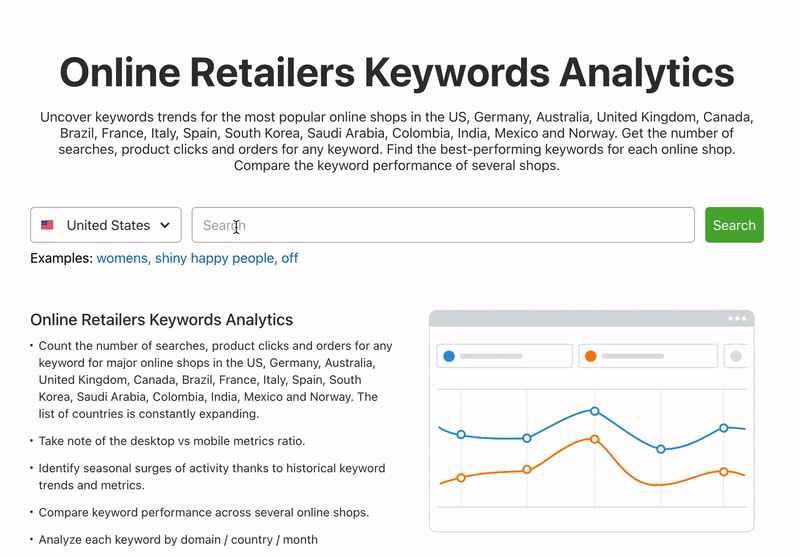 You will appear in the Overview section of the Retail Keywords tab. The Overview provides a high-level analysis of your selected keyword based on such metrics as the number of search requests, orders, conversions, etc. This report helps to estimate the popularity and the overall demand for a specific product.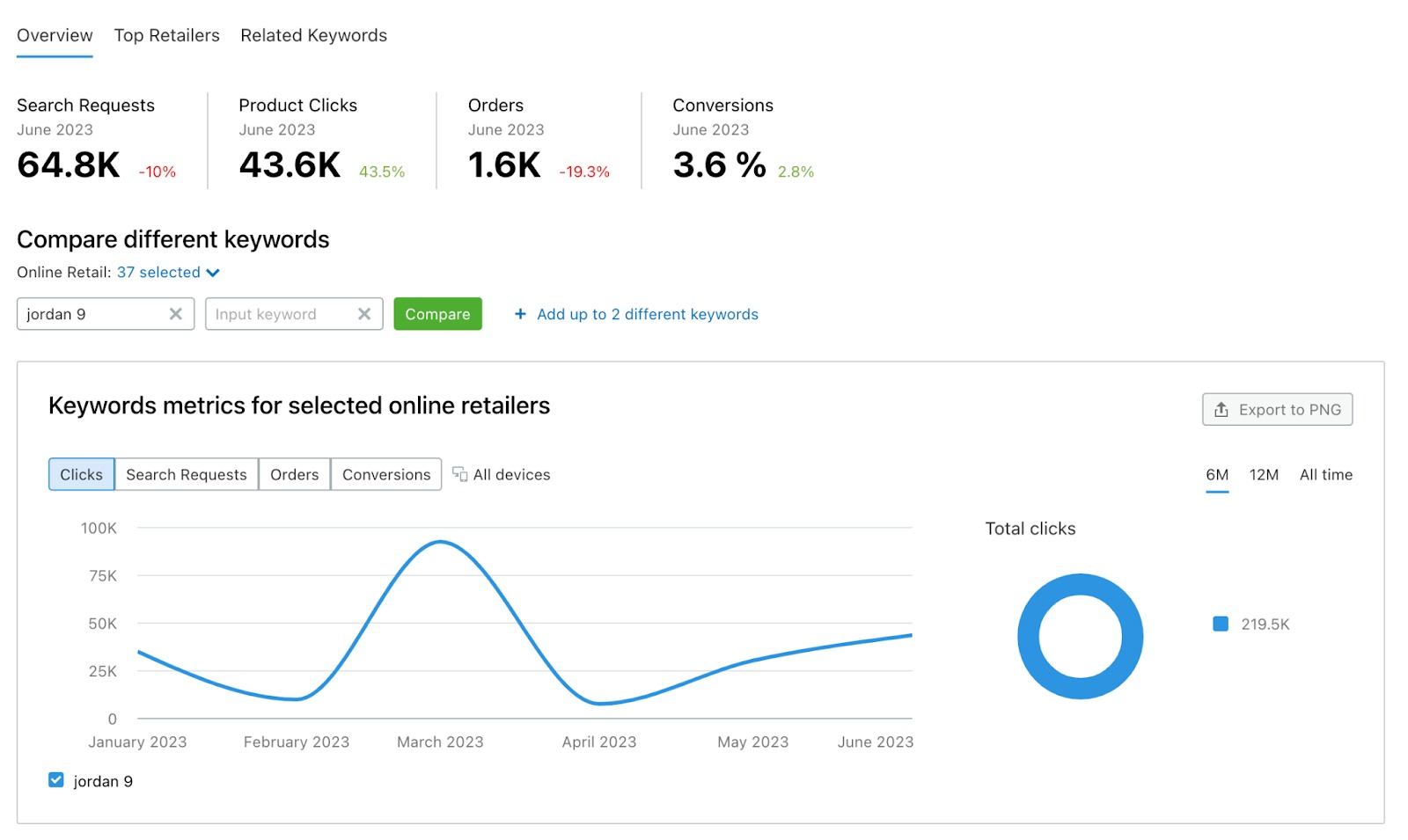 Also, you will see up to three additional keywords, which you could use to include variations on your original search terms, different versions of your selected product, or competitive products in your analysis.





You can click the "Show all results" button or click the Related Keywords on top of the report to get to the Related Keywords section.

This report suggests keywords similar to the one you're analyzing.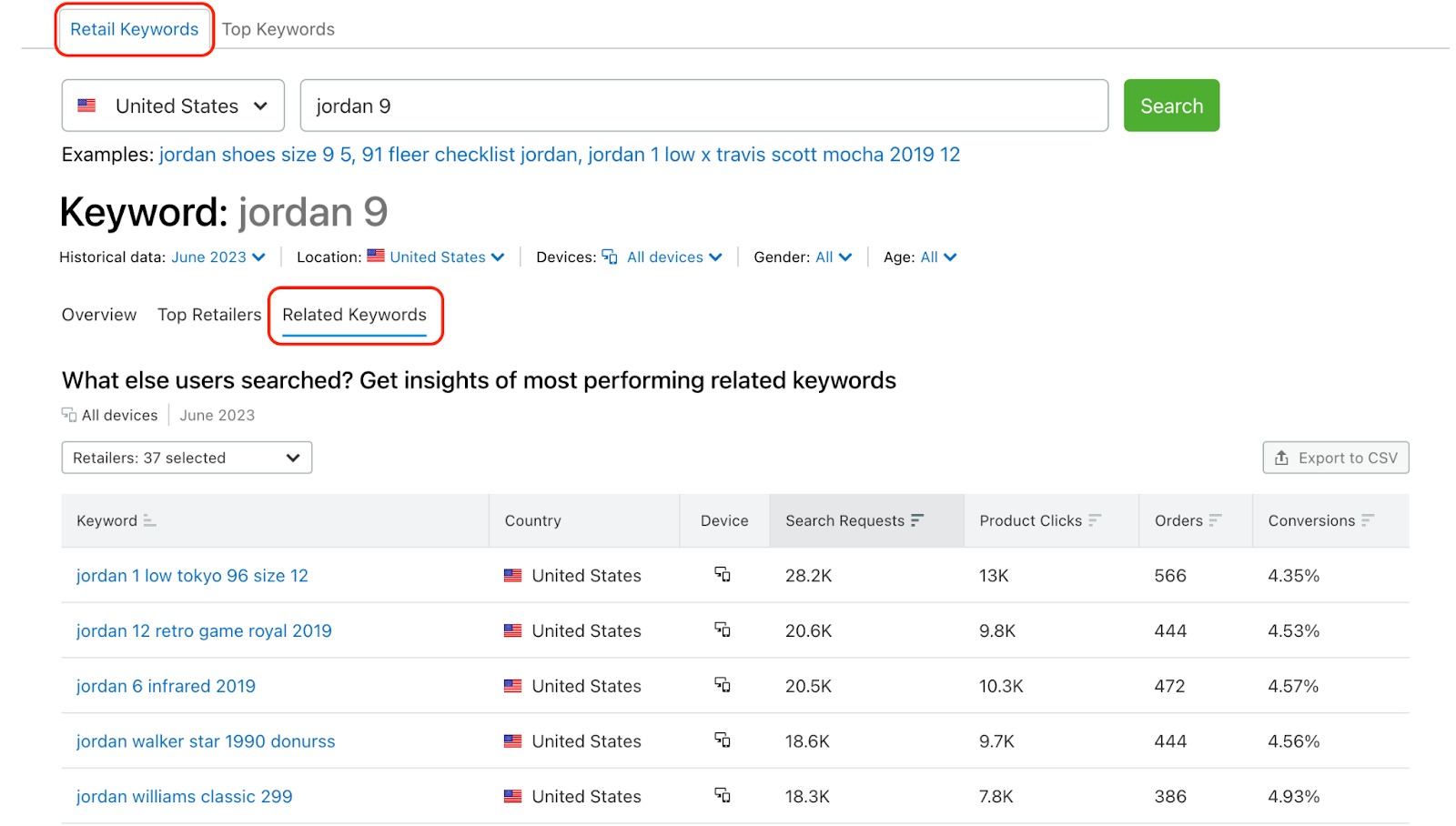 The similarity is based on the overall resemblance to the original keyword, as well as other keywords frequently searched for during the same session. As such, this list also contains keywords related to different products that customers may additionally be interested in. You can narrow down the results by manually selecting which domains' data you would like considered, using the Domains drop-down menu.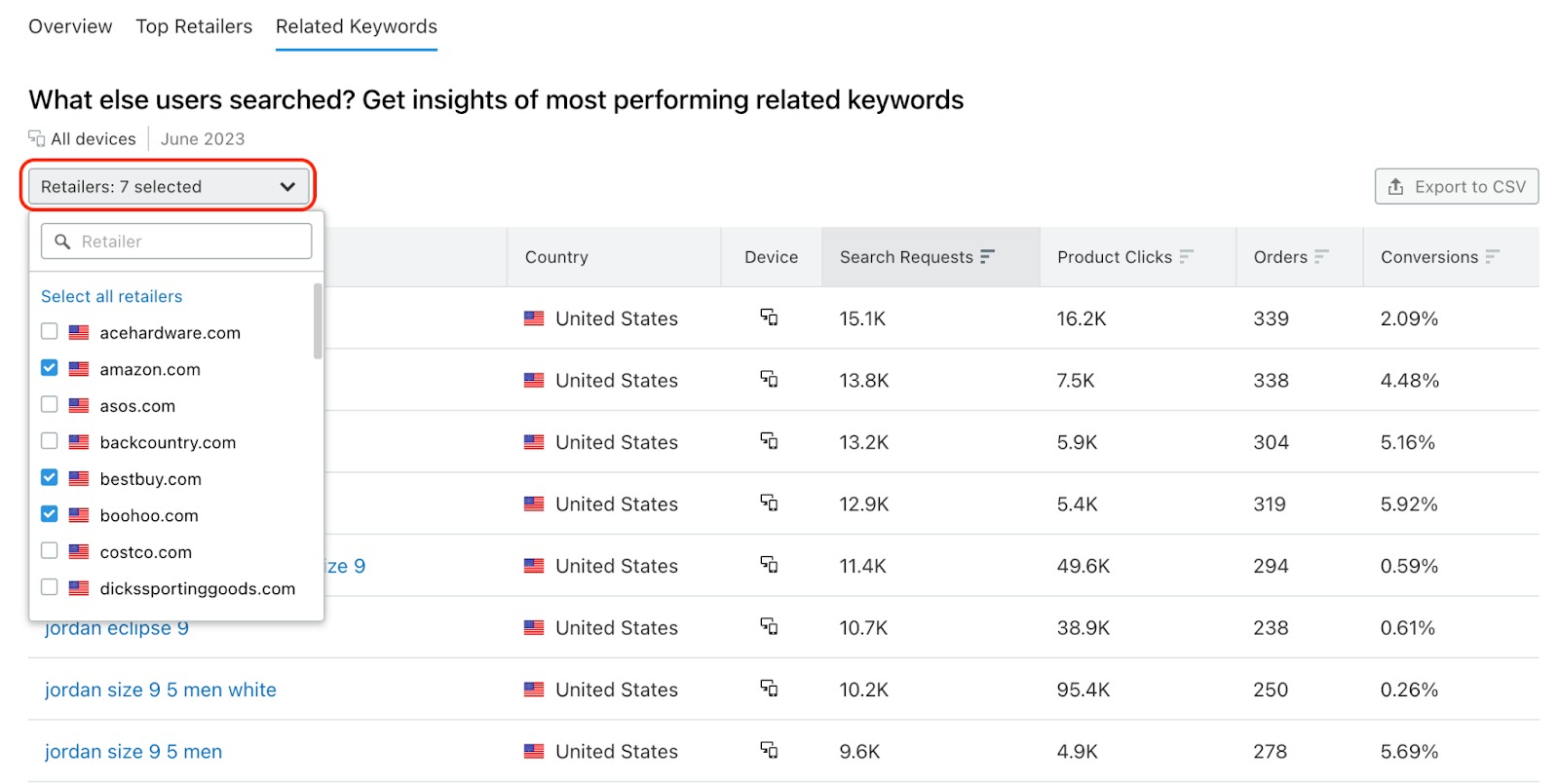 You can also export the list of keywords to a CSV file to save your research. Combine your exports to have one master list of transactional terms in your niche.
Results
After this process, you'll have a table with all of the transactional searches in your niche. This is going to be a great document to understand the buying value of a market.
If you are planning any advertising campaigns to break into this market or take valuable traffic from your competitors, this list is a great source of keywords to use in your campaign.
Next Steps
In your master list, evaluate the keywords based on metrics like CPC, Competitive Density, and search volume to choose the easiest targets for an advertising campaign.
Create a Google Ads advertising campaign with those keywords and make sure your landing pages have the ability for a searcher to buy or take the intended action.
Filter your master list for any keywords with a low keyword difficulty (less than 50). These keywords could actually be good targets for an SEO campaign to get transactional traffic without having to pay for ads and clicks.