The Keyword Manager for Amazon app helps Amazon sellers store their product keywords in one convenient location.

Users will be able to use this app as part of their keyword research workflow with the Keyword Wizard for Amazon and Instant Keyword Research for Amazon.

With this tool, you can:
Collect and store your keywords for paid and organic optimizations on Amazon
Send your keywords from the Keyword Wizard, Search Insights, and Instant Keyword Research apps for Amazon
Get insights like search volume and the number of competing product listings for a keyword
Manually enter additional keywords once your list is created
Export the keyword lists you create
Copy specific keywords to the internal clipboard
How the Keyword Manager for Amazon App Can Help You
The Keyword Manager for Amazon app is perfect for anyone with a foundational/basic understanding of SEO, and it is also ideal for those who are already highly skilled at crafting Amazon listings.

The Keyword Manager for Amazon app is especially helpful when:
Crafting new PPC or organic listing optimization campaigns
Improving the SEO on your existing Amazon listings
Signal-boosting new product listings
Collecting and using data the Keyword Wizard and Search Insight apps provide
Examining market saturation for a given keyword
This app can help you:
Organize the most impactful keywords for a listing
Outperform competitors
Improve listing rankings and visibility
Improve conversion rates
Accessing Keyword Manager
Keyword Manager for Amazon is available for free with limited access. For unlimited access, you'll need to purchase the Keyword Manager for Amazon app. Here are the features of each version:

Freemium version:
No monthly fee
1 list
100 keywords per list
Paid version ($9.99/month):
50 lists
1000 keywords per list
Add-ons:
50 more lists can be purchased at an additional charge ($9.90)
To learn how you can add an app, visit the App Center's guide on how to add apps.
How To Use Keyword Manager for Amazon
Step 1: Create your list
Once you open the Keyword Manager, the option to create your first list will appear in the top, left-hand corner. Click the "Create new list" button and a pop-up window will appear.
Step 2: Add and examine your keywords



When the new pop-up window appears, you'll be prompted to name your list of keywords. This can be either the campaign name or a general description of the product you are targeting.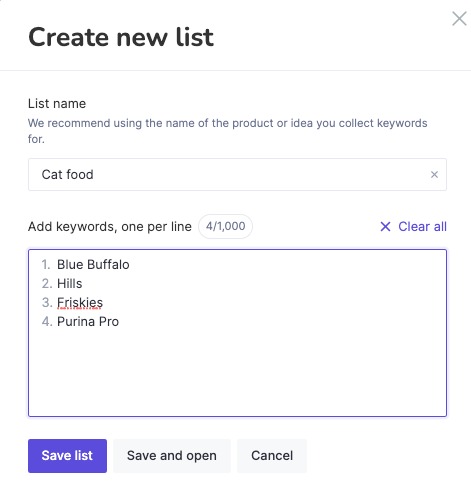 When you've added your keywords, click "Save list" if you plan on coming back to it later or "Save and open" to see the results of your newly created list.

Once you click "Save and open," your results should look something like the image below.


Step 3: Advanced filtering
If you would like to filter your results, there are several ways to do so. The first way (pictured below) is to filter by searching for a keyword.





If you would like to filter by specific data points, there are several options in the drop-down "Sort by" menu to the right of the "Filter by keyword" search bar.



This drop-down menu will allow you to filter by:
Keyword (sorts them alphabetically)
Search volume
Competitors (the number of competing products returned in Amazon organic search results for the listed keyword)
Last update
In addition, you can click on the words "Volume," "Competitors," or "Last update" to sort in ascending/descending order of results for that column.



Step 4: Adding keywords to existing lists
If you would like to make additions to existing lists, you can do so either manually or by importing from a CSV file.


Step 5: Finding keyword variations (Keyword Wizard for Amazon integration)
If you would like to expand your Keyword Manager lists by finding variations to your existing keywords, you can do so by clicking on the eye icon.





This will take you to the Keyword Wizard for Amazon app. The Keyword Wizard app will automatically populate and search for variations to the keyword you selected.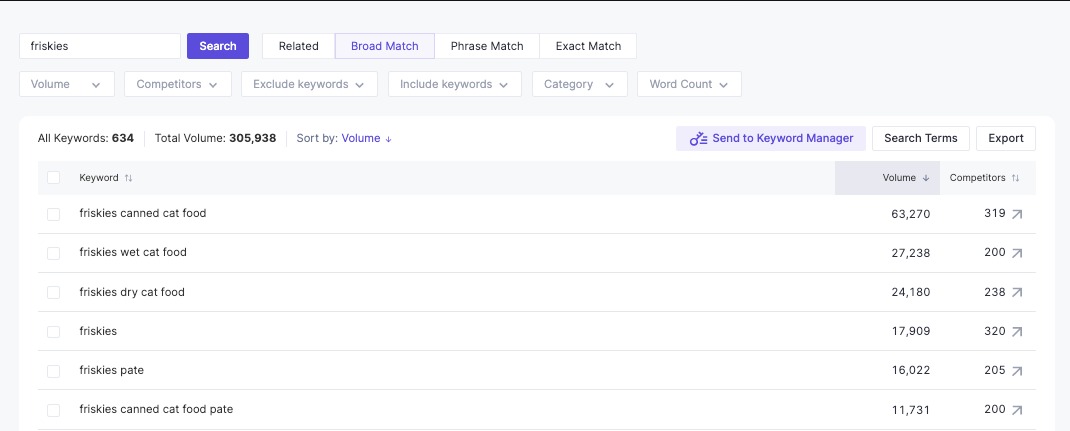 Once you have selected the keyword variations you want, you can send them directly back to the Keyword Manager app.
Step 6: Exporting your results
If you would like to export your keyword lists or individual keywords from a list to a CSV file, you can do so by clicking on the "Export" button on the right-hand side of the app screen.





To export only select keywords, check the box next to the ones you want and hit "Selected" from the drop-down menu.


Frequently Asked Questions
Which Amazon Marketplaces do you support?

Right now, our app is available only for the U.S. Amazon Marketplace.

If you have any questions about the Keyword Manager for Amazon app, please email us at ecommerce-apps@semrush.com