There's an easy way to pick the low-competition, high-demand winning products to sell on Amazon. The Product Research for Amazon app is a valuable tool that allows you to look at what kind of items your competitors are listing on Amazon. By knowing what's out there, you can begin selling high-demand products that are also low-competition on Amazon.
Note: It's not necessary to have all three of the variables listed below (category, keywords, and selling price). You can look things up just by category or keyword, or a combination of any of these variables.
1. Select your marketplace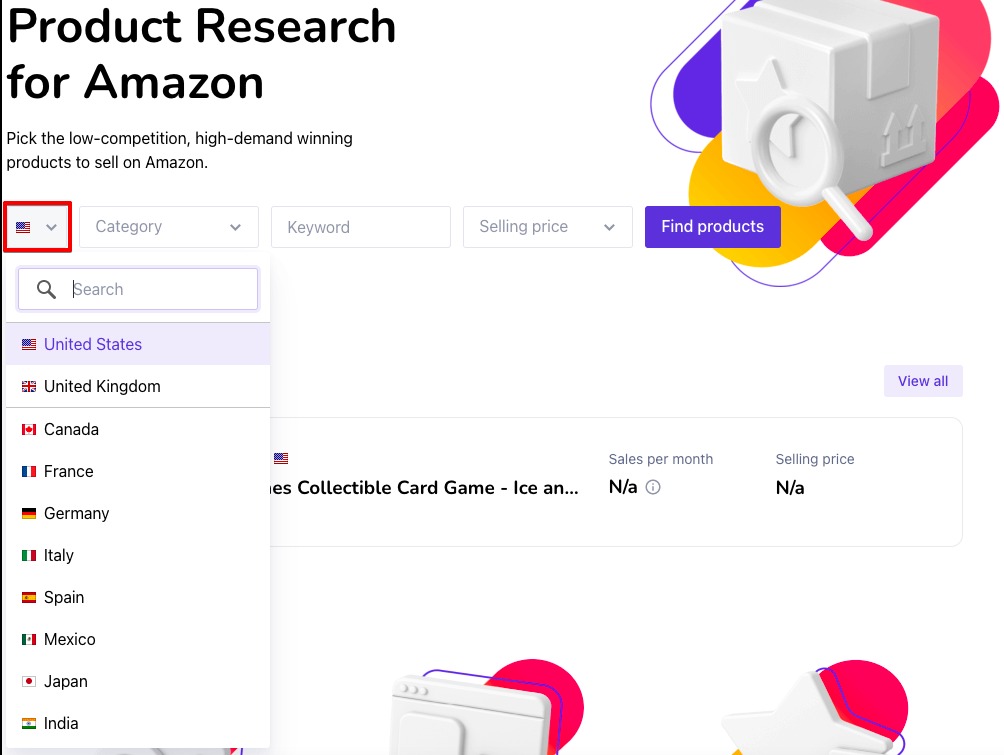 2. Select your category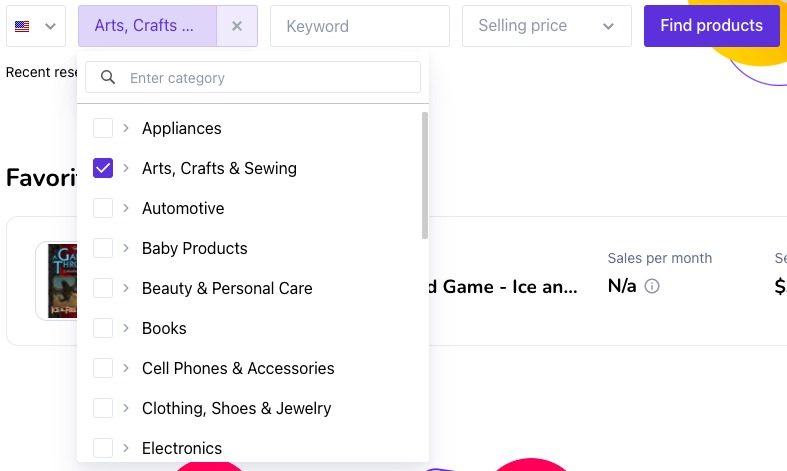 3. Enter your product keywords

4. Select your selling price range from the drop-down menu

5. Hit the "Find products" button

6. Dive into the report
It might take a few moments for the report to generate—there's a lot of data.
The results will give you insights into existing listings for products that are similar in terms of the keywords, category, or selling price you have entered. It will show you:
Sales per month — This metric is broken down into several categories: Excellent (10,000+ units sold), Good (1,000-10,000 units sold), Average (200-1,000 units sold), Poor (50-200 units sold), and Very Poor (0-50 units sold).
Selling price — The price of the listed product.
Fees — The final fee amount after adding the fulfillment fee, referral fee, and variable closing fee together. If you click on "View detail" you can see these costs broken down.
Profit — The amount of money you take home from selling the product. This number is calculated by taking the selling price of the product and subtracting all Amazon fees (we'll get into this in just a bit).
Sellers — The number of people selling the same product on Amazon.
Reviews — The total number of reviews the product has.
Rating — The average rating and number of stars the product has on Amazon (1 to 5 stars).
Variations — The number of different product variations—like a different size, shape, color, etc.
BSR (Best Seller Ranking) — The overall ranking for the parent category that the product falls under. The more sales the product has, the better it ranks.
Categories — The category or categories the product falls under.
You may also like Sellzone's guide on how to start selling on Amazon: how the marketplace works, the required tools to get started, and finding suitable suppliers.