Connecting Google Analytics to a Site Audit adds pageviews to the results of your audit and adds an additional check – orphaned pages.

Adding unique pageviews of each page in your Site Audit makes it easier to prioritize the pages that should be addressed first, as you can sort by pageviews and identify the most popular pages on your site that have issues.

Additionally, you will add an orphaned pages check (or pages on your website with no internal links pointing to them). This presents an opportunity for improvement, as you should add links to the orphaned pages to improve the user experience of your website.
How to connect Google Analytics with Site Audit
First, go to your Site Audit and navigate to your settings. Find the item in the menu that says "Google Analytics" and choose the account and property for the domain you're auditing.

Please note: When you are connecting GA to Semrush, you need to make sure that the URL of the Google Analytics Property you choose is exactly the same as the domain of your Semrush Project. For example, if your project is created for domain.com, the property for www.domain.com won't be connected.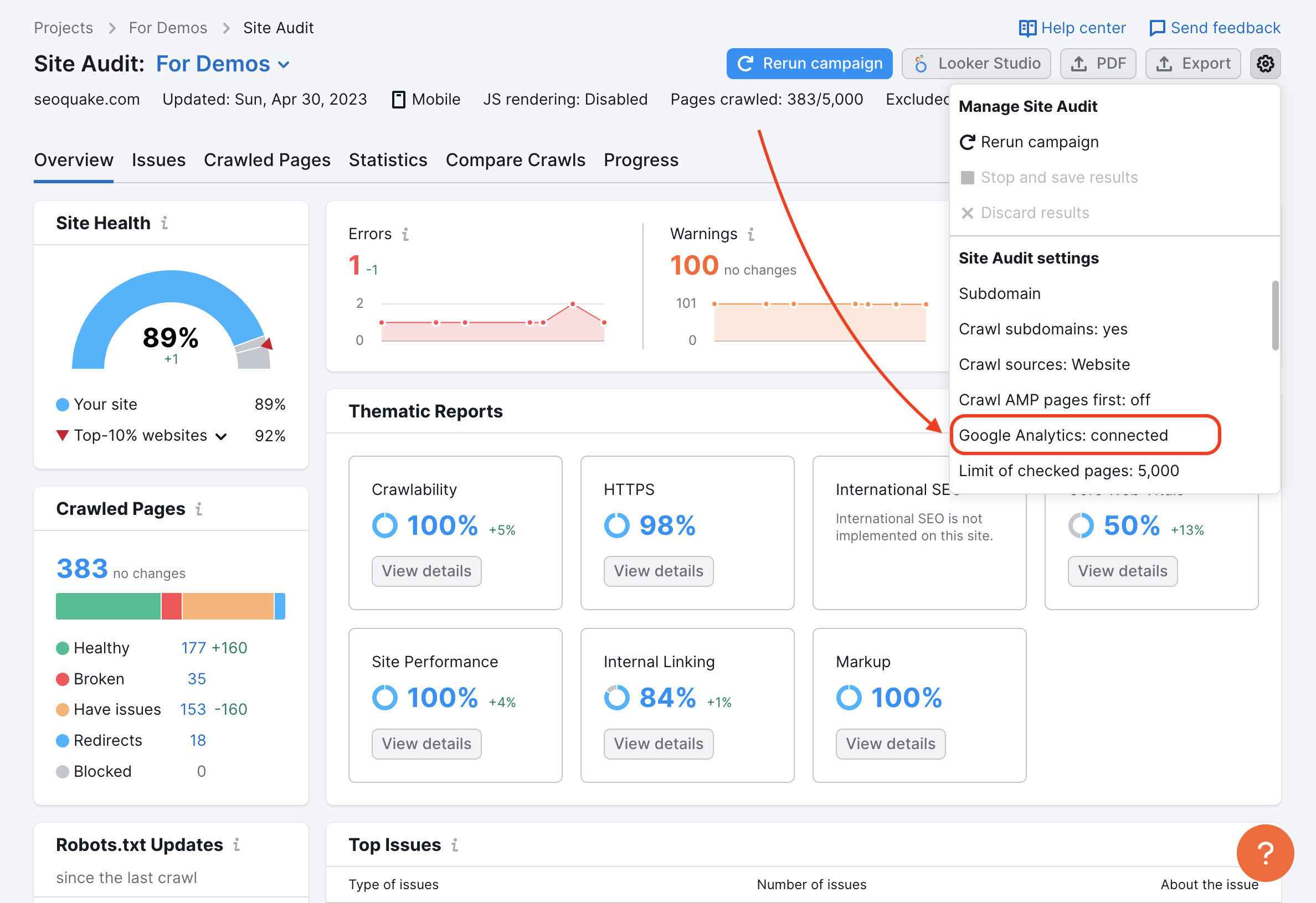 Then you will be prompted to select the account, profile, property, and view for the Google Analytics account associated with the site you're auditing. If you've already connected Google Analytics to Semrush in another tool, you can find your account in the initial dropdown.
If this is the first time you are attempting to connect Google Analytics to Semrush, then you will be asked to log in to that account before you can connect to Semrush.
Keep in mind you may need to wait around 15 minutes for your GA data to appear under your crawled pages. After this initial crawl, your GA data will automatically be updated any time you re-run your Site Audit.
Check out our Troubleshooting Guide for Google Analytics integration in case you have problems connecting your accounts.