One of the keys to success for any agency is building out your client list. However, this isn't always as easy as it sounds. You are going to want to make sure you are doing your research so that you aren't bringing on clients without a high return on investment.
The following steps can help ensure you are identifying the best possible prospects for your agency.
Get quick insight into a domain's search performance
Enter a potential prospects domain into the Domain Overview report to get a quick snapshot of the website's presence. Here you will be able to get a broad view of their overall online visibility in order to understand the client's current scope.
From here, you can examine their visibility in-depth by looking at their organic and paid search traffic, backlinks, distribution, competition, and more, depending on what type of work you will be doing for them.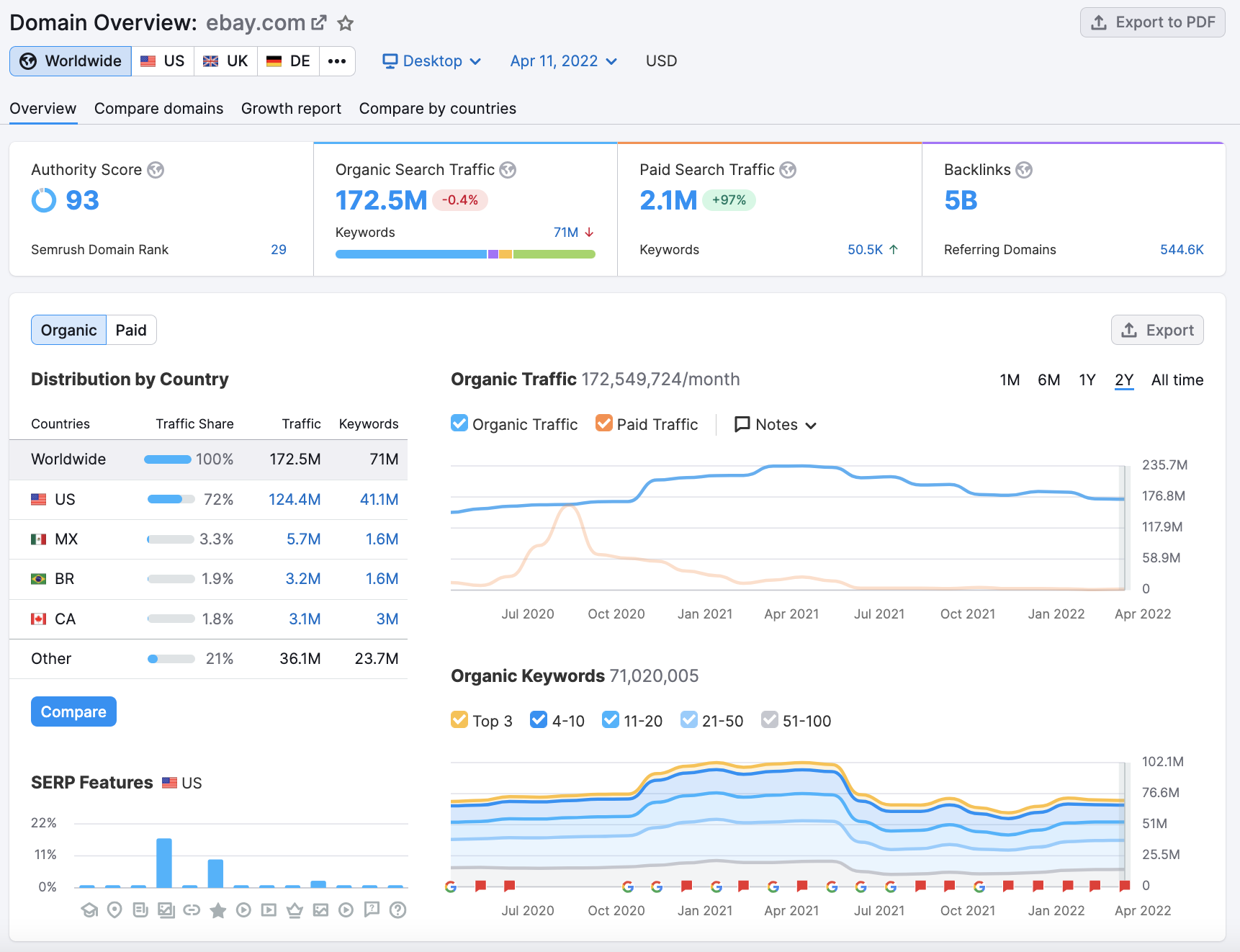 This can allow you to understand which parts of their site need the most improvement and where they have a chance to surpass their competition.
Compare a Domain with the Competition
Once you understand the overall online visibility of a Domain, you can explore its potential in-depth by comparing it with the competition using the Compare Domains report within Domain Overview.
This tool provides a quick snapshot of a domain's performance compared with up to four competitors, highlighting the wins for each compared domain. It even calls out the top opportunities, listing missing or weak keywords that could be capitalized on to improve visibility.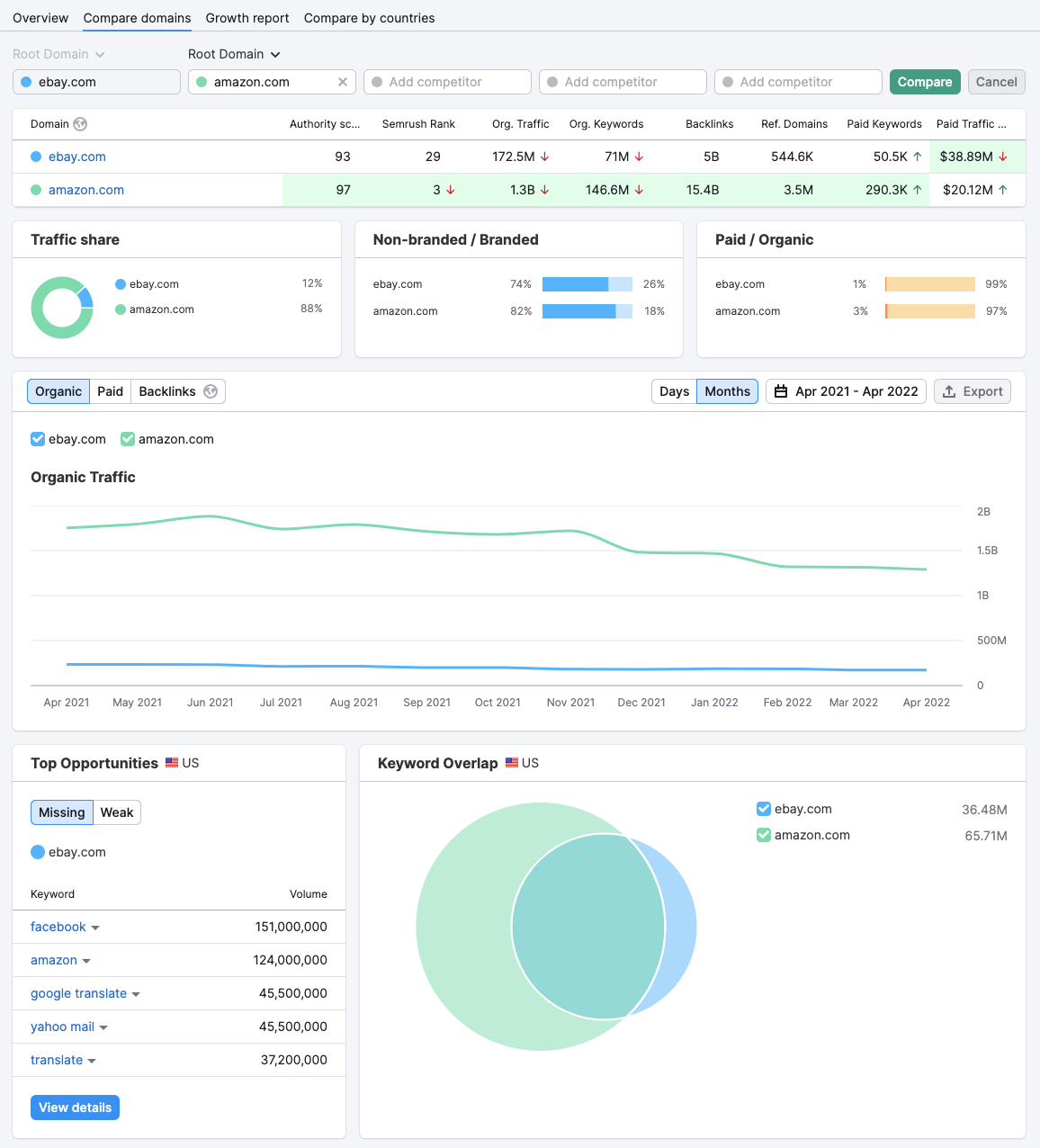 The Compare Domains report is a valuable resource for potential clients because it provides key insight into how they could improve their domains to beat important competitors.
Check out the Winners & Losers Report
After you check out the overall potential of a domain, you can use the Winners and Losers report to see which domains are making the biggest improvements in their search traffic over the previous month and which domains are seeing a decline in their traffic.
This report is an excellent resource for potential prospects for new clients. You can look for improving domains to show them their full potential or use their declining traffic to demonstrate just how much you can help.

Analyze the health of the site
Now that you've taken a quick look at a domain's presence and can see how it is improving or how you can help, you decide it has potential. The next step is to check out the health of the website. Go to the projects section of Semrush and run a Site Audit. Once it is complete, you will be able to see the health score, as well as a list of errors, warnings, and notices which indicate potential problems negatively impacting the site's overall health.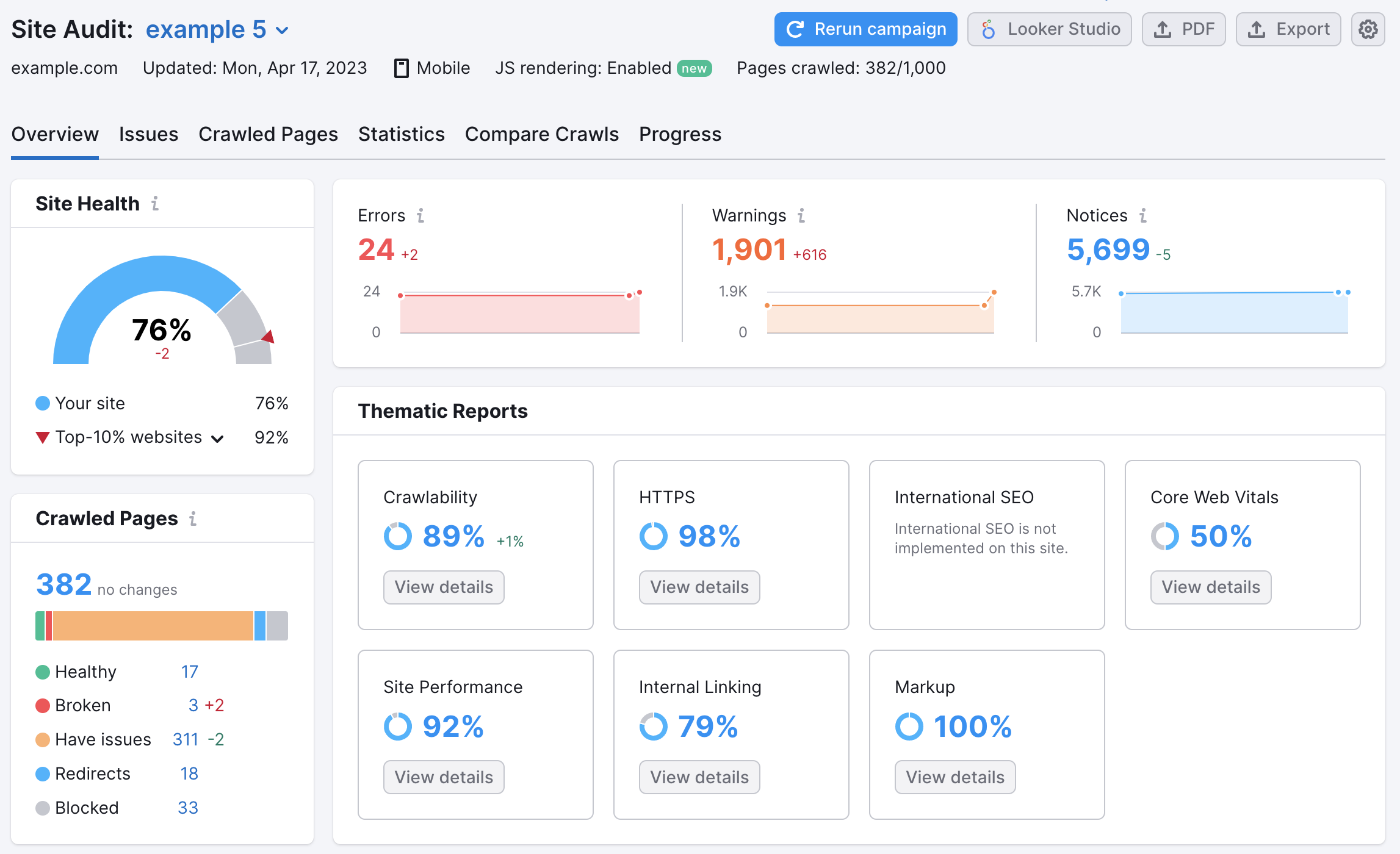 Use these to highlight what issues are going to be most important for a potential client. If you see a lot more errors on the site than normal, you can leverage that information to show the client just how much you can potentially help them.
Generate your own leads
Agency Partners Platform
The Agency Partners Platform is a valuable source of inbound leads. It's a place where businesses look for skilled vendors to fulfill their tasks. This means getting qualified as a Semrush Agency Partner and creating your personal Partner Page, which will open the gates to thousands of opportunities to find new clients among Semrush users.
Becoming an Agency Partner
Head to My Profile >> Agency Partners. Fill out the details about your agency, and click 'Add agency' to apply for a personal page.
Add all the information a customer may need about your agency to your Agency Partner page.
Wait for customers to pick you up from the Agency Partners list on the platform's main page.
Lead Finder
Generate new leads with Lead Finder. This tool easily helps you find and qualify new business leads fast. These leads are based on location and web technologies that businesses use on their website. This allows you to target only the most viable prospects and focus on prospecting.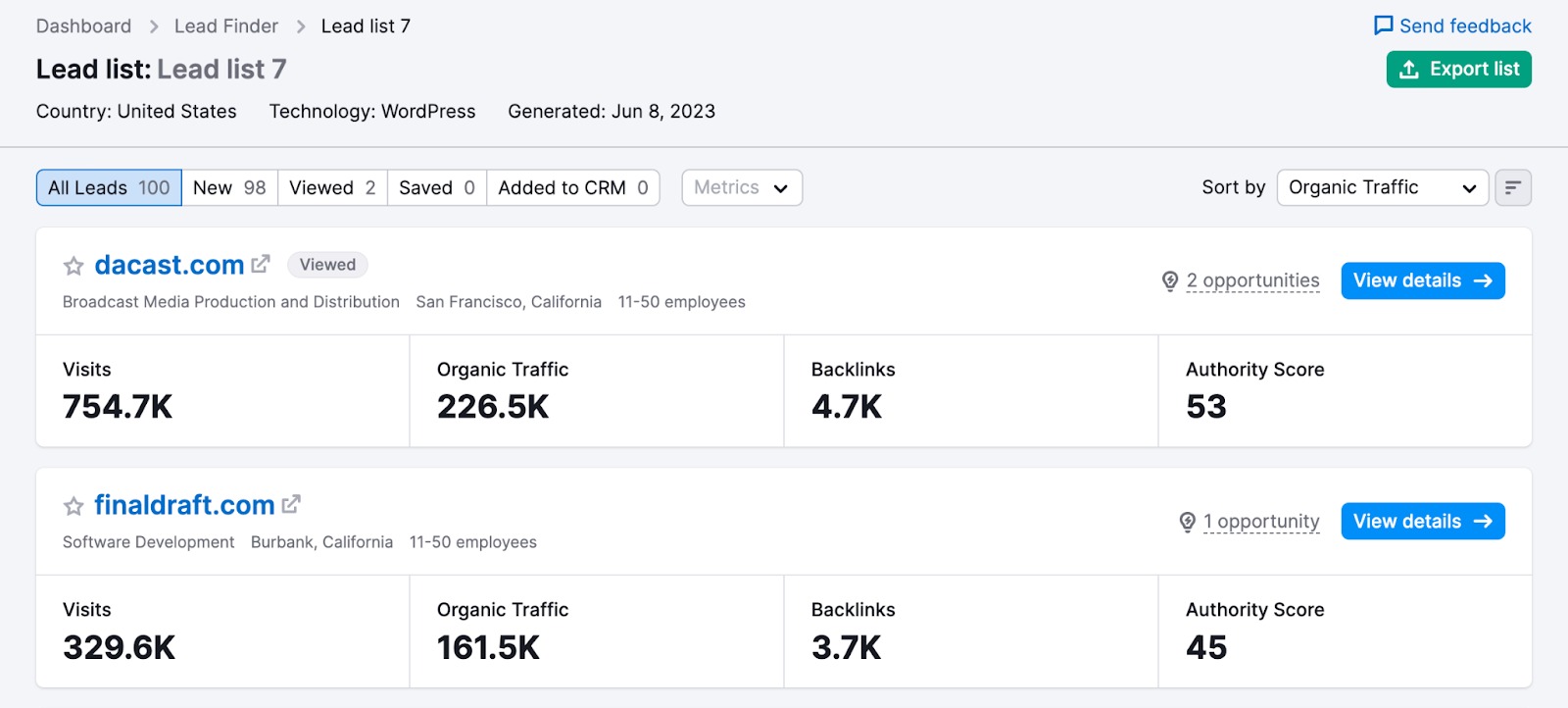 View details to see the full report and information on opportunities that can be used in your pitch.
Once you have qualified which leads you want to pursue, you can send them to the CRM tool and begin the outreach process.
Learn more about Lead Finder here.
Bid Finder
Use Bid Finder to generate your own leads. Bid Finder is a bid management tool that helps you find relevant marketing contracts.
The tool collects, categorizes, and organizes marketing contracts from multiple sources. Easily find bids based on category, region, contract value, date, deadline, and more, and apply for these opportunities.
Use the email notification functionality to ensure that you won't miss important opportunities and add qualified leads to CRM.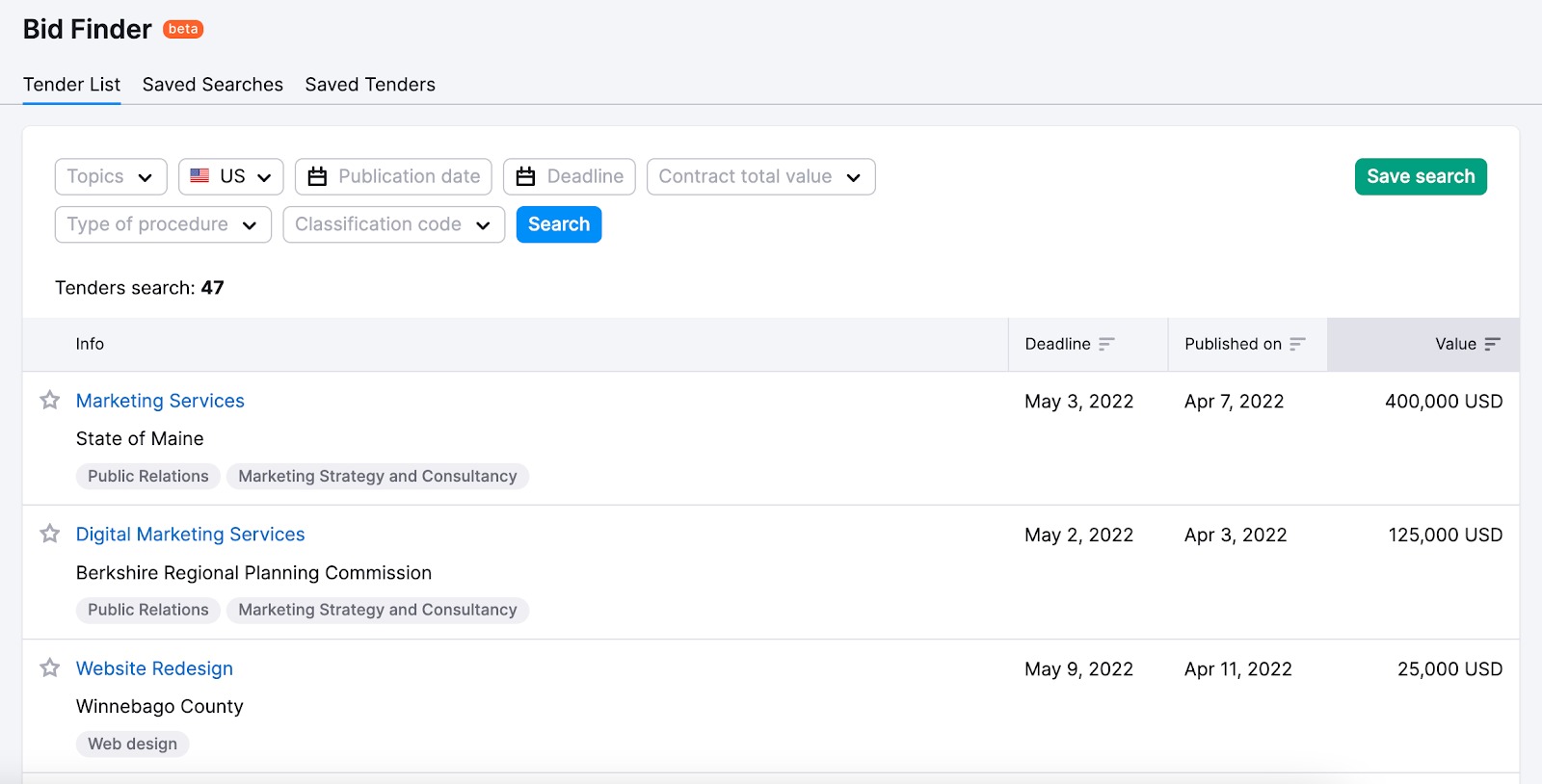 You can learn more about Bid Finder here.
Run a competitor analysis
Use the Organic Research Competitors report to see all of the websites that frequently compete with your potential clients' website traffic on organic search results.
You can use this to show a client where they are being outperformed and explain to them how you can help. This will also show their site's top SEO competitors that you need to worry about.
Next, use the Keyword Gap to identify the keywords that are unique to their domain and discover gaps in their competitors' strategies.
Use this to show how you can help make up for these keyword gaps.
You can get even more competitive insight using Backlink Analytics. First, use the Backlink Analytics Competitors report to see which websites share the most backlinks with the client.
If you're interested in how their backlink profile compares to a specific competitor, you can use the Backlink Analytics Overview to compare the client's domain with up to four others.
Then use the Backlink Gap tool to identify new backlink opportunities that could give your client an edge over the competition.
These steps can help you do the proper research on potential business prospects. You will be able to see if the client is going to be worth your investment.
Once you've identified a potential client, check out our how-to article for onboarding new clients.