Configuring your Social Tracker campaign is easy and should take no more than five minutes to set up.
Connect Your Social Accounts
First, you'll need to start a new Project or open an existing Project from your Projects Dashboard and hit the Setup button on the Social Tracker widget. This will prompt the Connect a Social Network dashboard.
Once you choose to set up a Social Tracker Project, you can connect each of your social profiles individually by logging into your account on each platform and confirming that you authorize Semrush to use this connection.
On Facebook we only track business pages, no personal pages or groups, so make sure you add the URL of a business page. Keep in mind that the tool cannot track business pages that have access restrictions, the page should be available to the public.
The same goes for Instagram, we only track Instagram business pages.
Please note: In order to connect to your Instagram Business page you must first login through your Facebook account. For more information check out this article here.
For YouTube, we track channels and not users. YouTube channels have multiple URLs, so make sure you copy the channel URL if you're adding a YouTube profile manually. On Twitter, any account can be tracked.
Once you decide to connect one of your social profiles with the tracker you will be brought to a widget that allows you to connect your profile. This requires logging into your accounts on each channel before connecting within the setup wizard.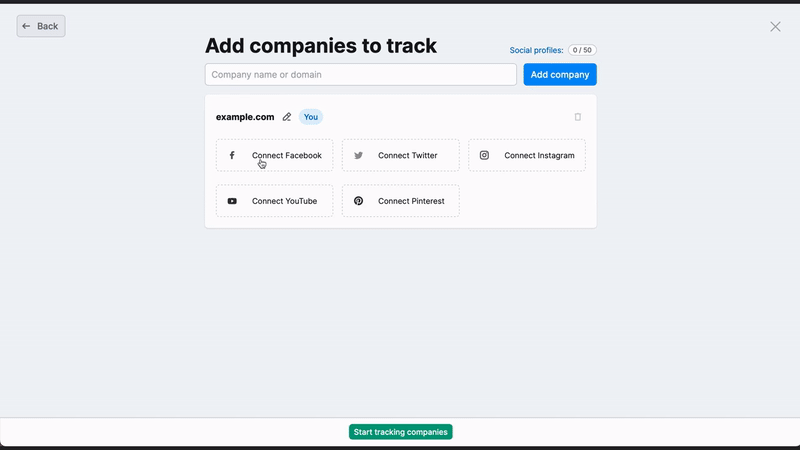 *It's important to note that Semrush does not take any personal information from your social profiles*
The way we collect the data in this tool is by performing a number of API calls to the social media platforms, and in order to perform these calls, we need to have a connected account on each platform.
If you have any concerns about syncing a personal social media profile to Semrush, you can keep in mind the following:
A) Semrush doesn't need anyone's personal data. All we need is a valid connection for an account, the reason being that we use these connections to perform API queries to fetch data. So we collect data not from the accounts that were connected, but from accounts that are specified in steps 2 and 3 of the wizard.
B) If the account isn't publicly visible (a private account), we will not even have the means to access your data. All the data that we collect is publicly available.
C) You can revoke this access at any time.
D) If you don't wish to connect your personal account for any reason, you can simply re-login under a different account on the same channel.
Add Competitors
The next step after connecting your social media profile is adding your competitors. After you enter the competitor name or domain of your competitor, Semrush will search for their profiles and add the pages it finds.
Note: due to changes in the Twitter API policy, suggestions are not provided for this social media profile.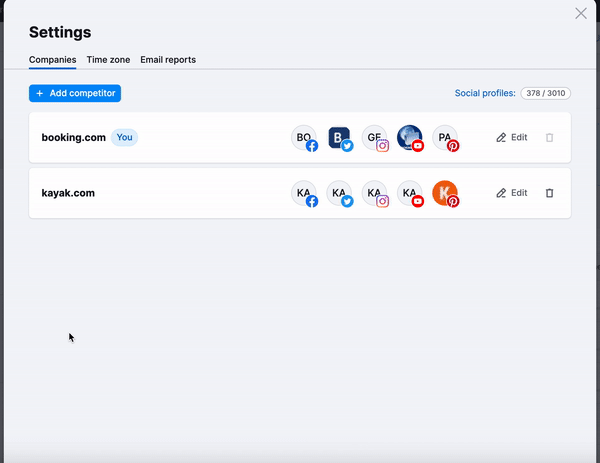 If a competitor's social media account is not found by Semrush, you can add them manually by entering the URL for their page on that respective social network (for example, https://twitter.com/adidas). Finally, click on the green start tracking competitors button at the bottom to start tracking your competition.
Note: There is a maximum of 21 companies that can be added to the Social Media Tracker in one project - one for your domain and 20 competitors.
Changing Your Settings
If there comes a time when you want to set up an additional social media profile within your project you can add another one through your settings. Click on the settings icon in the top right of your dashboard to prompt the settings widget.




Once in the settings widget, you will see all of your current profiles. Here you can see if a certain social media platform is missing (Twitter, Facebook, etc.). If you're missing a platform you can add it here.
Not only can you add additional social accounts, but you can also add more competitors. If you realize you missed out on tracking one of them, you can add them with the blue + add competitor button above your current profiles.
In addition to competitors, you can change your time zone settings and schedule your email reports. The email options lets you receive email reports for the overview, audience and engagement reports.
These emails can be scheduled for any day of the week (or month) and can be sent to any email address you'd like. Each report can be sent to up to ten different email addresses.
Send these reports to yourself, your boss, or your client to keep everybody on top of your social media presence and performance.
Added Profiles
Depending on the level of your account, you'll have a limit on the number of social profiles you can track across all of your projects.
Pro accounts and accounts with Social subscription can track a total of 50 profiles, Guru can track 100, and Business can track 300.

For more information about the limits of your account, feel free to review our Prices page.
If you connected the wrong Social Media аccount, you can disconnect it and reconnect the right one to get the correct data. Read more about it in the article How to Disconnect your Social Media Accounts from Semrush.
Now that your project is all set up and ready to go, you can begin checking out your competitors' top content and engagement levels with the Overview report.