With the Market Explorer tool, you can fully dive into a niche and understand the audience you want to target. This tool makes it easy to benchmark how your site compares to the competition and get a better understanding of any market.
See the main channels sending website traffic to competitors in your market
Evaluate the market size and benchmark the top competitors
Analyze demographics and psychographics such as age, gender, and interests of the audience
Regional and historical data filtering available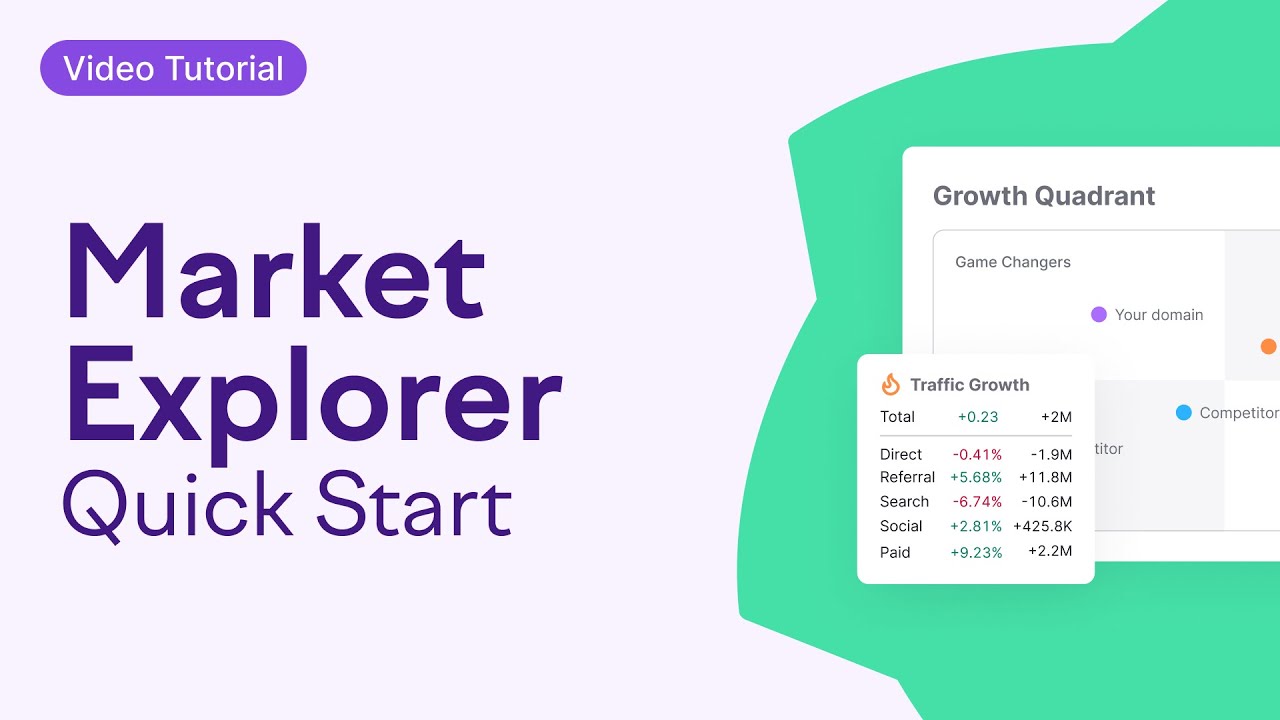 Utilizing this tool can help you better understand where a website is getting the majority of its traffic. Using this knowledge will help you know what areas your own site is falling behind.

For a more in-depth look into Market Explorer check out the manuals in the reports and features section or go directly to the tool yourself with the button below.
This tool is an amazing way to get an overview of any market surrounding a domain. Just by entering a domain into the search bar, you'll see a list of the most relevant competing sites, and then a handful of ways to analyze their traffic and compare the trends of the overall market to each individual site in this niche. With this information, you can enter a new niche market with confidence, make intelligent partnerships, or conduct a thorough competitive analysis of an entire market.
Benchmark your own website against your competitors to better understand what areas you could improve. Use the Growth Quadrant as a way to get a competitive landscape of the top industry players. You'll see websites broken down into Leaders, Established Players, Game Changers, and Niche Players.
Getting started with Market Explorer is easy. First, you'll need to choose which type of report you want:
Create List (1): Manually select and report on up to 100 competitors in a Market list.
Find Competitors (2): Automatically report on competitors surrounding one domain; competitors suggestion is based on organic search results.
Analyze Category (3): Choose from 110 business categories for a report based on 1,000 of the selected industry's top domains.
Market Lists are automatically saved and can be viewed again later, so this option can be useful if you want to examine specific market segments, while the Find Competitors option allows you to gain a better understanding of where you're positioned within the niche. The Analyze Category is a great choice if you're looking for the widest possible view of a market.
All exports from this tool are limited to 500 rows maximum.
At this time, Market Explorer's full functionality is limited to Semrush accounts that have the Semrush.Trends solution.
Without the Semrush .Trends solution, you can access the Overview report of the tool with the following limits:
Free: 10 requests per day
Pro: 3,000 requests per day
Guru: 5,000 requests per day
Business: 10,000 requests per day
After adding the Semrush .Trends solution to an account, you will be able to access all of Market Explorer including:
Market Traffic graph
Traffic Sources filters
Trending Keywords widget