Video Marketing Platform is an all-in-one online video marketing app that integrates:
Video recording
Video editing
Live streaming
A thumbnail maker
Video hosting
And a stock library of 200M+ video, photo, and audio assets
It has a comprehensive, user-friendly set of tools to create engaging videos without the need for complex video editing software.
Content creators can complete the entire video creation cycle — whether you want to create a video landing page, turn your blog post into a video, add subtitles, or anything else video-related.
How Can Video Marketing Platform Help Me?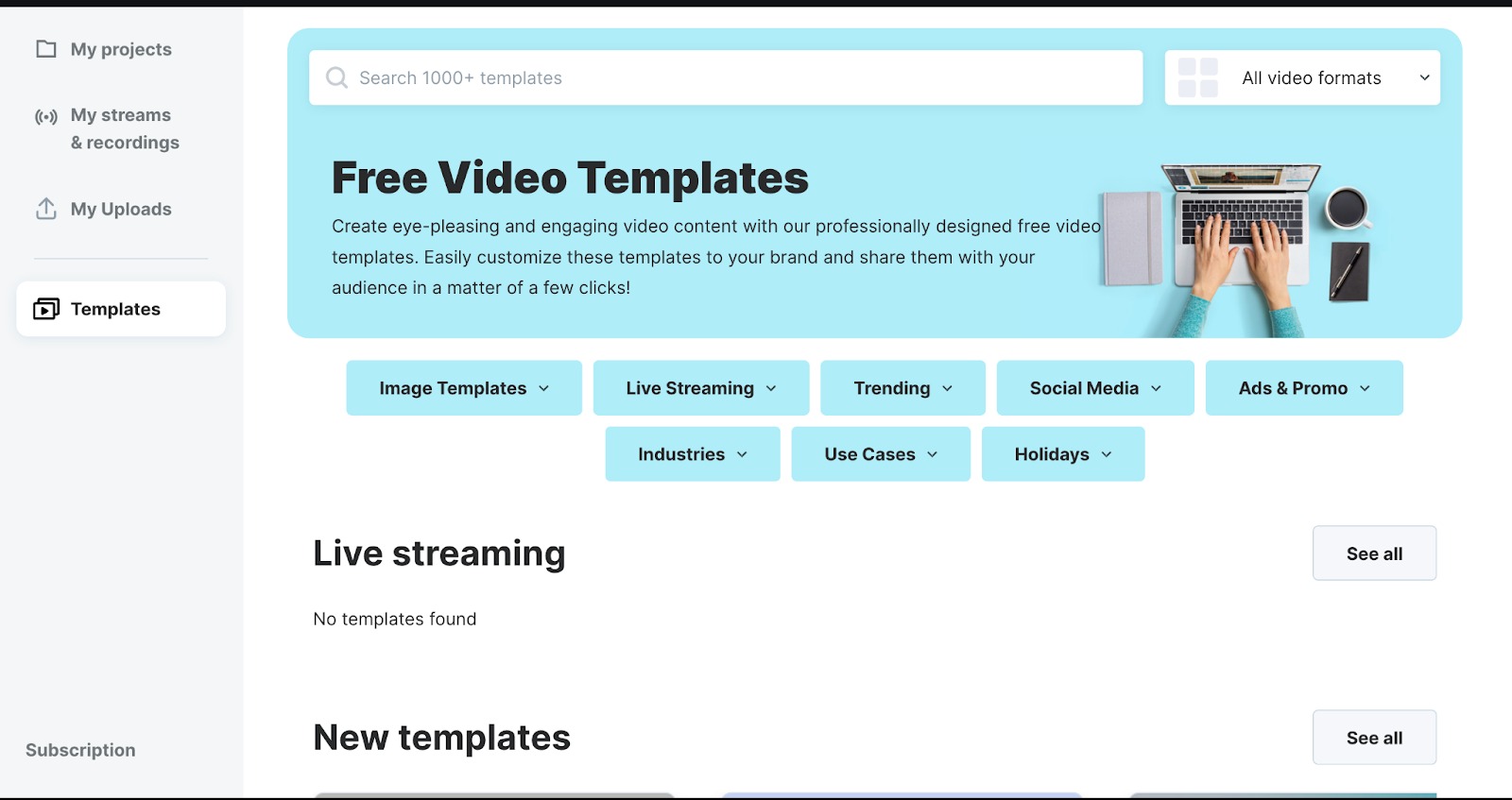 Video Marketing Platform is a powerful app to support your video creation needs. It's ideal for any individual or organization seeking to leverage video marketing to drive traffic, engagement, and brand awareness to your audience. That includes and is not limited to:
Small business owners
Marketing agencies
Ecommerce businesses
Content creators
Brand ambassadors
In-house marketers
Social media managers
Advertising specialists
Email marketers
Freelancers, video editors, and designers
Video Marketing Platform simplifies and streamlines the video creation process with an intuitive interface. It supports:
Video Editing: Easily resize and trim videos, combine clips, and add animated text, stickers, and professional-looking transitions. Create visually appealing videos without the need for advanced technical skills or extensive training.
Captioning and Subtitles: Automatically convert speech to text and generate video subtitles within minutes. Save time while enhancing accessibility and engagement with custom captions to match your brand and style.
Video Recording: Record video and audio directly from your browser to produce a number of video marketing content pieces including tutorial videos, demos, or vlogs. Invite guests to join your recording sessions, add custom layouts, and edit your recorded videos — all within the app!
All-in-One Video App: Save time and money with a single app to support your video needs with the video editor, live streaming studio, thumbnail maker, video hosting, video recording, and a stock library with more than 1000+ templates to choose from
Pricing and Limits
There are two versions of the Video Marketing Platform — Creator and Business.
Here are the monthly limits that accompany each subscription level:
What's Included in Video Marketing Platform?
Video Marketing Platform is a user-friendly solution for all types of video creation. It combines powerful features in a single platform to easily provide professional-looking results.
Here are its core features:
Video Editing Tool
The Video Marketing Platform online video editor is an intuitive, versatile tool for creating multi-format video content.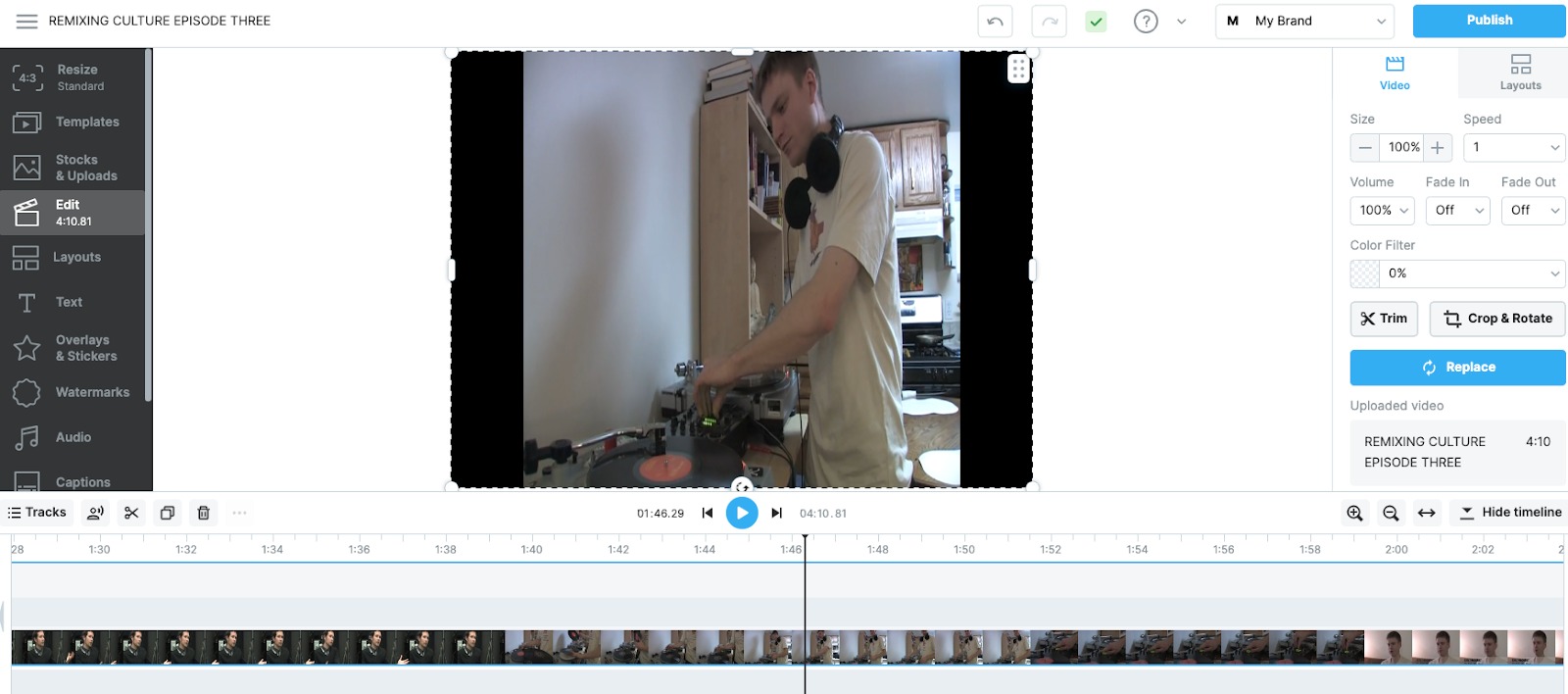 With it, you can:
Trim
Crop
Add text
Merge video clips
Resize to 30+ formats (including Instagram videos & Stories, TikTok, Snapchat, LinkedIn, Facebook video covers, YouTube, and more)
Add a watermark
Add animated text
Add video overlays, graphics, and GIFs
Rotate 90 or 180 degrees
Adjust video speed (slow down or speed up)
Flip horizontally or vertically
Zoom in
Create a collage
Create a custom GIF
Generate a meme
Remove image background
Split video
Convert an image to video
Live Streaming Studio
The Live Streaming Studio allows you to live stream your videos on YouTube, TikTok, Facebook, Pinterest, LinkedIn, and other digital platforms. This can help you connect with your viewers in real time, helping you share your brand message with a bigger audience.
Head to "My streams & recordings" from the left-side menu to get started.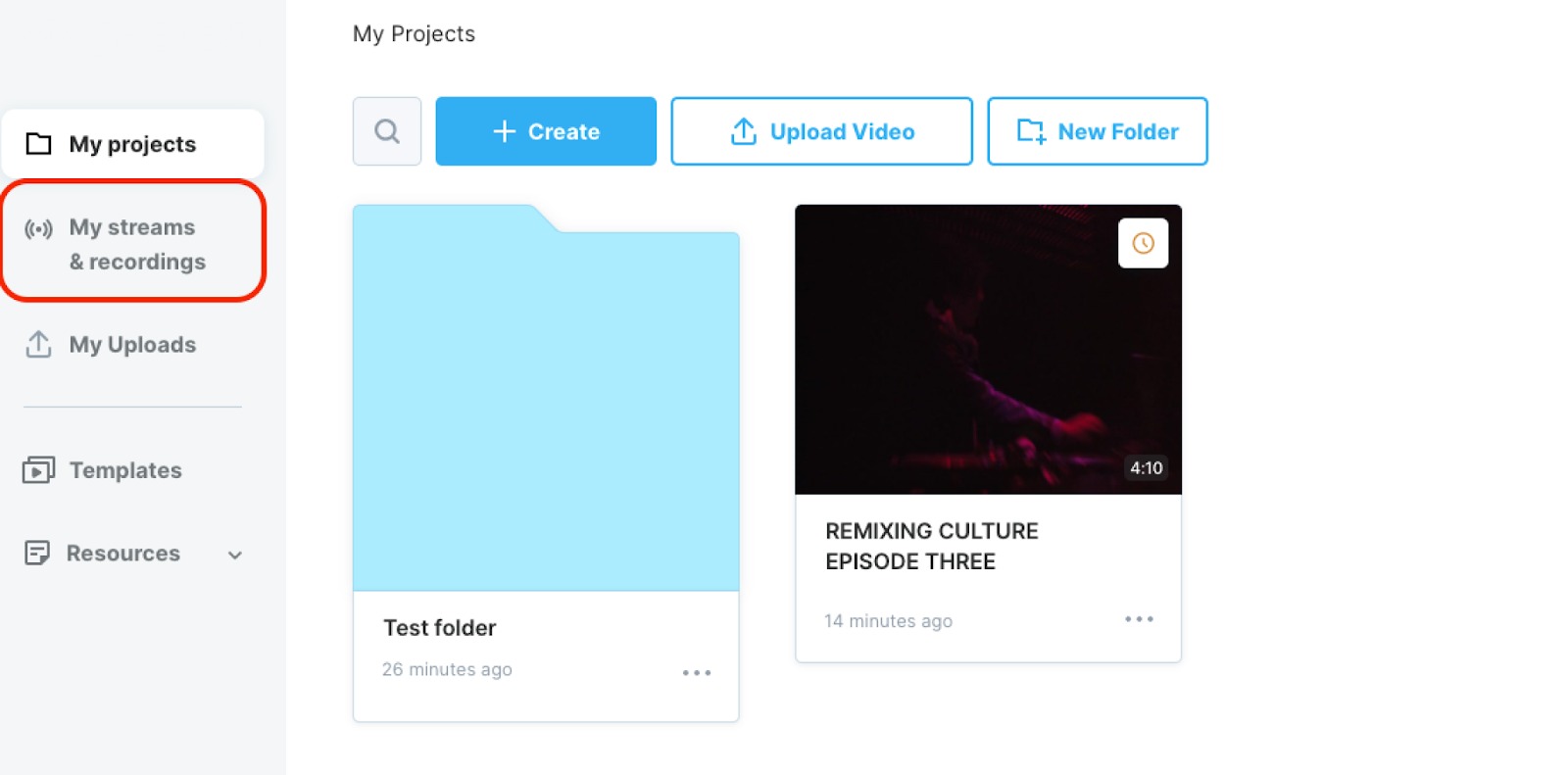 Next, select "Setup Live Stream." Note: You can also use this to set up a webinar, create a new video recording, or open up the studio.
The next screen will prompt you to enter the details about your live stream, including scheduling and allowing guests to co-stream your event.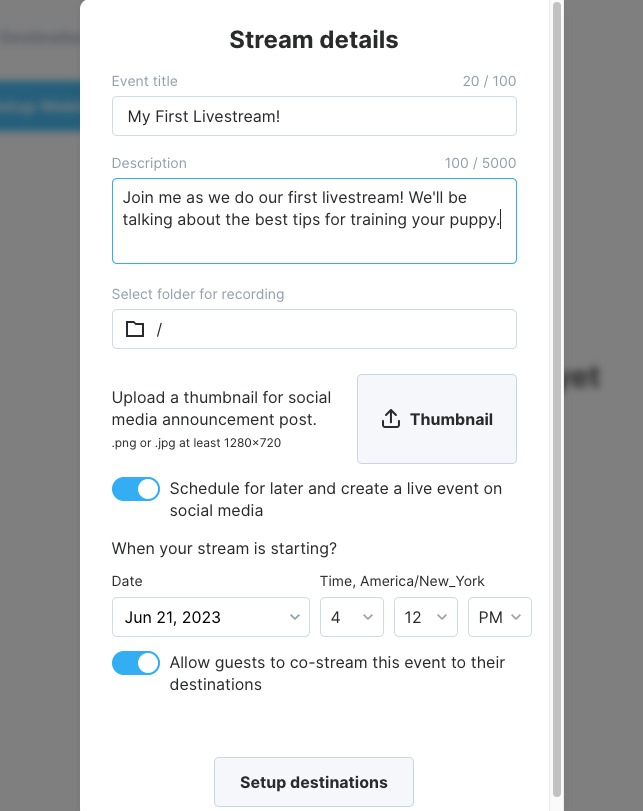 To choose your stream destinations, click "Setup destinations," then click the "Add destination" button to connect your desired channel(s).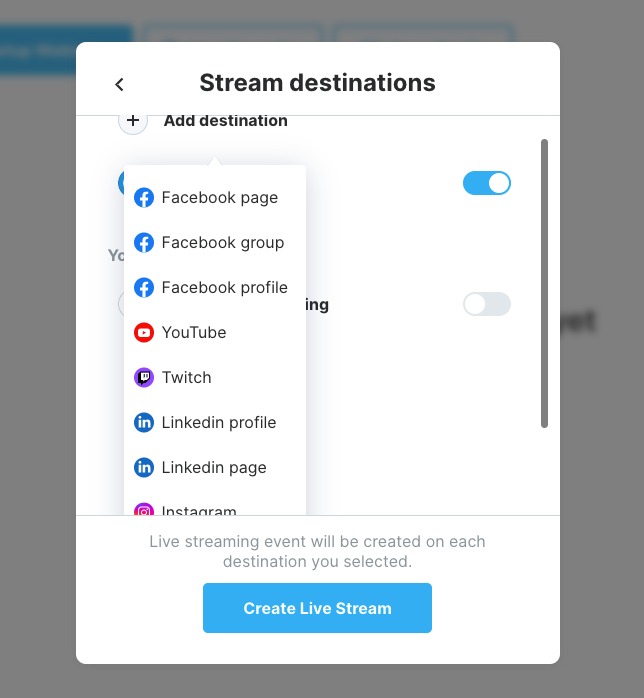 You can invite guests, open the studio, or select "Done" from there.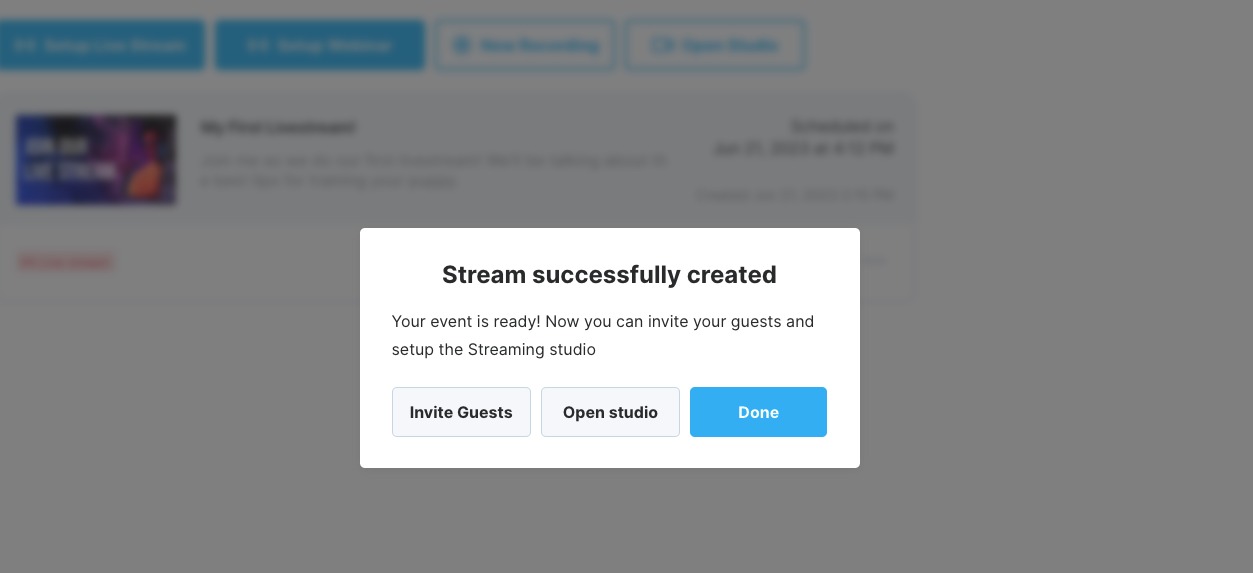 Your live stream will now appear on the main screen.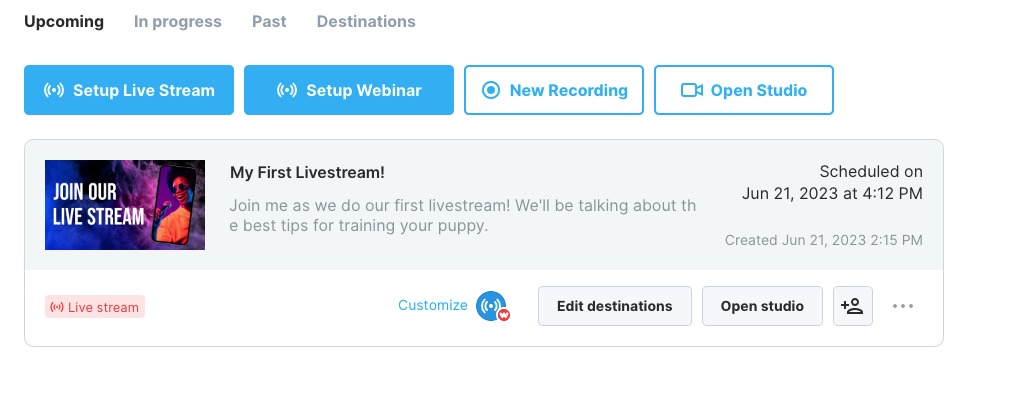 Once you enter the studio, you'll find several assets and tools to enhance your live stream experience.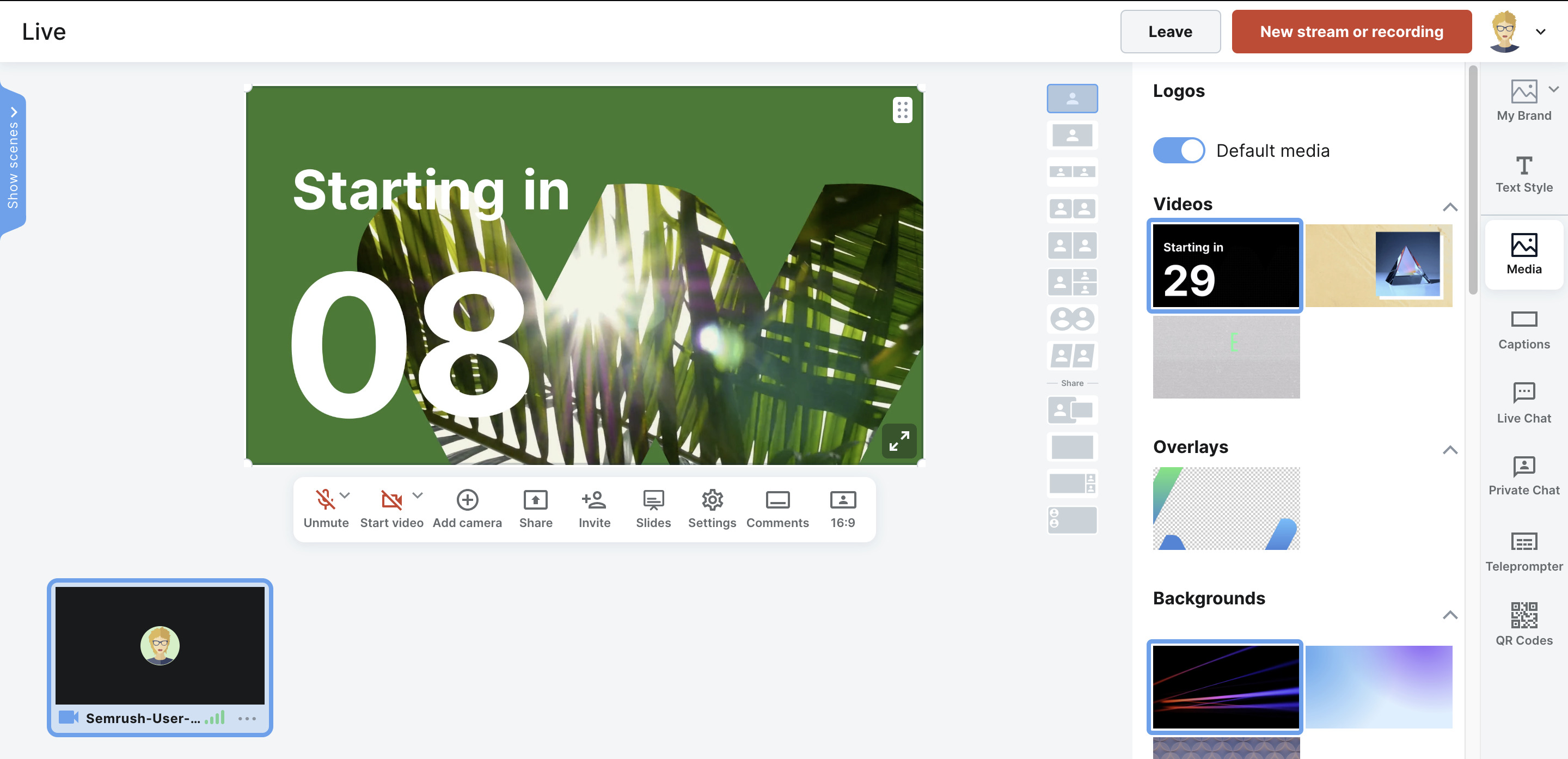 Those include:
Multistreaming
Templated and custom stream overlays
Thumbnail maker
Live stream chat
Live streaming studio
Webcam recorder
Teleprompters
Custom and templated video backgrounds
Stock music and sound effects
QR Codes
Video Hosting Platform
The Video Marketing Platform also serves as a secure platform for hosting all the videos created by users. This means that you can conveniently access your videos from any location and device.
The video hosting feature is a comprehensive solution that enables you to store, host, embed, and distribute your videos effortlessly. You can generate diverse video content formats and seamlessly share them on your website, blog, through emails, or transform them into captivating landing pages that yield impressive conversion rates.
This includes:
Embedding videos with copy and paste
Landing page video creator
Video in email
Password protection for videos
Branded video player
Video analytics
Video formats: mp4, webm, wmv, avi, mkv, mov, m4v, m2ts, mts, ts, tsv
Stock Library
Video Marketing Platform provides more than 200 million stock videos, photos, royalty-free music, templates, and graphic elements to support your creative video marketing needs.
To access these assets, head to "Templates" on the left-side menu.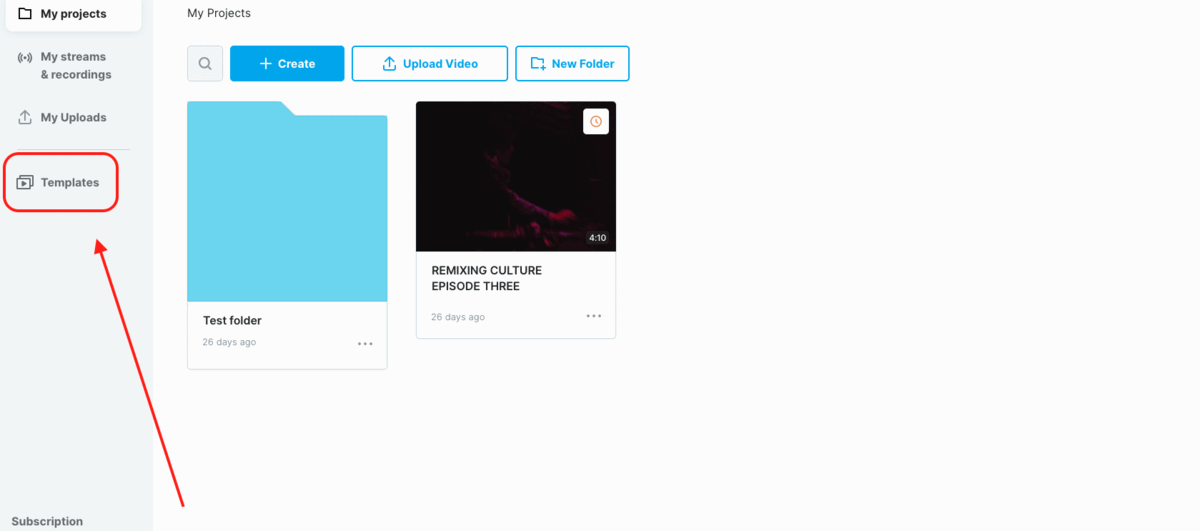 Select the use case, industry, or social channel you wish to explore.
With the Video Marketing Platform stock library, you'll access:
Free stock video (200M clips and counting)
Royalty-free music for any mood or style (300K and counting)
Millions of free, high-resolution stock images
Frequently Asked Questions
If you have other questions about the App Center or Video Marketing Platform, please email us directly at app-center@semrush.com.