The Consumer Surveys app by MFour is an app in Semrush App Center that allows businesses and agencies large and small to conduct, review, and analyze surveys for market research and consumer understanding.

These syndicated surveys are enriched with behavioral visitation data for locations, apps, and websites. The app also allows you to collect thousands of custom responses from real, verified, and voluntary participants.
How Can the Consumer Surveys App Help Me?
As a business owner in any industry, it's essential to understand your potential customers, their motivations, their desires, and what they want. One way to do this is by conducting consumer surveys.

There are many benefits to using the Consumer Surveys app. Here are some of the main ones:
Learn about customer demographics
Discover what motivates customers to make a purchase
Find out what customers think about your product or service
Learn about customer satisfaction levels
Identify any problems that need to be addressed
Get feedback on new products or services before launching them
Use the data to create targeted marketing campaigns
Enjoy access to six existing surveys that update monthly
With this validated customer data, businesses can improve their marketing strategy, speak to a new demographic, and essentially grant themselves a more competitive edge in their market.
Consumer Surveys Pricing
The Consumer Surveys app costs just $100 a month and provides over 12,000 monthly consumer opinions, all tied to a staggering 2.5 billion app, web, and location events updated daily. This includes access to six pre-existing surveys that update data on a monthly basis.

With this premium subscription, you can also request custom surveys for a specific business topic at an additional cost. The cost varies depending on the survey.

Users can also benefit from a 7-day free trial before committing to a monthly subscription.
The Consumer Surveys App Dashboard Overview
Before working with the app, users should know the Consumer Surveys app provides only U.S. data from U.S. consumers. International users can still request data, but the demographics focus solely on data in the U.S.

To get started with the app, we'll help you navigate the dashboard and its revolving surveys before showing you its functions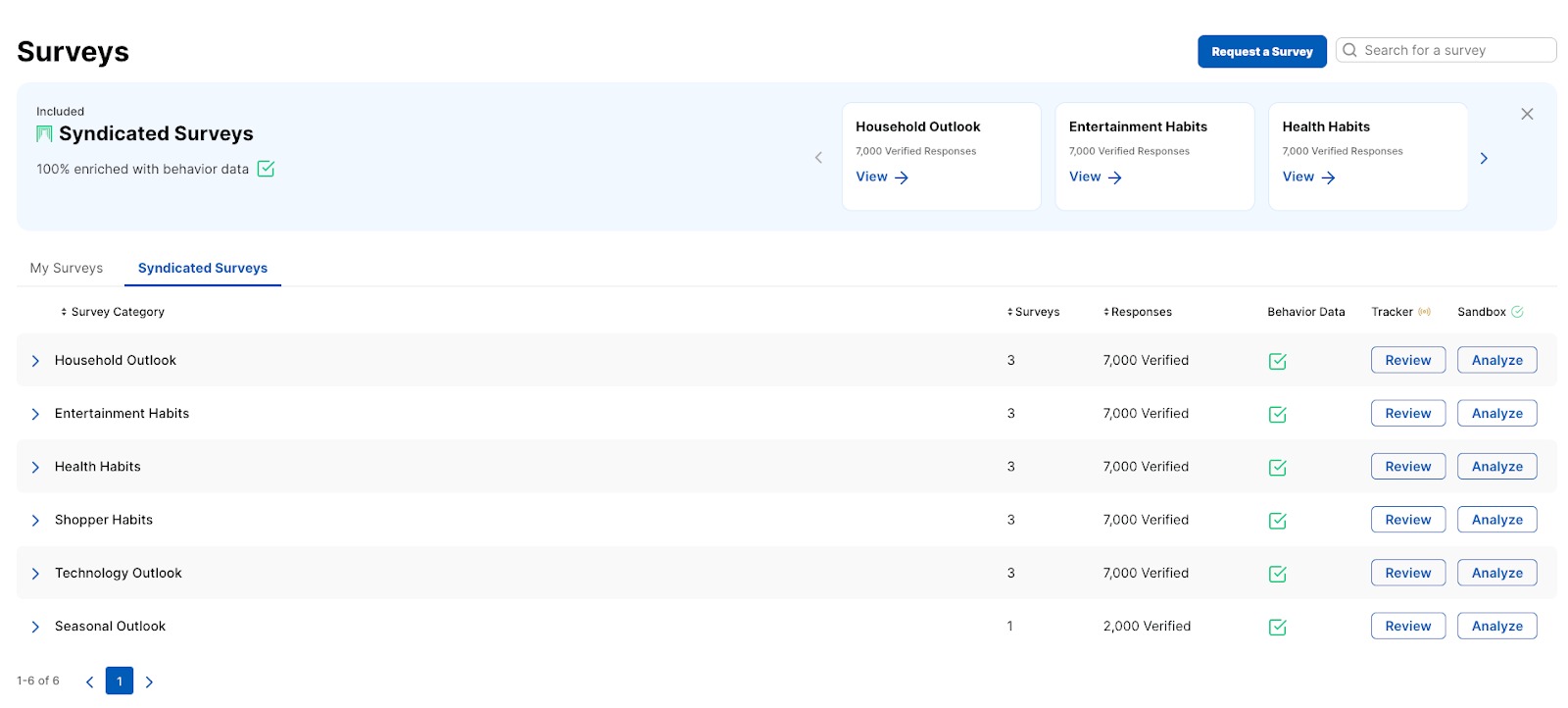 Once you enter the Consumer Surveys app, you'll see a table with six columns under a "Syndicated Surveys" tab




Those columns are as follows:
Survey Category: the topic or topic cluster of the survey
Surveys: number of surveys conducted within a topic
Responses: number of responses collected from your surveys
Behavior Data: the data coverage of the user's location, app, and web usage
Tracker: takes you to the Project Tracker page for a summary view of survey data
Sandbox: takes you to the Sandbox Surveys where you can enrich survey data with behaviors to create granular consumer personas
In the Tracker and Sandbox columns, there are buttons you can click to directly review and analyze results.
Survey Category, Surveys, and Responses Columns
In these three columns on your dashboard, you can get a general look at the results collected.

For example, when we click on the Entertainment Habits survey, it expands to show us the three different surveys conducted, their dates, and the number of verified responses collected.

You can access all survey results for that topic cluster in the dark blue box, or you can select past survey results in the white line items beneath


Behavior Data Column
In the Behavior Data column of the Entertainment Habits survey, you'll see green checkboxes. When you hover over a green checkbox, a prompt will show you the percentage of data received on location, app, and web




New data appears for each existing survey topic by the end of the month. If you don't see this new data present in the Behavior Data column, wait until the end of the month before contacting Semrush support.
Tracker and Sandbox Columns
As mentioned earlier, the Tracker and Sandbox columns have buttons that help you navigate to pages that better demonstrate survey results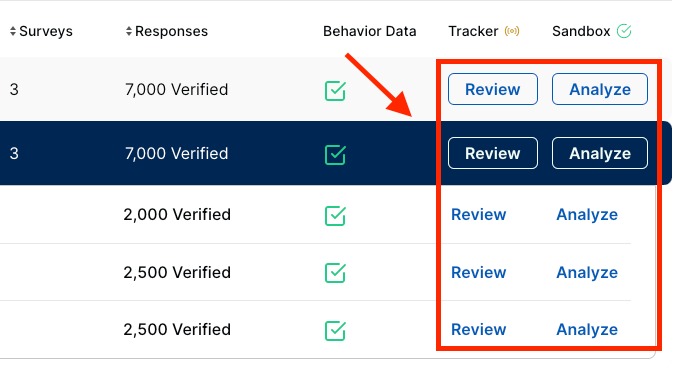 When you click "Review" in the Tracker column, you'll go to the Project Tracker page. There, you'll see more summarized survey responses, which we will explain later.

When you click "Analyze" in the Sandbox column, you'll go to the Sandbox Surveys page. From there, you can see far deeper insights into the survey results. You can also narrow your results using filters.

You can also access the buttons in these columns when your topic is expanded in the dashboard.
How To Use the Project Tracker
The Project Tracker page is going to show all of your survey results in a way that is easy to digest.

Here's a step-by-step guide to navigating the Project Tracker:
How To Use the Surveys Sandbox
The Surveys Sandbox is where the information gathered becomes more powerful. It has all the data you would find in the Project Tracker but with capabilities to narrow your results more granularly.

In this Surveys Sandbox, there are tabs at the bottom of the screen (similar to a Google spreadsheet) that display different areas of your results.
Survey + Demo: demographic data
Survey + Location: location visit data
Survey + App: app visit data
Survey + Web: web visit data
First, we'll show you the Survey + Demo tab of information in the Surveys Sandbox before moving on to the other three tabs.
How To Navigate the Survey + Demo Tab
In the Surveys Sandbox for demographics, you can view survey responses and results while also filtering them by various demographics, including:
Age range
Gender
Ethnicity
Income
Education
Marital status
Employment status
State
Region
U.S. Census Division
After choosing your demographic, you can see data specific to that demographic in the light gray area of the table at the bottom of the page. The dark gray area shows the QID, questions, and responses.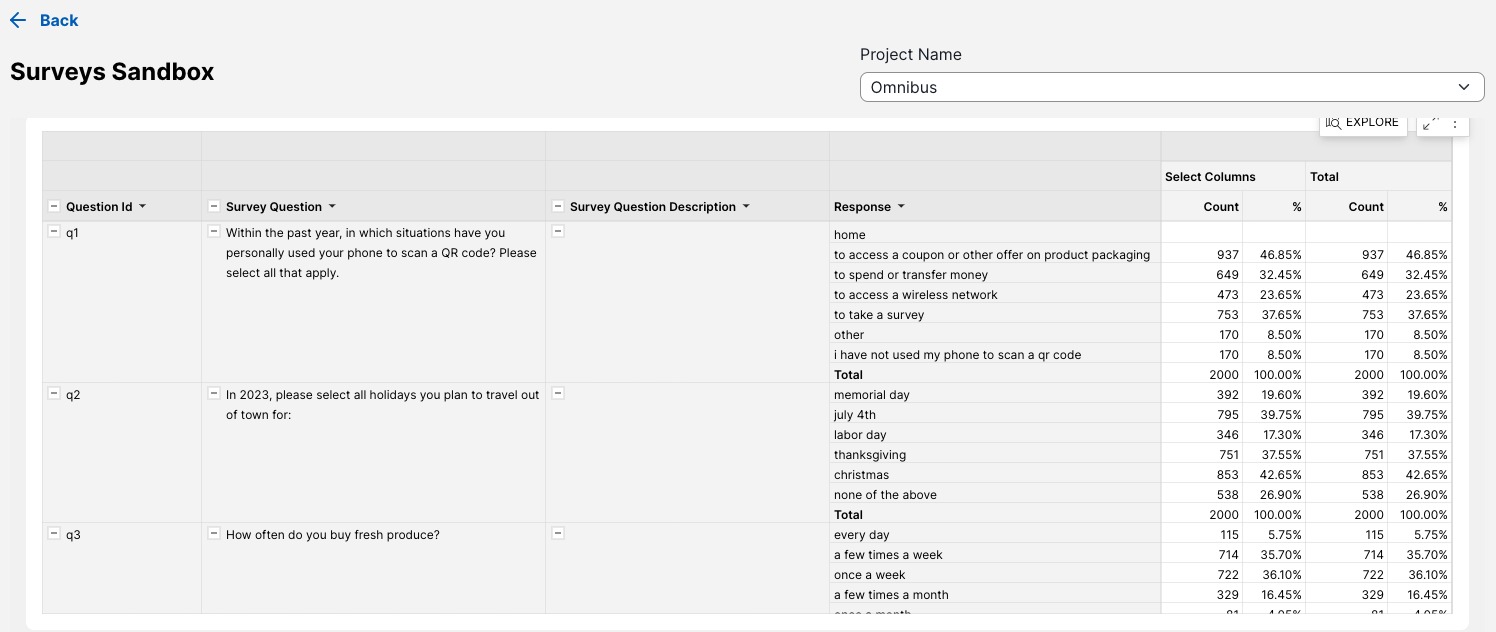 For example, you can choose a question and filter it by gender responses and see how men and women answered that specific question.
How To Navigate the Survey + Locations, App, or Web Tabs
For this area of the app, each tab will contain different parts of results from your surveys depending on location, app, and web.

For the three tabs on Survey + Location, Survey + App, and Survey + Web, we'll demonstrate one tab since their interfaces are identical.

Each tab offers the same Control Filters and Display Filters to apply to your project dataset. You can also see the results in various charts.
How To Request a Custom Consumer Survey
If you're ready to launch a new survey under another topic, you'll need to navigate back to the dashboard. To do this, just click the back button in the top left corner of the app.
Frequently Asked Questions
If you have other questions about the Consumer Surveys app, please email us directly at app-center@semrush.com.