AI Writing Assistant is a Semrush app that helps generate content for websites, ads, social media posts, and more.
With this new app, you can choose from 75 different AI-generating tools to start creating content. Users who need to save time and money can use this app as a tool to support their website growth and content creation.
Amazon Product Descriptions
Essay Intros
Sentence Rewriter
Meta Descriptions
Ecommerce Product Description Bullet Points
Email Subject Lines
Confirmation Email
Cancellation Email
Welcome Email
Follow-up Email
Cold Email
Newsletters
Video Script Section
Video Script Intros
Press Releases
Call To Action
About Us
How it Works
Testimonials / Reviews
QUEST Formula
AIDA Formula
Pain-Agitate-Solution
Blog Intros
Job Descriptions
Project Text Proposal
Essay Outlines
Creative Stories
Grammer Rewriter
Review Responder
Vision Statement
Mission Statment
Startup Name Generator
Text Summarizer (TL;DR)
Sentence Expander
Rewrite With Keyword
Ecommerce Product Names
Ecommerce Category Descriptions
Ecommerce Product Descriptions
Pros & Cons
Talking Points
Blog Conclusions
Blog Titles (Listicles)
Blog Titles
Blog Section
Paragraph Generator
Blog Paragraph Writer
Product Descriptions
FAQ Answers
FAQs
Meta Descriptions (URL)
Meta Titles (URL)
Feature to Benefit
Value Proposition
Website Subheadlines
Quora Answers
Personal Bio
LinkedIn Posts
Tweet Generator
Twitter Threads
YouTube Tags Generator
Video Descriptions
Video Titles
Google Ads Description
Google Ads Headlines
Facebook Headline
Facebook Primary Text
Instagram Hashtags Generator
Instagram Captions
Social Media Post (Personal)
Social Media Post (Business)
Website Subheadlines
Website Headlines
Blog Ideas
Blog Outlines
Image Generator
What Is the AI Writing Assistant?
AI Writing Assistant is an AI-driven content generator that helps marketers, and content creators create quality content for various mediums.
The AI Writing Assistant is modeled after OpenAI, making it a reliable and credible alternative to other AI content generators.
Benefits of the AI Writing Assistant
The AI Writing Assistant makes content creation easy for marketers, SEOs, creators, and webmasters.
Professional and quality results can be generated in just seconds, making it a quick solution for any type of content generation.
The AI Writing Assistant:
Offers 75 AI-driven content creation tools
Saves time and money
Eliminates the need to hire writers
Generates content in minutes
Can create content in 28 different languages
The tools are also augmented to make entering prompts much easier compared to competing alternatives.
The AI Writing Assistant is useful because it automatically generates content without the user having to do any research.
AI Writing Assistant Features
The prompts for each tool are unique, so the same prompting questions may not be included in each tool. But here are some of the other features you might find across the tools.
You can:
Check for plagiarism
Save and view content later
Choose the AI generator's creativity level
Easily copy text for quick pasting
Generate multiple ideas from one prompt
Adjust the tone of voice
Choose your audience
Add keywords
And so much more.
The most important part of generating good content is good prompting. Giving very clear and detailed information will provide the best results.
If the details are unclear and not specific, the generated content result may be of poor quality and lack creativity.
Pricing
The app starts with a freemium model, which allows the users 1,500 credits up front. You will not be able to renew those credits after you use them.
The number of words generated using the AI Writing Assistant will automatically be deducted from your credits.

For unlimited credits, you can purchase an AI Writing Assistant app subscription for $25 a month.
Instruction: How To Use the AI Writing Assistant
Since there are various tools in the app, and each tool has its own unique prompt, we'll use a few different tool examples to demonstrate the functionality of the app.
Step 1: Choose your content writing tool
Navigate from your dashboard to the "All Tools" tab. There you'll find 75 tools to choose from.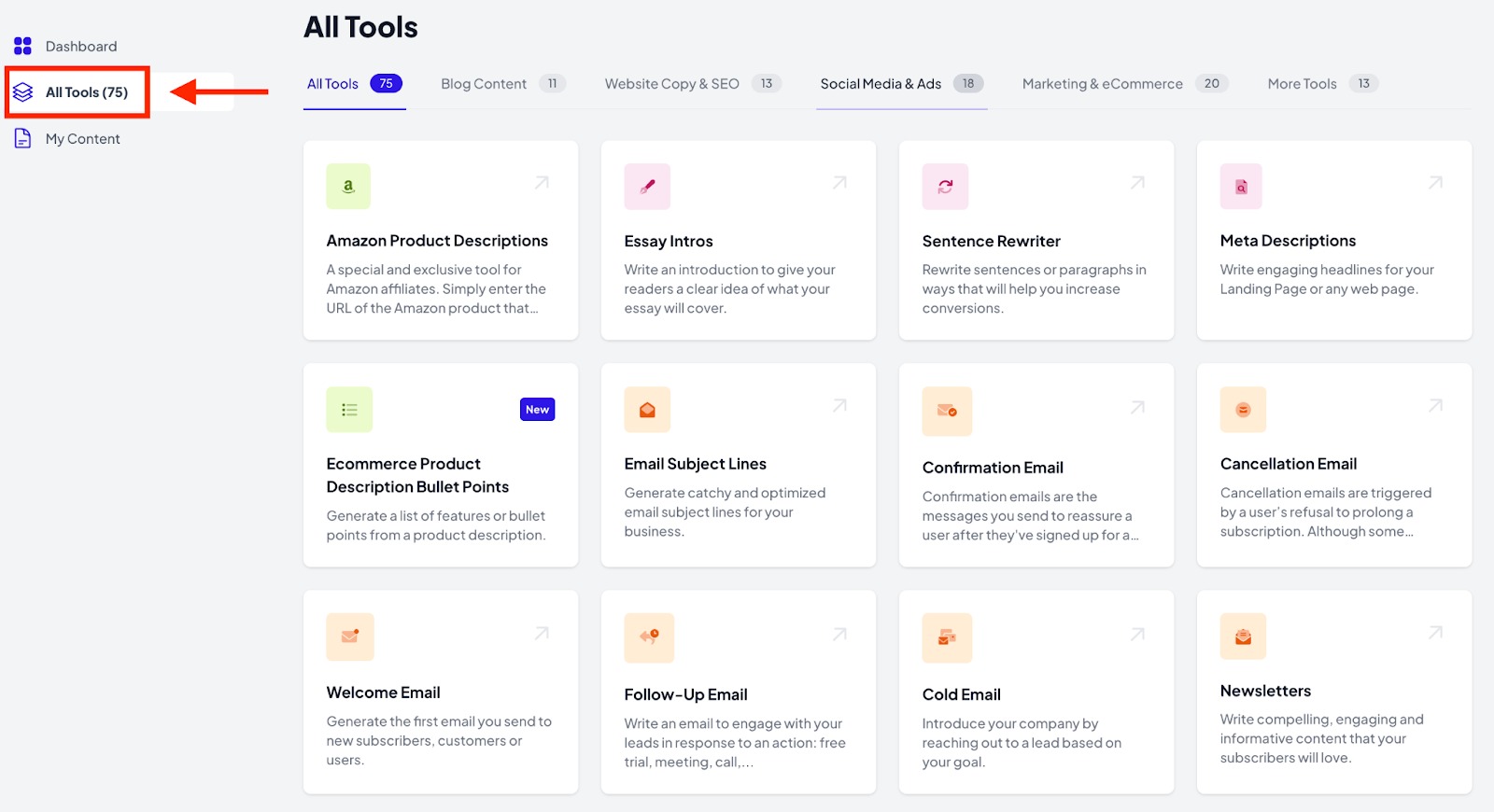 Choose the tool you would like to use to generate content.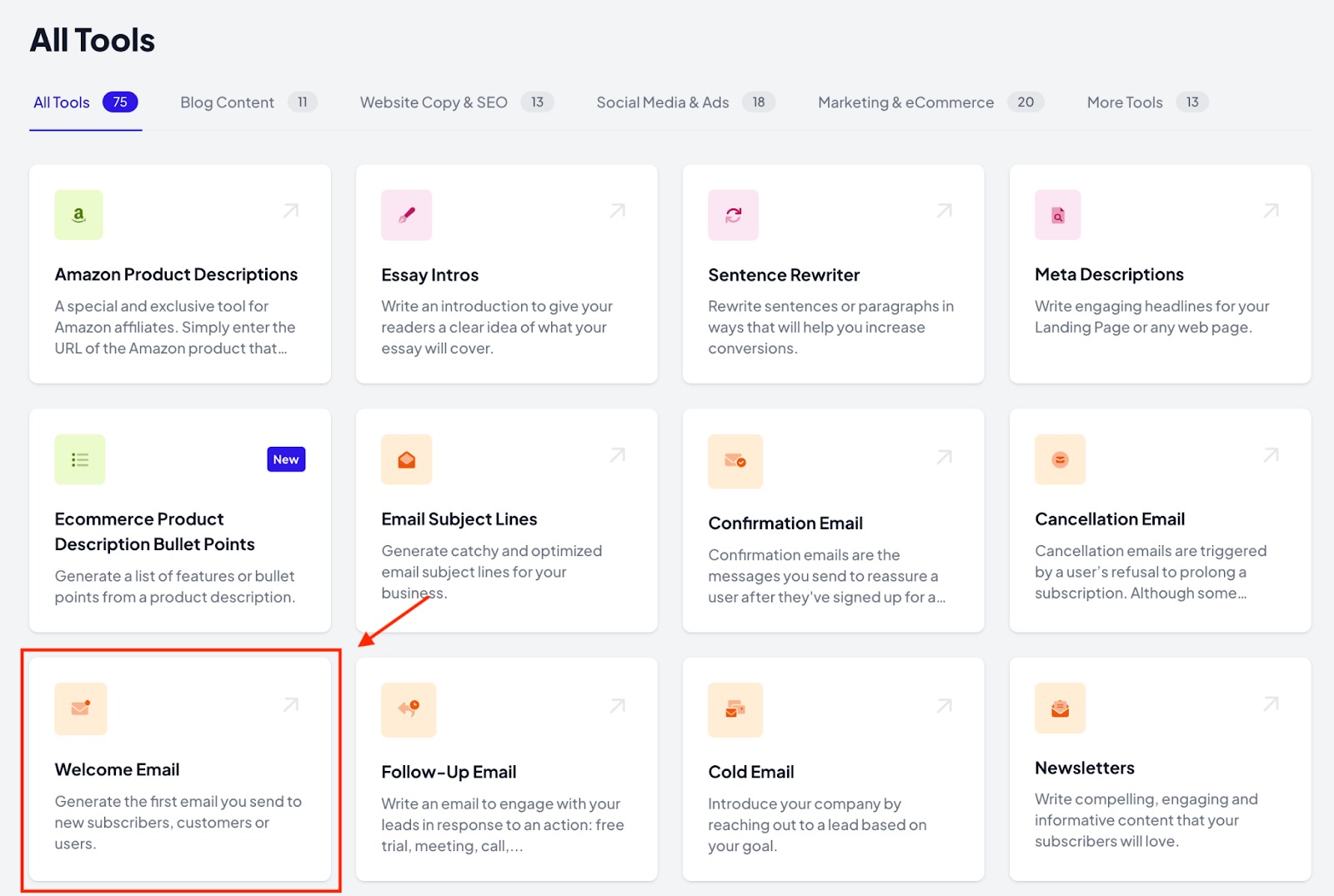 After clicking on your preferred tool, it'll open up to display the prompt.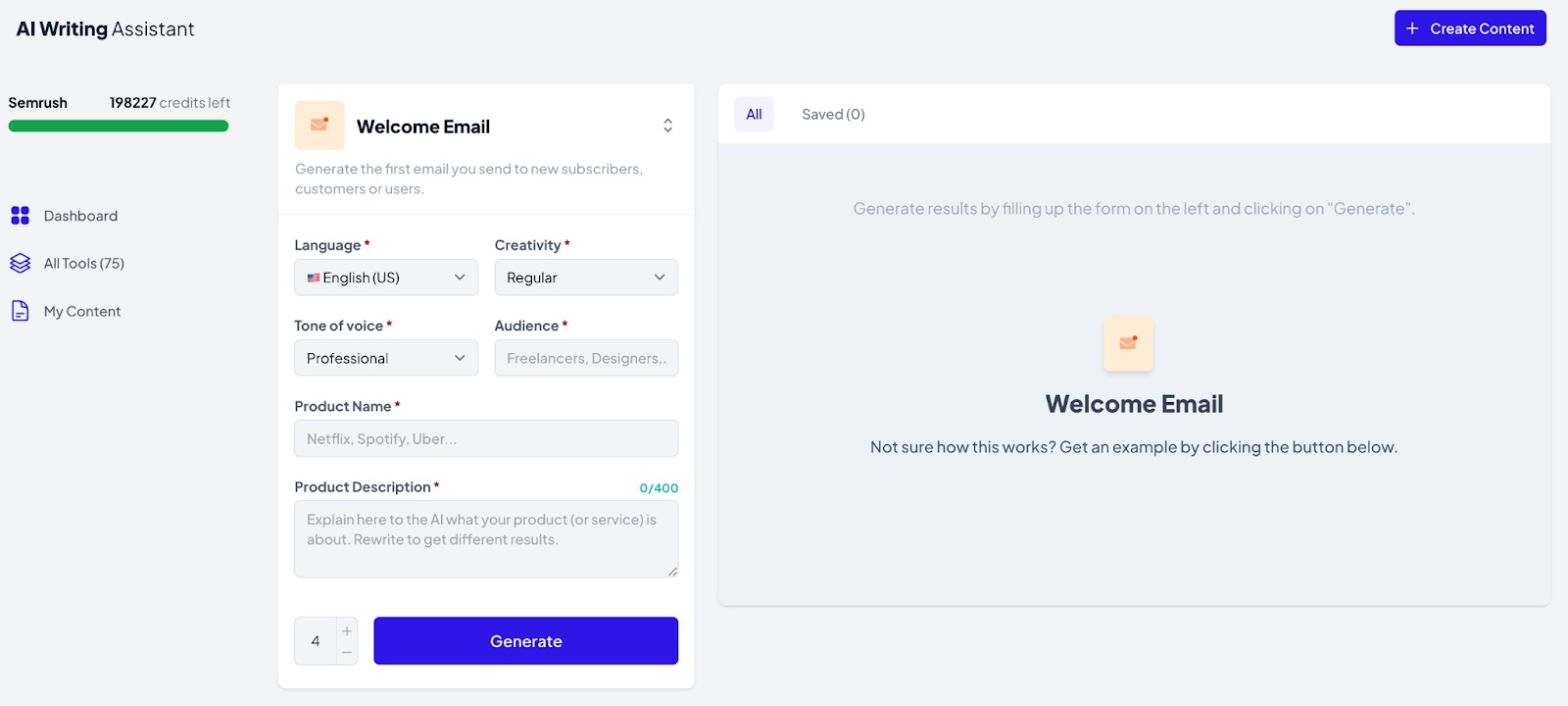 The left side of the AI generator shows the prompt. The right side displays the generated content result.
Step 2: Fill out the prompt
The prompts for each tool you use to generate content will vary. Be sure to fill out the prompts and give as much detail as possible to get the best results.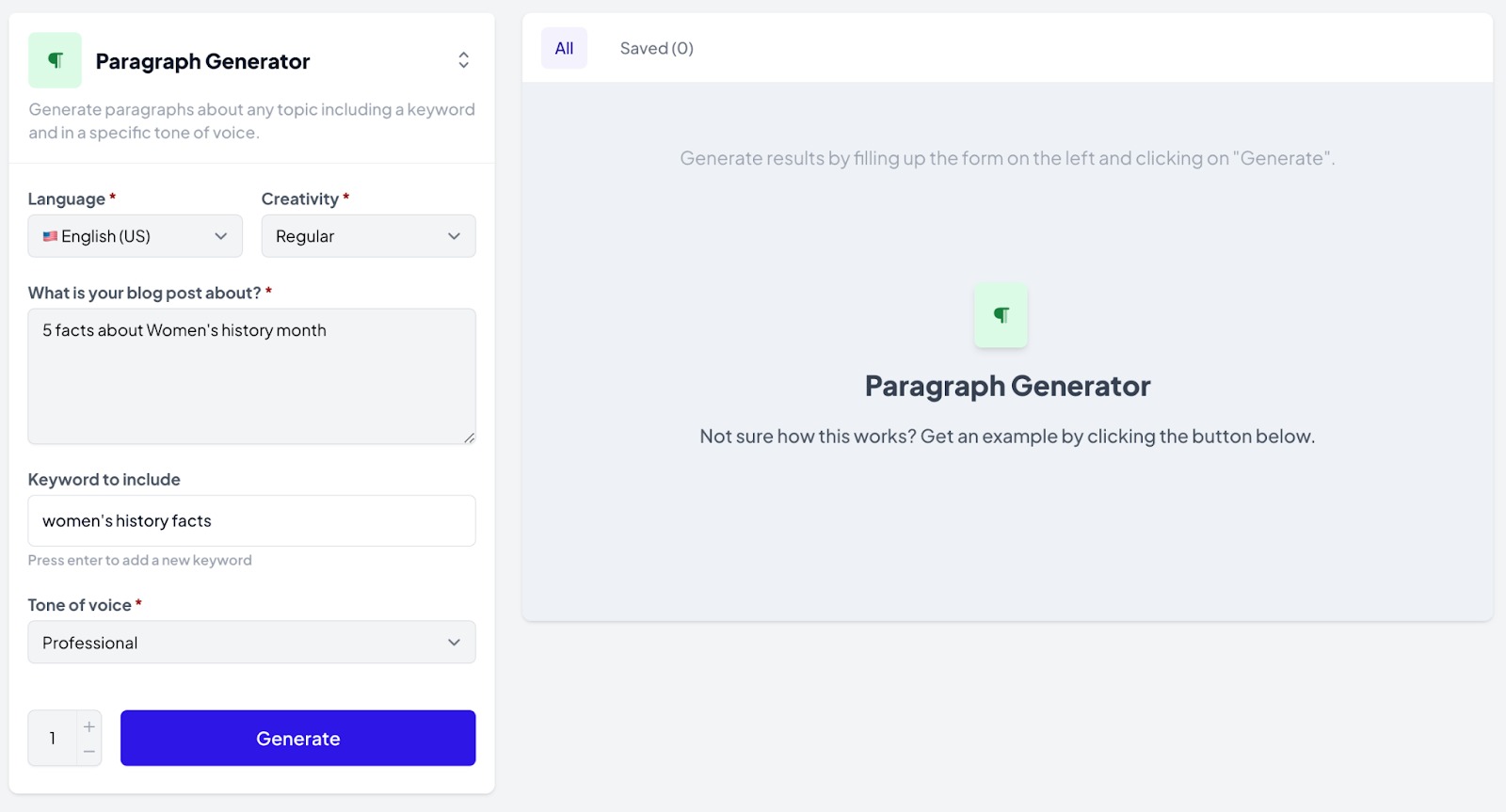 Note: Remember to select the number of results you'd like generated. With higher quantities, you'll spend more credits.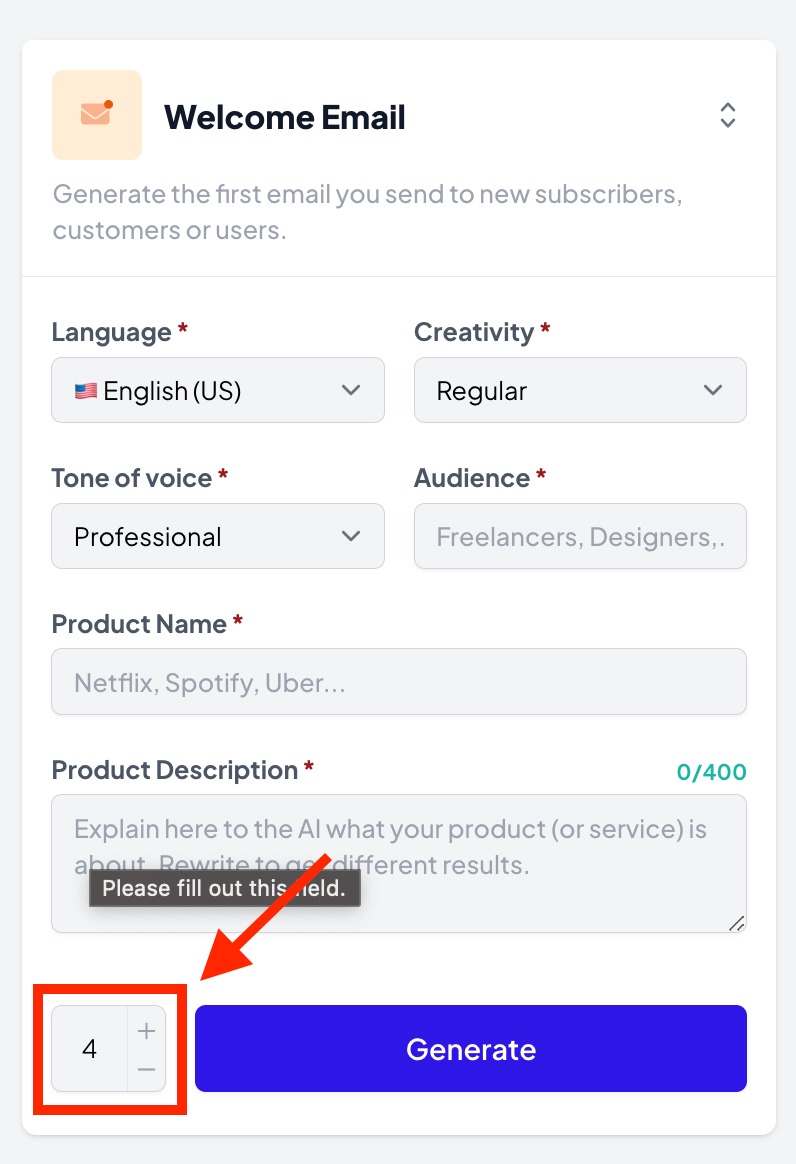 Once you complete the prompt, click the purple "Generate" button. Your content will appear on the right of the prompt.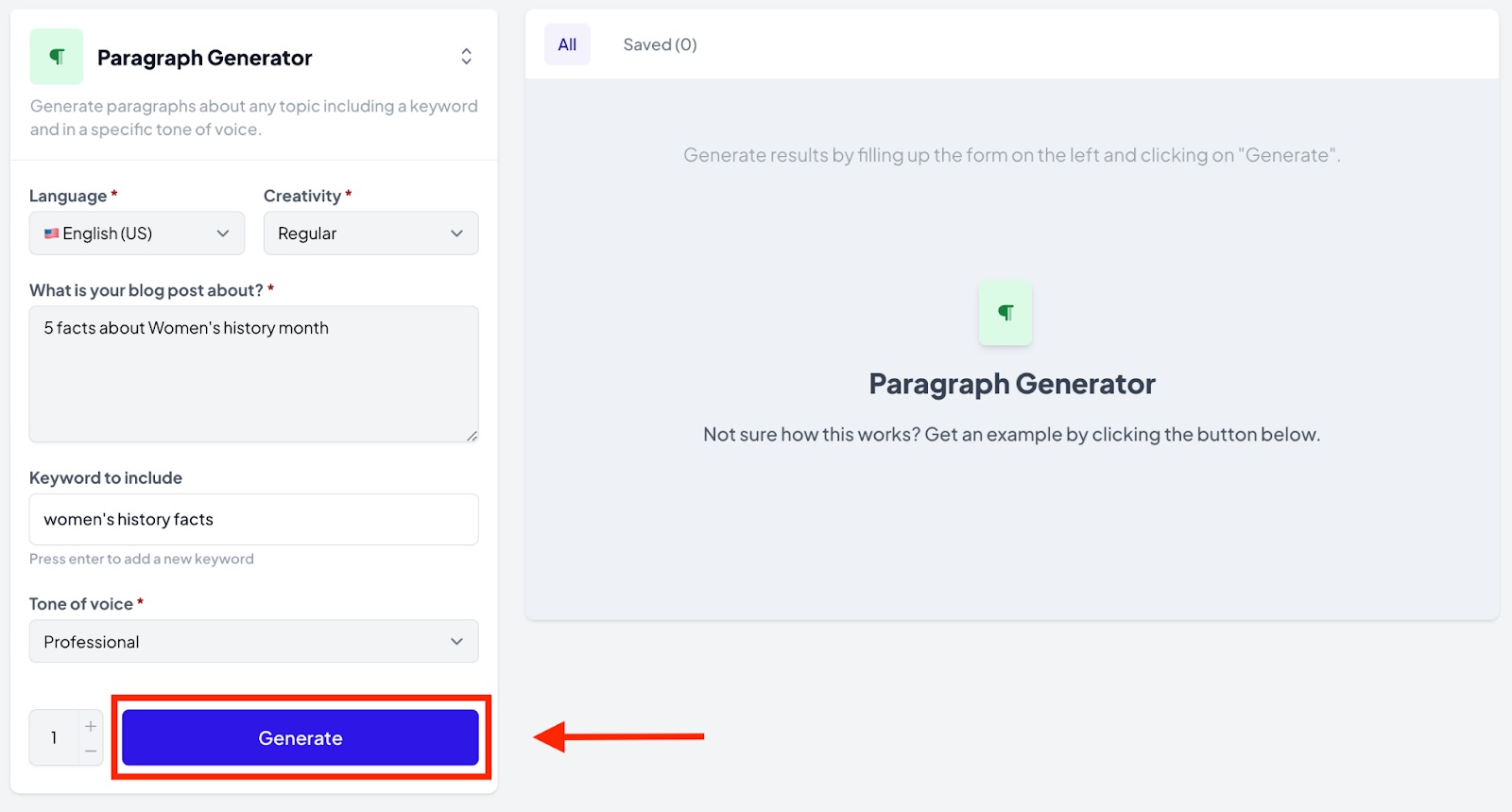 Now, the original and the revised content will be displayed. You'll be able to choose which option you like the best.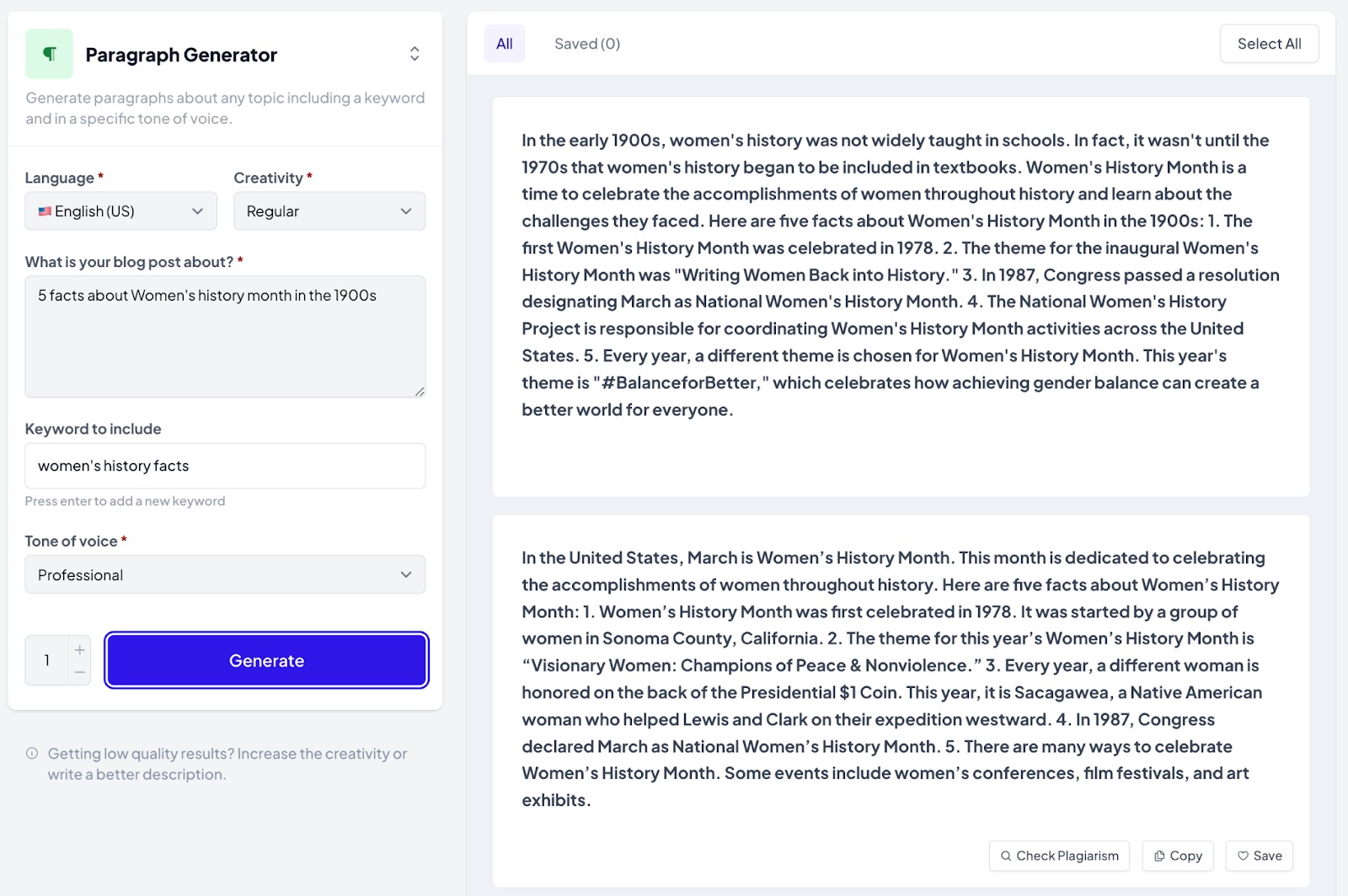 If you generate one result and then revise your prompt, you will withdraw credits twice—once for the original submission and once for the revised submission.
Step 3: Check for plagiarism
Once you are happy with your content, check for plagiarism by clicking the "Check Plagiarism" button.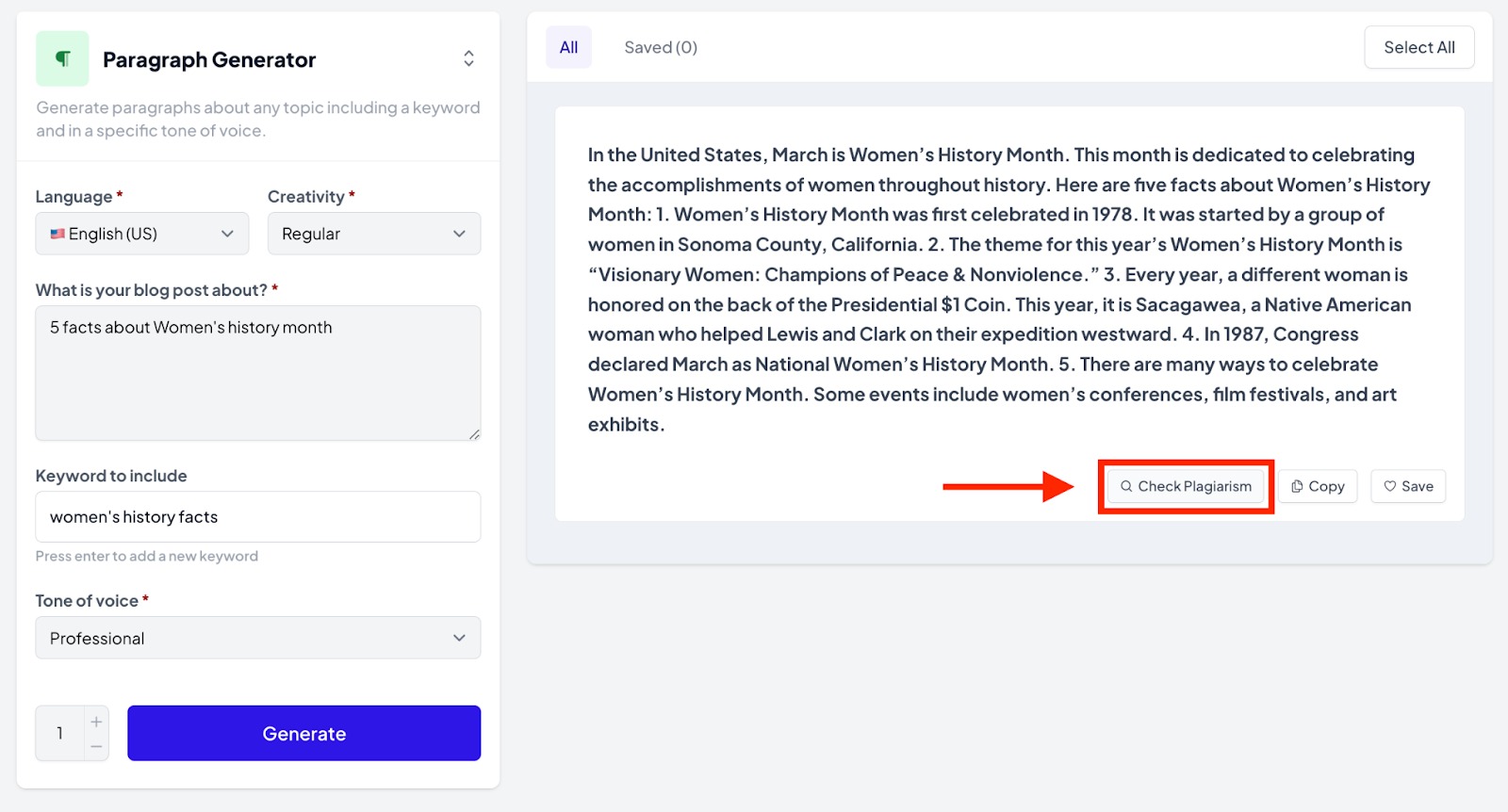 After you click the "Check Plagiarism" button, a prompt will appear to let you know if your content has been plagiarized.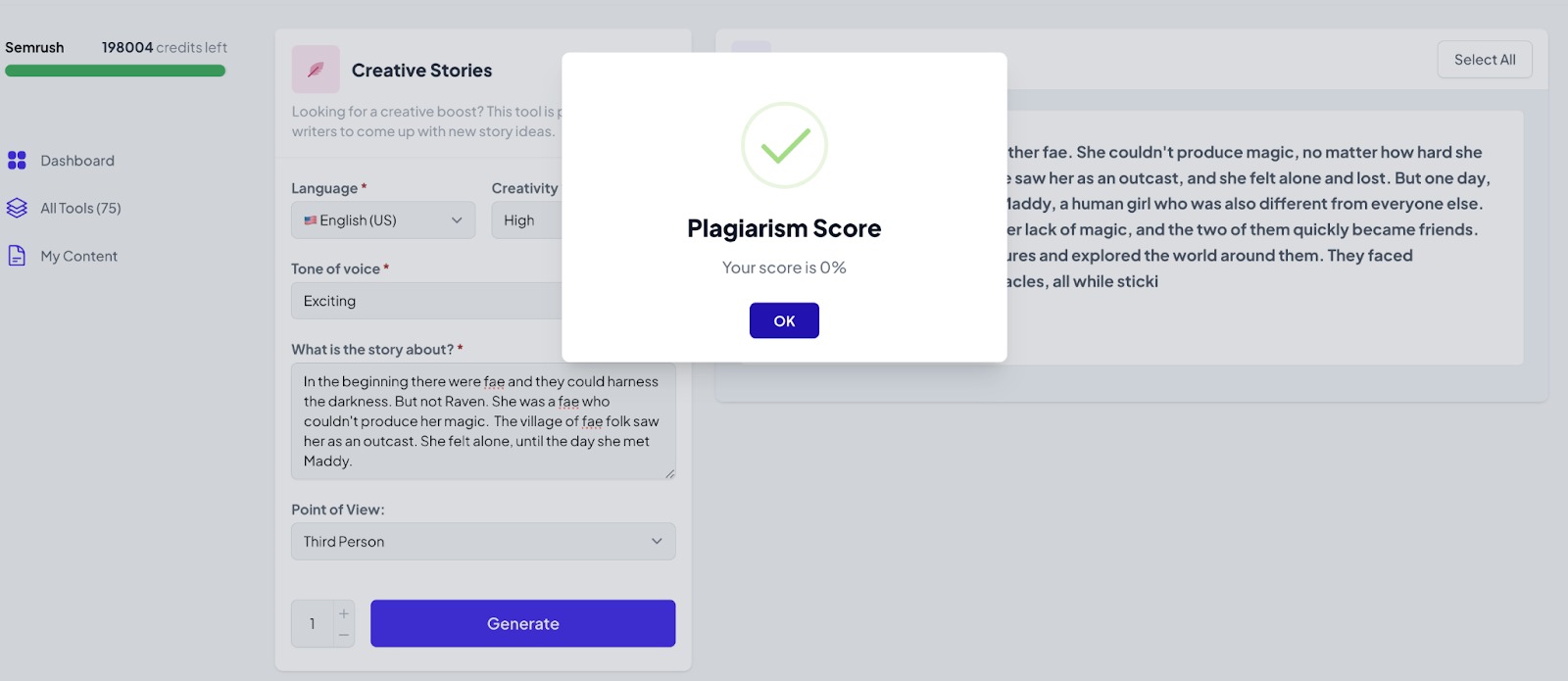 Step 4: Save and view content later
In case you need to come back to your work, the AI Writing Assistant allows you to save any pieces of content you generate.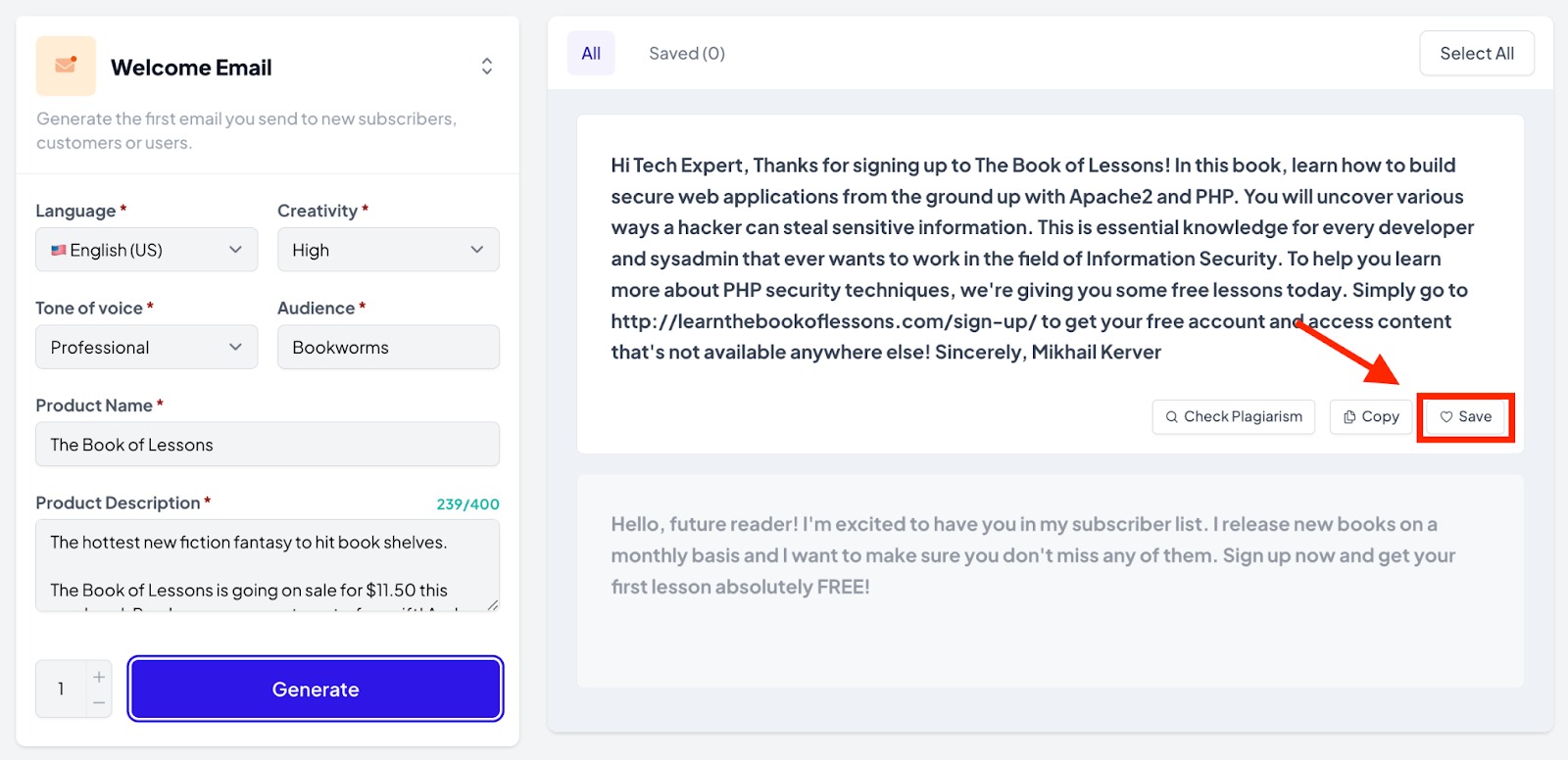 You can revisit your content under the "My Content" tab.

Under the My Content tab, you'll see the content you saved and which tool you used to generate that content.
Frequently Asked Questions
You will be charged 50 credits per image.
It can happen, but it's very rare.


If you have other questions about the AI Writing Assistant, please email us directly at app-center@semrush.com.