ContentShake AI is a content writing tool that helps you create unique, engaging content that clicks with your customers. It powers your business expertise with AI and competitive data so you can produce more quality articles for your website.
ContentShake AI assists you from ideation all the way to publishing directly on your blog. Additionally, it provides competitive highlights, analyzes what's trending in your niche, and uses AI technology to help you compose and improve your text.
Find ContentShake AI in the Semrush App Center.
How Can the ContentShake AI App Help Me?
Content marketing can help you generate more traffic and build a stable flow of customers. But what if you don't have the time or resources to master and scale it?
ContentShake AI will do the heavy lifting and help you create authentic and optimized content with ease. It allows you to:
Find personalized topic ideas for your business
Assemble high-performing articles: The app generates an outline, introduction, headers, and other items with just one click
Optimize your content for users and search engines: See your copy's score for readability, tone of voice, and SEO
Find issues in your text and instantly fix them using AI
Transfer your blog posts to Google Docs
Publish your articles directly to WordPress without leaving the tool
Who Can Use ContentShake AI?
Anyone can use ContentShake AI. It doesn't require special skills, and it's extremely easy to use.
Small business owners who want to spend fewer resources on content creation and more time on growing their business will find it most beneficial.
Additionally, it'll work great for in-house marketing teams and agencies looking to scale their content production and enhance the content quality control process.
ContentShake AI is currently only available in English.
How To Use AI in Content Writing
Note that tools utilizing AI should always be used with human supervision.
If you're an expert in the topic you're writing about but want to save time and better optimize your content, then this tool is for you.
If you're using the tool to write about a topic you have no knowledge of, you're less likely to create useful content that you'll rank for.
Pricing
Two options are available for ContentShake AI users, a paid version and a free version.
The free version includes all the basic features of the tool.
With the paid version, for $60 per month, you'll also receive:
25 new content ideas per week
Unlimited articles
Unlimited "Compose with AI" and all rewrite features
One-click WordPress publishing
How To Use ContentShake AI
ContentShake AI is easy to use. Access it from the Semrush App Center and then follow these five steps.
1. Set Up Your Page
First, ContentShake AI will prompt you to enter keywords to describe your business.
Once you add these, you'll see suggested related tags. Choose the topics relevant to your business, and click on the Start writing box.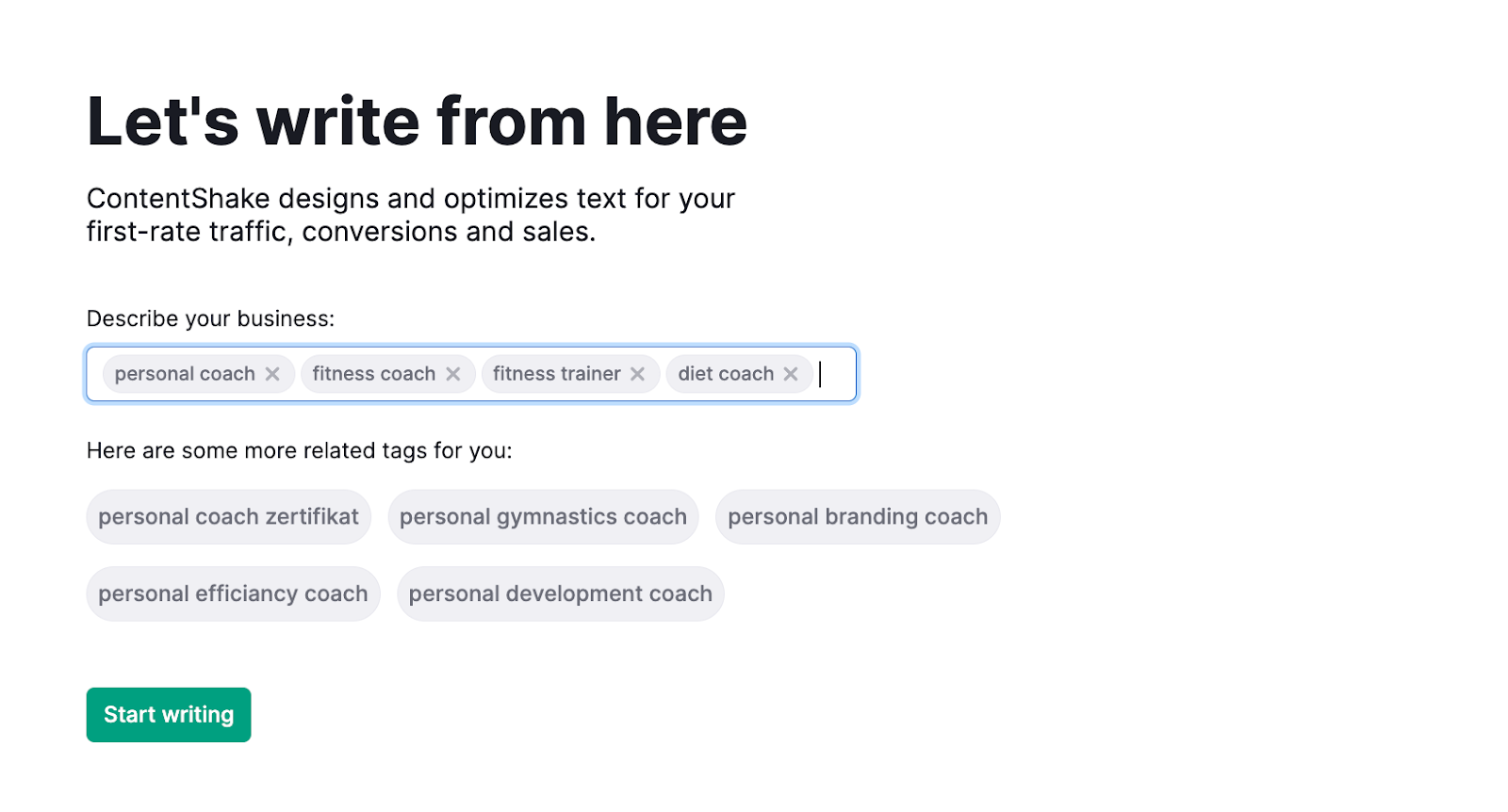 2. Choose Your Ideas
Next, ContentShake AI will provide a list of topics. Click on a topic to see the search intent and traffic potential. For each topic, the app provides a list of article ideas.
Choose an idea and click the Start writing button.
Custom Topics
You can also create your own topics by clicking on the My own idea button.
Hiding Ideas
Hide ideas that you don't want to see again by using the "hide" icon (crossed-out eye).

More About Topics
The number of topics you see depends on whether you have a free or paid subscription. All topics are sorted based on volume and difficulty.
Every week, you'll see new topic suggestions. Topics are rotated, so you may see the same topic again after one month.
Article ideas can't be used twice and will not be suggested again after you use them.
3. Write
After you choose your topic, ContentShake AI will produce an outline with a blog post title, subheads, intro text, and a conclusion. You can edit the outline and add your own text, or you can click on the Compose with AI button to add paragraphs of text.
Free users receive three paragraphs per article. Paid users receive unlimited AI suggestions.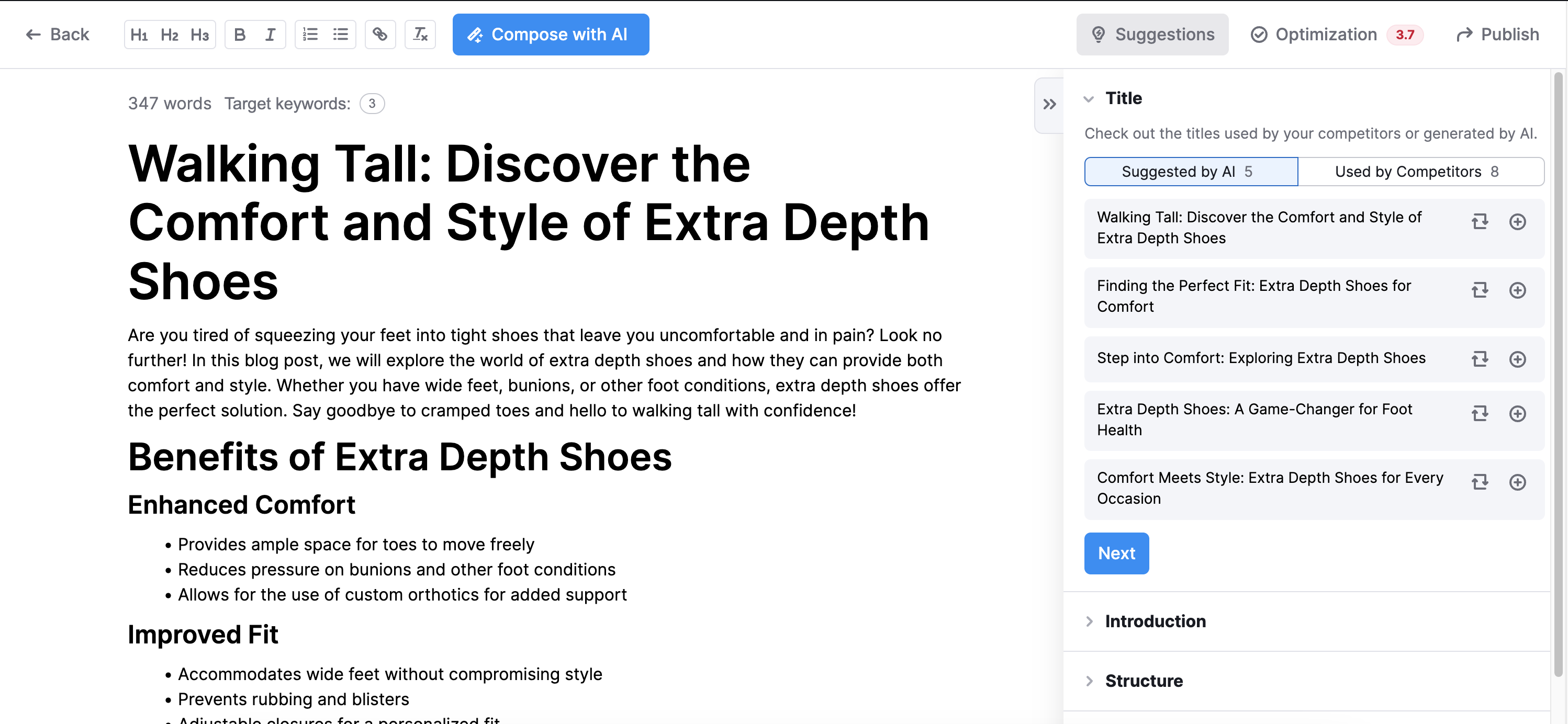 Additionally, you can edit an article with dynamic questions to AI by using the Ask AI feature.

With the help of this feature, you can get new structure ideas, related keywords, write an intro or conclusion for your blog post, etc. It also can answer any question, as a GPT model. It has knowledge of your article's context such as title, keyword, and typed text, and tries to help you using this data.



To the right, under the Suggestions tab, you'll see several drop-down options.
Once you've selected options for each, click the Next button to update and optimize your text.
Under Optimization, you'll be able to set parameters for Readability, Word count, and Tone of voice.
Title shows you three options for your article's headline as well as examples from competing articles.
Introduction provides you with three options for an opening paragraph as well as examples from your competitors.
Keywords provide several keywords to choose to help optimize your article. For each, you'll see the following metrics:
Efficiency shows how difficult it is to rank for a keyword:

High efficiency means the keyword is difficult to rank for but could yield a lot of traffic to your site
Medium efficiency means the keyword is less difficult to rank for and could bring a fair amount of traffic
Specific efficiency is used to describe more niche keywords (these topics have lower search volume and lower competition and can be useful when attracting narrow audiences with a very specific intent)

Hover over the Efficiency ranking to see the further explanation as well as these metrics:

Volume: the number of monthly searches for the term
Difficulty: how difficult it is to rank for the term (the higher the number, the more difficult it is)
If you choose to use a keyword, click the plus sign and it will be added to your Target keyword list.
You can also add your own keywords; click the "Target keyword" button above the article headline to do so.
Structure shows you the proposed heading structure of your article offered by AI or based on your competitors. You can add and remove headings here. Also, you can review the article structure of your competitors and dive into the actual text within each subheader.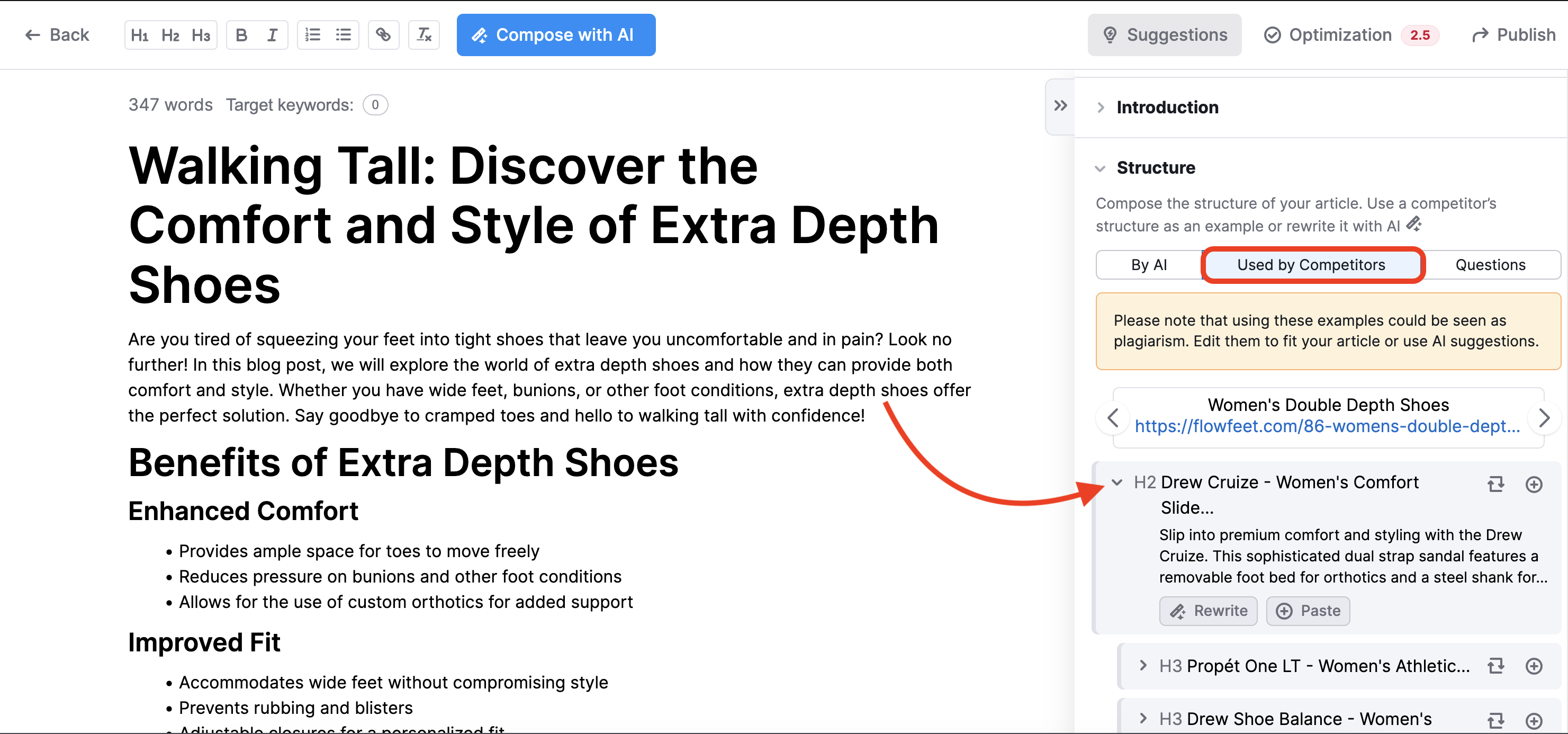 Structure by AI is displayed with bullet points – this feature provides a quick look at the ideas to include in your content.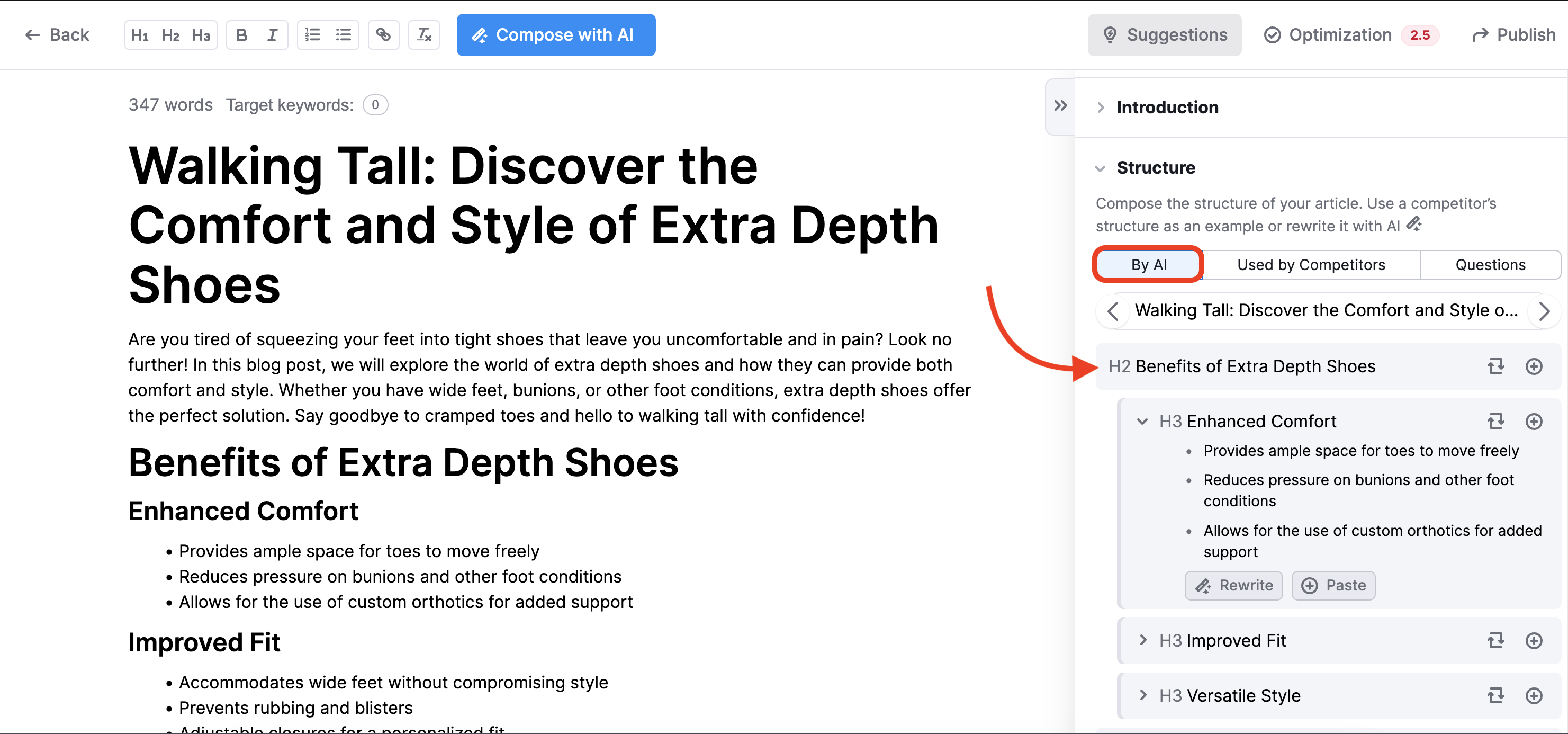 What is more, any text from the suggestions can be rewritten using the AI rewriter by clicking the "Rewrite" button.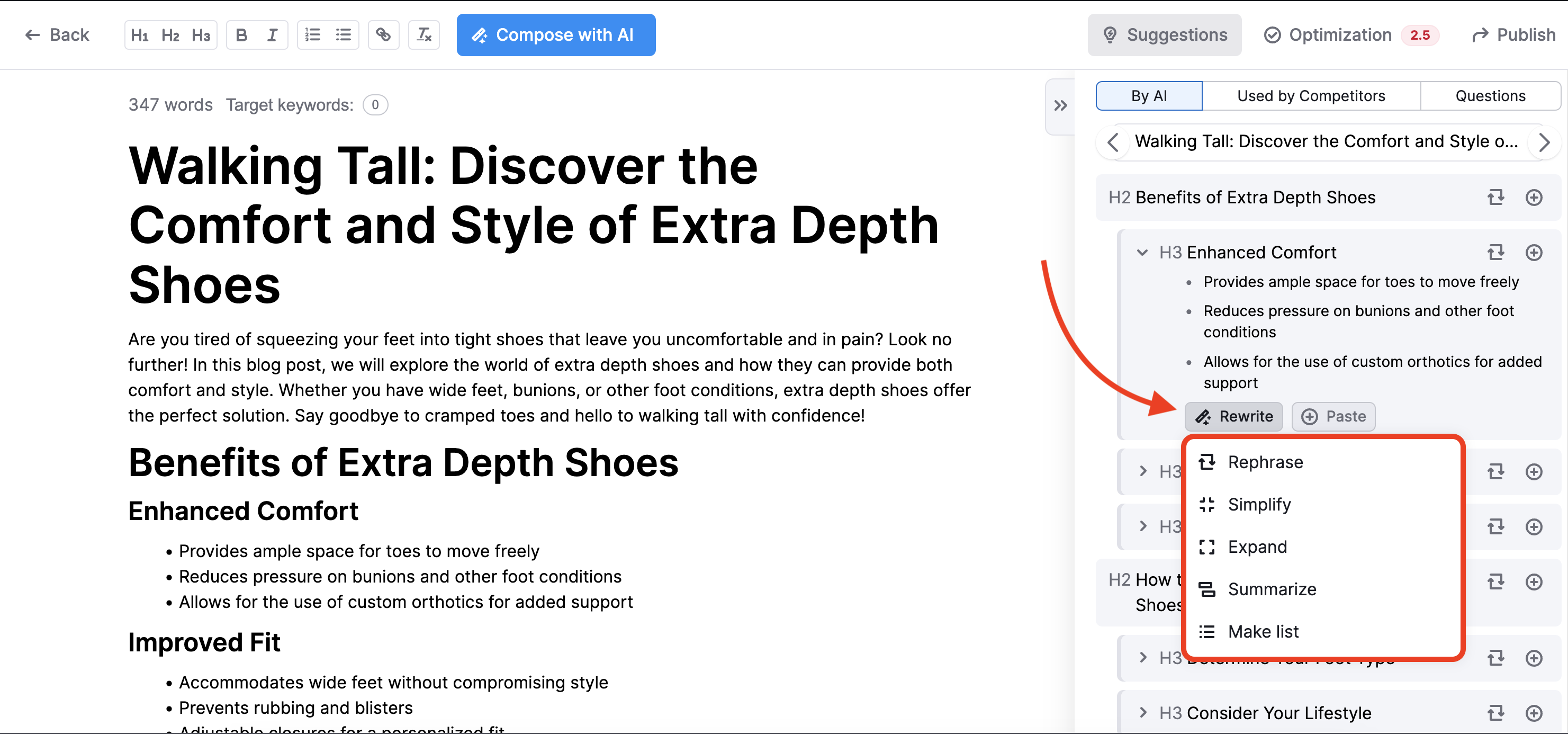 Images provides options for royalty-free images to include in your article. Click the plus sign to add. It also shows you what your competitors are using.
Facts and data provides several options for additional facts and information. Click the plus sign to add them to your article.
Articles for inspiration shows you the articles your competitors are referencing so that you can also analyze and take them into account.
4. Optimize
The Optimization tab provides a quality score on a scale of 1 to 10, based on Readability, SEO, and Tone of voice.
A drop-down for each category provides more details, so you can make any necessary changes to help improve your text.
Readability
The Readability section provides a score based on the readability level you chose in the Target parameters.
It also shows your current word count against the target word count.
Then it will inform you of any issues with your title regarding character or word count.
Finally, under Content Issues, you'll see any issues with sentence and paragraph length as well as any additional issues with readability.
You can fix any of the highlighted issues in one click using the app's AI features. Select the text you need to adjust and choose one of the options: Rephrase, Simplify, Expand, or Summarize.

Highlight the text you want to change and choose one of the following from the toolbar:
Rephrase: Paraphrase your piece of text to improve readability
Simplify: Enhance your text's readability by simplifying the selected sentences
Expand: Combat writer's block by adding more details related to your sentence or paragraph
Summarize: Create a short summary of the selected piece of text
Tone of Voice
In the Tone of voice section, you'll see a score ranging from very casual to very formal.
Click on "What is it?" to learn more about this range and tips for choosing the right tone.
You'll also see a consistency score to help you ensure the tone is consistent throughout.
This is followed by a list of sentences that may lean too casual or too formal, depending on the tone you're targeting.
SEO
The SEO section will alert you to opportunities for optimization: adding keywords to titles or main text, as well as a reminder to include alt text for images.
5. Share
All finished? ContentShake AI allows you to publish directly to WordPress via our plugin, or you can send your newly created article to a Google document.
Just click on the Share button at the top right corner of the app.
Install the WordPress Plugin
Visit our Knowledge Base article for installation instructions.
Share on Google Docs
To view the article you just created in a Google document, open the Send to Google Docs drop-down and click the Open in Google Docs button.
To Share with read-only access, select the drop-down and click the Copy link button to receive a link to share a read-only version of the article with others.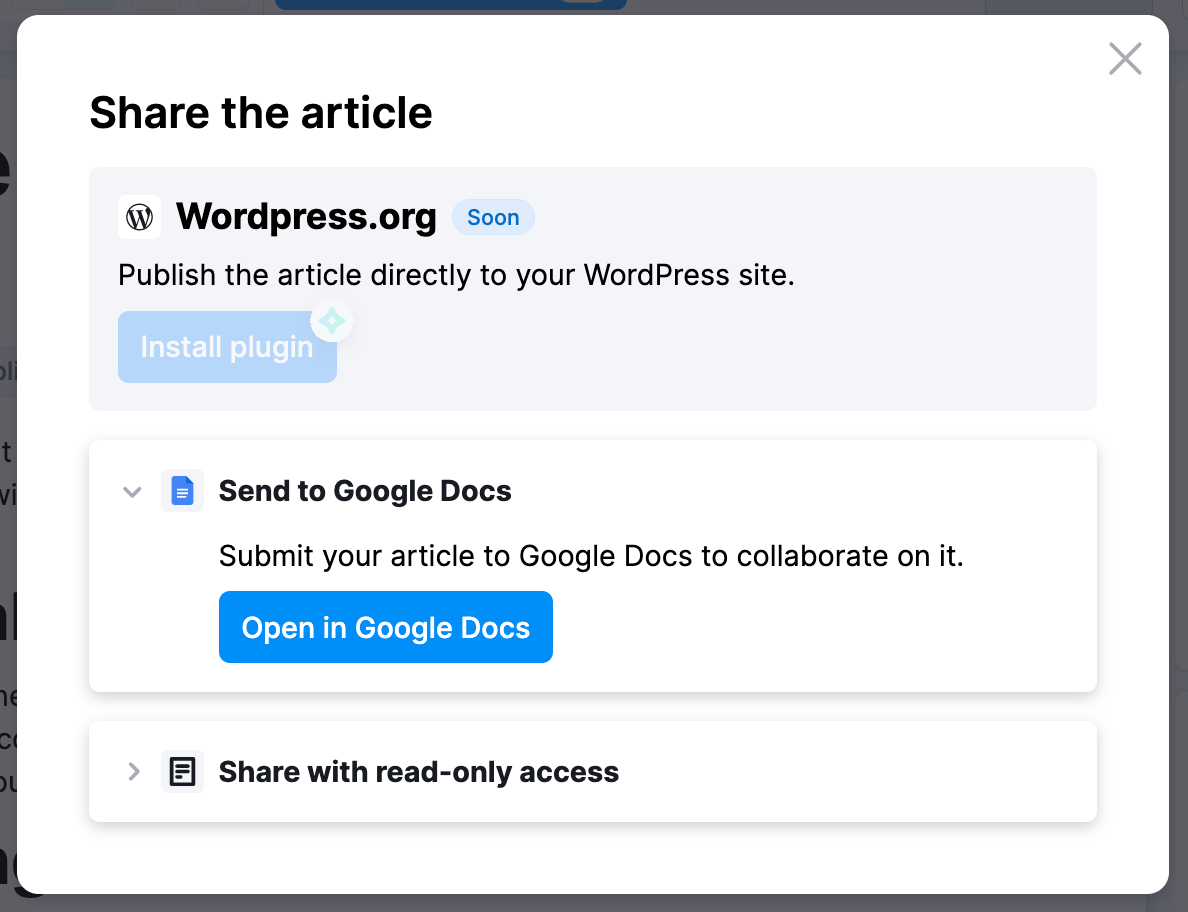 If you have other questions about the App Center or the ContentShake AI app, please email us directly at app-center@semrush.com.