One2Target is an audience research tool. Inside the tool, you'll discover four reports – Demographics, Socioeconomics, Behaviors, and Audience Overlap – each offering unique insights related to the various audience characteristics.
Each report is packed with a range of metrics revealing the breakdowns of audience age, sex, location, device type, and social media preferences. You'll also discover data related to employment statuses, education levels, household sizes, income brackets, and more.
Through this range of data, One2Target can help you understand audiences on a deep level, pinpoint the audiences with the highest potential for your business, and learn about them so you can strengthen your marketing strategies.
Insights provided by One2Target can be useful in a variety of ways. With wide-reaching demographic, psychographic, and user behavior data, you can:
Improve segmentation and targeting to increase the impact of your marketing campaigns
Strengthen your marketing strategies and generate better offers with insights related to audience characteristics, interests, and preferences
Pinpoint business development and advertising opportunities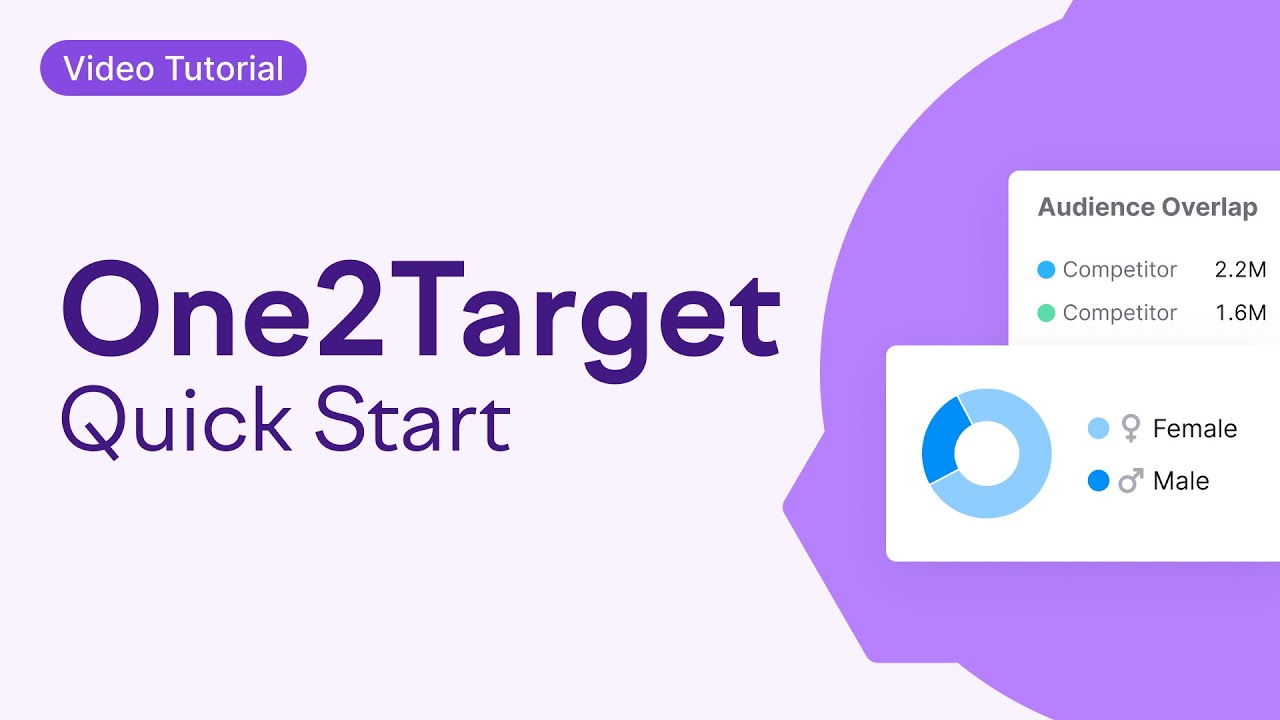 For a more in-depth look into the One2Target tool, check out the manuals in the reports and features section or go directly to the tool yourself using the button below.
This tool provides the data you need to analyze the audiences for any market, industry, or competitor so you can determine which ones hold the most potential value for your business. Equipped with audience insights related to demographics, socioeconomics, behavior, interests, and preferences, you can strengthen your strategy when approaching various audiences with the goal of turning potential customers into actual customers.
One2Target includes four reports that offer a variety of important data points. Below you'll discover a list of reports and the insights they offer. Click the link to access a guide for each individual report.
Getting started with the One2Target is simple. When first entering One2Target, you can import a list of domains from another .Trends tool. Or you can decide to define the market audience based on a new set of domains. The tool offers two options:

The Check Competitors option allows you to enter up to five domains and explore data related to their audiences collectively. With this option, you can also view audience data for a single domain. To do this, simply enter a single domain into the tool.
The Create List option allows you to create, name, and save lists of up to 100 domains. With this option, the data reflects the audiences of all entered domains collectively. By entering a large number of a market's major players, you can get a broad understanding of a market's audience.
Next, you'll need to select a location for your market audience. You can choose worldwide to view global audience data, or you can select a specific country to view audience data for that location.
Finally, click Analyze to enter the tool and view audience data as defined by your domain and location selections.
Our audience data is generated using a combination of third-party data and our own proprietary AI and machine learning algorithms.
The third-party data comes from a variety of companies engaged in social demographics research. These data providers develop panels (audience groups), gather raw data, and aggregate it. We then process this aggregated data to train our machine learning models, allowing us to predict metrics for various sites across the web.
Because the data we use is anonymized, data provided inside the One2Target tool is reflective of domains, not individual users. Furthermore, we don't obtain data from any website's internal analytics, so the numbers you see here may differ from what you see in your Google Analytics. If you want to analyze your own audience data without comparing it to other domains, we recommend you refer to your own Google Analytics.