The Google Headline Optimizer app by Poll the People helps you generate and select enticing, fresh headlines that drive clicks to your ads. No more guesswork or tedious manual A/B testing! You can get real-time feedback on which headline will be likely to draw the most customers in.

The Headline Optimizer can be found in the Semrush App Center.
How Can the Headline Optimizer App Help Me?
Here are a few benefits of using the Headline Optimizer:
Generate headlines that are tied directly to the keywords you are targeting
Get invaluable feedback from a human panel of testers
Spend less time manually A/B testing headlines
Get fast, AI-generated headlines
Get faster conversions
Get a better ROI for your marketing/advertising spending
Marketers are busy, and paid advertising tasks like A/B testing can take up a lot of time. Save yourself the trouble and let the Headline Optimizer help you find the very best headline for your ads.
Types of Test Panels
The app offers two types or tiers of test panels. Let's get into the differences between these two, and why your campaign might benefit from having a paid audience vet your headline.
Paid Audience Panel
The Headline Optimizer offers the chance to have a paid panel of users review your headline. The current version of the app draws from an audience based out of the U.S., with a pool of over 500,000 possible testers.

Having a paid audience review your headlines can be beneficial if you want unbiased, motivated opinions. While it's nice to have personalized feedback from people you trust, these testers are motivated to be as honest as possible because they are paid to do so (and the app has in-built anti-cheating software).

This option also tends to generate faster results than waiting for your own audience to take the poll and provide you with feedback.
Follower Panel
You can also generate a poll using a panel of your own followers and customers. These individuals are drawn from your own social media accounts. You simply provide them a link to the headline poll.

This type of panel can be useful if you trust your social media followers to provide you with a lot of honest feedback. However, with this option, you need to have a large following that will answer your poll and provide real feedback. Otherwise, you might benefit from a paid, third-party group of testers immediately reviewing your headlines.
Pricing & Limits
Free Access

The free version of the app gives you access to three AI-generated suggested headlines per day, and you can run three tests per month using your own followers/testers.
App Subscription $65 USD/month
Unlimited AI-generated suggested headlines per day
Unlimited headline tests per month (your own testers/followers)
Unlimited headline tests per month (paid human panel)
Access to 100 paid panel human testers
One In-App Add-On $50
Access to an additional 100 testers
Headline Optimizer App Workflow
To run a headline optimization test, first enter your search term into the search bar.
1. Once you have selected your keywords and hit "search," you will be taken to a second screen where you will be asked to choose two suggested headlines from a list. Once you have made your selection, hit "Launch test."

2. When you have selected your two headlines, you will then be directed to a screen where you can make adjustments to the name of your ad campaign, the test question, and A/B answer labels. When you're done, hit "Save & Preview" to check it over or "Save & Next" to head to the next screen, where you will select your test audience (audience panel or your own testers).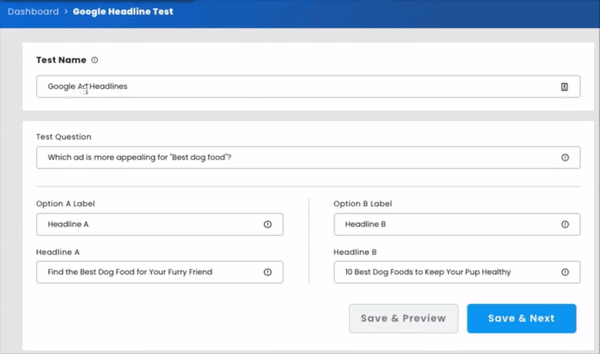 Audience Panel Headline Tests
1. If you would like to recruit testers from the app's pool of 500,000 participants, click "Setup Audience."

2. Select the number of participants you would like to submit your headline to.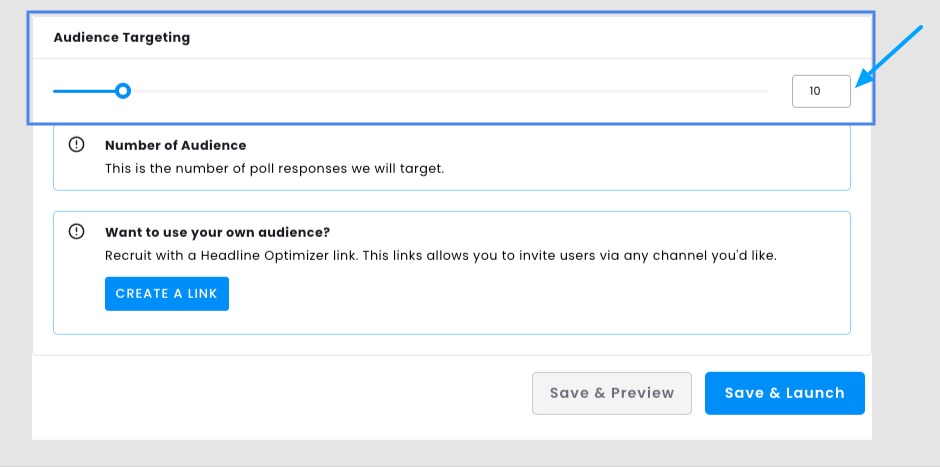 3. Click "Save & Preview" to get a preview of your test, or click "Save & Launch" to continue.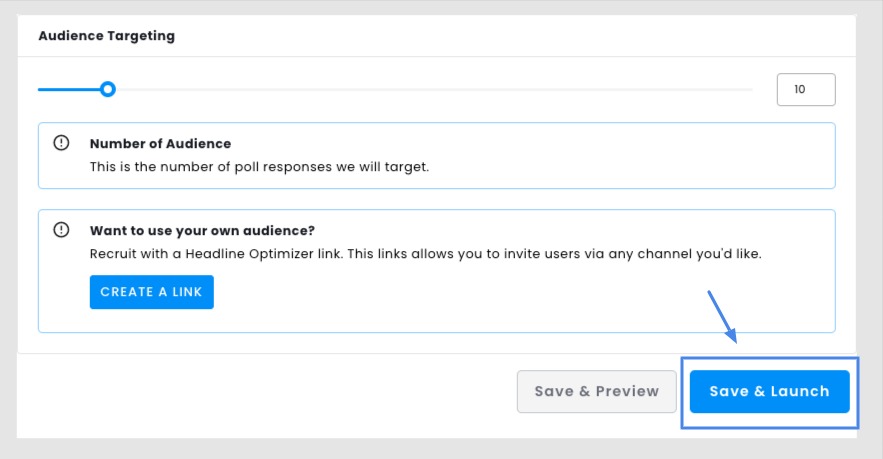 4. Once you've launched your test, a pop-up window will appear prompting you to view your results. Click on that and you will be taken to your dashboard, where you can see your responses.

5. Click on your headline test to get an expanded view of your responses.

6. Review the more in-depth responses to the copy by scrolling down on this page.

Demographics Tab
The app also provides you with a breakdown of the participants' demographics, including age, gender, and sentiment. This can help you better understand what kind of testers reviewed your headlines. You can also filter the demographics by the headline selected.
Your Own Testers/Followers
1. If you would like to recruit your own audience/followers to give you feedback on your headlines, you can do so by clicking on "Create Link."

2. Select the number of responses you would like to receive and click "Done."
3. Another pop-up window will appear with a message that your test is live, and you will be provided the link to share with your audience. Copy this link using the "Copy" button and share it with your followers on social media or send it in your newsletter.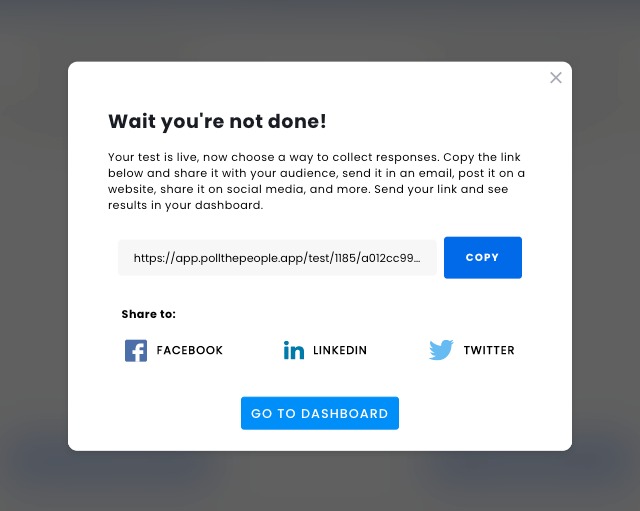 4. Click "Go To Dashboard." Once on the dashboard, click on your test to get an expanded view of your results. To get more in-depth responses to headlines, scroll down on this page.


Frequently Asked Questions
The Headline Optimizer doesn't make you wait—it starts generating results in mere minutes. Most tests are completed in less than an hour.
The tool the Headline Optimizer app uses to generate headlines is constantly evolving. A new update to the software comes around almost monthly.
The app uses an aggregated panel of paid testers. These testers are paid and therefore motivated to give you the most honest feedback possible.