With this article, you will find out how to uncover competitors' audience numbers and biggest traffic drivers inside and outside of the Amazon ecosystem.
This way, you can amplify your marketing strategy, expand your reach, and discover new growth opportunities, as well as getting a clear understanding of the maximum audience potential when you're assessing the viability of a new product.
And, you don't have to own the listing in order to explore where the traffic comes from—you can also dissect competitors' listings.
Before you start configuring the app, the best approach is to pick the top listings that compete with you within the same market/niche.
If you aren't sure which listings to enter, you'll want to uncover rivals/competitors that target the same keywords as you. You can do this by entering the search queries you're trying to tackle into Amazon's search bar and then select/target the products that show up in the top three results.
If you'd like to focus more on the Amazon search traffic, feel free to visit the Search Insights for Amazon app.
1. Add up to three products
Once you've chosen those three competing listings, enter their URLs/ASINs and click the "Analyze" button. The app will instantly deliver insights on their external traffic sources.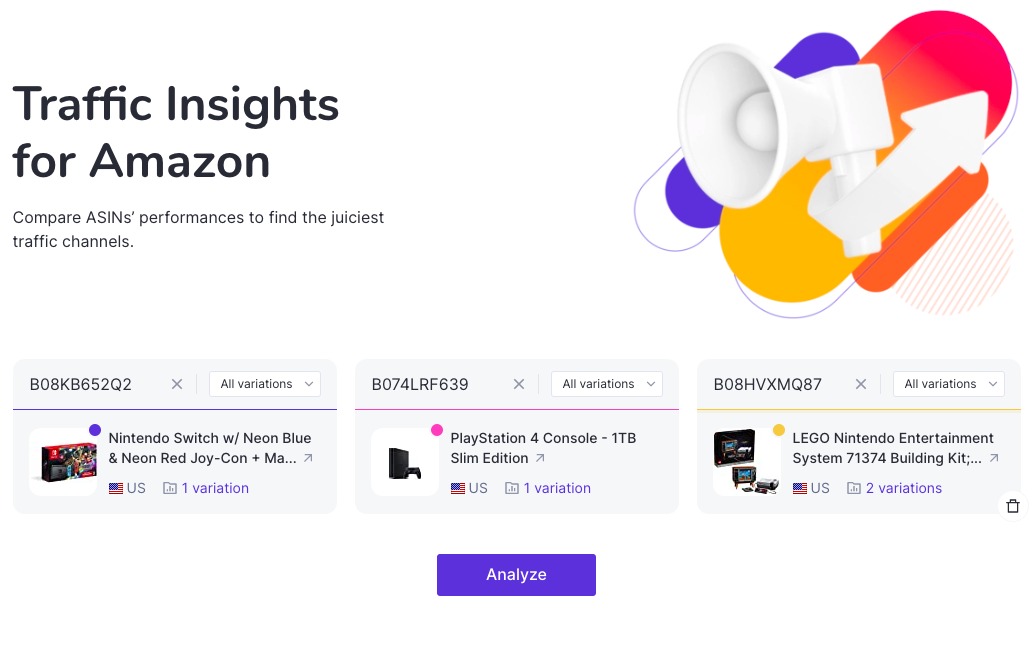 2. Deep-dive into your competitive insights
Once the analysis is complete, you will get a set of in-depth reports that cover stats on each external traffic channel.
Armed with these insights, you can get a more precise idea about your product's potential reach, depending on which channels you choose to invest in—be it organic search, link building, or particular ad publishers that are worth your attention.
The Overview report will give you a 36,000-foot view of the analyzed listings' reach—i.e. the estimated number of customers that could potentially discover the product through various external channels, be it Referral backlinks, Google organic search, or Shopping Ads.
This should help you make smarter decisions on marketing budget allocation and help you place your bet on channels that can bring the biggest impact and audiences to your business.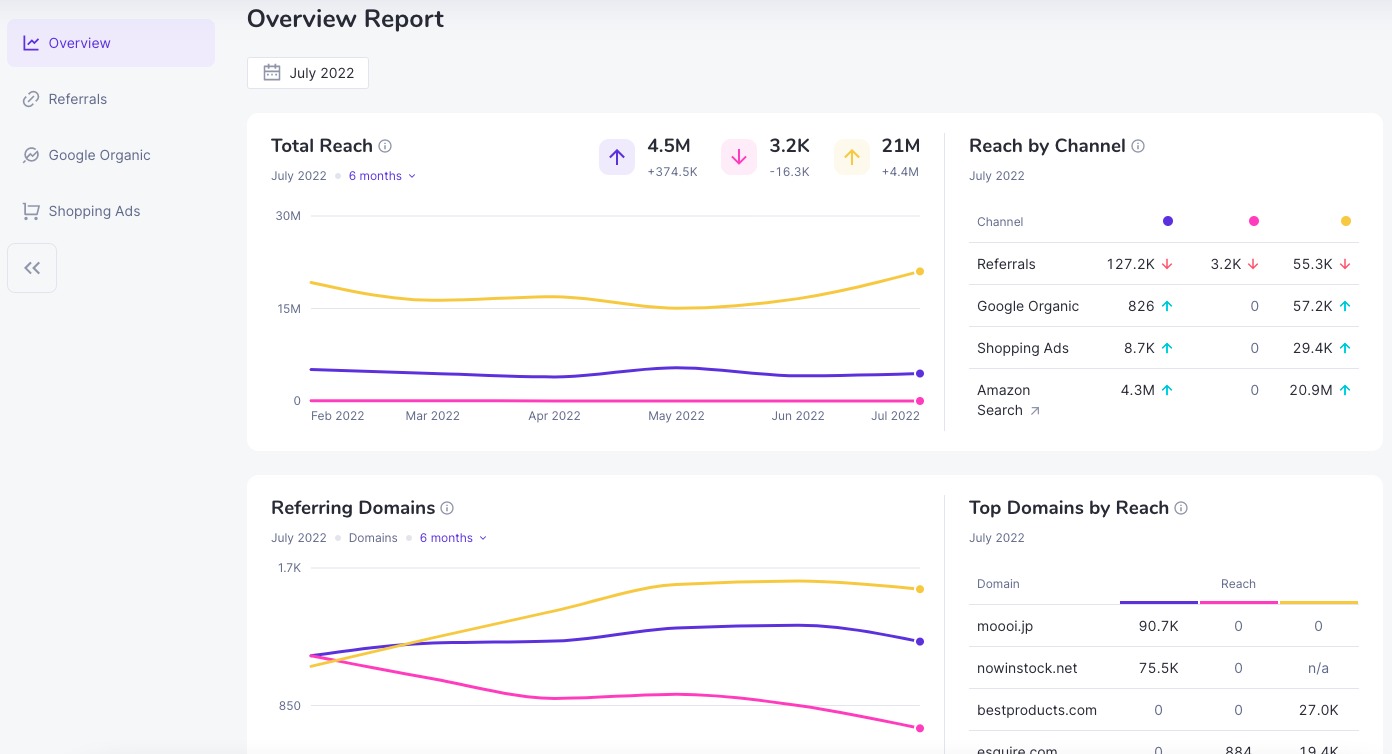 All three listings are benchmarked against each other, showing the following insights:
Total Reach Trend — A custom-calculated metric, provides a dynamic view of maximum audience potential for the analyzed listings across various periods.
Reach by Channel — Breaks down traffic potential by external channels and Amazon organic traffic, showing which source can likely drive the highest audience numbers to the selected Amazon products. Clicking "Amazon Search" will send you to the Search Insights for Amazon app with your selected ASINs.
Referring Domains — Displays changes in the number of domains linked to the analyzed product.
Top Domains by Reach — Contains top 5 domains sorted by the maximum audience potential.
Google Organic Traffic — Shows you how the number of potential customers that have visited the analyzed product via Google search changed over time for your selected ASINs.
Shopping Ads Keywords — Displays changes in the number of keywords that trigger Google Shopping ads of the analyzed product to appear in search results.
By scrolling through the tabs on the left side of the dashboard, you can get a more detailed report on each traffic channel: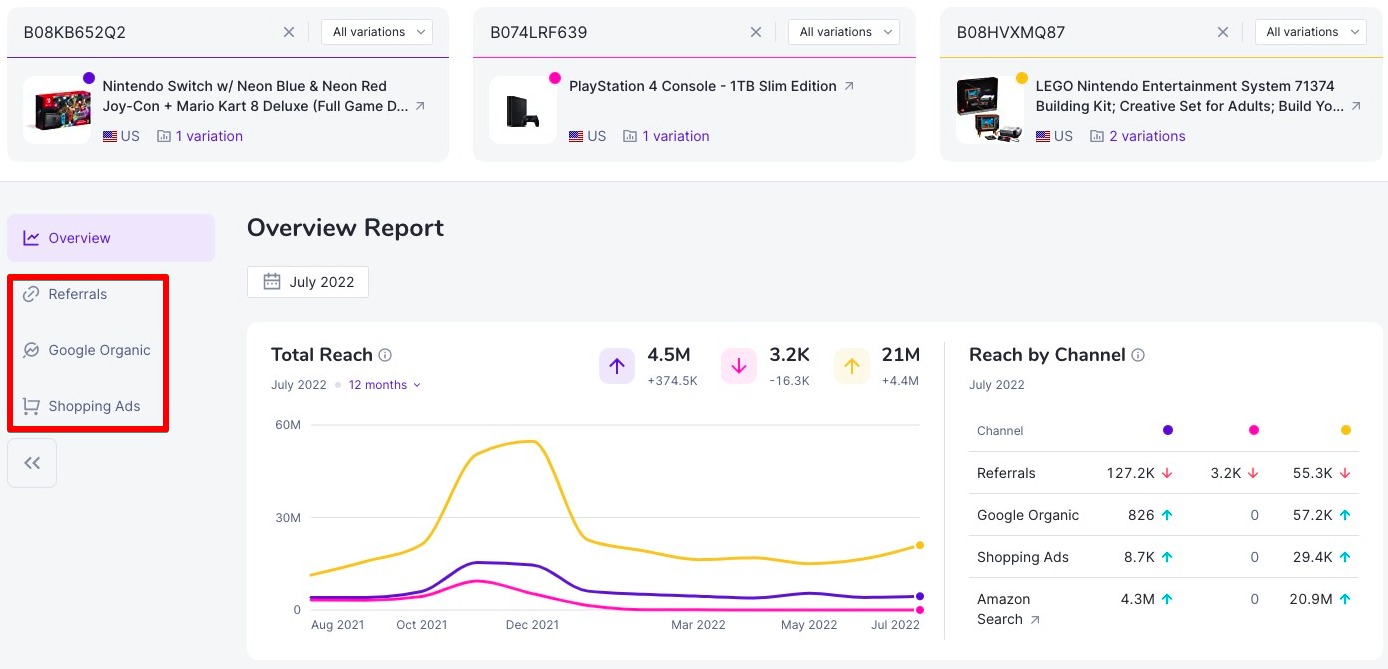 The key metrics to watch out for:
Reach: An estimate of the potential number of customers that search for a listed keyword within a given timeframe.
Traffic: The estimated number of potential customers that visited the selected product through Google search.
Position: The average position in Amazon organic search and max. position in Google organic search and shopping ads for a product.
Competition: The number of Amazon products making it into Google's top 100 search results, or ranking in Amazon search results for a listed keyword.
And more — Google Geo (search results by country) and Device (mobile vs. desktop traffic).
Search Insights for Amazon reflects how much traffic the product gets from Amazon search, what keywords and positions (organic and sponsored) it ranks for, and if it triggers any special search results (SERP features).
3. Analyze the potential traffic coming from backlinks with the Referrals tab
Start by looking at Reach/Active Backlinks/Referring Domains to understand whether counts are going up or down for users and referral websites.
If you see a downward trend, this implies that it's probably not worth investing in a declining external channel.
If you spot an upward trend, take a look below for a more detailed view of the top traffic-driving referring sites. Each website comes with important metrics—Authority Score (proprietary metric that shows how much Google trusts it), Reach, and Competition level—to help you understand the potential of each backlink.
And, if you click on each referring site, you will be able to see which specific URLs/articles link back to your competitors and check out the traffic for those pages. This should help give you a data-driven approach to any future marketing partnerships.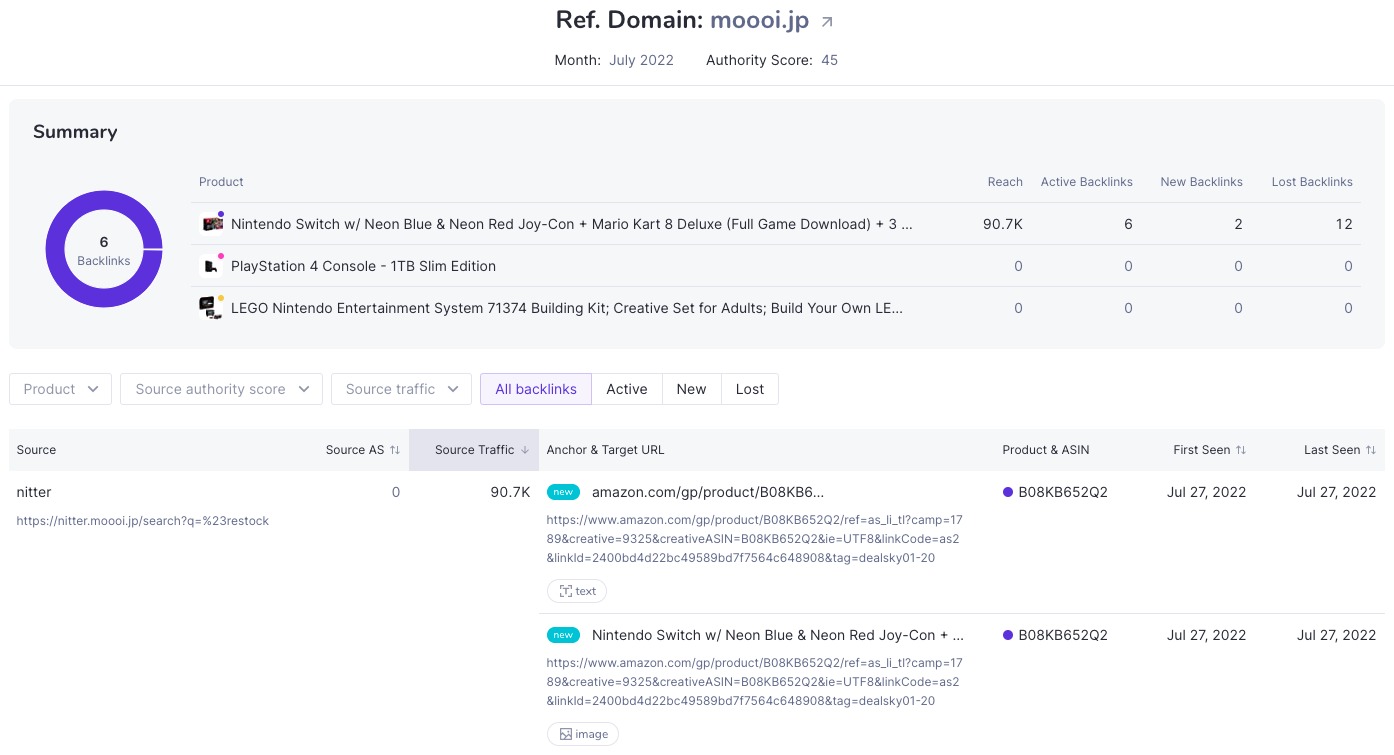 4. Get some insights on the performance of your competitors' ad campaigns
The Shopping Ads Report tab uncovers changes in the number of keywords that bring up a shopping ad for the selected product in Google's SERP.