As an Amazon seller, you have to be 100% sure that your listings comply with Amazon's requirements and style guides.
In this article, you'll find out how to check an unlimited number of your listings for compliance with guidelines and best practices with the Listing Quality Check for Amazon app. It's a comprehensive audit app that also offers expert- and data-driven ideas for further listing optimization to boost your visibility and drive higher conversions.
1. Add your listing
Enter your product's URL/ASIN and click the "Check" button.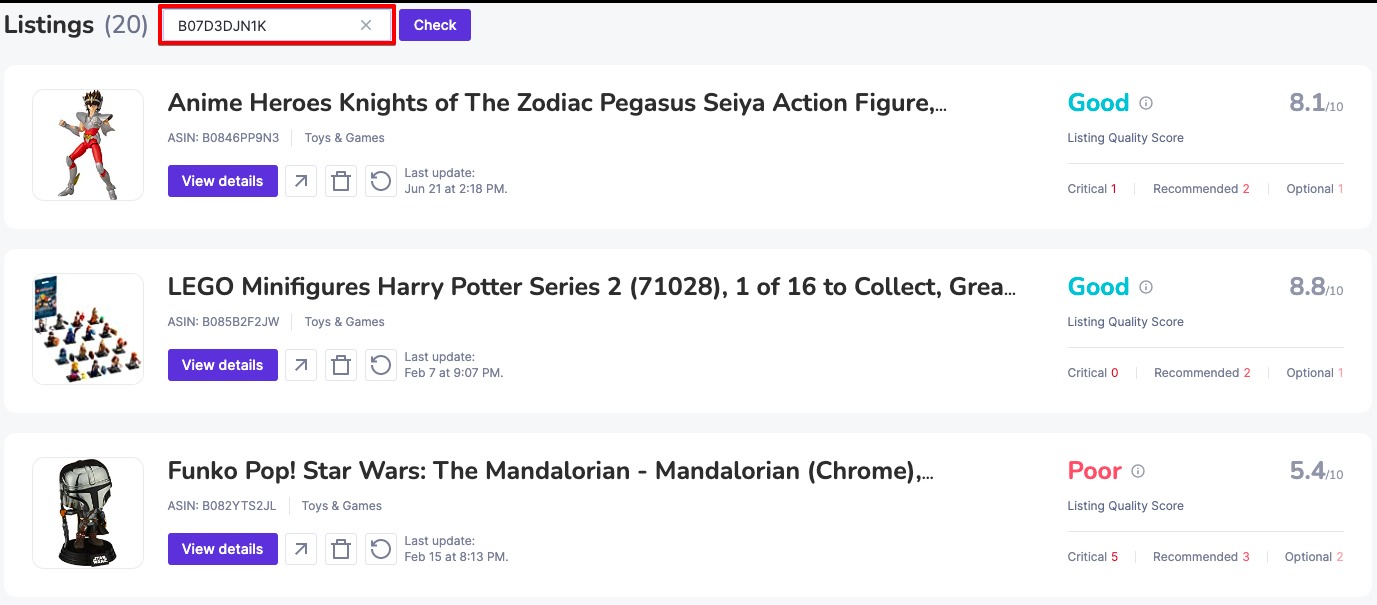 2. Get your Listing Quality Score
Once the analysis of your listing is complete, you will get the score that grades the overall quality of a listing based on the optimization guidelines, Amazon's requirements, and the official Style Guide:
Perfect (9-10): Listing passes all checks, meets all Amazon requirements, complies with the Style Guide, and follows all optimization recommendations.
Good (8-8.9): Listing has some minor issues but overall performs well.
Decent (6-7.9): Listing content has a significant number of issues and should be optimized.
Poor (4-5.9): Listing has a lot of issues and requires considerable revision.
Bad (<4): Listing needs an urgent overhaul.
This feature is available to any registered users, so don't hesitate to find out the score for your listing via the app.
3. Deep-dive into the report and finesse your Amazon listing
After clicking "View details", the app will show you a detailed report that pinpoints all the failed and successful checks related to a number of areas that impact your listing's performance: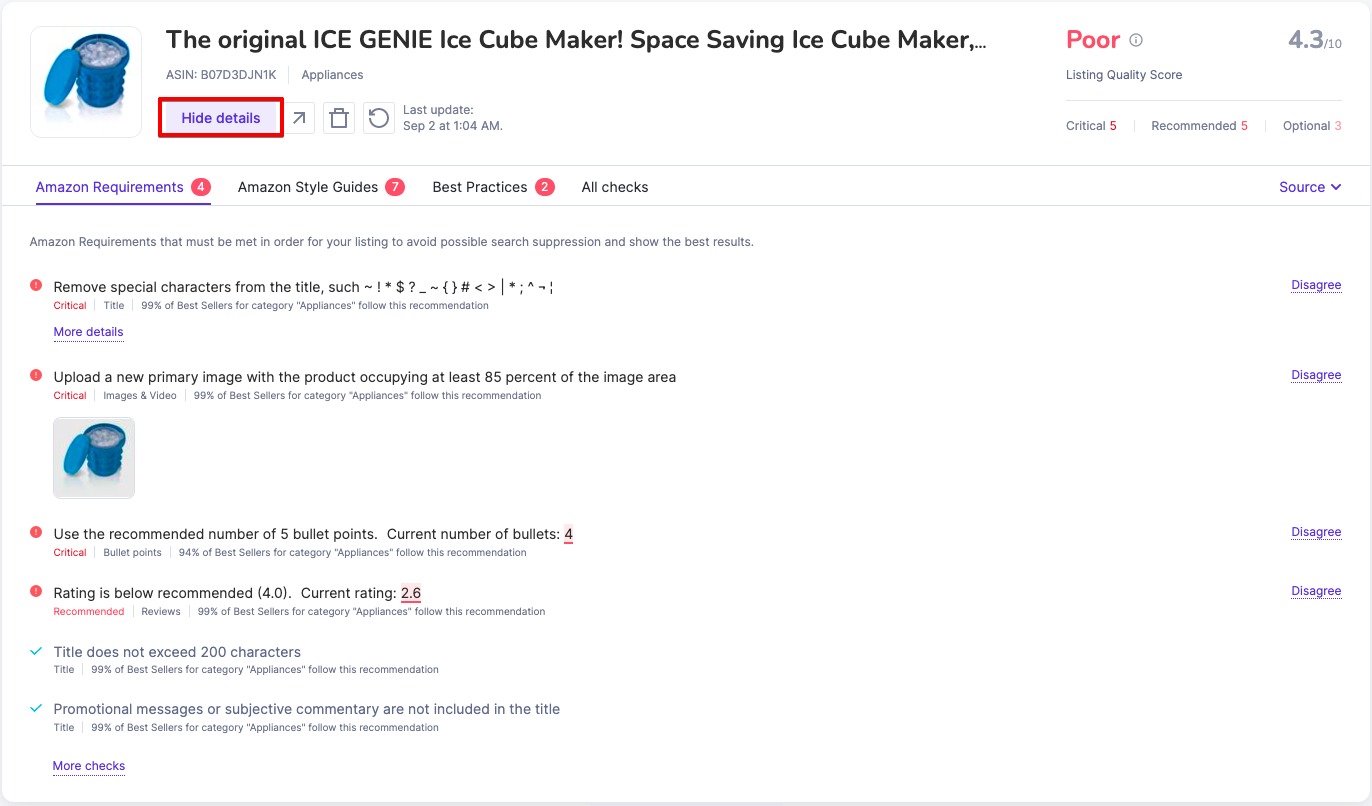 "Failed checks" indicates listing elements you have to change or enhance. "Successful checks" shows that all the requirements have been met.
From content errors and blurred images to special promotion and bullet point suggestions, the Listing Quality Check for Amazon app provides an all-encompassing listing audit that bulletproofs your listing against any potential Amazon suppression threats while ensuring your product is optimized for maximum visibility:
Amazon Requirements tab — Highlights all the issues that can potentially lead to a listing suppression, based on your listing's compliance with Amazon's requirements.
Amazon Style Guides tab — Provides extra tips from Amazon's Style Guide, for perfecting your listing quality.
Best Practices tab — Gives additional ideas for improving the quality of your listing that are based on best practices and Semrush's research.
If you don't want to go through each tab, you can simply go to the "All Checks" tab to get an overview of all of the changes that you need to take care of:
4. Focus on the Critical issues to avoid the risk of being suppressed by Amazon
All listing checks are divided into three types, based on their importance:
Critical — Major issues that seriously affect listing performance and can lead to suppression.
Recommended — Issues that should be sorted out for the best listing performance.
Optional — Minor issues that have little impact on listing performance.
To improve the quality of your listing as quickly as possible, start with Critical issues.
Pro tip: Once you've gone through all the improvement suggestions and fixed all the errors, re-run the listing audit to make sure you haven't missed any important issues.