Lead Finder helps digital agencies and marketers quickly find relevant business leads, based on their location, and the web technologies those leads use.
It allows you to identify and analyze the most viable prospects, increasing your chances of landing them as paid clients.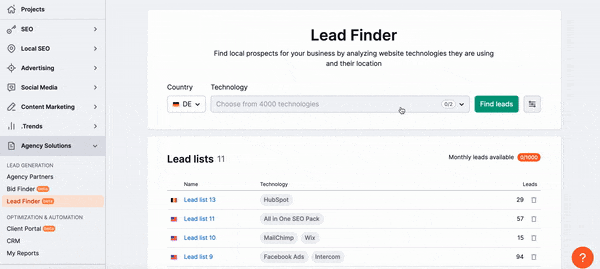 Lead Finder is available as part of the Agency Growth Kit (AGK).
How Can It Help My Agency?
The ability to sustainably generate relevant outbound leads is a huge challenge for many digital agencies.
Lead Finder addresses this problem in several ways. Chiefly, it enables you to:
Build a healthy and substantive pipeline of potential leads, based on accurate data
Target only the most viable prospects, with no time wasted on dead ends
Research and prepare tailored, effective pitches, increasing your chances of converting
Gather information more easily, allowing you to focus on prospecting
It's an ideal solution for digital marketing agencies, freelancers, or any marketing team that is looking to generate new business and attract new clients.
How Does It Work?
Lead Finder acts as a starting point for your entire client management workflow and can be used in conjunction with other AGK tools.
Here's how it works:
1. Start Your Search
Go to Agency Solutions in the main Semrush tool menu and select "Lead Finder." This will open the the tool.
Lead Finder identifies leads based on location and web technologies that businesses use on their website. So start by tailoring your search around one (or more) of these parameters to receive the most suitable suggestions. For instance, if you're trying to identify potential clients in the online sportswear niche, you might search for technologies such as "Shopify" or/and "Klaviyo" since these platforms are commonly used for product selling and client outreach. Note that you can enter up to two technologies at a time, so we suggest keeping separate lists for each technology you are interested in.
You can then create lists to categorize your results in whichever way is most suitable for you, such as by location, niche, or size. A small icon next to "Find leads" allows you to adjust the number of leads you would like to collect with your current prompt:

2. Qualify Your Leads
The next step is to sort through your results and identify the most promising leads—a process known as qualifying.
To do this, consult the lead card for each result. There, you'll discover a wealth of useful information about the prospect's website, such as its:
Domain name
Social media profiles
Contact information
Connected analytics and tracking, marketing, and web dev tools (including languages, frameworks, and libraries)
Security details and protocols
Crucially, you'll also find key metrics from Domain Overview (including the site's authority score, traffic, and backlinks), and Site Audit (including the site's health score).
To check a Site Audit health score for a lead, click the "Run Site Audit" button. A new project for a lead's domain is automatically created and 100 pages on a lead's website is checked. This uses the default configurations: Crawl source: Website, Crawler settings: SiteAuditBot-desktop.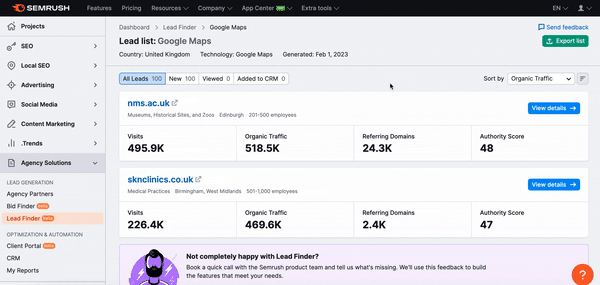 All of this information will help you evaluate how likely the lead is to need your agency's services, allowing you to narrow down your list and focus on the most worthwhile prospects.
At the top of each lead list, you can filter through all leads, new leads, viewed leads, and leads that you have already added to CRM. This simplifies the navigation and search process.

To help automate communication with potential leads through email systems, AGK users also have the option to export lead lists to a CSV file.
Two export versions are available: "basic" and "full". The "basic" export includes the website address, e-mail, company name, location, authority score, backlinks count, organic traffic, visits count, and Site Audit metrics.
The "full" export includes all fields from the "Basic" version and a few additional fields: company industry, company description, number of employees, the year the company was founded, employees, phones, and LinkedIn.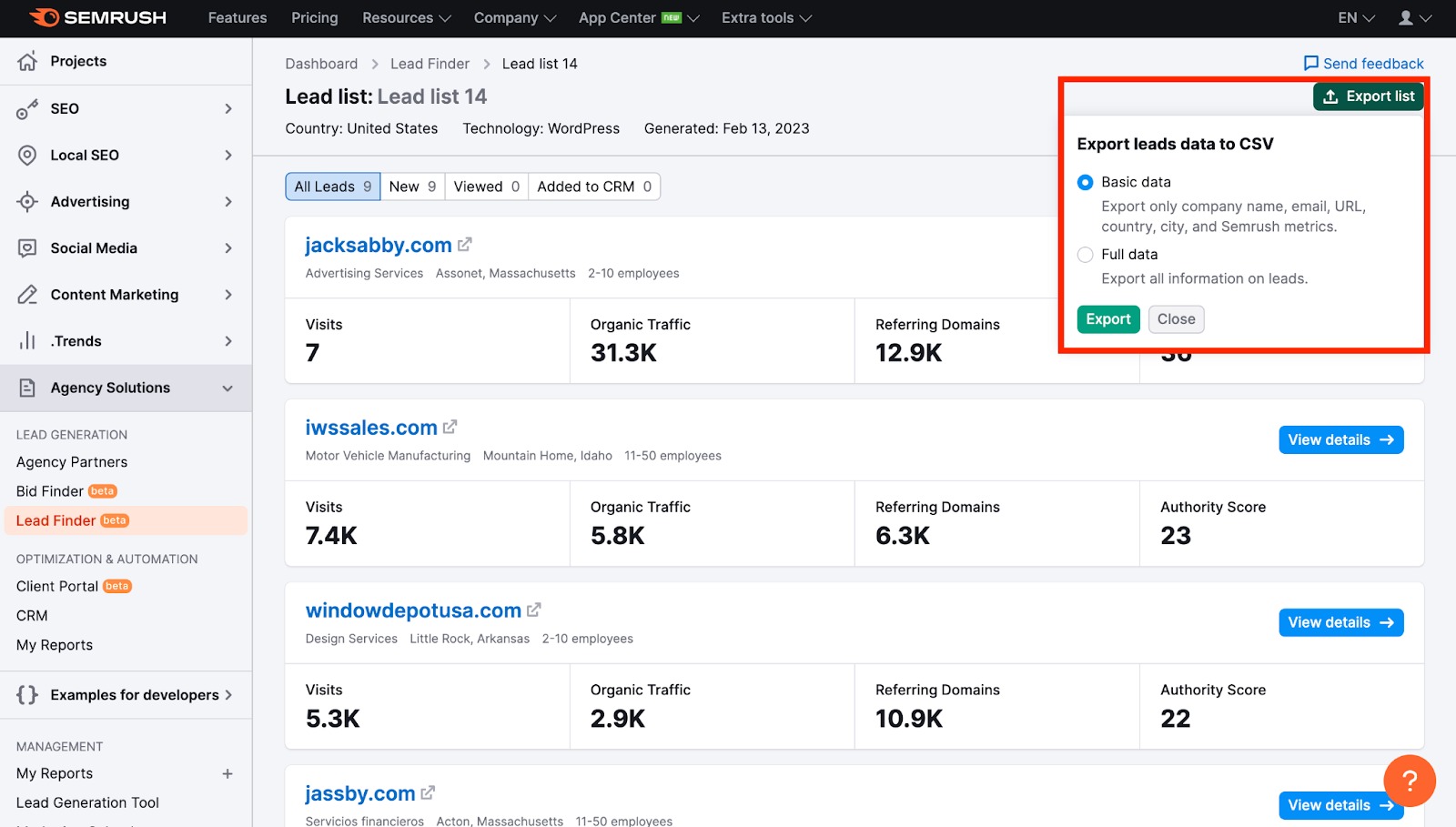 3. Import Your Qualified Leads
Once you have qualified which leads you want to pursue, you can export them into the Semrush CRM tool and begin the outreach process.
For each lead, a new card will be automatically generated within the CRM, enabling you to compile and analyze custom reports, documents, and other key information in one place. In turn, this allows you to create a tailored pitch based on the prospect's needs and website performance.
CRM also allows you to keep track of your outreach efforts and easily share any updates with your team members in real time.
Pricing and Limits
All Semrush users can use the Lead Finder tool. However, the number of leads you can generate each month depends on your subscription plan:
AGK users can check leads (and generate lead lists) up to 1000 leads per month
Non-AGK users with a paid subscription (Pro, Guru, or Business) can check up to 10 leads per month
Users with a free subscription can check one lead per month
For more information on Semrush subscription plans, visit the pricing page.
What Is the Agency Growth Kit?
As mentioned, Lead Finder is part of the Agency Growth Kit, a dedicated set of tools created specifically for agencies. You can find other lead generation solutions in the AGK, including:
The Agency Partners Platform, a valuable inbound lead gen platform that showcases your agency's expertise and experience
Bid Finder, a bid management solution that helps your agency find active contract opportunities on which to bid
The AGK also contains several other highly useful tools, such as:
CRM, an all-in-one client management workflow solution designed with digital agency needs in mind
Client Portal, a secure and accessible location where your clients can access their tasks and reports as well as approve tasks
My Reports, an advanced reporting tool that allows you to create automated, branded, and white-label reports
Learn more about the AGK—and how it can help drive your agency's growth—here.
If you have additional questions about Lead Finder or the Agency Growth Kit, reach out to us directly at agencies@semrush.com.