Product Research for Amazon is an app that helps both beginners and experienced sellers identify and choose high-demand, low-competition products to sell. It is especially handy for resellers.
How Product Research Can Help You
The Product Research for Amazon app helps you identify which products to choose and sell on Amazon.
By knowing what's out there, you can begin selling high-demand products that are also low-competition on Amazon.
The tool uses the freshest Amazon data to find in-demand products and also allows you to determine whether your chosen product has the potential to be profitable.
Using this app, you can:
Obtain the most up-to-date information about the demand for a product
Determine if a product is profitable using the FBA calculator (available for the US marketplace only).
Instantly find ideas for selling your products
Accessing Product Research for Amazon
Product Research for Amazon is available for purchase to users with an active paid Semrush subscription. It also offers a free 7-days trial period.
The app is limited to 30 searches per day.
To learn more about Semrush subscription plans and to compare their features, visit our pricing guide page.
To find out how to add an app, you can visit the App Center's guide on how to add apps.
How To Use Product Research for Amazon
Step 1: Select your marketplace
Select your desired marketplace by clicking a box with a flag. You can either select a country from a dropdown list or type in the country name in the search bar. The available marketplaces at the moment are:
United States
United Kingdom
Canada
France
Germany
Italy
Spain
Mexico
Japan
India
Step 2 : Enter your product keywords or select a category
If you already have an idea of your seed keyword (e.g., "smartphone," "star wars," or "hamster cage"), then you can search for products based on this.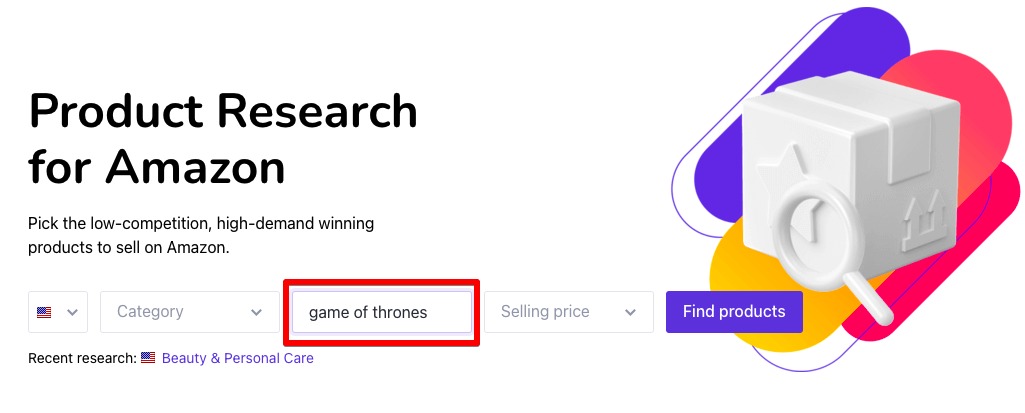 Alternatively, you can select any number of categories that interest you (as well as unlimited subcategories for each one).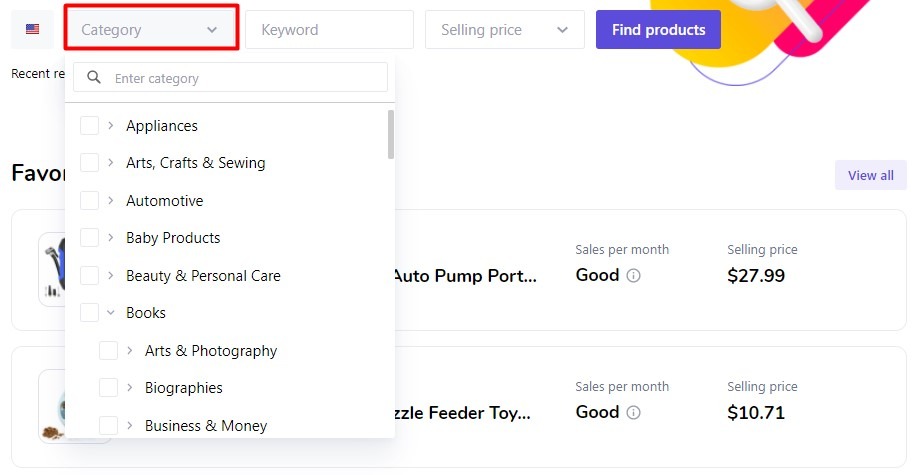 Step 3. Select your selling price range
Next, choose a product price range based on your budget. If you're not sure yet, just leave this field blank.
Please note: Experienced sellers recommend using the medium range of $10 to $25, as this is generally the most comfortable price range for buyers.
Step 4. Start your search
Once you hit the "Find products" button, the tool will present a list of suggested products based on your input, which you can then review more closely.
Step 5. Dive into the report
The results will give you insights into existing listings for products that are similar to the keywords, category, or selling price you entered.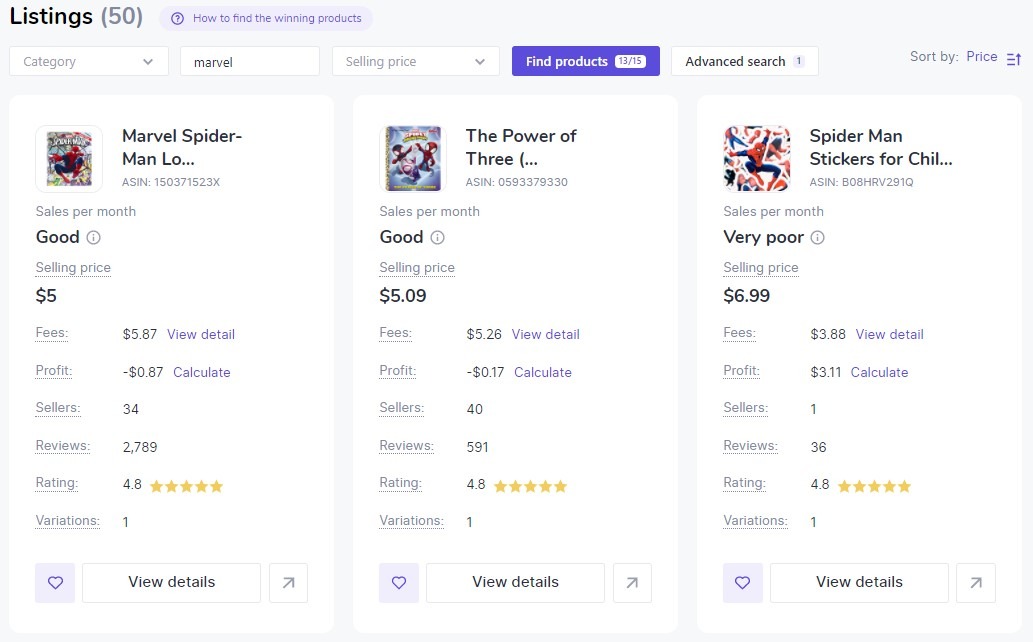 Important metrics to check in the Listings report
Sales per month: This metric is broken down into several categories: Excellent (10,001+ units sold), Good (1,001-10,000 units sold), Average (201-1,000 units sold), Poor (51-200 units sold), and Very poor (1-50 units sold).
Selling price: the price of the listed product
Fees: the final fee amount after adding the fulfillment fee, referral fee, and variable closing fee together. If you click on "View detail," you can see these costs broken down. The fees display for the US marketplace only.
Profit: the amount of money you take home from selling the product. This number is calculated by taking the selling price of the product and subtracting all Amazon fees. The Profit calculator is available for the US marketplace only.
Sellers: the number of people selling the same product on Amazon
Reviews: the total number of reviews the product has
Rating: the average rating and number of stars the product has on Amazon (1 to 5 stars)
Variations: the number of different product variations such as different sizes, shapes, and colors
Clicking on the "View details" button at the end of each listing will show you additional information, including:
Categories: the category or categories the product falls under
BSR (Best Seller Ranking): the overall ranking for the parent category that the product falls under. The more sales the product has, the lower its BSR will be. Use the data in the chart to assess the popularity of the item over a period of time.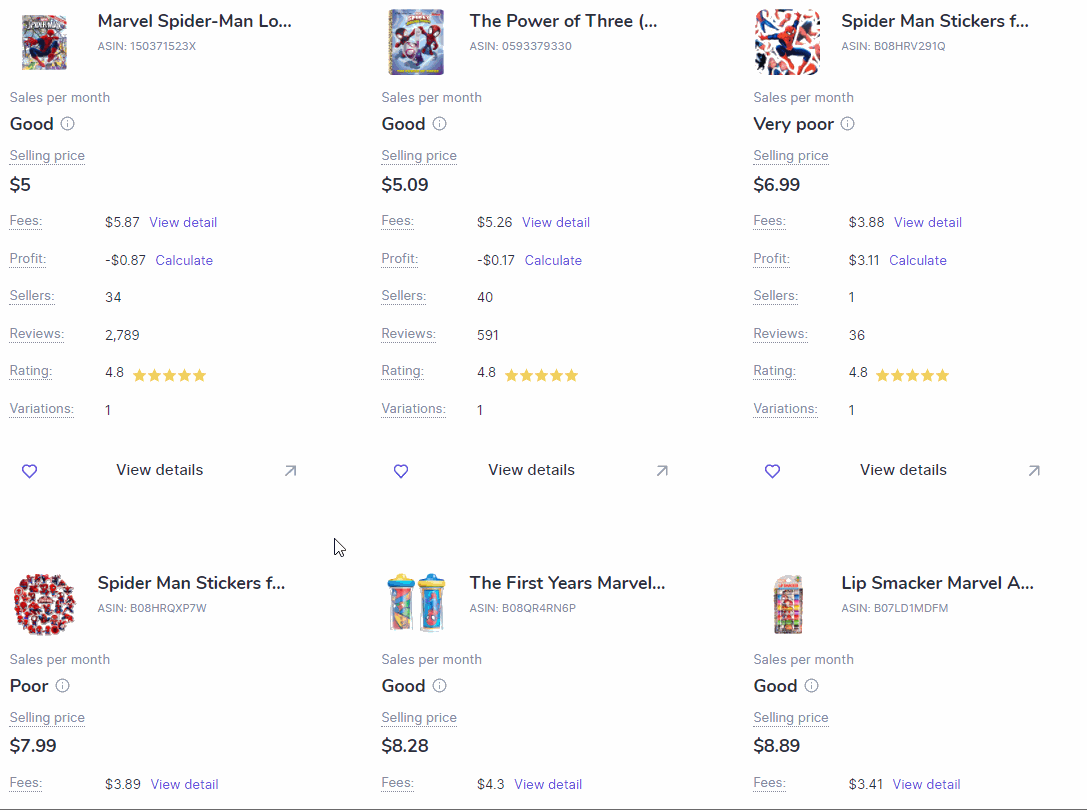 Integration with Keyword Wizard for Amazon app
Clicking on the "Get Ideas" button on the left of the report will take you to the Keyword Wizard for Amazon app, where you'll be able to find the most high-impact keywords around your search request. Please note: this integration appears only if you enter a keyword for your search.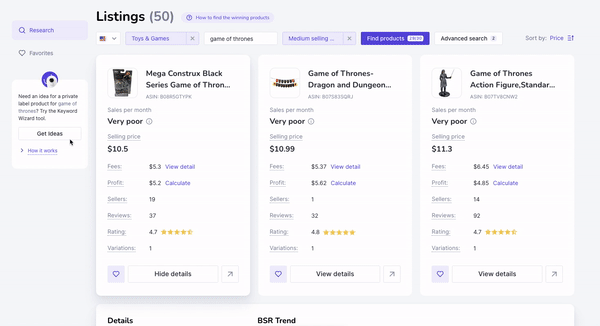 Step 6. Add a product to your favorites or export it
Once you have identified a suitable product, you can then add it to your favorites or export the results to an Excel file.
FAQ
You can select either a keyword or a category, or both. Price parameter is not necessary in any case. In advanced filters, we set default values for you in order to provide you the most relevant results, but you are free to change any values in advanced filters anytime.
The app updates the data on your products in the Favorites tab every 14 days.
Your products in the Favorites tab will stay there as long as you want. Visiting this tab to check some product again does not count as a search. Moreover, visiting the last search report is also free and doesn't count towards a new search.
If you have any questions about the Product Research for Amazon app, please email us directly at ecommerce-apps@semrush.com