Twitter Tracker is an app from Iteora that allows you to track Twitter posts by specific keywords, organize several accounts into feeds, and save the most important tweets.
You can find it in the Semrush App Center.
How Can Twitter Tracker Help Me?
Twitter Tracker makes it easy to keep track of everything you need on Twitter in a single spot. With this app, you'll never miss a new marketing or partnership opportunity, and you'll stay up to date with customer feedback to protect your brand reputation.
Using Twitter Tracker, you can:
Monitor thousands of Twitter accounts for tweets that mention specific keywords
Organize tailored feeds that only track tweets across the most important channels
Save and store the important tweets and come back to them whenever you need
Pricing
A full subscription to the Twitter Tracker app is available for $14.99/month.
Find more information about Semrush pricing here.
What Is Included in Twitter Tracker?
Twitter Tracker is split into three sections: "Accounts," "Feeds," and "Favourites." You can switch between these sections using the menu on the left-hand side.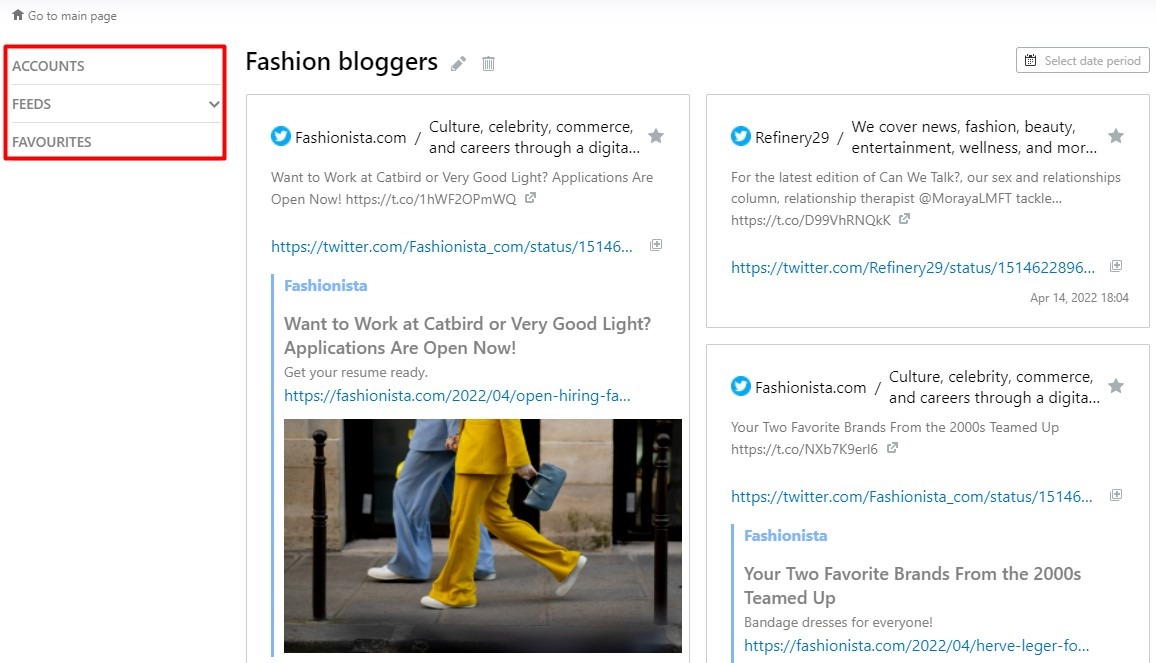 The primary interface is the feed—a dashboard that displays all your tracked tweets. The tweets here are ordered by date and time.
Accounts
In the "Accounts" section, you can add the Twitter profiles you're interested in. They serve as the sources from which you choose to track posts.

How To Add an Account
Start by hitting the "Add account" button.
When adding a new account, you can also save it and create a new feed based on this account, or save it and add posts from this account to one of your already existing feeds.
Feeds
The "Feeds" section contains dashboards that show posts from the Twitter accounts you choose to track. The tweets here are ordered by date and time.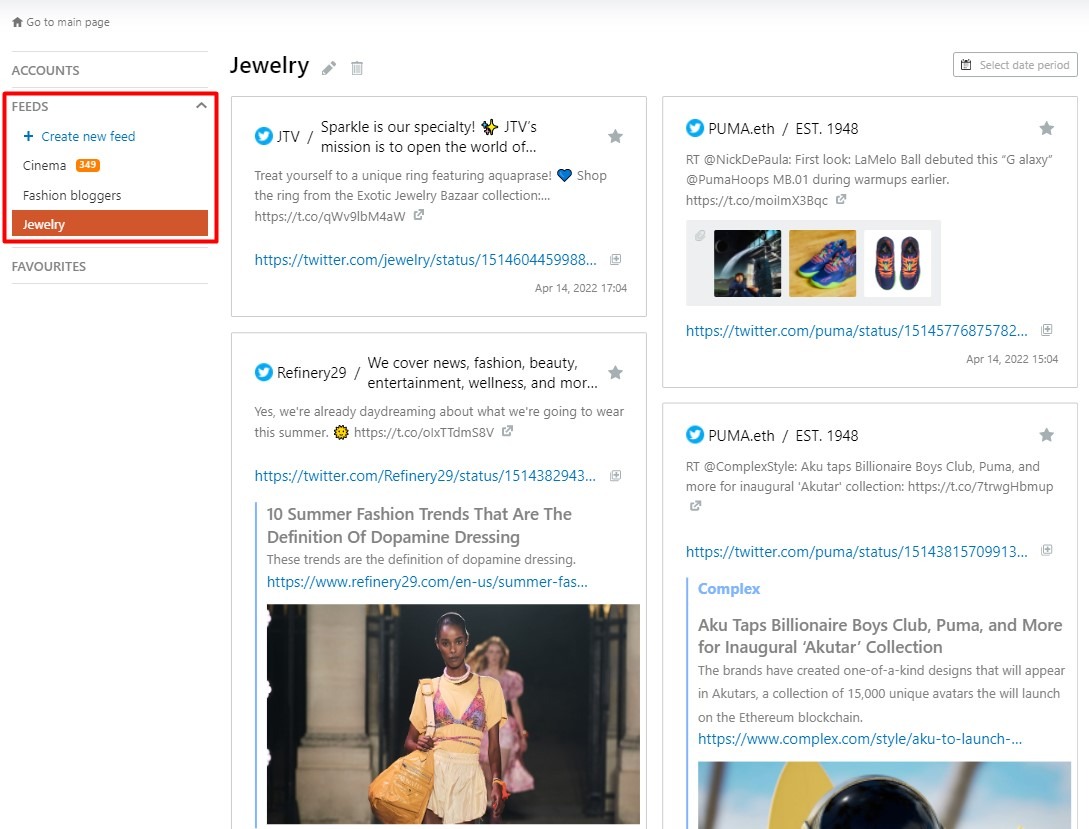 How To Create a Feed
Start by hitting the "Create new feed" button.
You can create a feed by choosing accounts—sources. For instance, if you're interested in sportswear brands, you can form a specific feed of related Twitter accounts.
You can filter your post stream by incorporating keywords.
Let's say you're interested in tracking posts about footwear only. Use relevant keywords, ensuring that you only see posts that include what you want (you can also filter for partial and negative matches).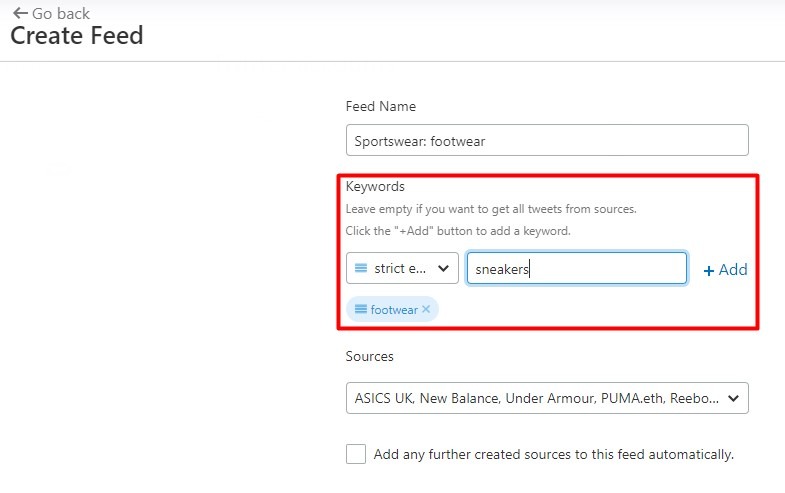 You can also filter your feed by date using the "Select date period" button on the top right corner.
Favourites
The "Favourites" section contains the posts that you have starred and marked as favourites.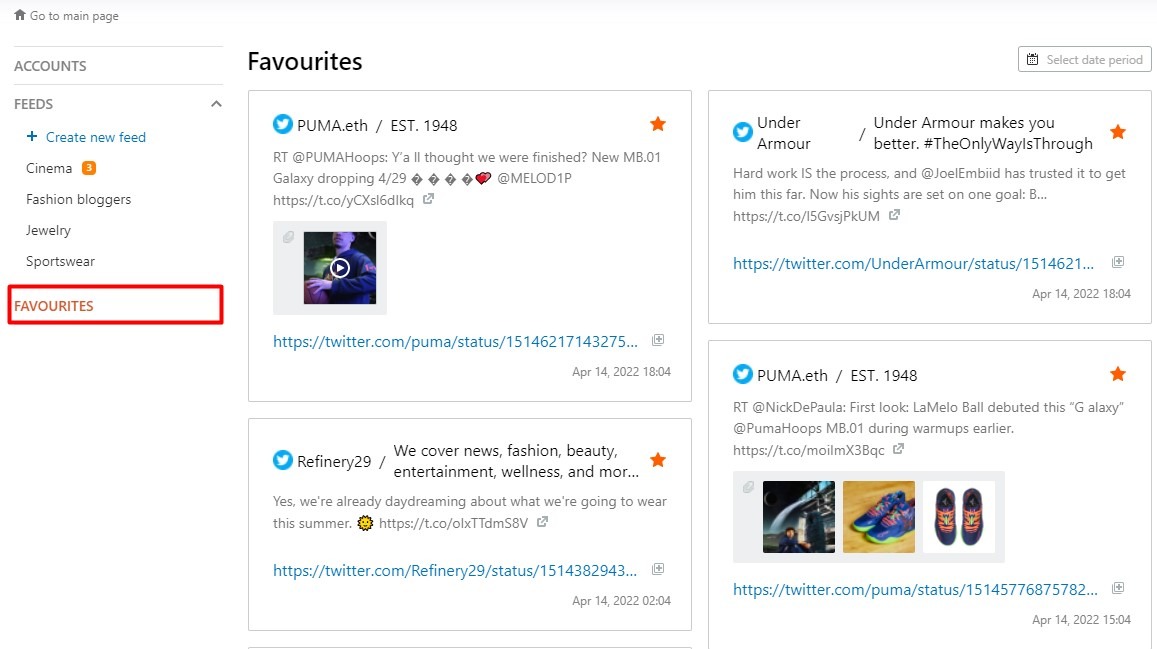 How To Save a Post
To save a post, simply click the star in its top right corner.

You can also filter your feed by date using the "Select date period" button on the top right corner.
Data
All data is gathered using the official Twitter API. The app allows you to track any public opened Twitter accounts, with no limitations.
You can create up to 200 feeds and track tweets that are up to 28 days old. The app keeps the tweets in the feeds for 28 days.
If you have any questions about the Twitter Tracker app or the App Center in general, please don't hesitate to email us at app-center@semrush.com.