Agency Growth Kit is a dedicated Semrush add-on for digital agencies which helps marketing businesses to get inbound and outbound leads, close deals, manage projects, collaborate with clients, and more.
What's Included in the Agency Growth Kit?
Agency Growth Kit is available in three tiers to cater to the different needs of agencies. The Start tier is ideal for small agencies and freelancers who are looking to improve their performance and establish a solid foundation for growth. With this tier, you'll have access to tools that can help you optimize your workflow, streamline your processes, and enhance your overall performance. AGK Start tier is available for Semrush PRO users only.
On the other hand, the Scale tier is perfect for agencies that are already established and looking to take their growth to the next level. This tier offers more advanced tools that can help you boost your marketing strategies, increase your revenue, and ultimately achieve intensive agency growth. AGK Scale tier is available for Semrush PRO and GURU users.
The Agency Growth Kit Advanced tier sounds like a great option for expanding agencies. With unlimited client portals and Client Portals on the agency's own domain, it provides a customizable white-label solution for enhancing client loyalty and retention while increasing brand presence. This plan offers limitless opportunities for agency growth and expansion. AGK Advanced tier is available for Semrush PRO, GURU, and BUSINESS users.
Here's a breakdown of what's included in each tier: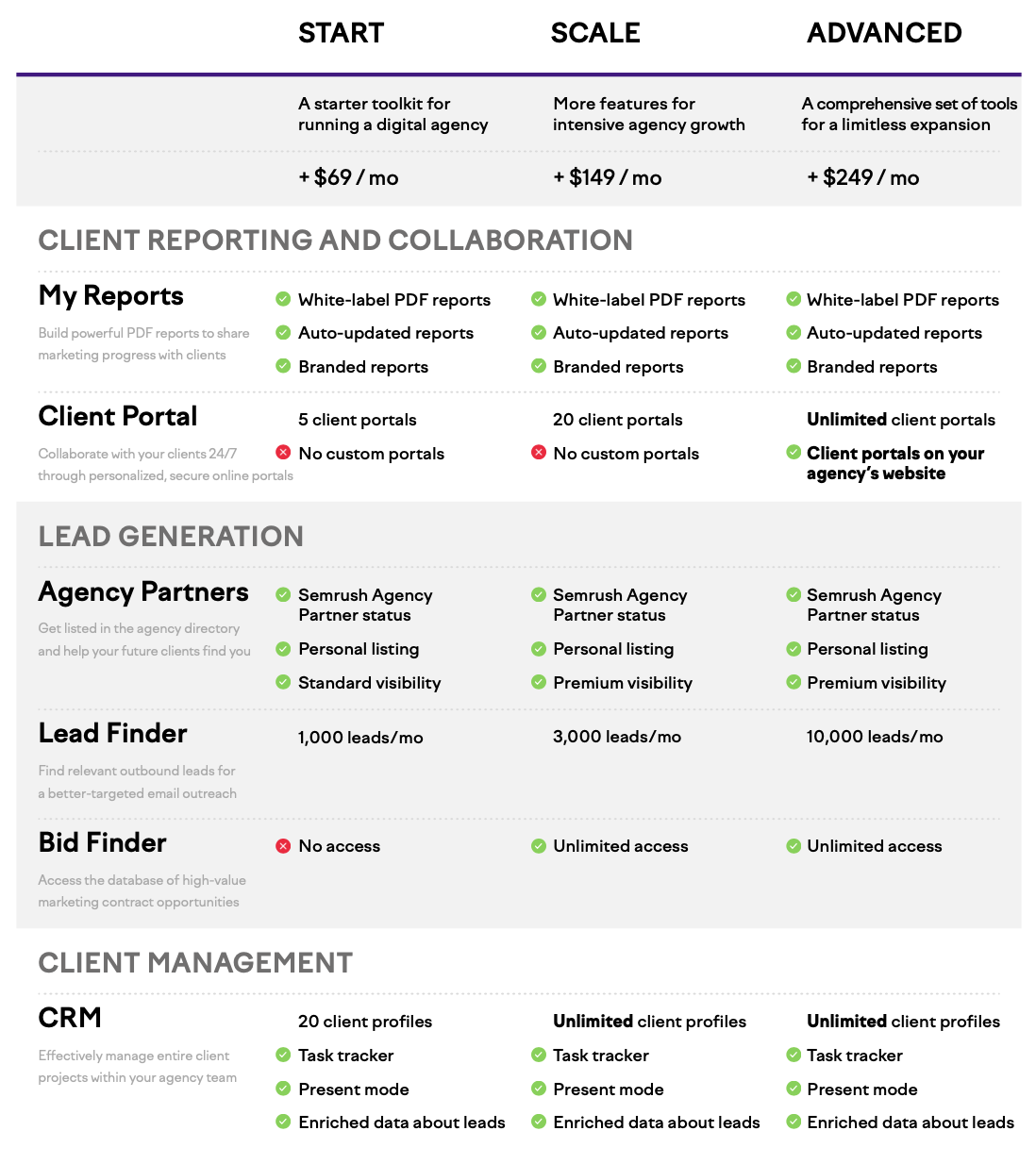 How Can It Help You?
Our Agency Growth Kit is designed to help agencies in various aspects of their operations. The kit includes several features that can help agencies to:
Attract inbound and outbound leads, allowing agencies to grow their business and acquire new clients
Effectively manage internal agency processes and communication, streamlining their workflow and improving their productivity
Seamlessly collaborate with clients and report on progress, ensuring that clients are always up-to-date on the status of their projects.
Overall, our Agency Growth Kit is a comprehensive solution that can help agencies achieve their growth goals while improving their operations.
What Can You Do With the Agency Growth Kit?
As mentioned, the Agency Growth Kit contains a number of key tools and features, each of which is designed to enhance your agency's client acquisition and management workflows.
Lead Generation
Agency Partners Platform
The Agency Partners platform is a dedicated space where agencies can showcase their digital marketing services and generate inbound leads. Only Agency Growth Kit users can be listed on the platform.
To be listed, you will need to create your agency's profile page, where you can:
Highlight your areas of expertise
Explain what your agency offers
Provide social proof and display success stories
You can also choose to pass two free Semrush Academy exams ("Semrush for Digital Agencies" and a toolkit proficiency exam of choice based on your agency's service focus). This will increase your visibility on the platform as well as qualify you for an official "Certified Agency Partner" badge that can be used in your marketing collateral.
You can learn more about becoming an Agency Partner and setting up your profile here.
Lead Finder
Lead Finder makes the process of finding and qualifying new leads faster and easier. As you narrow down the scope by selecting a country and web technologies your clients use, the tool gathers data on your query in a separate list.
Lead Finder collects the following data for each lead from your list:
Domain name
Metrics collected from Semrush databases (like visits, traffic, and backlinks)
Social media profiles
Contact information
Connected analytics and tracking, marketing, and web dev tools (including languages, frameworks, and libraries)
Security details and protocols
There is also an option to collect even more metrics by performing an express Site Audit without leaving the tool.
After sorting the results in the Lead Finder, keeping high-priority leads, and discarding irrelevant ones, you can send the results to the CRM tool. It will save each lead separately, facilitating further research and the outreach process.
Bid Finder
(Available in Agency Growth Kit Scale and Advanced plans)
Bid Finder is a user-friendly bid management tool that saves you time and money by gathering marketing contracts from multiple sources, collecting, categorizing, and organizing them for you in one place.
With it, you can easily find marketing contract bids based on category, region, contract value, date, deadline, and more and apply for these project opportunities.
Also, you can save bids and search filters for later and set email notifications to be the first to know about new marketing bids.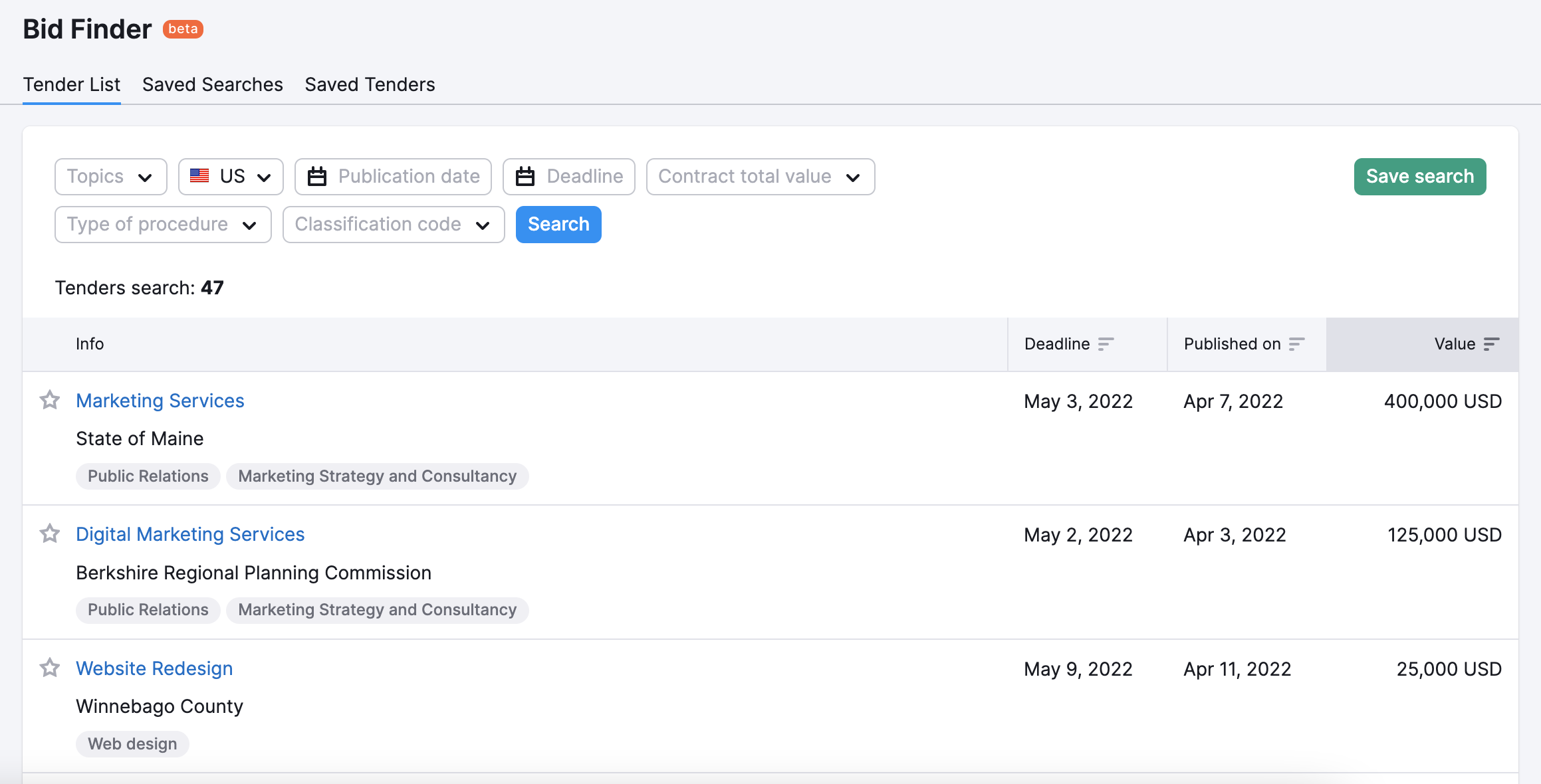 Client Management and Collaboration
CRM
CRM is a broader customer management tool that helps you to streamline and effectively manage your CRM workflows. It allows you to:
Organize and maintain your clients, leads, and prospects
Create secure and accessible portals for each client
Set up and connect individual projects and reports
Create and assign tasks for each project/client
Present seamlessly and securely to clients using the Present Mode feature
Upload and securely store up to 50GB of related client documents (such as agreements or NDAs)
You can learn more about CRM here.
Client Portal
Client Portal is an agency-specific feature of the CRM tool, available only to Agency Growth Kit users. It allows you to create one secure and accessible portal for each of your clients, in which you can easily share with them all their automatically updated data and reports.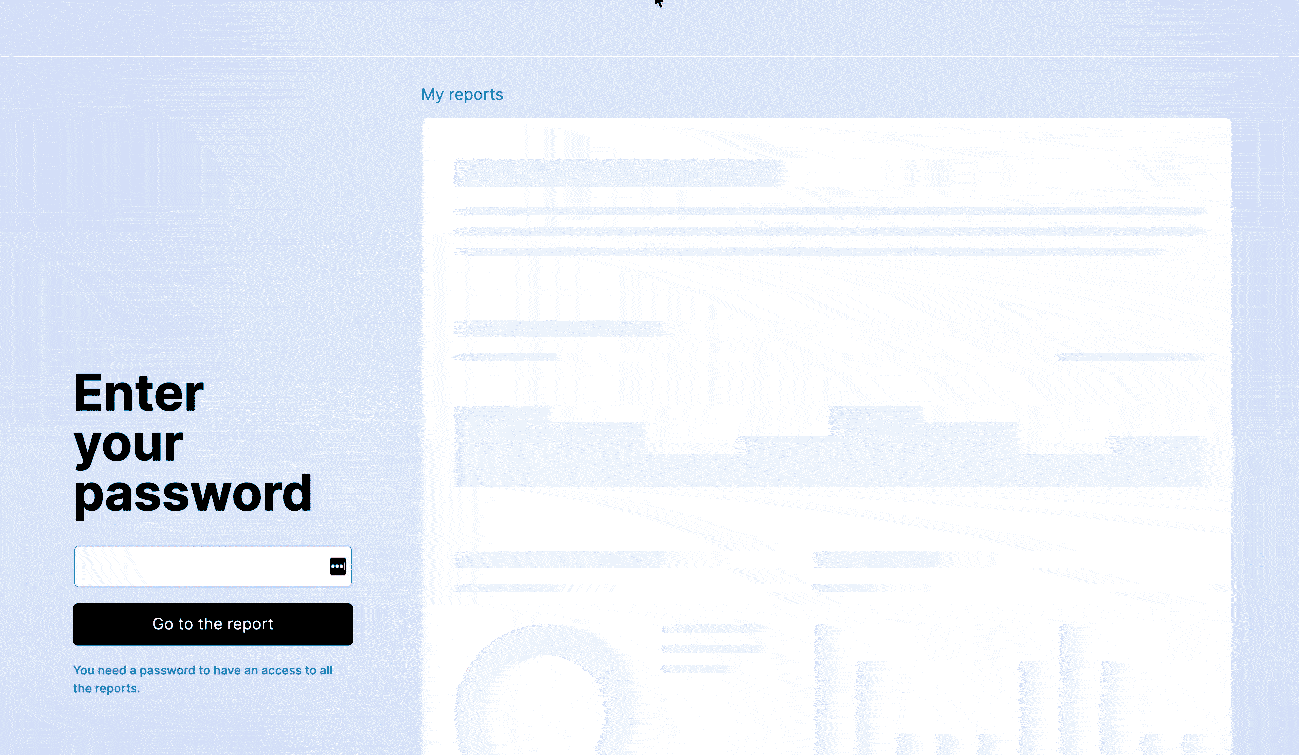 You can learn more about how Client Portal works here. You can also check out the free live demo (password: 1234).
Client Reporting
My Reports
My Reports is an advanced reporting tool that lets you create high-quality PDF reports from scratch. As an Agency Growth Kit user, it's also possible to:
Brand reports with your own custom logos
White-label your reports and remove the default Semrush logo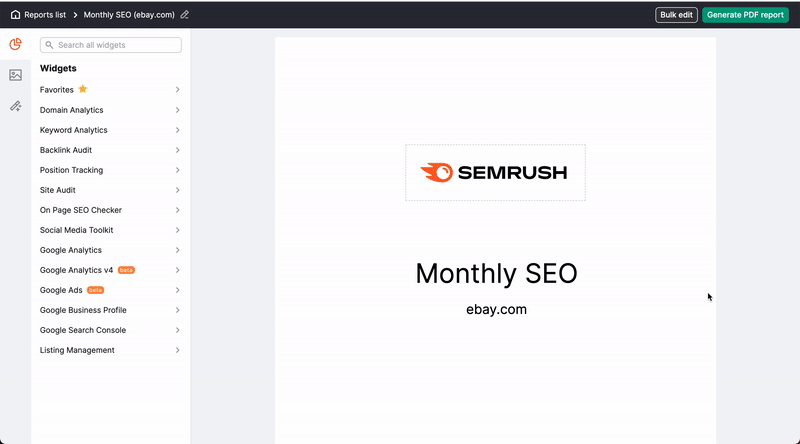 It's also possible to customize your reports' visual style, and choose custom themes that align with your agency's brand. Check out how you can customize your reports in this article.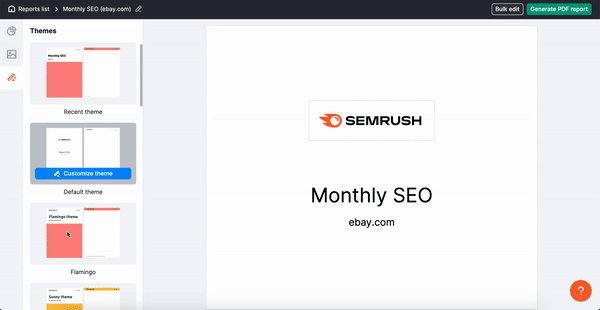 You can learn more about My Reports here.
Pricing
Semrush plan + Agency Growth Kit:
| | | | |
| --- | --- | --- | --- |
| | Semrush Pro ($129.95/mo) | Semrush Guru ($249.95/mo) | Semrush Business ($499.95/mo) |
| AGK Start ($69/mo) | ✅ $198.95/mo | ❌ | ❌ |
| AGK Scale ($149/mo) | ✅ $278.95/mo | ✅ $398.95/mo | ❌ |
| AGK Advanced ($249/mo) | ✅ $378.95/mo | ✅ $498.95/mo | ✅ $748,95/mo |
More information about pricing can be found here.
Frequently Asked Questions
Below are the answers to some of the most commonly asked questions about the kit.
For existing paid subscribers: Simply go to the Semrush pricing page and select the 'Buy now' button in the Agency Growth Kit row. Alternatively, you can go into the subscription plan section in your user profile, and sign up for the Agency Growth Kit there.
For users that don't have a paid plan: To access and use the Agency Growth Kit, either a Pro, Guru, or Business Semrush subscription is required. You can sign up for one via the Semrush pricing page. Then, simply follow the same instructions for paid subscribers as detailed above.
Unfortunately, no. A paid Semrush subscription is required to access and use the Agency Growth Kit.
No. It is only possible to purchase the Agency Growth Kit as a single add-on with all features and tools included.
You can find the toolkit under the Agency Solutions tab in the main Semrush menu.