Keyword cannibalization is when a website has multiple pages targeting the same topic or keyword, and as a result the two pages compete against each other for search engine rankings and both lose positions. As an SEO, you'll need to spot these occurrences and quickly fix them to improve the site's visibility.
Using the Cannibalization Report in Position Tracking, you can analyze your Cannibalization Health and research the cannibalizing pages.
Cannibalization Health
A result of 100% means that there is no cannibalization for a given scope of keywords in this location.
Using the score, you can track your results after implementing the changes described in "How to fix keyword cannibalization", and include this information when reporting. You can also return to this report after updating old content and make sure that cannibalization hasn't occurred.
Affected keywords — number of keywords in your Position Tracking campaign for which two or more pages compete with each other in Google's Top-100 organic results.
Cannibalizing pages — number of pages ranking in the Google's Top-100 organic results for the Affected keyword.
View by Pages
This view shows a list of URLs that rank by a number of keywords. You can analyze and sort Pages by metrics such as: Number of Affected Keywords, Average Position and Difference, Total Estimated Traffic and Difference, and Total Volume.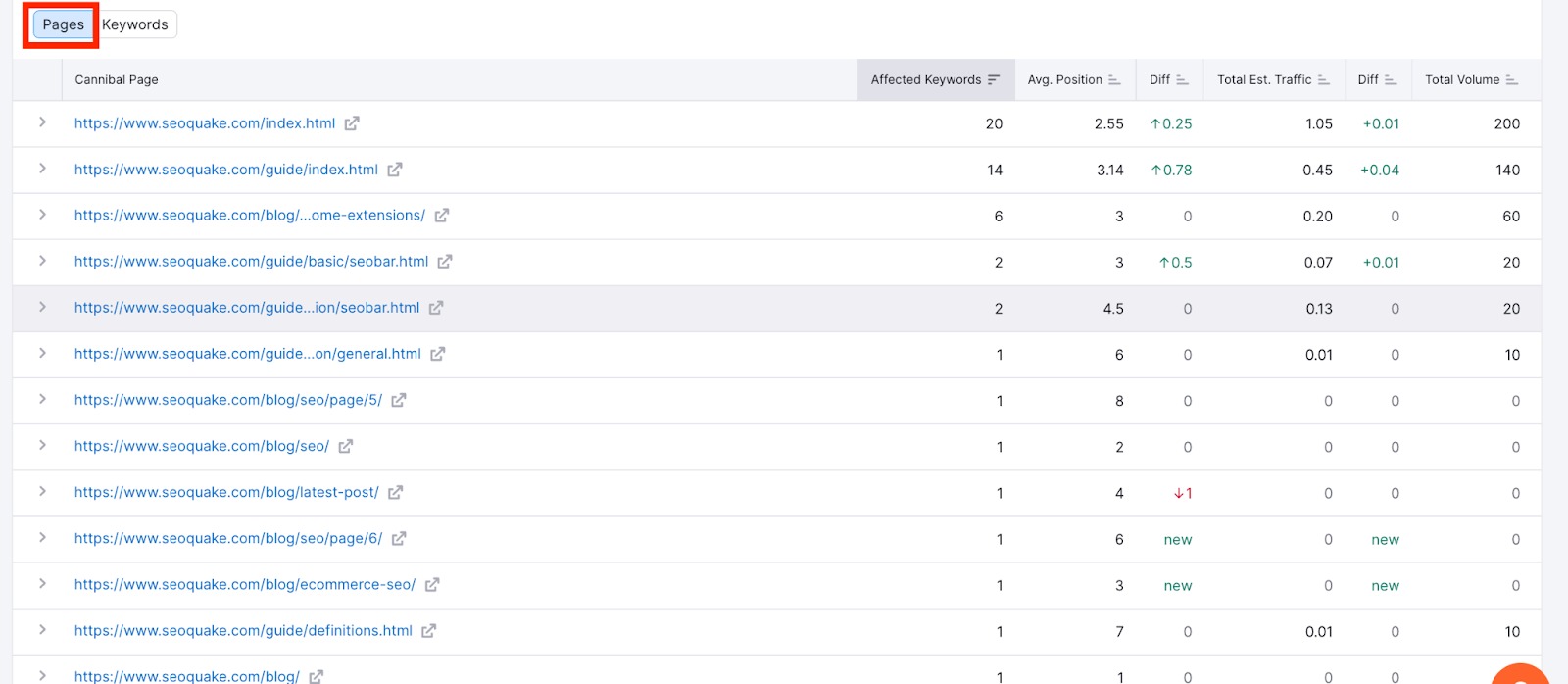 By clicking on the line, you can see the list of keywords and analyze whether the page is relevant for all of them. If it's not, you might want to make sure that the relevant page does exist and check its ranking using the Pages tab.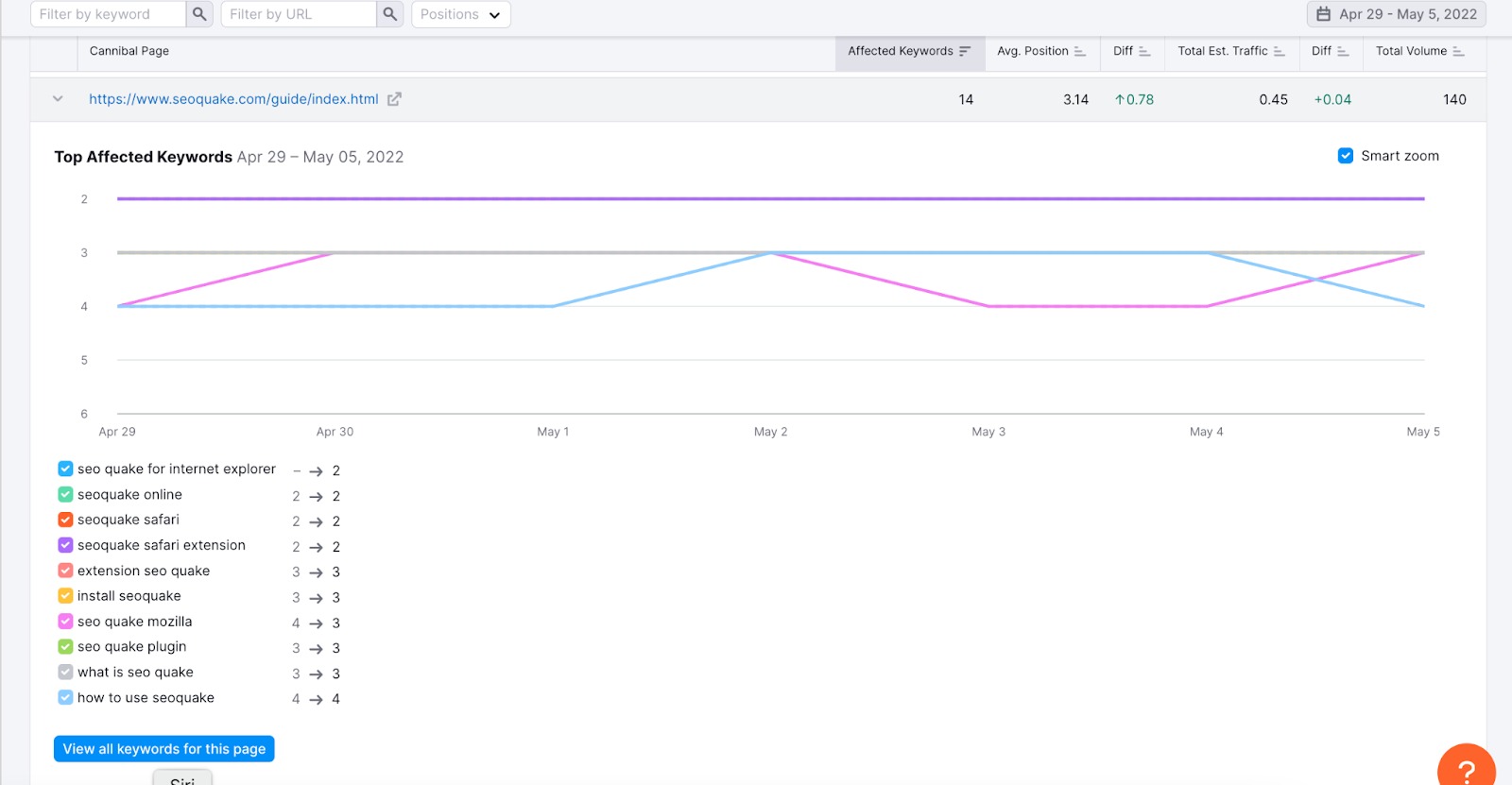 View by Keywords
This view offers a list of keywords for which more than one page was ranking in a given timeframe. You can analyze and sort Keywords by metrics such as: Position and Difference, URL, Estimated Traffic and Difference, and Volume.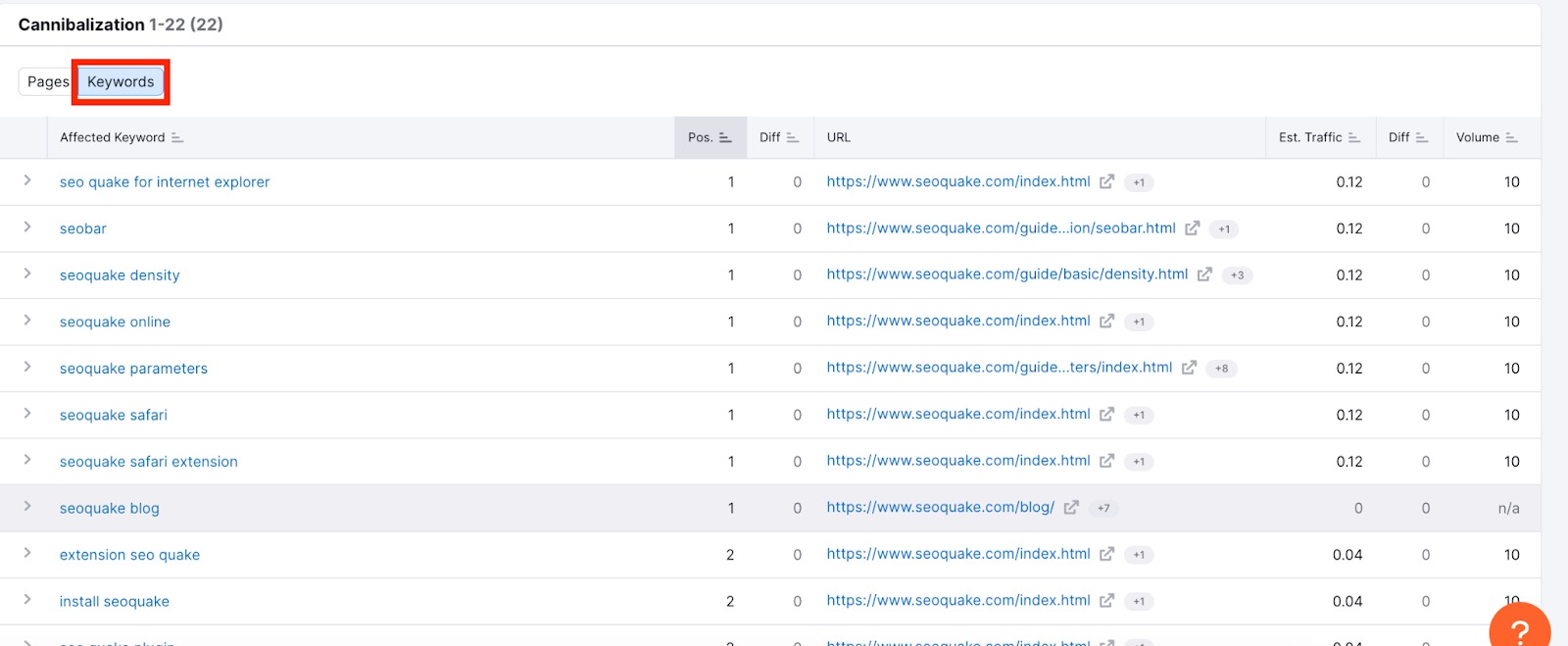 By clicking on any line, you will get a trend of how the pages were ranking over time. If the lines are not connected, then you'll see that this is a ghost page that appears in search results only occasionally.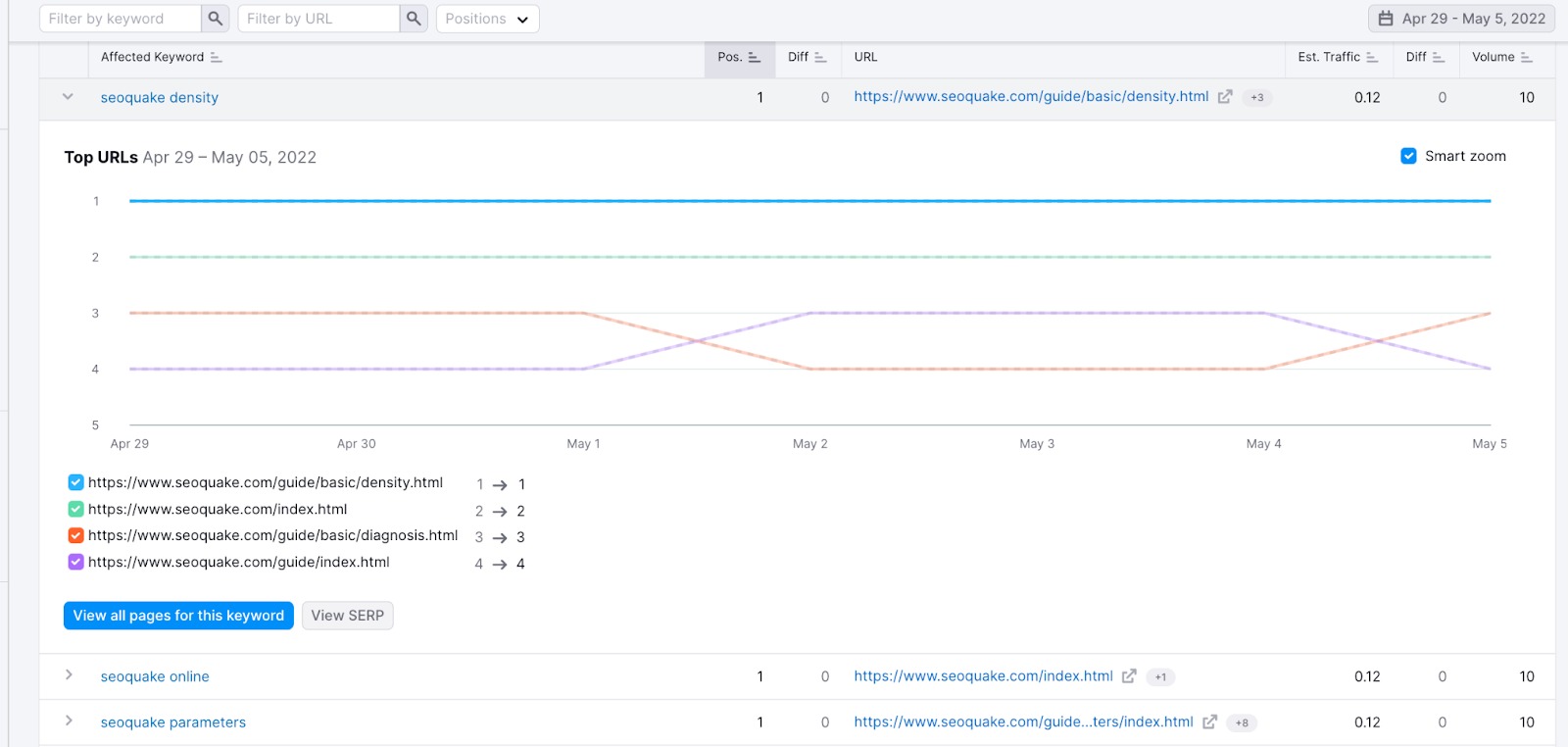 Filters
Filter by keyword, URL, or Position to speed things up. For example, you can start with pages that miss the opportunity to get to the top because they compete with each other near the end of the first page — use filter by Position #4-10.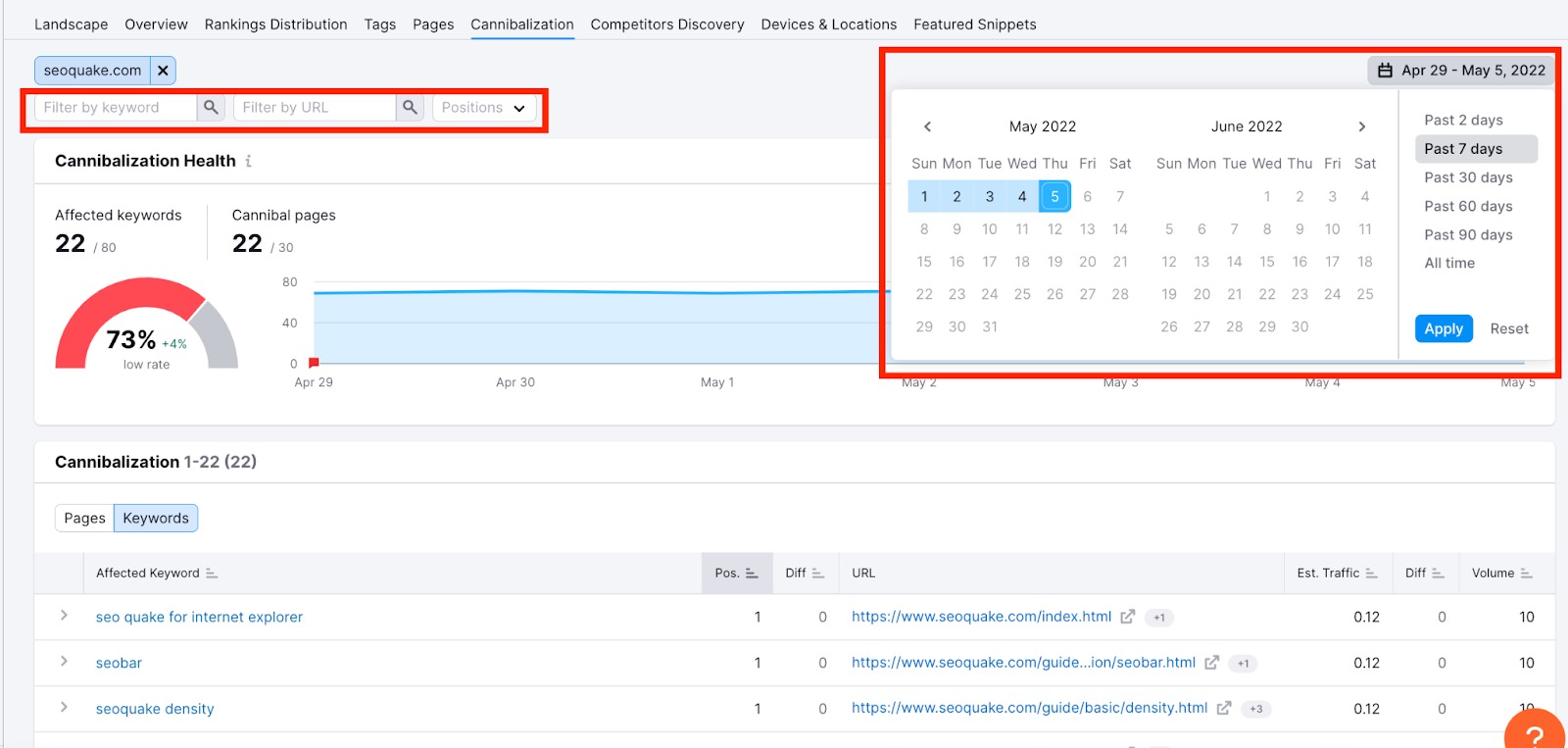 You can also choose the date range to show 2, 7, 30, 60, or 90 days, or switch to another domain.
In addition, you can sort keywords by any of the table parameters, for example, Difference to quickly respond to a page's fall in the results, or Volume to get started with the most popular keywords.
You can also read Keyword Cannibalization: How to Keep it From Harming Your On-Site SEO on our blog.