FREE online SMM course

SMM Fundamentals Course with Neal Schaffer

Take your brand awareness, engagement and following to the next level with this social media training course!
27 lessons
27 video lessons created in cooperation with prominent industry expert Neal Schaffer
All SMM essentials in 4 hours
Learn all SMM essentials in just 4 hours. You'll encounter short video lessons, additional materials for self study, and quizzes
100% free
This course is 100% free. You can save your money for various SMM activities
Who is this course for?
Want to discover proven methodologies to grow your social strategy? Then no matter who you are — an SMM newbie, a digital marketing student, a go-to marketer, or even a business owner — this free course is a perfect fit for you. Complete it and you can take your social media marketing to the next level!
About the author
Neal Schaffer is a recognized leader who has helped businesses through their digital transformation of sales and marketing as a global keynote speaker, university educator, social media agency owner, author, and social media strategy consultant. From Fortune 50 enterprises to a Grammy Award-Winning musician, Japanese exporters to niche startups and nonprofits, Neal has helped leading brands of all sizes reach their next level in social media marketing. Learn more about Neal at NealSchaffer.com.
Social media is a never-ending experiment, because the users, how they use it, and the functionality provided by social networks is always in flux. Marketers will always need to pivot and continually optimize.
Lesson structure
Video lessons
Watch easy-to-follow video lessons
Read further
Study the specially picked materials to dive deeper into the topic
Quiz
What to do after the course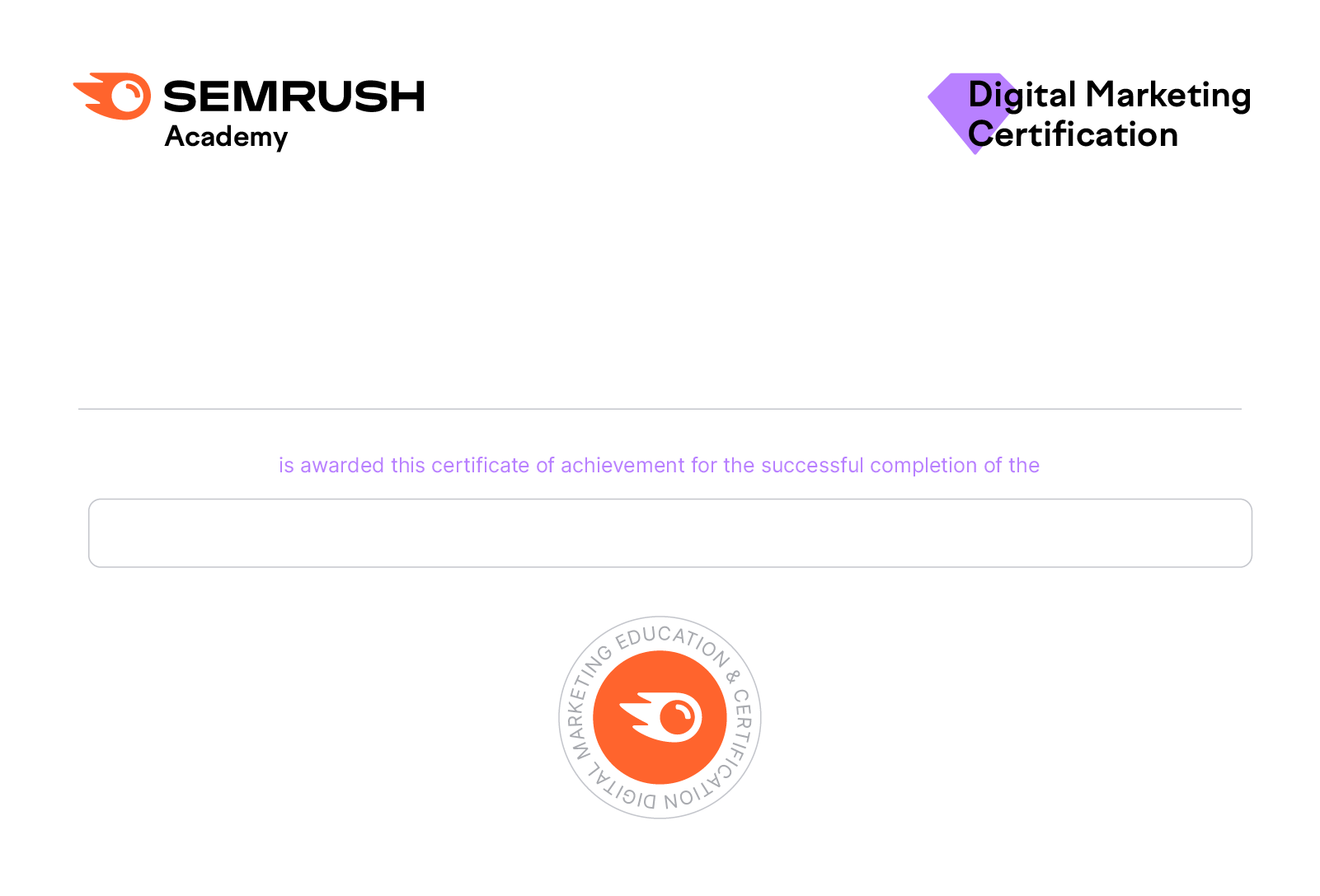 Get certified by Semrush
Take and pass the accompanying exam.
You'll have an opportunity to prove your SMM mastery by taking the exam, which will be released together with the full version of the course.
You might also like
PPC Fundamentals Course with Joel Bondorowsky
36 lessons5 hours
---
Learn what it takes to become a confident pay-per-click specialist from field expert Joel Bondorowsky in a series of video lessons. Learn more.
SMM Fundamentals Course with Neal Schaffer
27 lessons4 hours
---
Learn how to grow your social media presence from acclaimed leader in the world of business social media Neal Schaffer in a series of video lessons. Learn more.
You are going to start the !
Important! You won't be able to change your name on your certificate once you receive it.
Before you start, review the information below:
Please note that the certificate issued with your name will be accessible by direct link. By clicking 'Proceed to exam', you agree to make your certificate publicly available.
Certify your team request
Want to rest assured that your employees' knowledge of the Semrush toolset is up to the mark?
If you're interested in making a request, please leave your email.
Become a contributor
Want to join the Semrush Academy expert community? You will have the opportunity to reveal your own tips and tricks on Semrush tools. If you're interested, leave your email.