FREE online course

Content Marketing and SEO Fundamentals with Eric Enge

Learn about SEO and content marketing that will drive your SEO campaign with digital marketing and SEO expert Eric Enge.
8 lessons
Exclusive video lessons with industry-leading SEO consultant Eric Enge
1 hour
Learn how to implement an SEO-effective content marketing strategy in just 1 hour
100% free
Who is this course for?
This course is primarily aimed at digital marketers, individuals with responsibility for their content marketing strategy, as well as anyone who is looking to enhance their knowledge and understanding of content marketing and how to create quality content that will deliver results as part of a wider SEO campaign.
About the author
Eric Enge is an SEO consultant, entrepreneur, and public speaker who participates in dozens of conferences every year. A CEO of Stone Temple Consulting and author of "The Art of SEO", Eric is a prolific contributor to Forbes, Search Engine Land, Marketing Land, Search Engine Watch and other top industry media.
During his 20-year journey as a digital marketer, Eric has experienced operating and expanding an agency, hiring employees, communicating the value of SEO to potential clients, and investing in thought leadership.
Lesson structure
Video lessons
Watch easy-to-follow video lessons
Expert's tips
Learn from the experience of SEO professionals
Read further
Study the specially picked materials to dive deeper into the topic
What to do after the course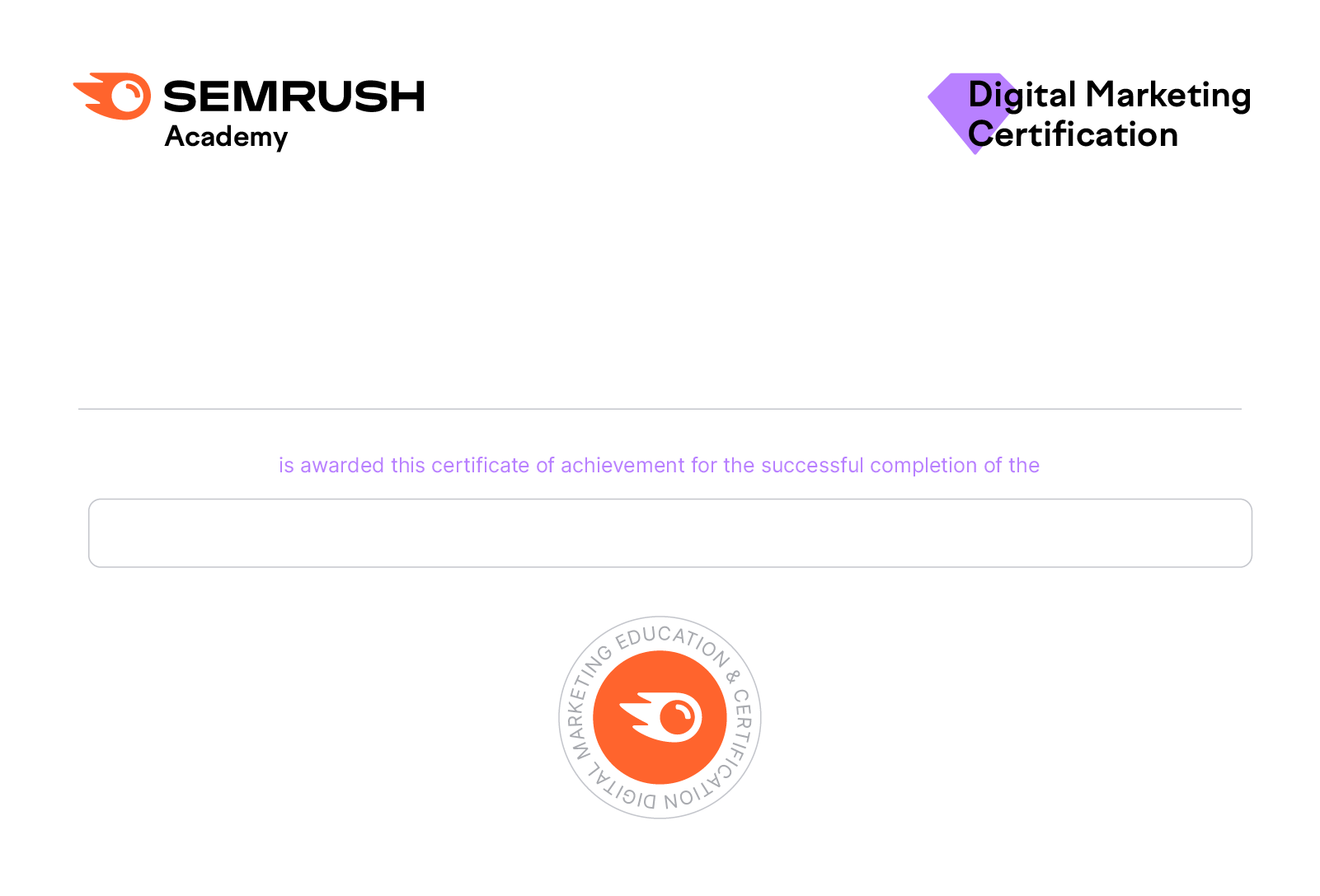 Get certified by Semrush
After you've completed the course, you can take the Content Marketing and SEO Fundamentals exam and earn a personalized certificate.
If you feel that you have enough experience and knowledge about content marketing (for example, because you're a digital marketer), you can jump straight to taking the exam. Once you pass, you'll earn a certificate to showcase your expertise in this area. Feel free to share your expertise on your CV and LinkedIn profile.
You might also like
Semrush Content Marketing Toolkit Course
9 lessons4 hours
---
Learn how to tailor your content marketing strategy with Semrush by watching video lessons and get practical advice from digital marketing pros. Learn more.
Semrush SEO Toolkit Course
14 lessons3 hours
---
Learn how to boost your SEO with Semrush tools and get tips from practicing SEO experts in a series of free video lessons. Learn more.
Role of Content Course with Eric Enge
10 lessons1 hour
---
Learn how to implement great content in your SEO strategy to get killer results in this series of video lessons. Learn more.
Content Marketing and SEO Fundamentals with Eric Enge
8 lessons1 hour
---
Learn how to develop a content marketing strategy to support your overall SEO campaign. Learn more.
You are going to start the !
Important! You won't be able to change your name on your certificate once you receive it.
Before you start, review the information below:
Please note that the certificate issued with your name will be accessible by direct link. By clicking 'Proceed to exam', you agree to make your certificate publicly available.
Certify your team request
Want to rest assured that your employees' knowledge of the Semrush toolset is up to the mark?
If you're interested in making a request, please leave your email.
Become a contributor
Want to join the Semrush Academy expert community? You will have the opportunity to reveal your own tips and tricks on Semrush tools. If you're interested, leave your email.